Telegram Connector is a trading system that can be used on MT4 and MT5 terminals. We have to always catch trading opportunities. We have a claim "If you are tired of missing good trades because you don't look at your phone 24/7, use our software to connect your signal provider's Telegram group with your MT4/MT5 trading account. That way you don't have to be on your phone all day long but still get in on all the trades during the day." So, let's check this out.
Telegram Connector company profile
The company is registered on Rechenbühl 73, 8106 Adlikon b. Regensdorf, Switzerland. We don't have many details provided about the company's structure.
The highlights of Telegram Connector
The system is published with some details, settings, and other intel explained.
The signals can proceed to our MT4 and MT5 terminals.
It doesn't require much time from us to install.
The software is delivered via email after purchasing.
There's a user manual provided.
When the signals are delivered on a terminal they can be executed as orders.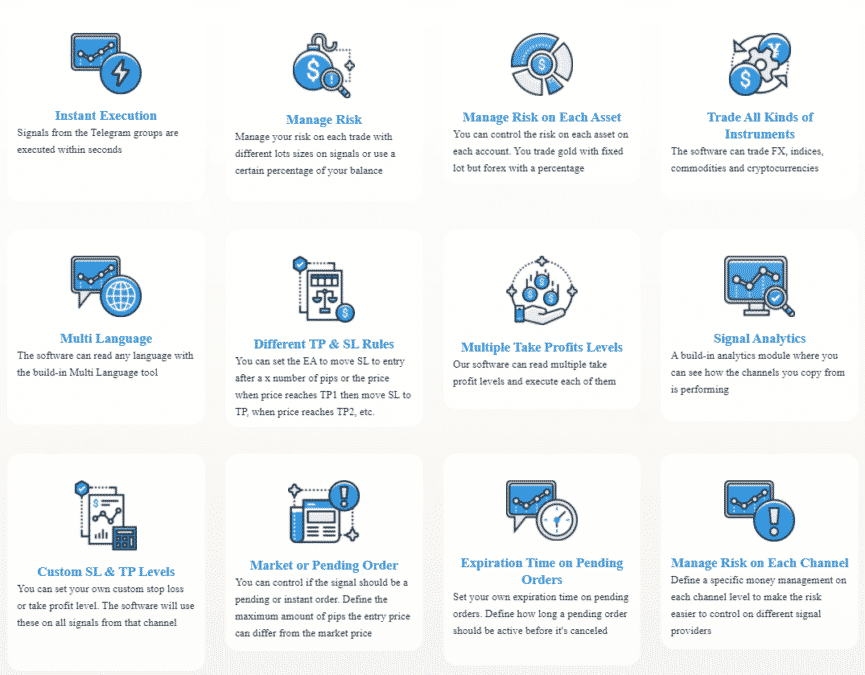 There are details about the system provided.
The executing speed is just several seconds.
We can customize risks all the way.
We can even set a proper risk level for each cross pair or channel.
Fixed lots can be mixed with automatic lot size calculations.
It works with Forex, indices, commodities, and cryptocurrencies well.
"The software can read any language with the built-in Multi-Language tool."
The system has the following functions: "move SL to entry after an x number of pips or the price when the price reaches TP1 then move SL to TP, when the price reaches TP2, etc."
It "reads multiple take profit levels and execute each of them."
The software helps us to analyze profitability for every cross pair.
It can advise us with SL and TP levels.
We are allowed to switch a type of order.
"The pending orders can be customized by expiration time before getting canceled."
We can set the preferable risk for each channel.

The devs haven't changed these numbers for a year.
The software was downloaded 1384 times.
They have 1255 happy clients.
There are 1186 VIP users.

We have details about how the system should be set up.
Trading results with Telegram Connector
The presentation isn't featured by a backtest report that would show that the system can process signals from various channels quickly and execute them in a profit.
The same picture we have when we'd like to check trading results. It would be great if the devs traded the signals from several channels and showed stable profits. So, everyone would be sure that the system works properly without mistakes and delays. It's important because it takes some time to place orders on the terminal.
Telegram Connector packages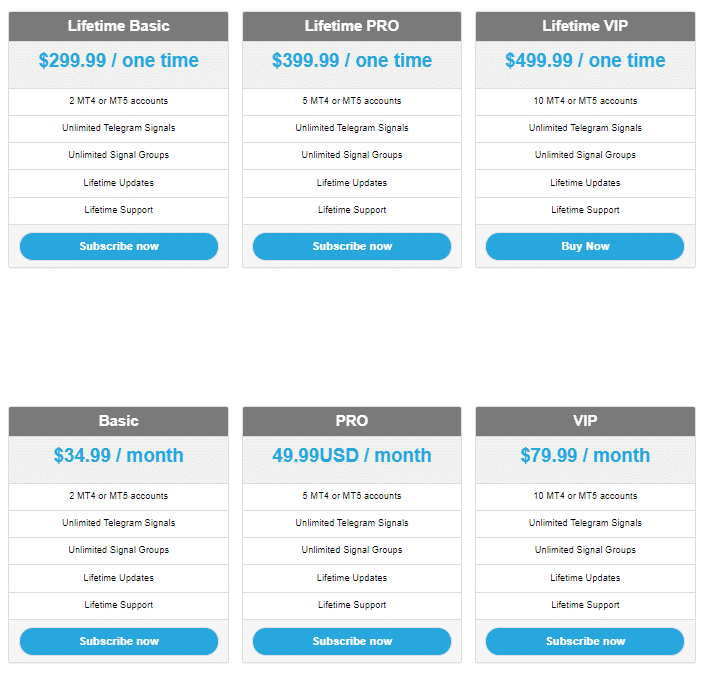 We have six packages in the ultimate offer. There's three lifetime licenses: Basic for $299.99 for 2 licenses, Pro for $399.99 for 5 licenses, and VIP for $499.99 for 10 licenses. The subscription packs are: Basic for $34.99 for 2 licenses, Pro for $49.99 for 5 licenses, and VIP for $79.99 for 10 licenses. All of them are monthly subscriptions. There's unlimited signals, groups, updates, and support.
Assistance
The devs provide average support and answer to the testimonials on Trustpilot.
Other notes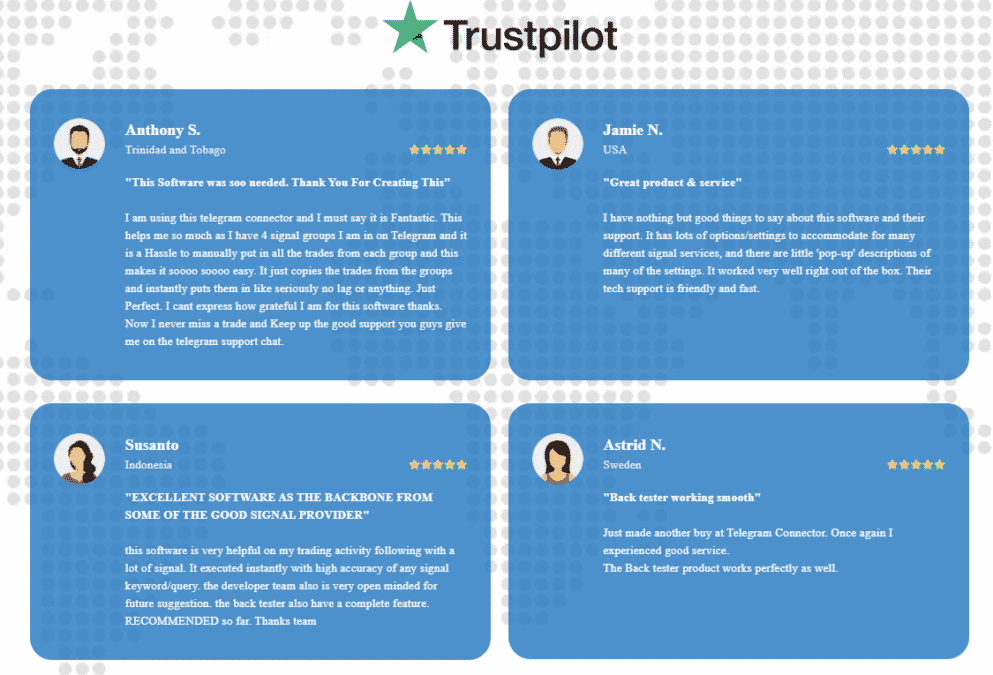 We have positive experiences mentioned on the site.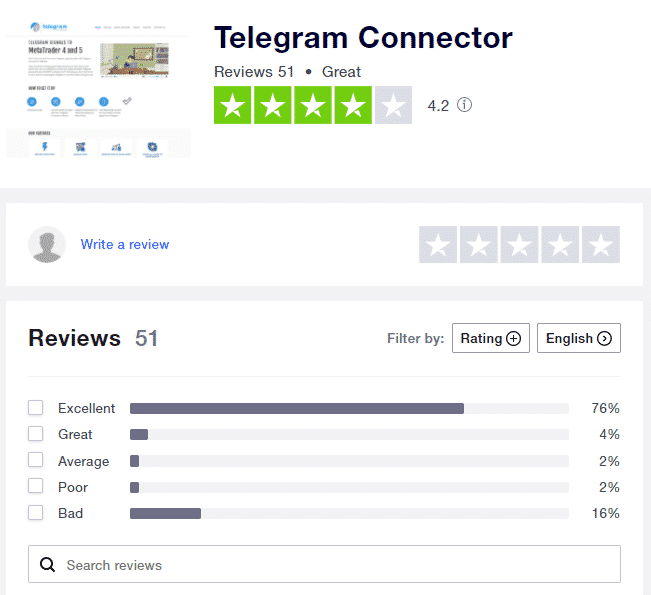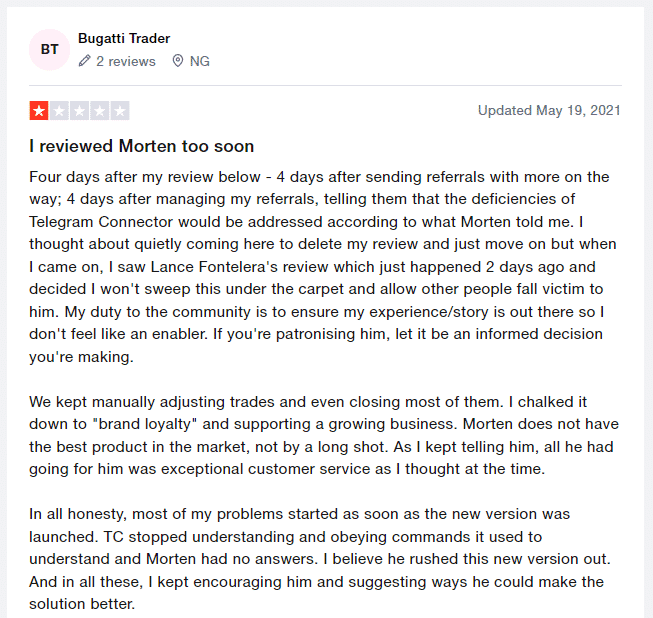 The software has a 4.2 rate from 5 possible based on 51 reviews. There are not only positive but also negative testimonials.
Is Telegram Connector a reliable system?
It's time to sum everything up about the system to let you make the right decision. Let's go:
The system doesn't have a core with strategies behind it.
We have no backtests.
The devs didn't share their trading experience.
There are both: positive and negative testimonials.
The software can proceed orders to our MT4 and MT5 terminals quickly.
It can deliver signals as pending or execution orders.