SIEA Zen is a Forex expert advisor built by developers having 10 years of experience in Forex trading. Launched in 2021, this robot claims to be able to survive all market circumstances easily. According to the developer, it is able to maintain a low drawdown while generating profits at a steady rate.
To check the veracity of the vendor's claims, we are going to look into various aspects of the system like features, strategy, trading results, backtests, pricing, customer support, vendor transparency, etc. Since there are several vendors making false claims these days, we must carry out a thorough analysis to determine whether the robot is profitable or not.
SIEA Zen company profile
The developer, Daniel Stein, is a resident of Germany. We don't know anything about this person's background and trading history. They have been selling products on MQL5 for more than eight years. Other EAs from this developer include SIEA Pro and SIEA Max.
The highlights of SIEA Zen
This EA trades in 28 pairs based on major currencies like USD, EUR, CAD, CHF, AUD, GBP, JPY, and NZD. It runs on both Metatrader 4 and Metatrader 5 trading platforms. The EA determines the intensity of market imbalance by conducting volume analysis, thus spotting reverse entry opportunities.
At the end of each month, the EA closes all its positions and begins a new cycle. This way, it manages to make outstanding profits and maintain a low drawdown, according to the vendor. The average duration for each trade is 4 days.
SIEA Zen has an in-built news filter that stops new orders based on news announcements from central banks. It does not take into account the events that have less relevance and low impact. It has a swap management feature that takes into account the swap factor that is important in profit calculation. This robot monitors the swaps, avoiding trades that are too expensive.
For risk management, SIEA Zen does not use individual stops for each trade. Rather, it uses one risk/drawdown limit for the entire system. You can set the maximum level of risk and the EA will adjust the money management setting correspondingly. The vendor recommends starting with at least $2500 to make the most of the money management and balanced risk.
Facts & figures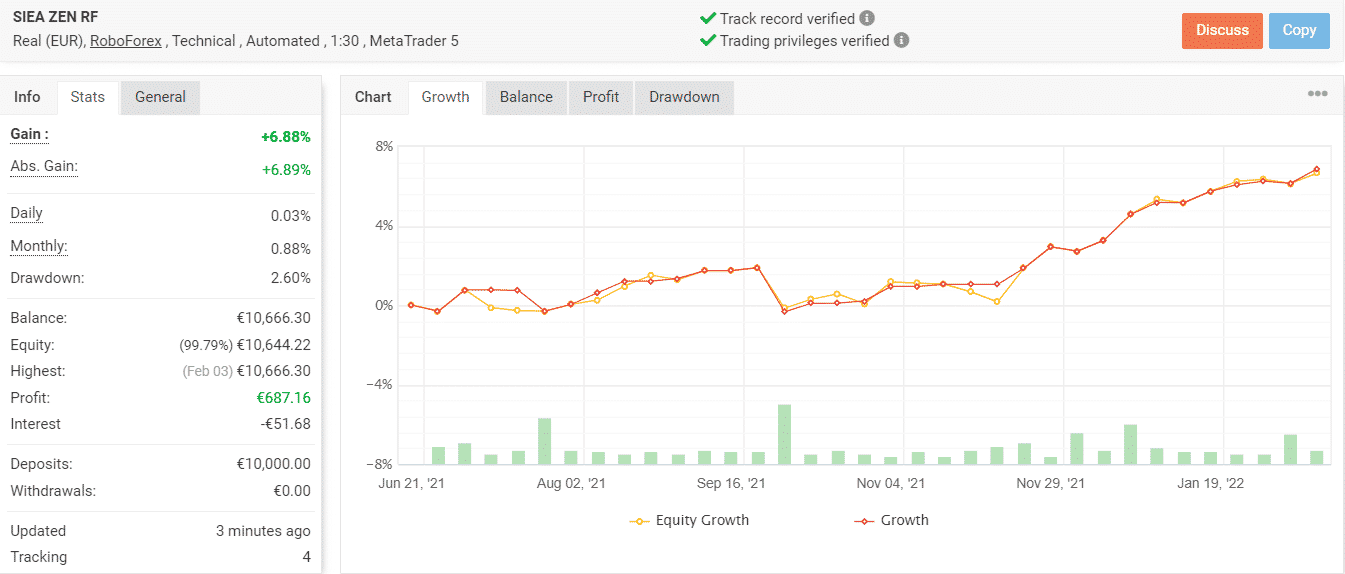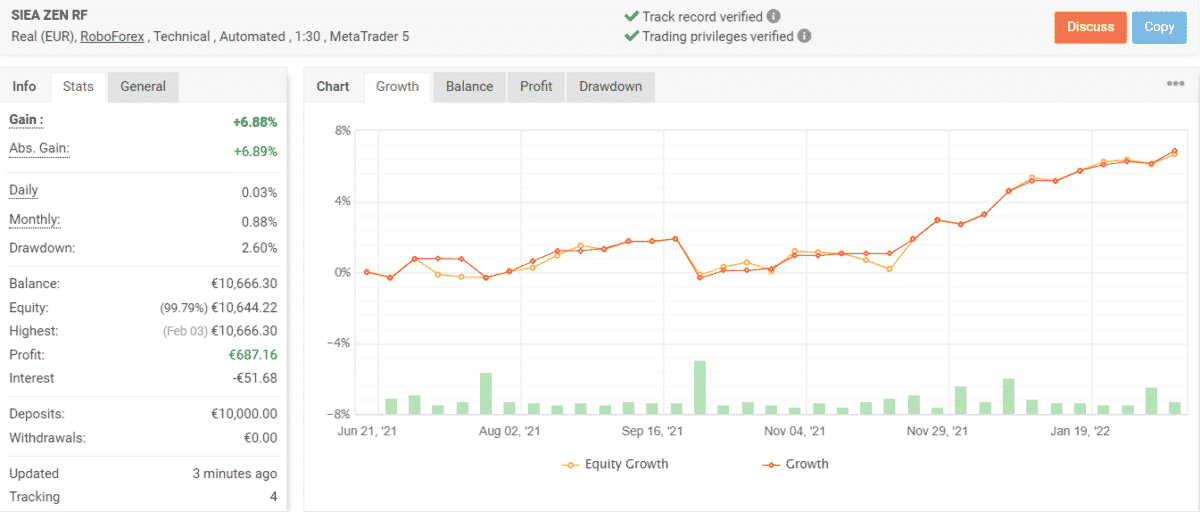 Here we have a live trading account on Myfxbook that was launched on June 21, 2021. After conducting 57 trades, the win rate currently stands at 67%. The total profit for this account is $687.16 Euros, while the time-weighted return is 6.88%. Currently, the daily and monthly gains are 0.03% and 0.88% respectively, while the drawdown is quite low at 2.60%.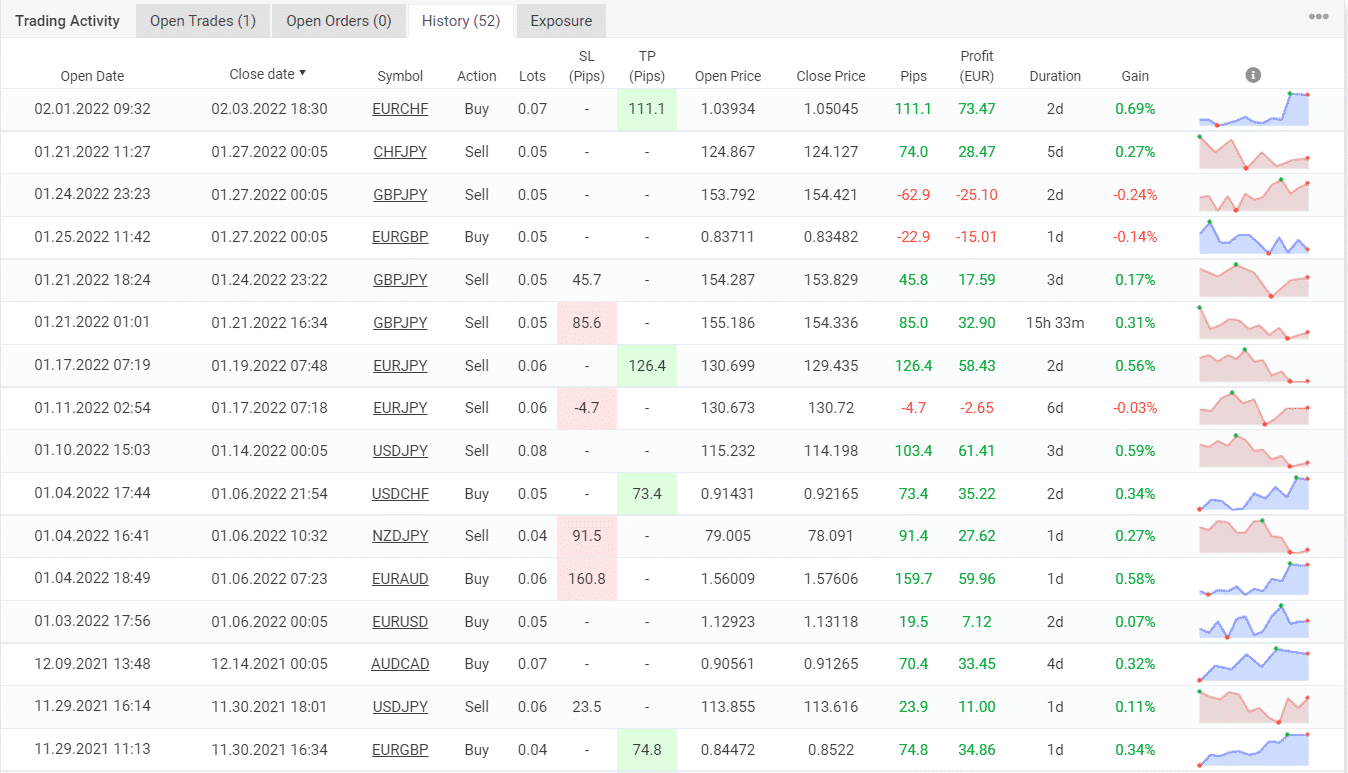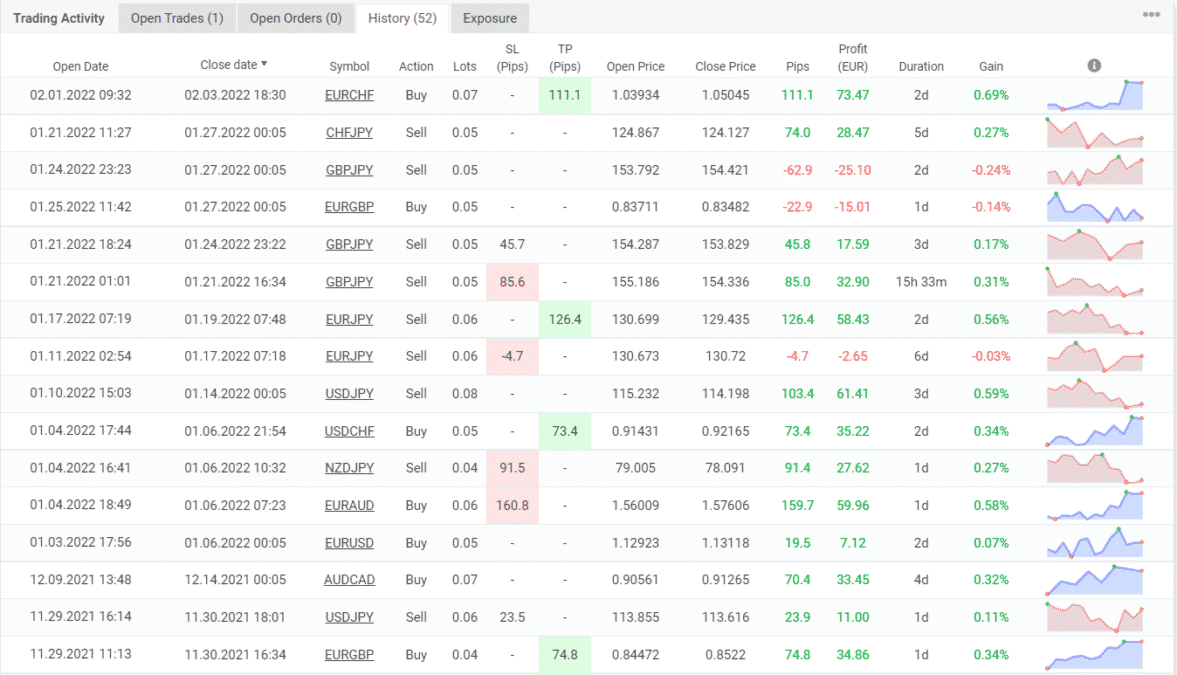 As you can see from the recent trading history, the EA trades with a lot size of 0.04-0.07, holding each order for several days. It does not trade too frequently, and the profit generated from each trade is quite small. The average win and loss for this account are 71.72 pips/€30.61 and -53.73 pips/-€25.04, respectively.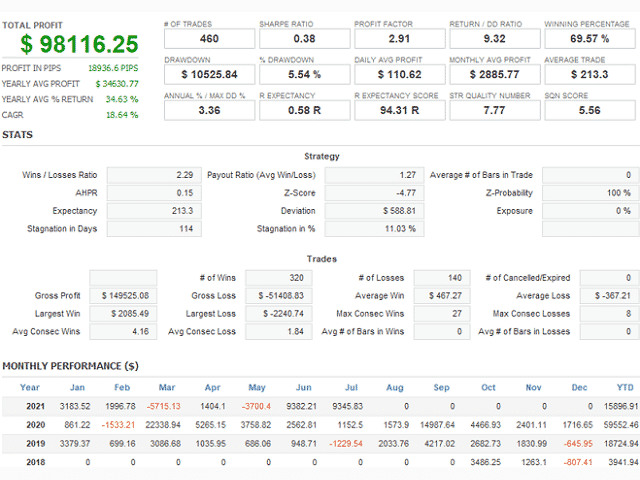 For this backtest, the EA conducted 460 trades between 2018 and 2021. It had a win rate of 69.57%, which is slightly higher compared to the live results. It had a decent profit factor of 2.91 and generated 18936.6 pips in profit.
SIEA Zen packages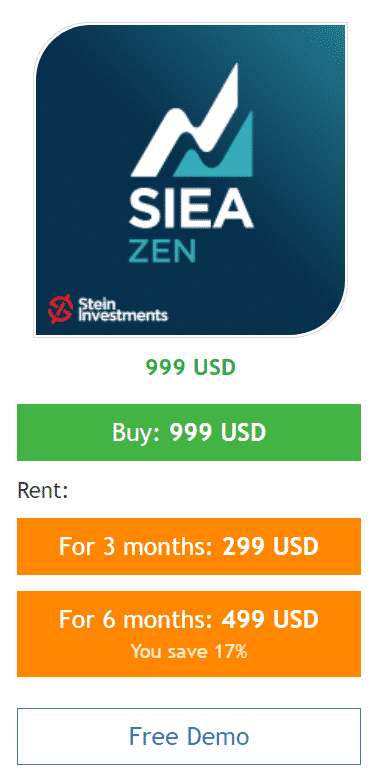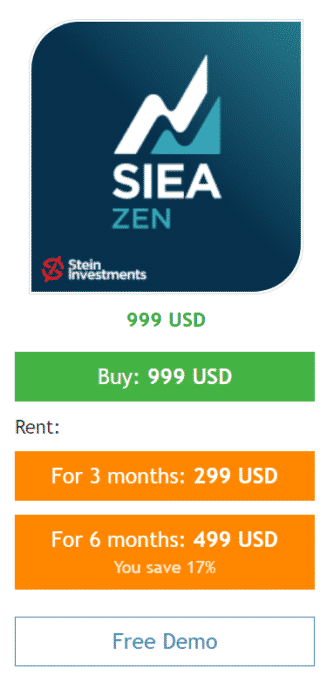 At $999, SIEA Zen is quite expensive compared to others. There is a free demo version and rental options for 3 and 6 months at $299 and $499, respectively. However, there is no money-back guarantee.
Assistance
There is no dedicated support team and to contact the vendor you must message them on MQL5.
Customer reviews


There are no verified user reviews for this robot. The ones on MQL5 cannot be considered authentic.
Is SIEA Zen a reliable system?
This system is quite expensive and it comes without a refund policy. Also, there is very little information on the developer.