What is penny crypto?
What are the top three Metaverse coins to buy under $1 in 2022?
What are their price predictions by 2025?
Everyone is looking for a strategy to raise and diversify their investments in today's investing world. Is it true or false? Exactly, which is why people are constantly on the lookout for a short-term investment that will provide a high rate of return. Many people were interested in cryptocurrencies following the quick spread of Bitcoins and Ethereum.
One, in particular, known as penny cryptocurrency, offers the highest benefits among the hundreds of thousands accessible for purchase and sale on the market. We'll go through them in further depth in this article.
Penny cryptocurrency: what is it?
This digital currency may be acquired for less than a dollar. With prices starting at a few cents and resembling penny stocks, they are one of the cheapest digital currencies. For one thing, it's a good idea to put some money into them. There is a lot of profit to be made with little coins.
As one of the most promising investment opportunities now available, penny cryptocurrency may be categorized:
Stablecoins
Mining-based cryptocurrency
Utility tokens
Security tokens
Now let's look at which penny cryptocurrency to buy in 2022.
CEEK VR (CEEK)
Market cap: $392,264,388
Price: $0.60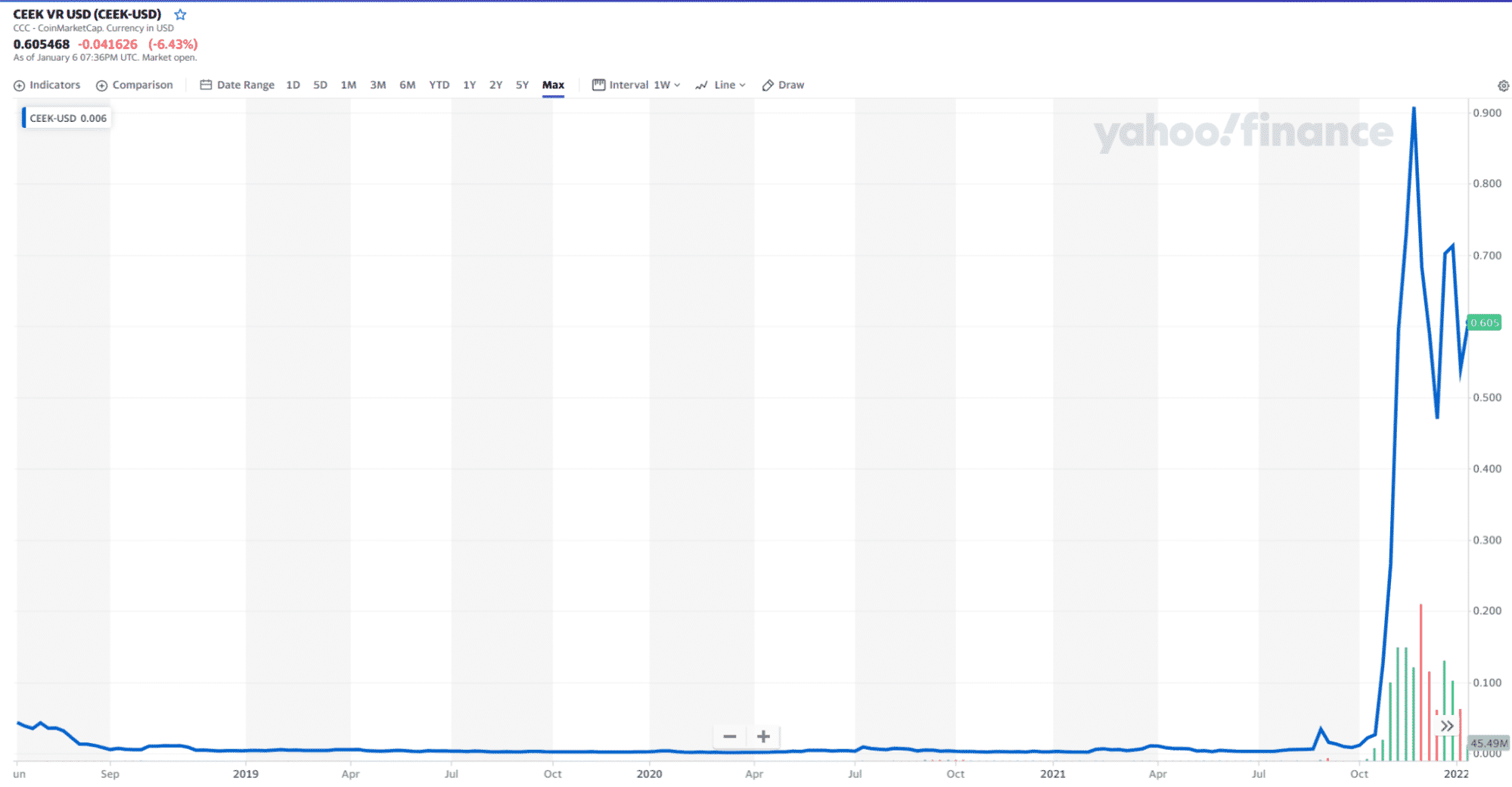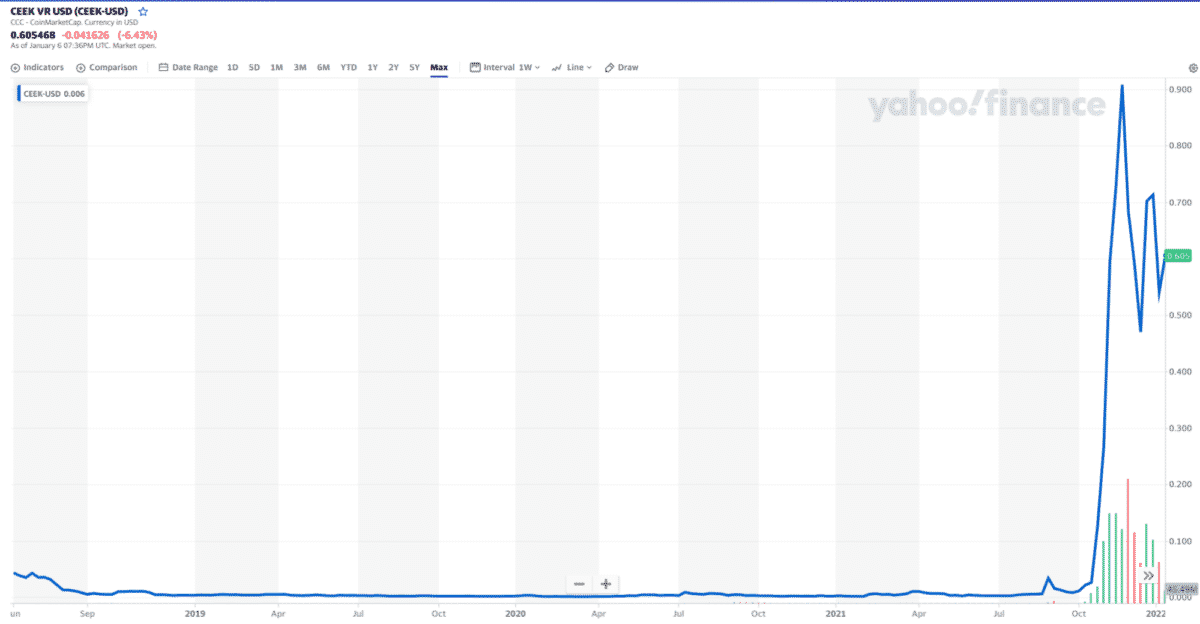 Virtual reality music streaming platform CEEK VR was launched in 2018. It includes a virtual reality headset purchased at Target and BestBuy. CEEK is the native ERC-20 token of the CEEK VR platform.
CEEK VR will include CEEK CITY, a virtual reality stage for live performers. Other performers, such as Demi Lovato and Ziggy Marley, have collaborated with CEEK VR.
CEEK is available on various exchanges, including MEXC, PancakeSwap, Bancor Network, ProBitGlobal, etc.
CEEK price prediction for 2025
The coin has tremendous potential, and with the right collaborations and innovations, its user base and adoption rate might increase. If the market decides to invest in CEEK VR, the price might rise. By 2025, it is predicted to reach a peak value of $2.73. It is expected that the CEEK will turn around a little if the market falls. The year 2025 may end with an average price of $2.33, with a minimum price of $2.27 and a maximum price of $2.73.
Chromia (CHR)
Market cap: $429,077,410.88
Price: $0.76
Decentralized applications may be built in the real world using Chromia, a Metaverse platform. Using the platform's unique design, developers can construct applications more rapidly and easily integrate them with Ethereum. May 2019 marked the official launch date.
Chromia has been used to build several popular games, including the $372 million market cap hit My Neighbor Alice. Chromia also offers Mines of Dalarnia, which has a market value of $252 million. Binance, KuCoin, FTX, Poloniex, Pancake Swap, Crypto.com, and more exchanges offer Chromia for purchase.
A current exchange rate of $0.76 places Chromia at number 145 on the world's most valuable currencies list, at $429,077,410.88.
CHR price prediction for 2025
Long-term price estimates for Chromia need at least a basic level of study. A lot of industrial benefits are provided by the native token. The digital economy is ideal because of its independence. As DAPPs and stable currencies arise, the network gives competitive programmable payment, shipping, and storage options. The average price of CHR might rise to $3.20 by 2025 if more investors are attracted to the idea. The highest and lowest prices for 2025 might be $3.71 and $3.09.
Efinity token (EFI)
Market cap: $142,542,801
Price: $0.84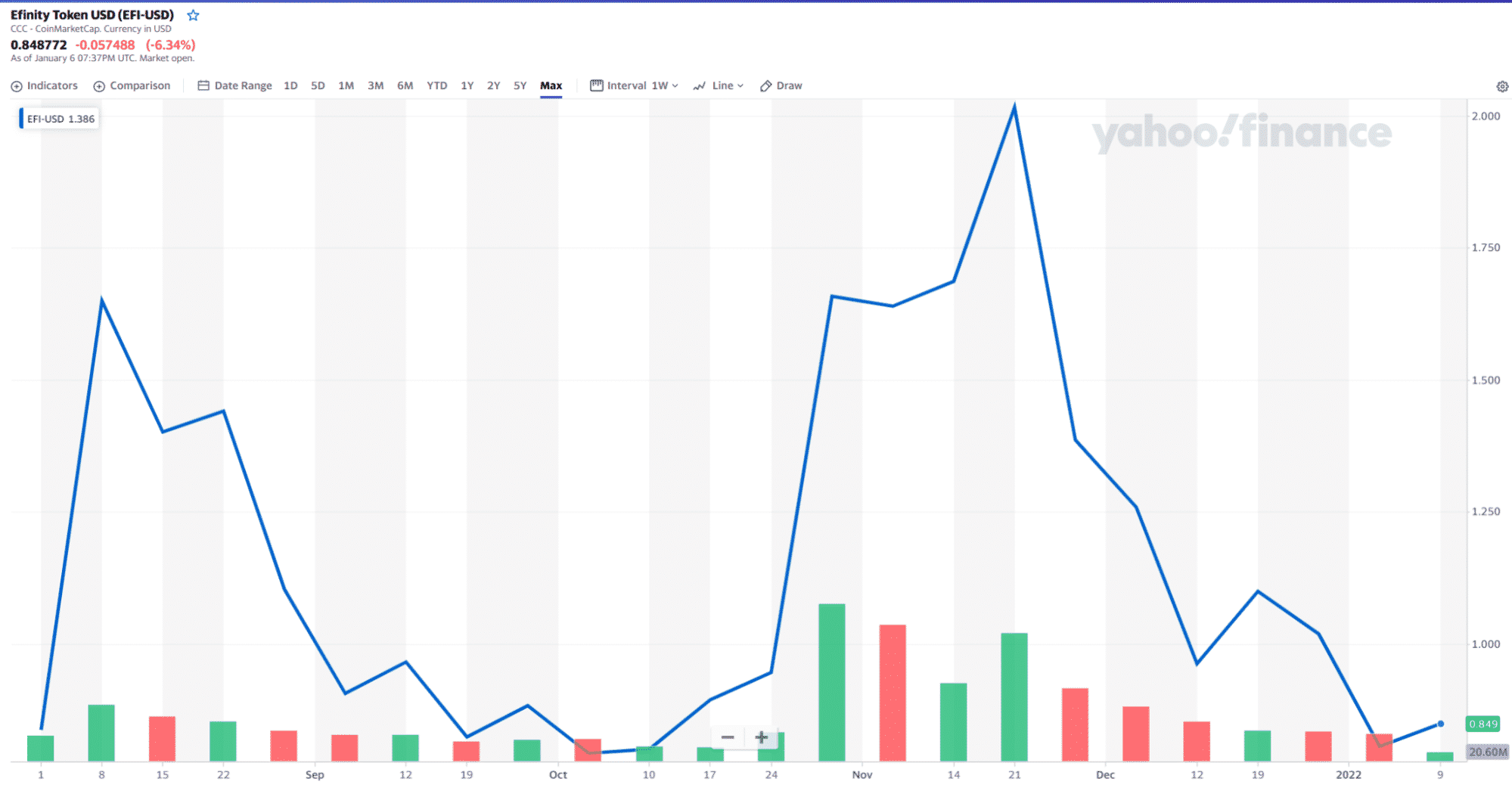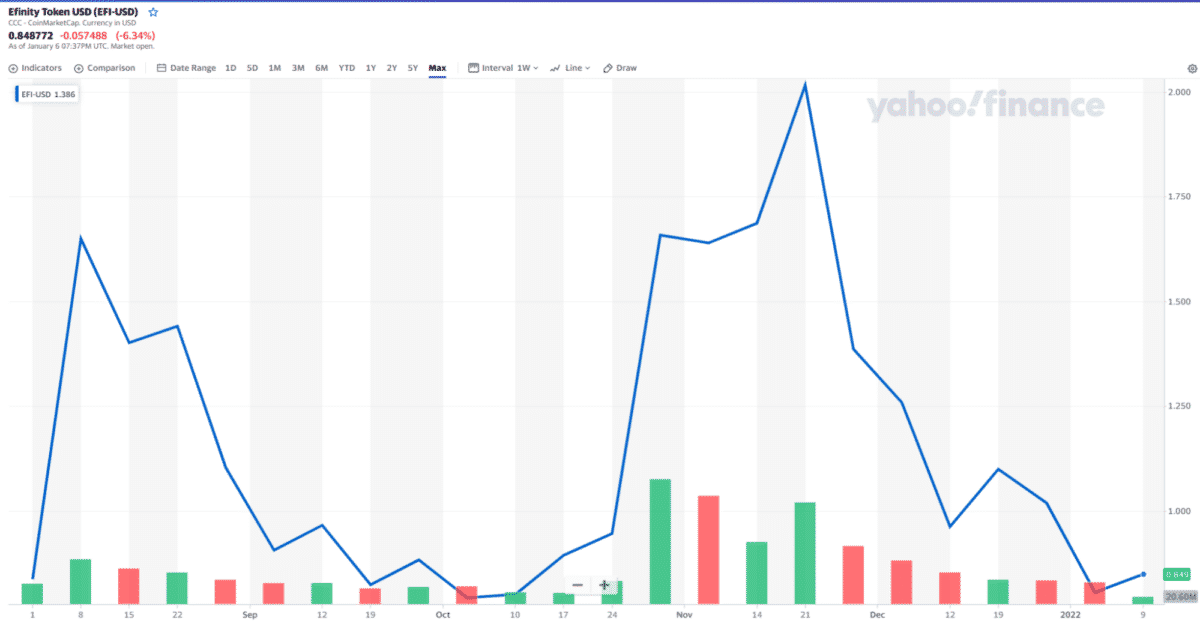 The Enjin team built and deployed Efinity, a Metaverse blockchain, in August 2021. With Polkadot as a foundation, it will debut in August 2021. EFI is the first Paratoken of the Efinity network.
While the ERC-20 and BEP-20 token standards permit cross-chain transactions, the Paratoken Standard does not. Efinity's new token standard enables users to import tokens from other platforms and represent them as Paratokens on a Parachain like Efinity.
NFT industry leader Enjin Coin, the business behind Efinity, is well recognized. Enjin has been around since 2009, making it one of the longest-running businesses on the market. In addition, many exchanges, including Gate.io, Coin list Pro, Poloniex, OKEx, Crypto.com, and Uniswap, offer EFI for purchase.
Efinity Token is presently the 366th most valuable cryptocurrency globally, at $142,542,801 in today's market. EFI's 24-hour volume is $7,201,587, according to the TechNewsLeader Price Index.
EFI price prediction for 2025
Values of Efinity Token (EFI) seem to have surpassed their previous all-time high by 2025, and we may expect the average price to be $3.66.
Final thoughts
Despite the Сrypto Winter, Metaverse currencies continue to see significant price rises, with some rising by more than 1,000% only today. Despite the general market decline, undervalued enterprises with enormous long-term potential abound in the Metaverse currency market, where there are so many. I expect this article has given you some insight into the top three Metaverse $0.74 cryptocurrencies under $1 that will be worth watching in 2022.