What is NFT, and why is it so popular?
How to create, buy and sell NFT?
What are the risks associated with NFTs?
NFT or a non-fungible token or a digital asset that we can buy, sell, create, and trade online. Like Bitcoin, the NFTs have created a massive hype among collectors and participants. Recently it has become prevalent among investors, particularly crypto holders. In addition, you can make money from the NFTs market by both creating and trading.
However, many financial market enthusiasts claim NFTs as a bubble that may blast in the future. Moreover, the 2021 NFTs market crash created fear among investors.
This article includes all you need to know about the NFTs marketplace. What is NFT, and how buy-sell happens here. Additionally, we also make a brief about the risk factors of NFTs. After completing this article, you can easily decide how you can perform at the NFTs marketplace.
What is NFTs
A non-fungible token is unique, digital assets such as artwork, tweets, music, etc. All data is stored on a blockchain, and you can buy, sell or mint NFTs and make money. Generally, people have been collecting assets like paintings or antiques for centuries.
What will happen if you own such assets and the ownership information remains on a blockchain?
Sounds crazy. For example, Bitcoins are fragile. If you exchange one bitcoin with another, there is no profit or loss, for instance. NFTs are different from exchanging a rare 70's baseball bat card with a half-million-dollar British Tobacco card. Collecting that antique baseball bat card may cost you assets worth half a million, but it's a good deal.
Most NFTs are a part of the Ethereum blockchain. NFTs represent real-world objects such as music, art, games, etc., which you can purchase and sell online frequently using cryptocurrencies. Anyone can also create or mint new NFTs and sell them. NFT allows the owner to have the original item as the built-in authentication feature proves the uniqueness.
How to create NFTs
Creating or minting NFTs is not a complex process. Anyone can make it without a strong knowledge of the crypto market.
First, you have to open a wallet that supports Ethereum.
Then, you can sign up in Meta Mask, trust wallet, or Coinbase wallet, for example.
After opening the wallet, you have to purchase some coins in it.
Now you are ready to create your NFT by signing up for supported platforms. Several platforms, such as Rarible, Mintable, OpenSea, etc., can create NFTs and make them available for sale.
Sign up at the platform as we did at OpenSea. You can see a create button just at the upper right corner of your platform.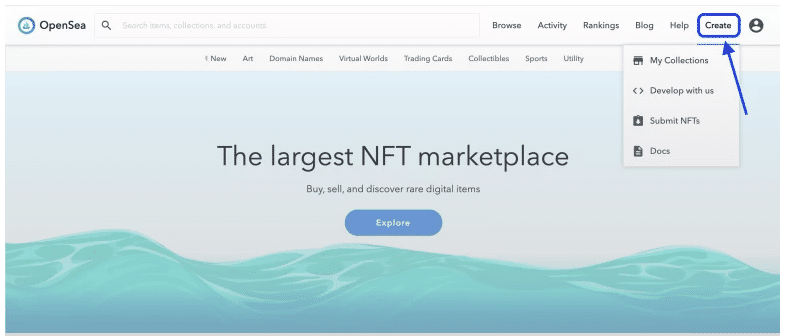 Click on it. It will ask you for your wallet while connecting the wallet. It may require your wallet password.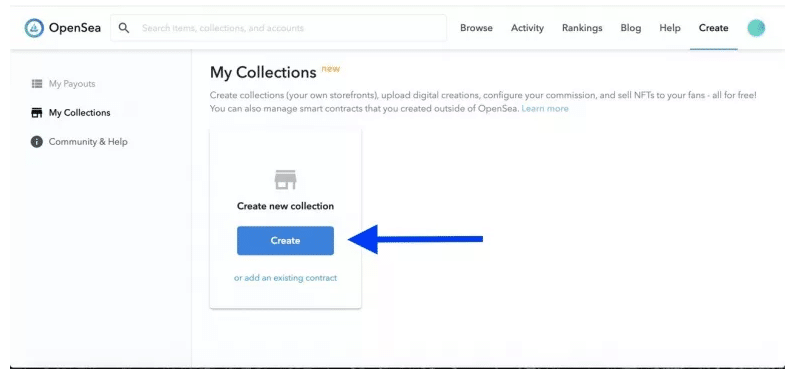 After clicking create, It will take you to your collection page, where you have to click the create button again to your photo.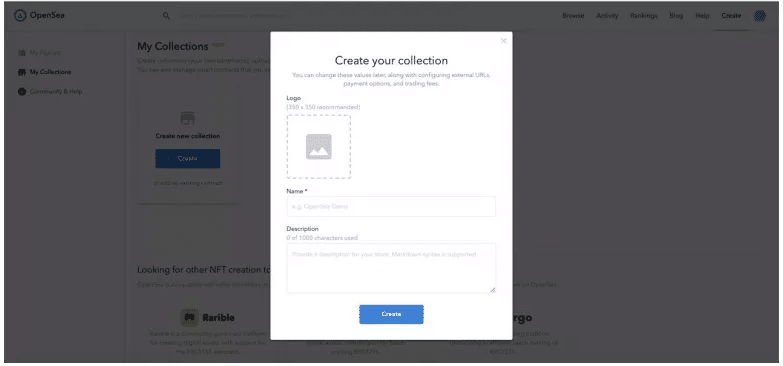 Later on, you have to input the name and description of your assets after attaching the file.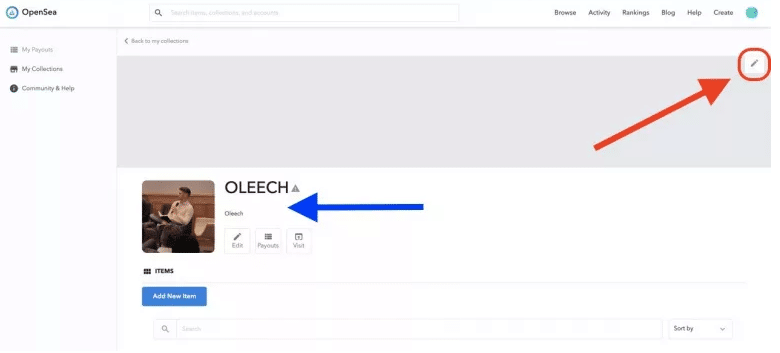 Now you are set to go. You just created your first NFT.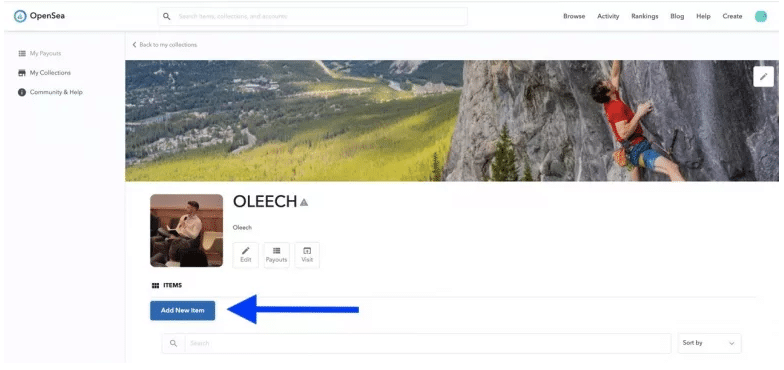 If you want to add another, you can do it by clicking the add new item button.
After finishing, you can check it from the collections. The procedure is so easy that anyone can mint or create NFTs.
How to buy and sell NFTs
NFTs are digital assets, so in most cases, buying and selling NFT occurs digitally. Therefore, the first requirement is that you should have an ETH wallet.
For example, if anyone wants to keep the original 'Mona Lisa' painting as their collection, they can buy it from the NFT market. The price of an NFT asset is high as it involves an antique value. According to recent research, this marketplace may cross $1.3 billion in worth by the end of 2021. The NFT craze may continue as long as many celebrities are starting to participate in this marketplace.
Buying NFT
When you want to buy NFT, the first requirement is to have a crypto wallet. There are several marketplaces worldwide from where you can purchase NFTs using cryptocurrencies. This marketplace is like a digital art gallery from where you can buy music, arts, or other collectibles.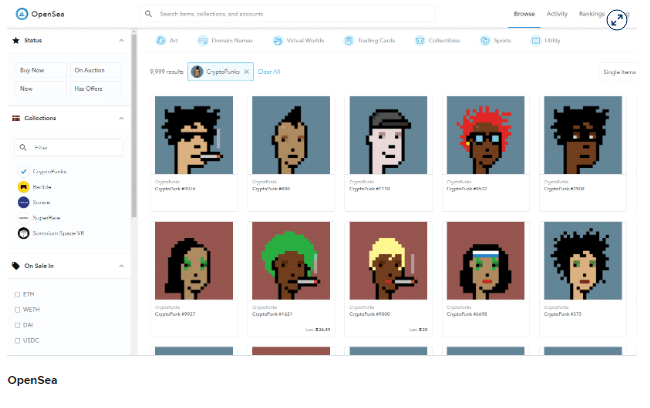 The above image shows an example of the NFTs marketplace where we can see digital characters. If you buy any of these characters, you will be the owner, and the ownership information will remain in a blockchain.
You may purchase any of these by clicking 'buy now' at a price. For others, it works like an auction; you place bids, and when you are the winner, you pay the price and be the owner of that NFT. You should have an ETH wallet that you can easily exchange with regular currencies like USD, GBP, or EUR for making payments.
Selling NFT
It is not a complex method, as you already know how to mint NFTs. After creating, you list your item for sale. You can list your NFT available for bidding or list it for selling at a fixed price.
After the submission, a verification process will take place by the platform. Passing this step will qualify your NFT for selling. You add the name and description of your NFTs as well. Set royalties will make you eligible for getting paid when your NFT is getting resold.
NFTs risk factor
NFT marketplace is comparatively new, but it has become popular recently. The valuation of NFT is fishy as this marketplace is unique, and no one knows how stable it is. You can end up purchasing an NFT with a large amount of money that might not have any value other than an antique price.
Lastly, there is no regulation for NFTs. You create and store NFTs at marketplaces, but there is no guarantee that you will get back your work if the platform gets closed. So no authorities can help if you end up losing your capital.
Final thoughts
NFT marketplace is a new concept in the financial world. The working procedure is also not the same as other marketplaces such as currencies, stocks, bonds, or cryptocurrencies. Therefore, we suggest more research before starting to invest in NFTs.