News Scope EA Pro is a Forex expert advisor specially designed for high-impact news traders. According to the developer, this robot lets you gain around 20-100 pips within a few seconds if the price movement is strong enough. It can trade in multiple currency pairs and is supported by verified trading statistics.
News Scope EA Pro company profile
This EA is a product from the FXautomater team, which is based in Seychelles. We don't know when this company was founded or what kind of reputation it has in the Forex trading community. The vendor has not revealed the identities of the development team, so we don't know whether they have the required experience and technical knowledge to manufacture profitable trading systems.
The highlights of News Scope EA Pro
News Scope EA Pro is compatible with pairs like EUR/USD, GBP/USD, AUD/USD, USD/CAD, and USD/JPY. The vendor recommends running the robot on M1 charts. You can find set files for every currency pair. It is possible to set a risk percentage, prompting the robot to automatically calculate the size of the trading lots.
The EA has an advanced news filter that lets you place pending orders before the release of a major news event. You can configure the filter directly from the EA settings. There are two modes for this robot, namely fully automated and semi-automated. You can also choose between single and multiple-cascade order modes.
For profit protection, the EA has back-tick detection and trailing stop systems. Using the time management feature, you can place pending orders during a specific time period. The robot can also be configured to stop trading on certain days of the week.
Whenever there is a profitable trading opportunity, the EA will send you email and push notifications on your phone. The vendor provides every user with lifetime updates. You can run this system only on the Metatrader 4 platform. There is no information available on the trading strategy employed by this robot. Hence, we have no idea how it identifies profitable trades.
Trading results with News Scope EA Pro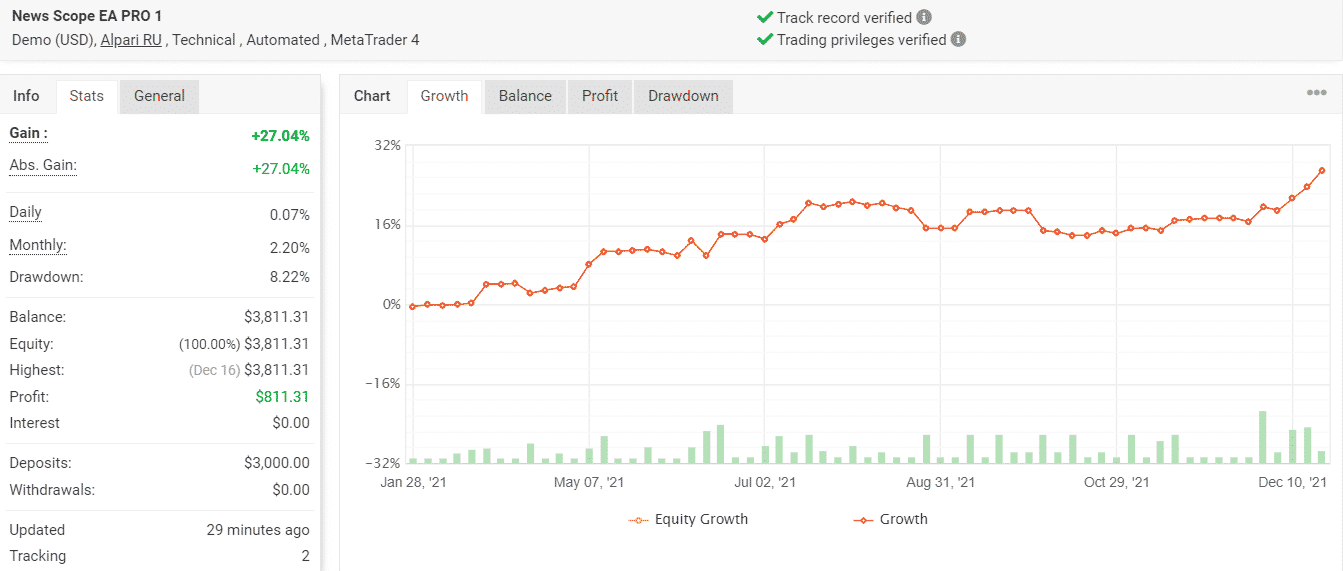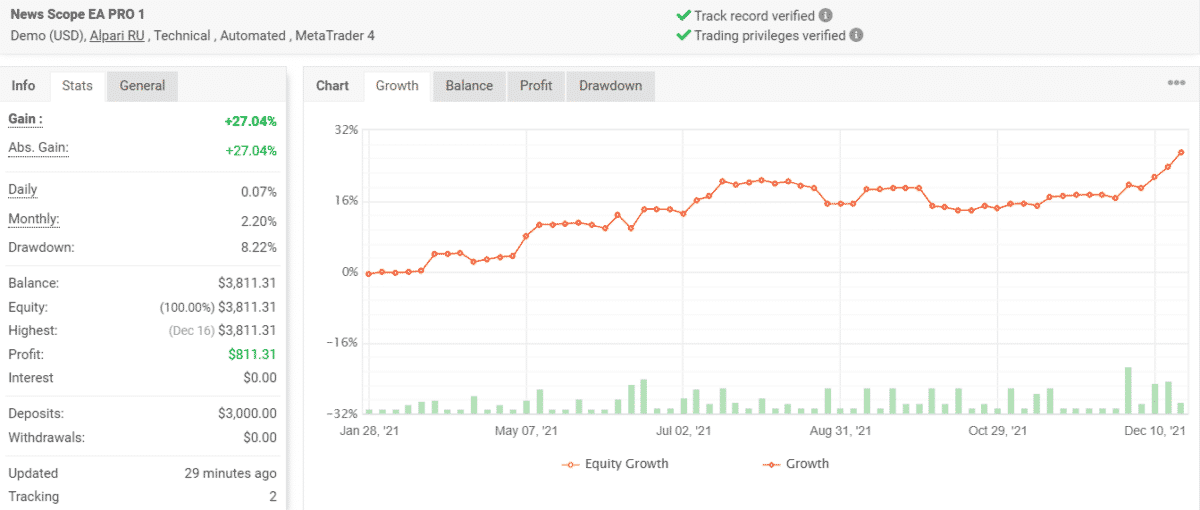 This demo account on Myfxbook has been active since 28th January 2021. To date, the EA has conducted 163 trades through this platform, generating a total profit of $811.31. Currently, it has a decent win rate of 60% and a profit factor of 2.03. On average, it has gained 0.07% daily and 2.20% on a monthly basis. Compared to other systems, the drawdown is quite low at 8.22%.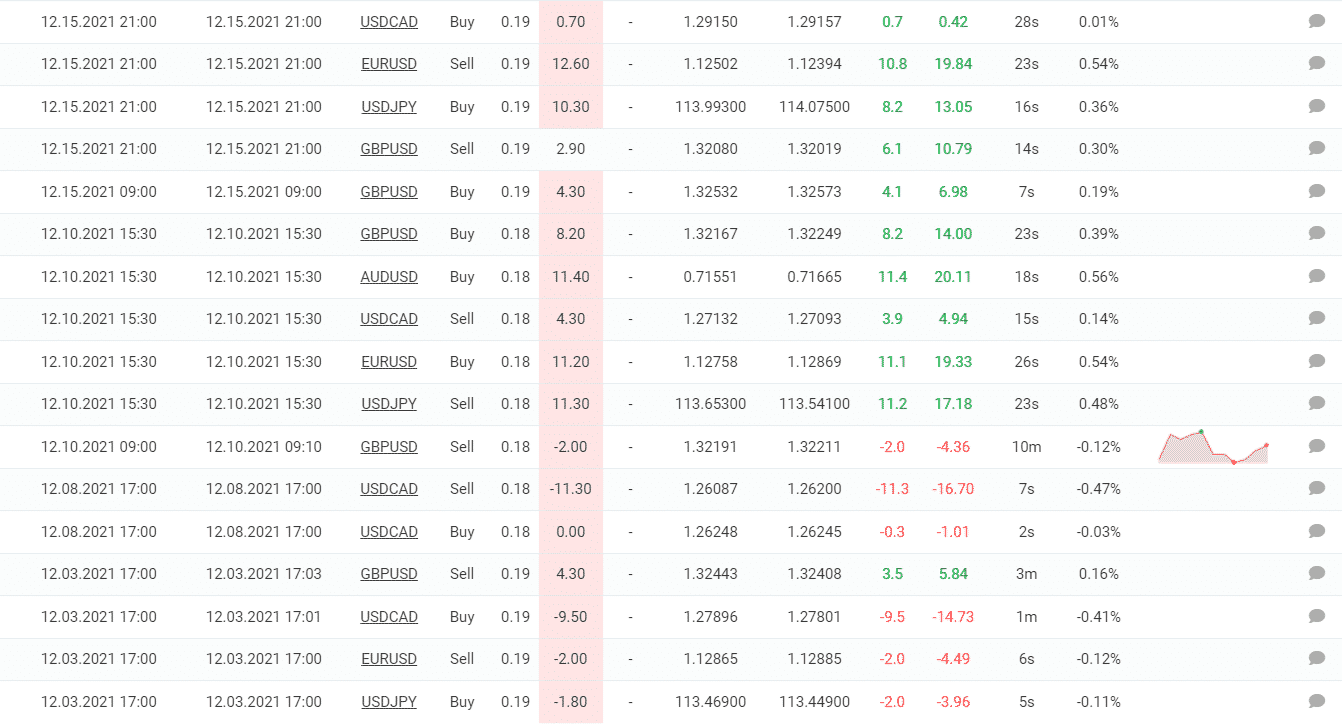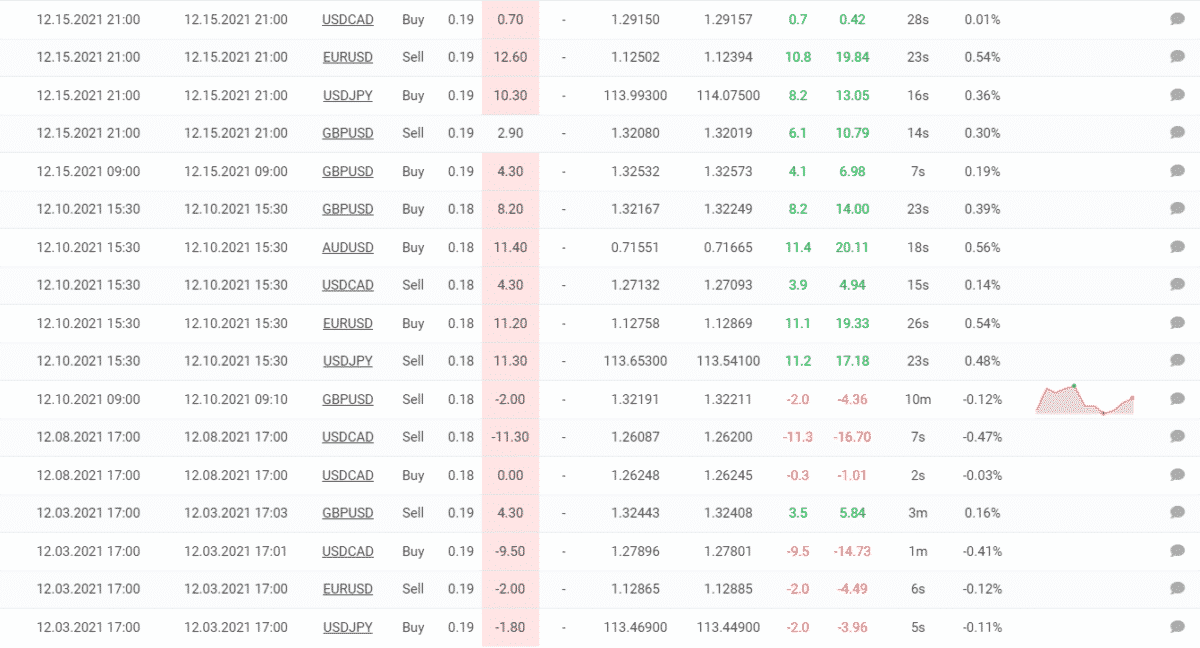 Here we have the recent trading history of the robot. We can see that it lost several consecutive trades towards the beginning of December 2021. It seems to be following a short-term trading strategy where it keeps the orders open only for a few seconds. The lot size varies between 0.18 and 0.19. For this account, the average win and loss are 10.22 pips/$16.28 and -7.03 pips/-$12.07, respectively.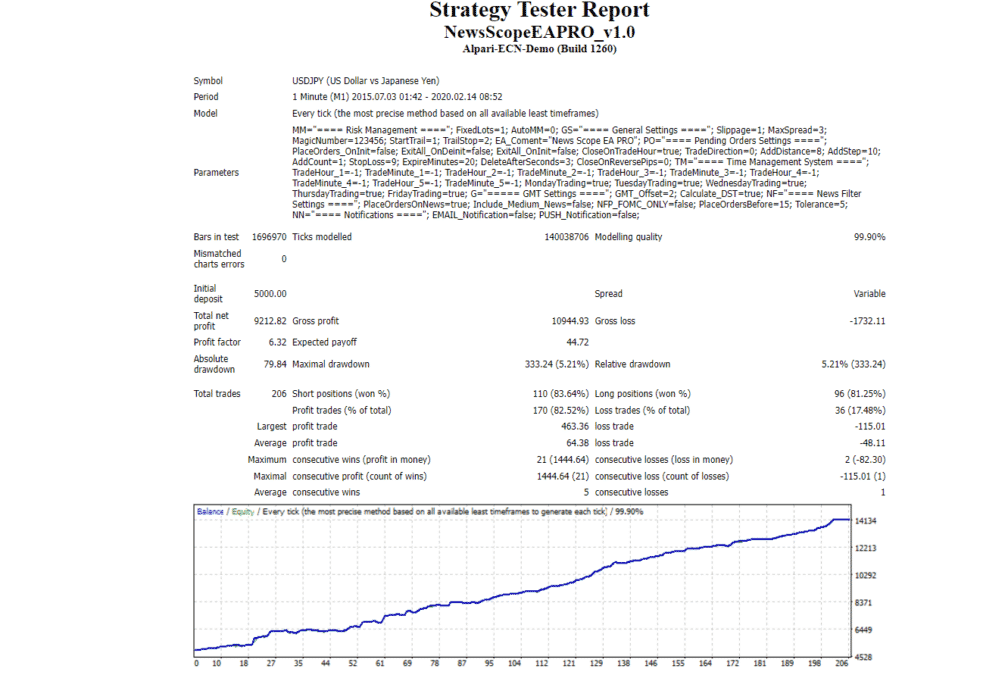 For this backtest, the EA conducted 206 trades, winning 82.52% of them and generating a total profit of $9212.82. The win rate was much higher compared to the live statistics, but the drawdown was lower at 5.21%.
News Scope EA packages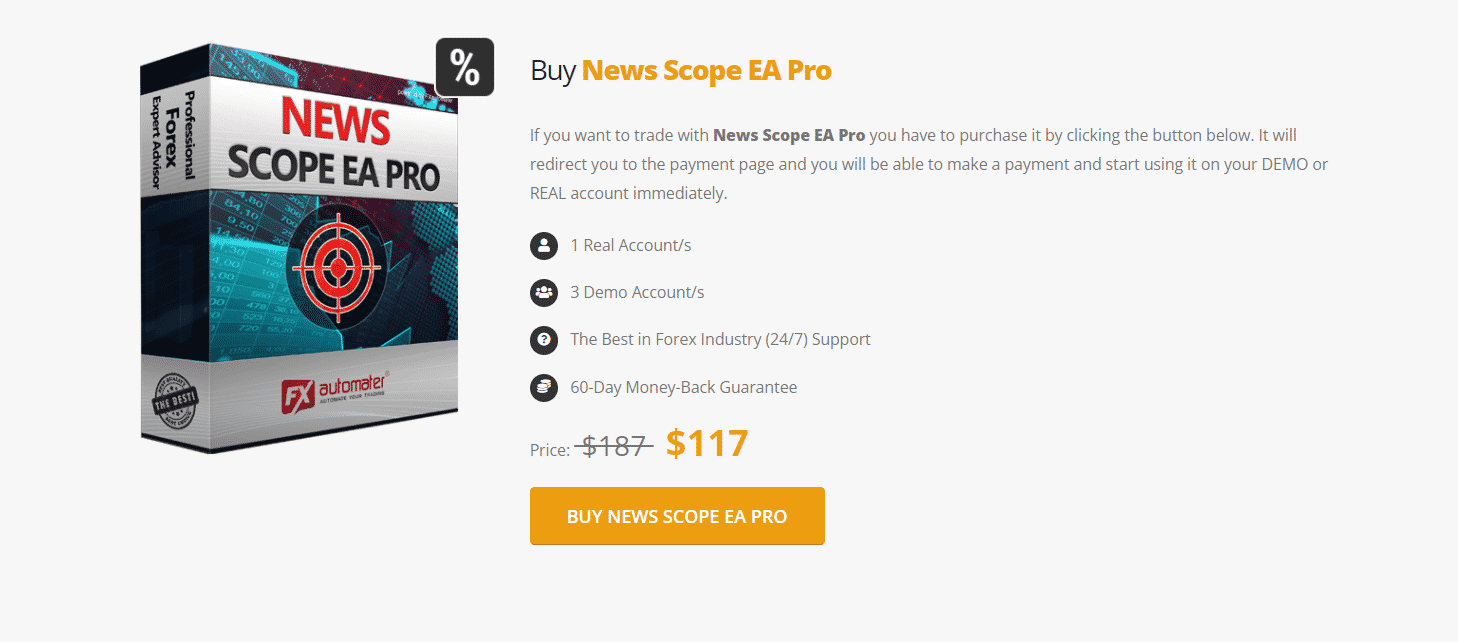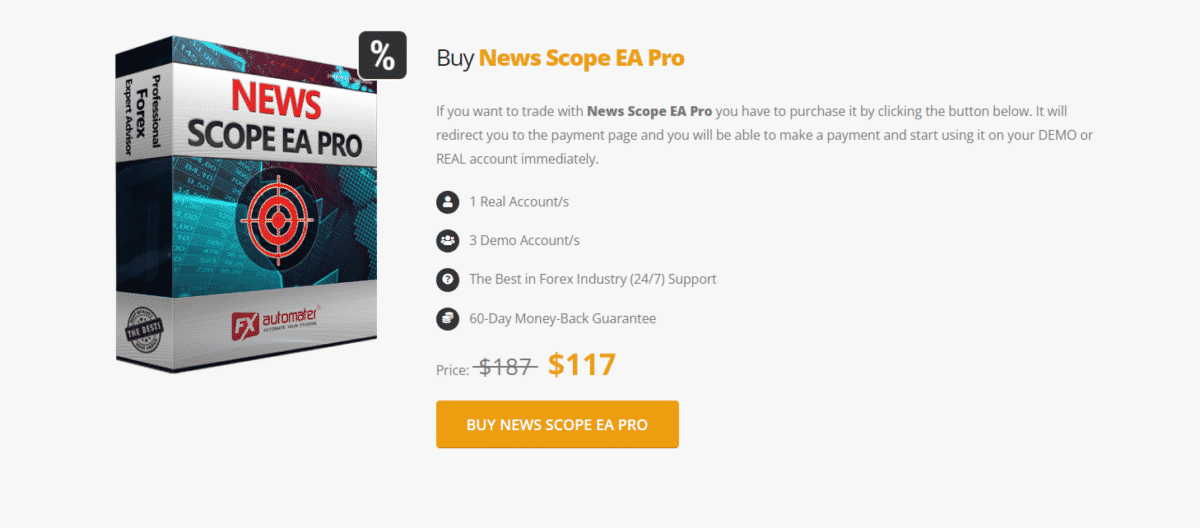 You can purchase this EA for the price of $117. This gives you access to a single real account and three demo accounts. The vendor offers a 60-day money-back guarantee for this product.
Assistance
Every customer gets access to 24/7 support. The website does not have a live chat feature, so you must use the contact form to get in touch with the support team.
Customer reviews
Currently, there are no reviews for this EA on third-party websites. This tells us that not many people are currently using this system to conduct live trades.
Is News Scope EA Pro a reliable system?
News Scope EA is a system that is sold by a company with zero reputation. We don't know what kind of strategy it uses and there are no customer reviews.