Forex Scalping EA is an expert advisor for the Metatrader 4 platform that analyzes the Forex market to seek out entry and exit points for short-term trades. It is a fully-automated system that is backed by live trading statistics and backtests performed over several years.
Forex Scalping EA company profile
Unfortunately, we don't know much about the developer organization behind this EA. The official website doesn't have an About Us section, so we don't know when the company was founded or whether it has built other EAs in the past.
The highlights of Forex Scalping EA
Forex Scalping EA can run on any account size. You should use an amount you are comfortable with and set the leverage as per your trading style. The system is compatible with all brokers that support MT4. The vendor recommends one with low spread/commission and fast execution speed. You should already have an account with an MT4 broker.
This EA is optimized for pairs like EUR/USD, GBP/USD, EUR/GBP, and EUR/CHF. The developer recommends running it on 5-minute charts. Forex Scalping EA comes with default settings based on several years of testing. It is possible for the user to set their own lot/risk size.
Forex Scalping EA uses reversal trades for scalping the Forex market. It conducts quick trades to take advantage of minor market movements. The trades are typically held for only a few minutes.
Facts & figures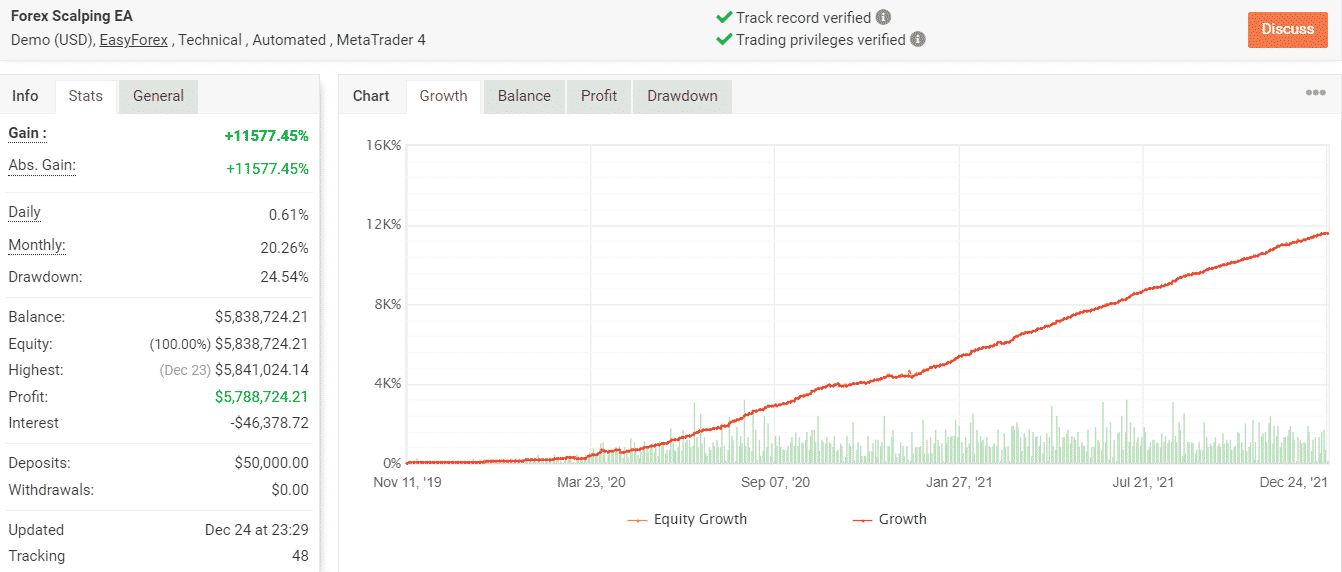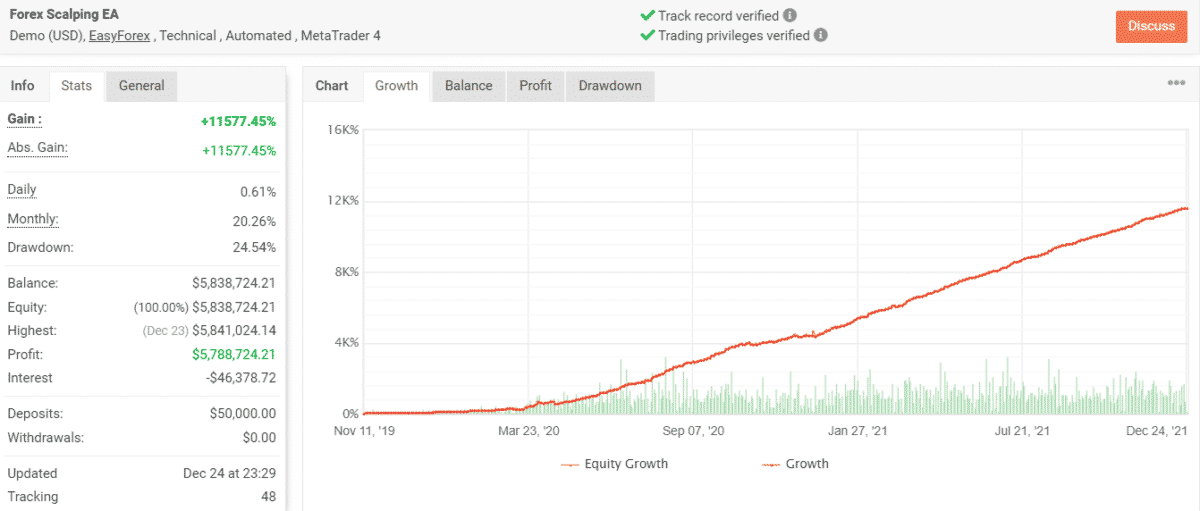 Here we have a demo trading account on Myfxbook that was launched on November 11, 2019. Since then, the EA has placed 5395 trades through this account. It currently has a high win rate of 88%, although it has managed to maintain this due to a high drawdown of 24.54%. This tells us that the system trades with high risk. The daily and monthly gains for this account are 0.61% and 20.26%, respectively, while the profit factor is 4.61.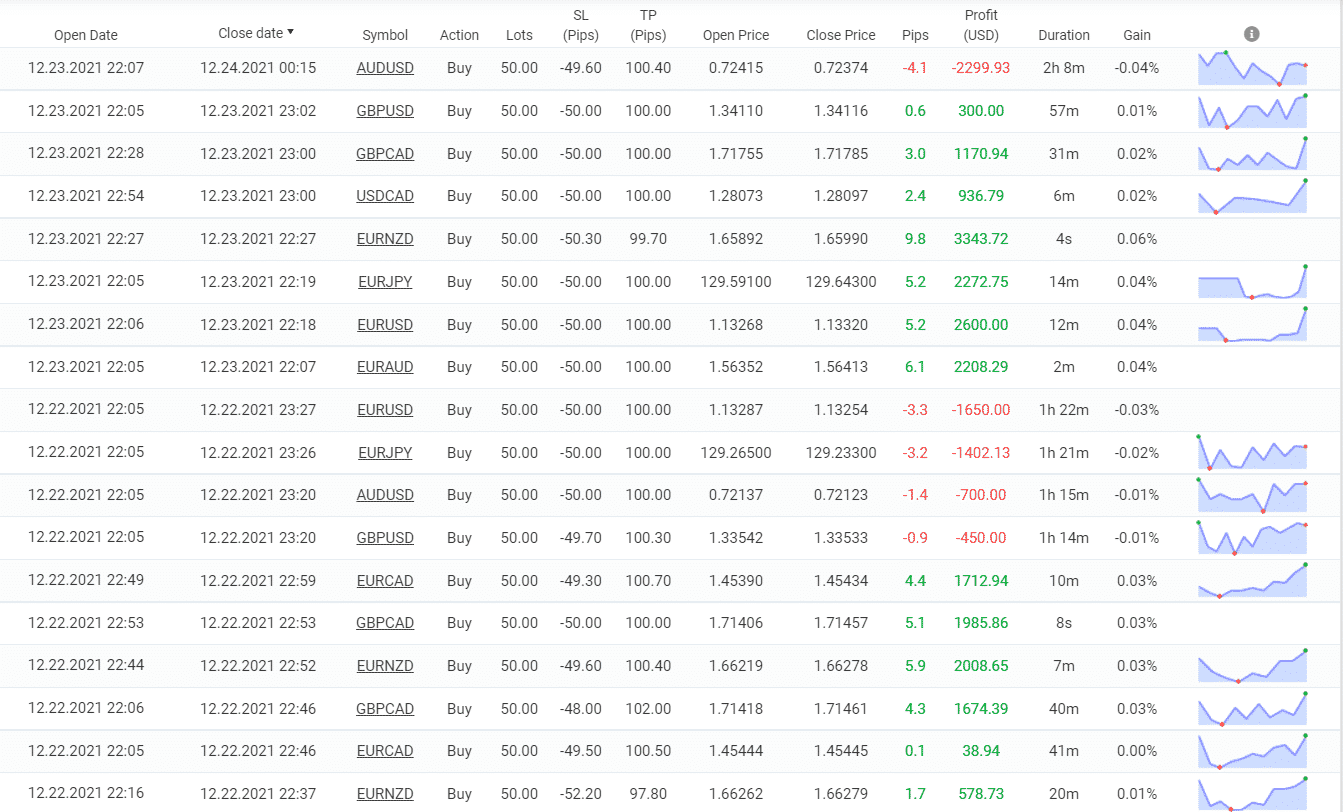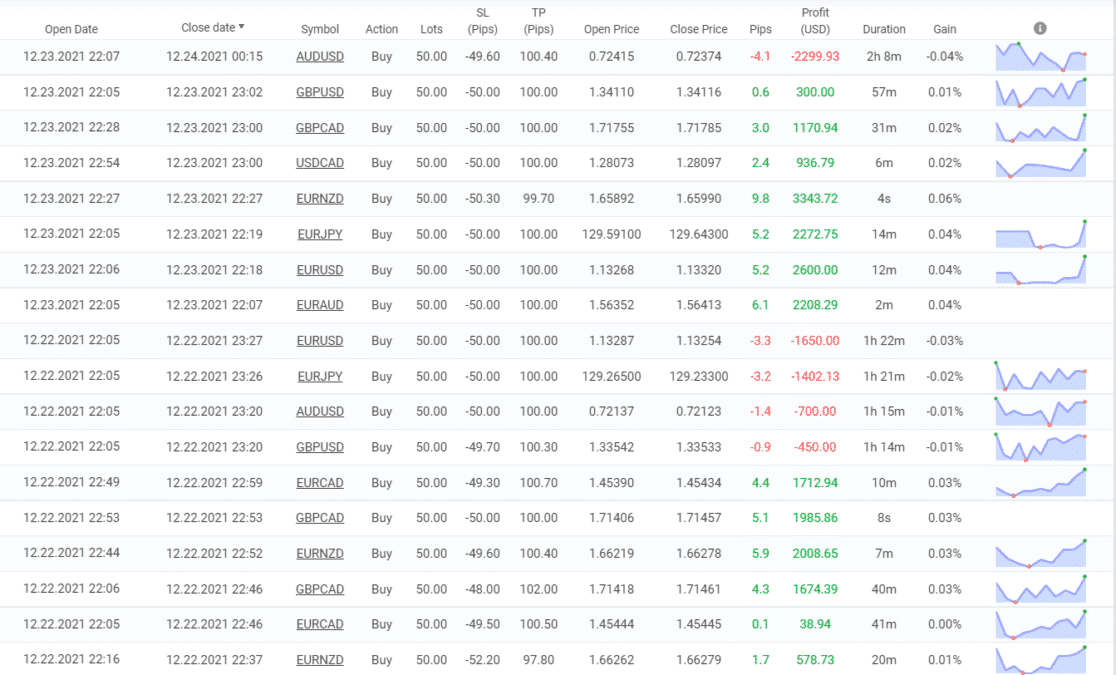 From the trading history, we can see that the EA trades with a fixed lot size of 50. It generates very small profits for each trade. In December 2021, it lost four trades back-to-back, but managed to recover the losses in the following trades.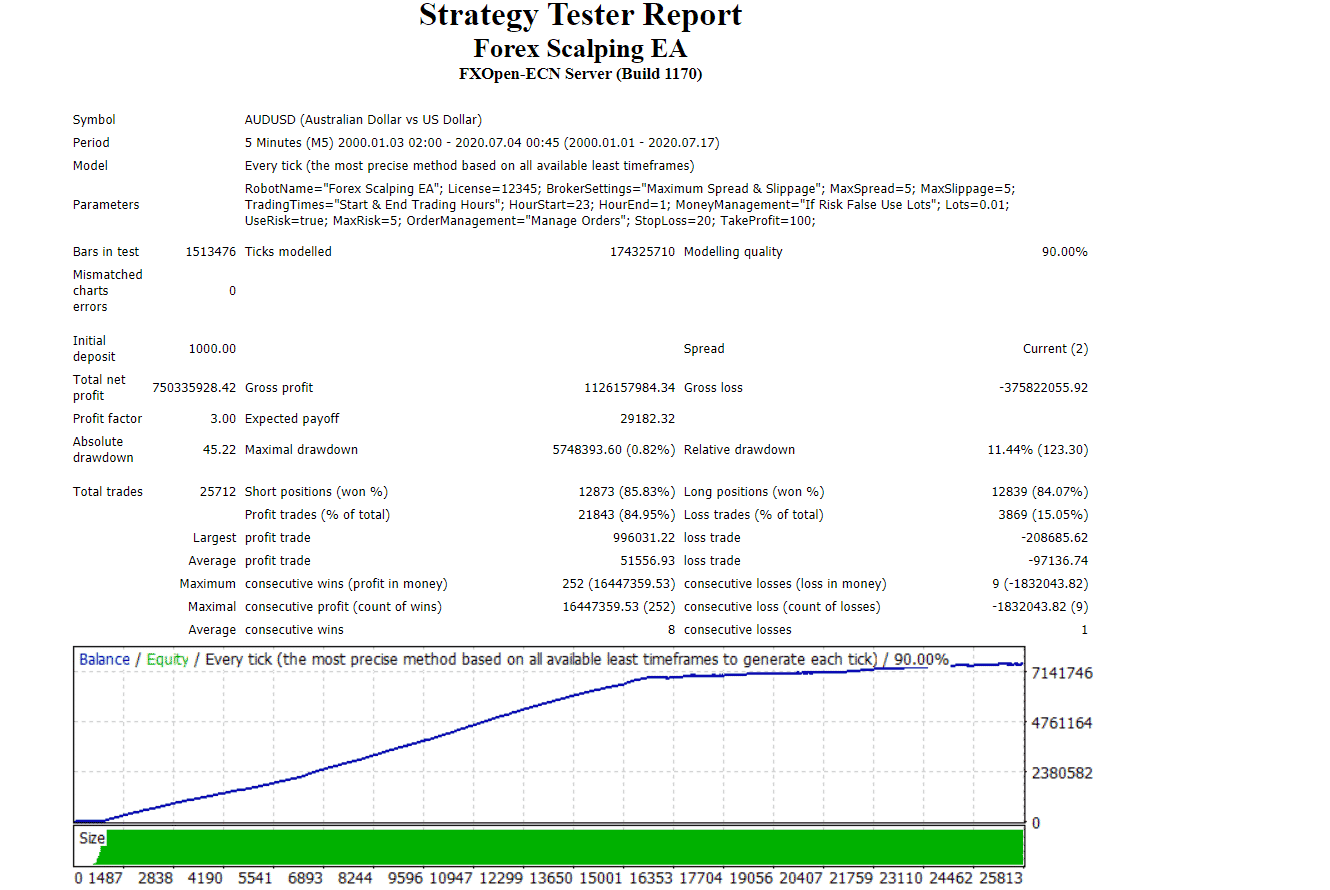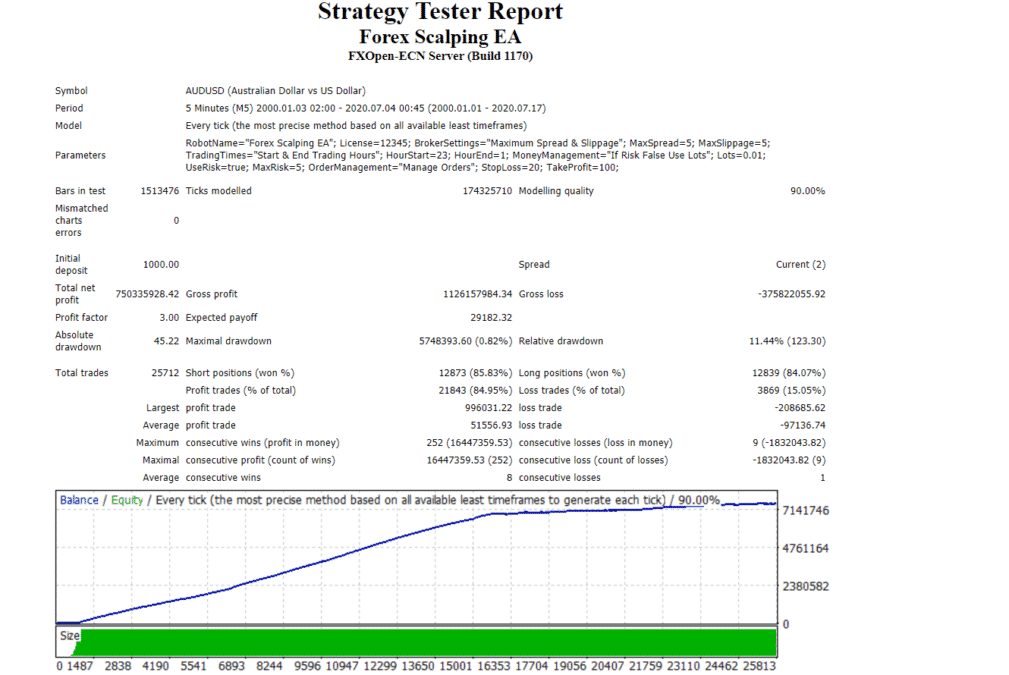 For this backtest, the EA used an initial deposit of $1000. It conducted a total of 25712 trades starting from January 2000 to July 2020, winning 84.95% of them and generating a total profit of $750335928.42. The win rate, although slightly lower than the one for the live results, is still quite high by normal standards. There were 252 maximum consecutive wins and 9 maximum consecutive losses during the testing period and the profit factor was 3.00. Compared to the live statistics, the drawdown was quite low at 11.44%.
Forex Scalping EA packages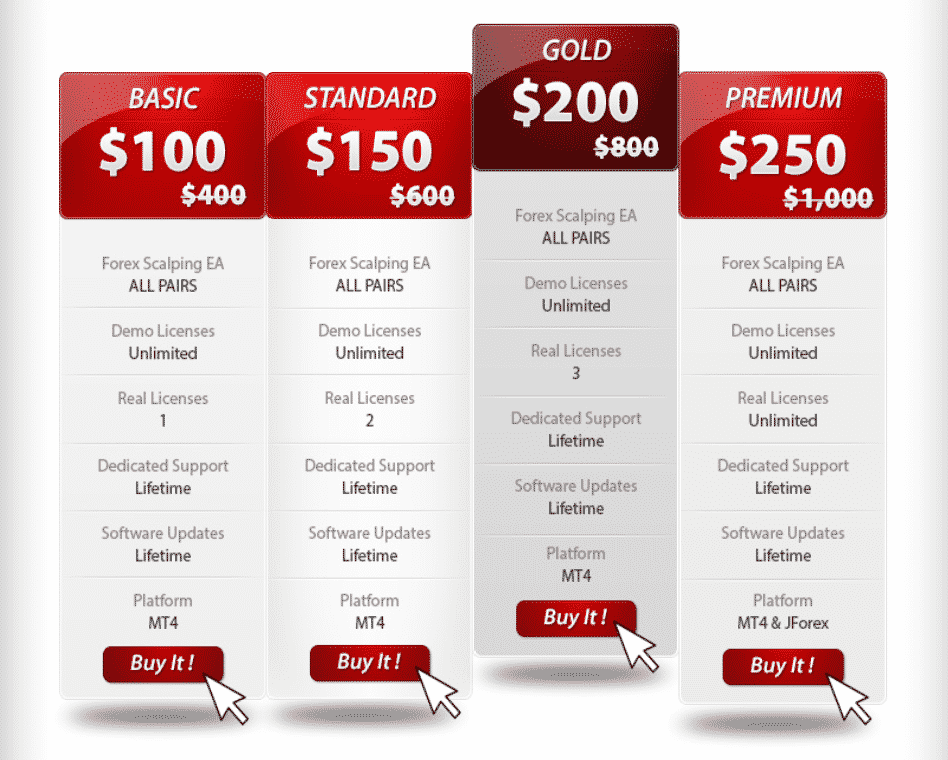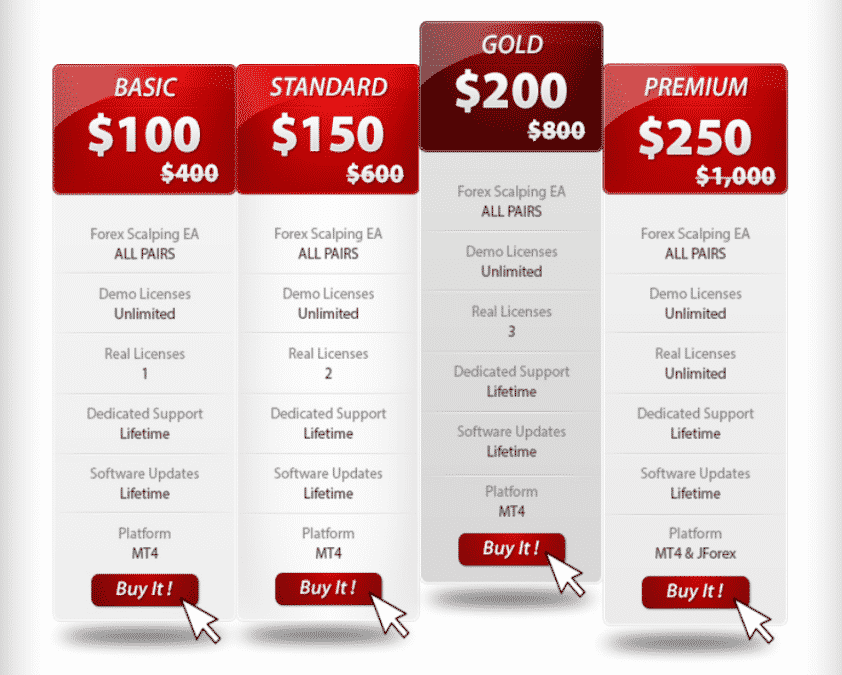 There are four pricing plans for this EA, namely Basic, Standard, Gold, and Premium and you can purchase them for $100, $150, $200, and $250, respectively. The features offered in these plans are more or less the same, with the difference being the number of real licenses that come with them.
While the Basic plan only comes with a single license, the Standard plan and Gold plans come with two and three, respectively. With the Premium plan, you get an unlimited number of licenses as well as the ability to trade using the JForex platform. The vendor does not offer a money-back guarantee for any of them.
Assistance
All traders get access to 24/7 support, but it may take up to 24 hours before they get a response. Also, the only way to get in touch with the support team is through the contact form.
Customer reviews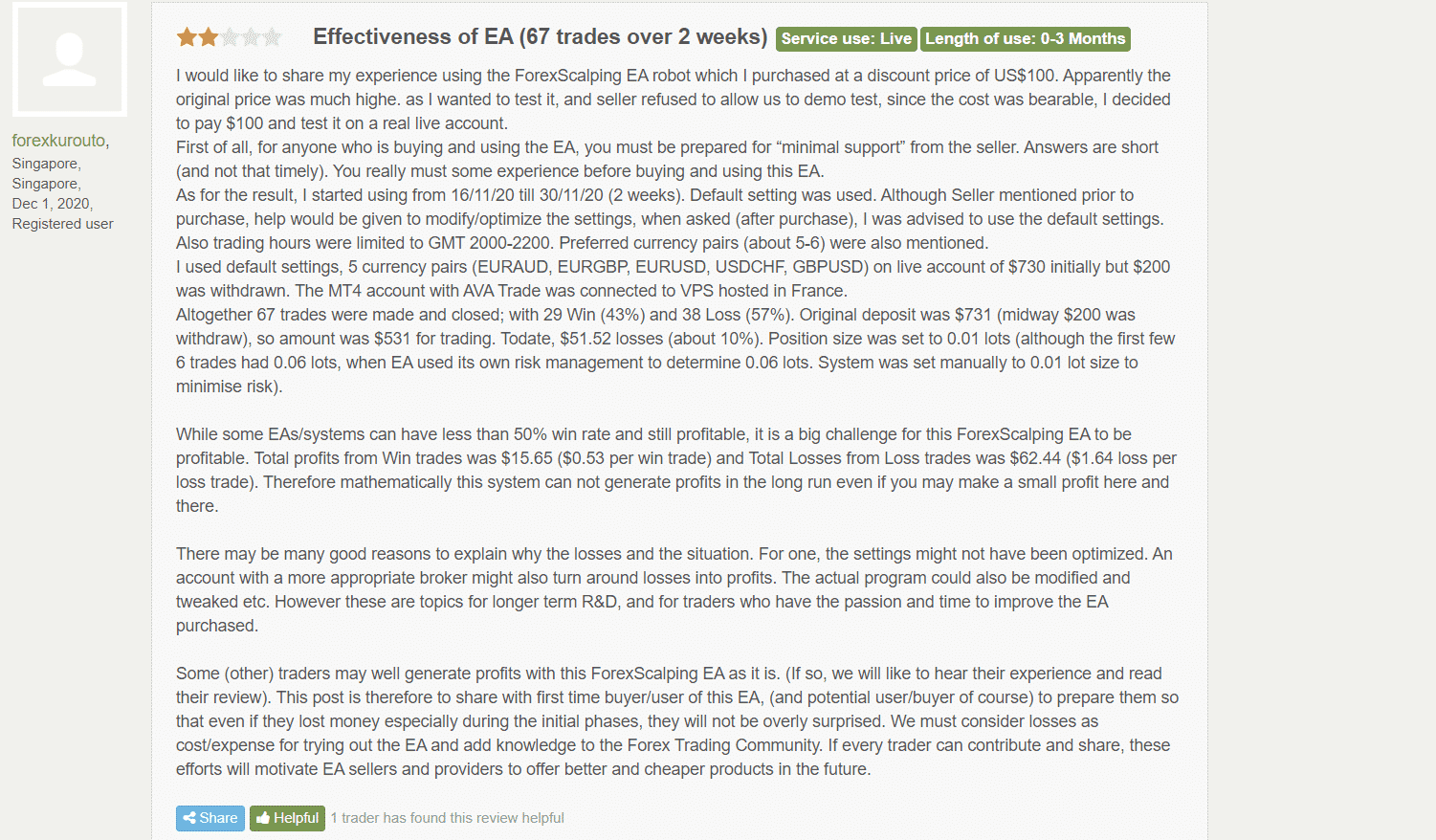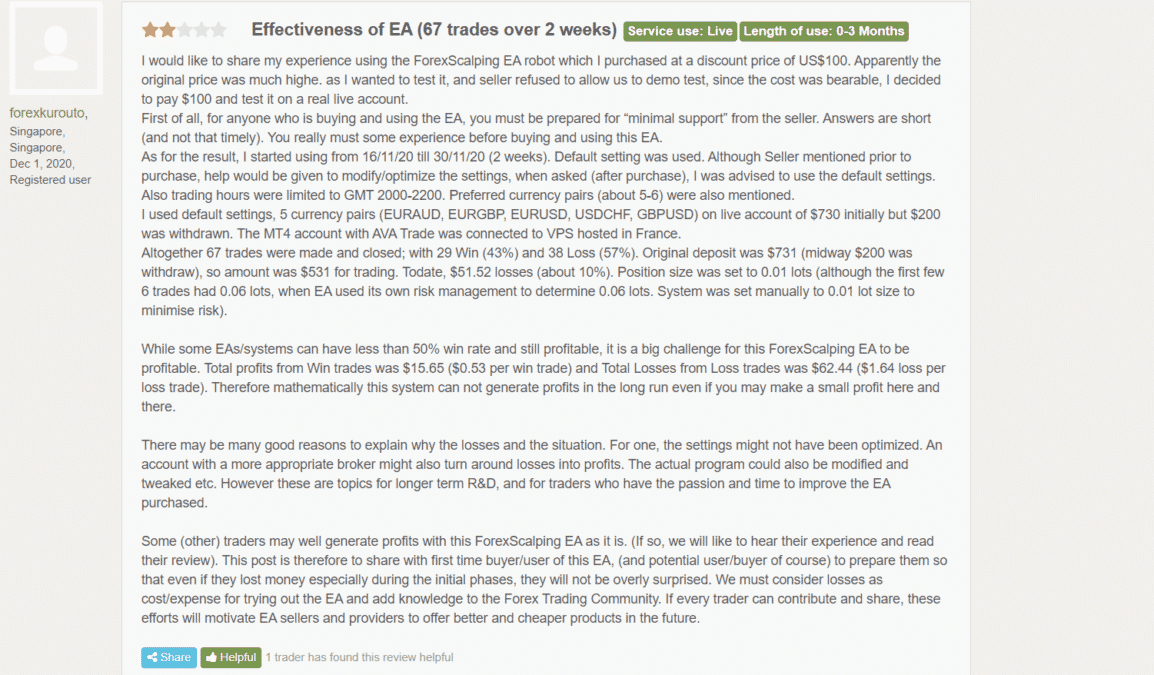 On the FPA website, one user has heavily criticized the support offered by the developer. They also claimed to have lost most of their trades while using this robot.
Is Forex Scalping a reliable system?
Before purchasing this EA, you should know that it comes from a developer with no reputation. They don't offer a money-back guarantee for this robot, which means your investment won't be protected.