NapBots is an intriguing crypto platform providing a copy trading-style marketplace. Here, numerous profitable automated trading strategies are offered for a monthly subscription.
This review will analyze the efficacy of this product and whether it truly lives up to its name.
NapBots quick summary
Here are the main key points to understand about NapBots.
24/7 automated trading
Trading occurs via crypto indexes (for beginners/long-term holders) and bots (for active day trading)
Connectable to seven popular exchanges where you can manage accounts under one dashboard
Portfolio tracker available
7-day free trial
Customer service is provided through tutorials, educational guides, and 1v1 email/phone support
NapBots: what is it?
NapBots is an automated cryptocurrency copy trading platform. It executes positions automatically via APIs through several well-known exchanges using algorithms.
Who is behind NapBots?
The original company behind NapBots is the Paris-based Napoleon Group which launched the software in 2020. CoinShares, an FCA-regulated digital asset management firm from London, acquired the brand in November 2021.
Both companies are highly reputable in the cryptocurrency industry, with teams of experienced employees.
How does NapBots function?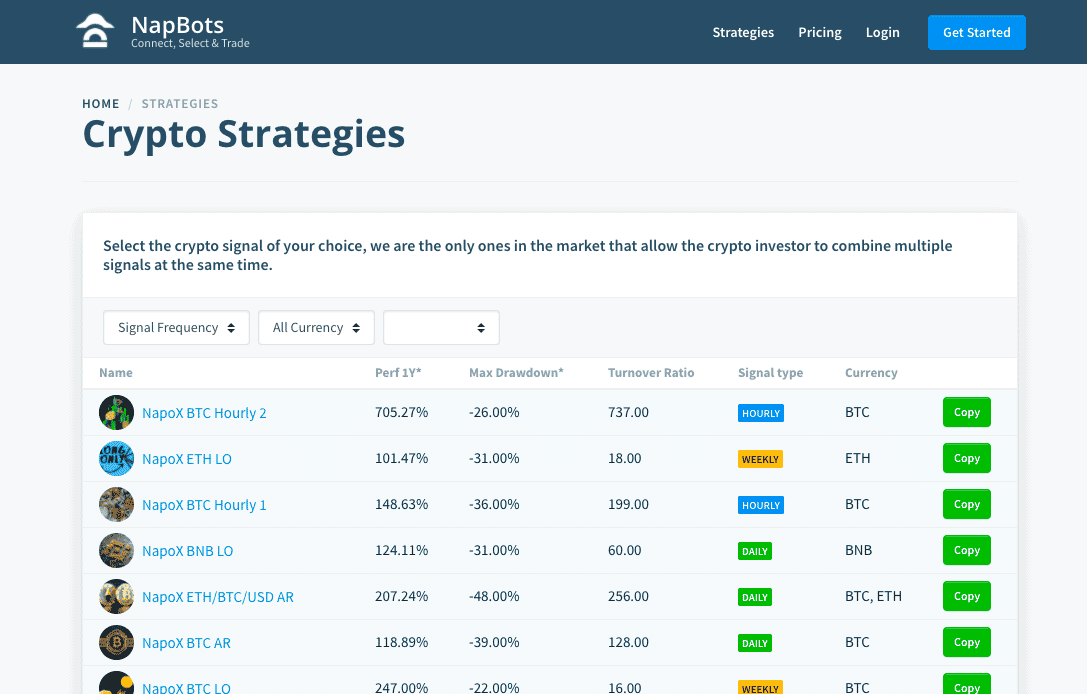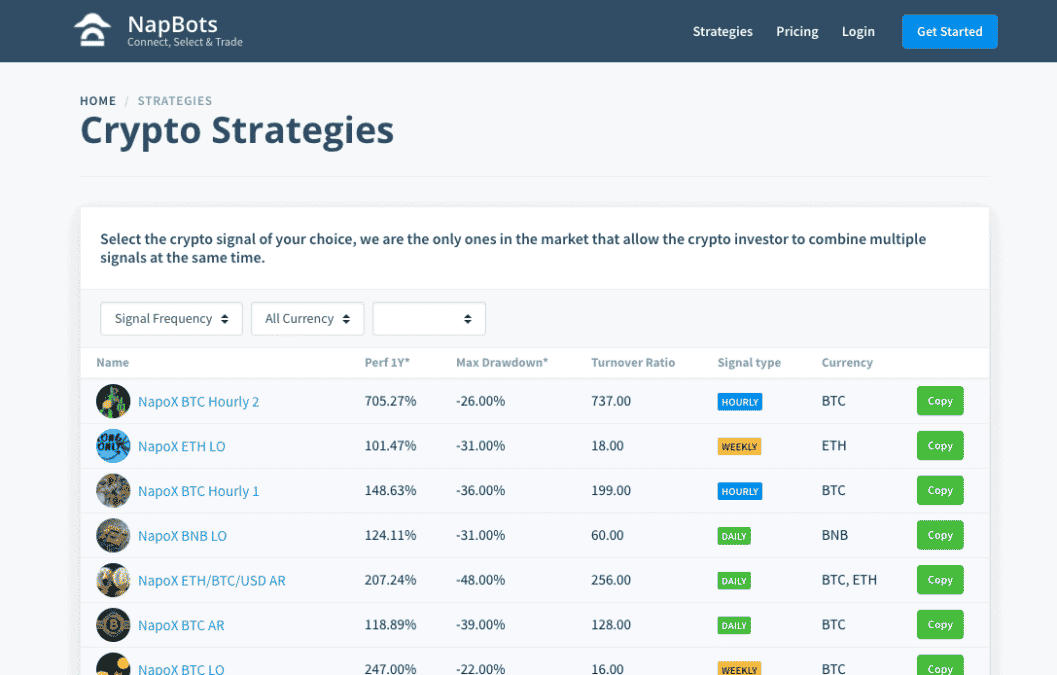 NapBots offers a list of 20 different algo-based trading systems on a platform similar to a copy trading service. You can use various filters to select a strategy with high, medium, or low-frequency execution as a customer.
Technical indicators available
NapBots will consider the readings of several indicators like moving averages, MACD (moving average convergence divergence), and RSI (Relative Strength Index).
These tools implement numerous trend-following and mean-reversion systems based on 'fixed-length observation windows.'
What should you know about NapBots' performance?
NapBots doesn't promise any fixed performance gain as it depends on the strategies users copy. It's common to see a system with returns in the three or four-digit range over one year.
Therefore, the performance will vary widely based on various factors and is not guaranteed.
Key features of NapBots
Here are the main features of this platform:
Users choose between crypto indexes and trading bots from 20 strategies
Multi crypto account management with a single subscription
User-friendly dashboard with portfolio tracking functionality
Safety and security assured with no third-party access to funds
Full customer support
How easy is NapBots to use for beginners?
NapBots is quite beginner-friendly. However, you'll need to understand the various performance metrics to make a well-informed decision on the best subscription.
How to get started on NapBots?
Before starting, you must connect an existing account with a supported exchange using an API key. After that, you can sign up on NapBots, having chosen your preferred subscription.
Pricing, fees, deposit, withdrawal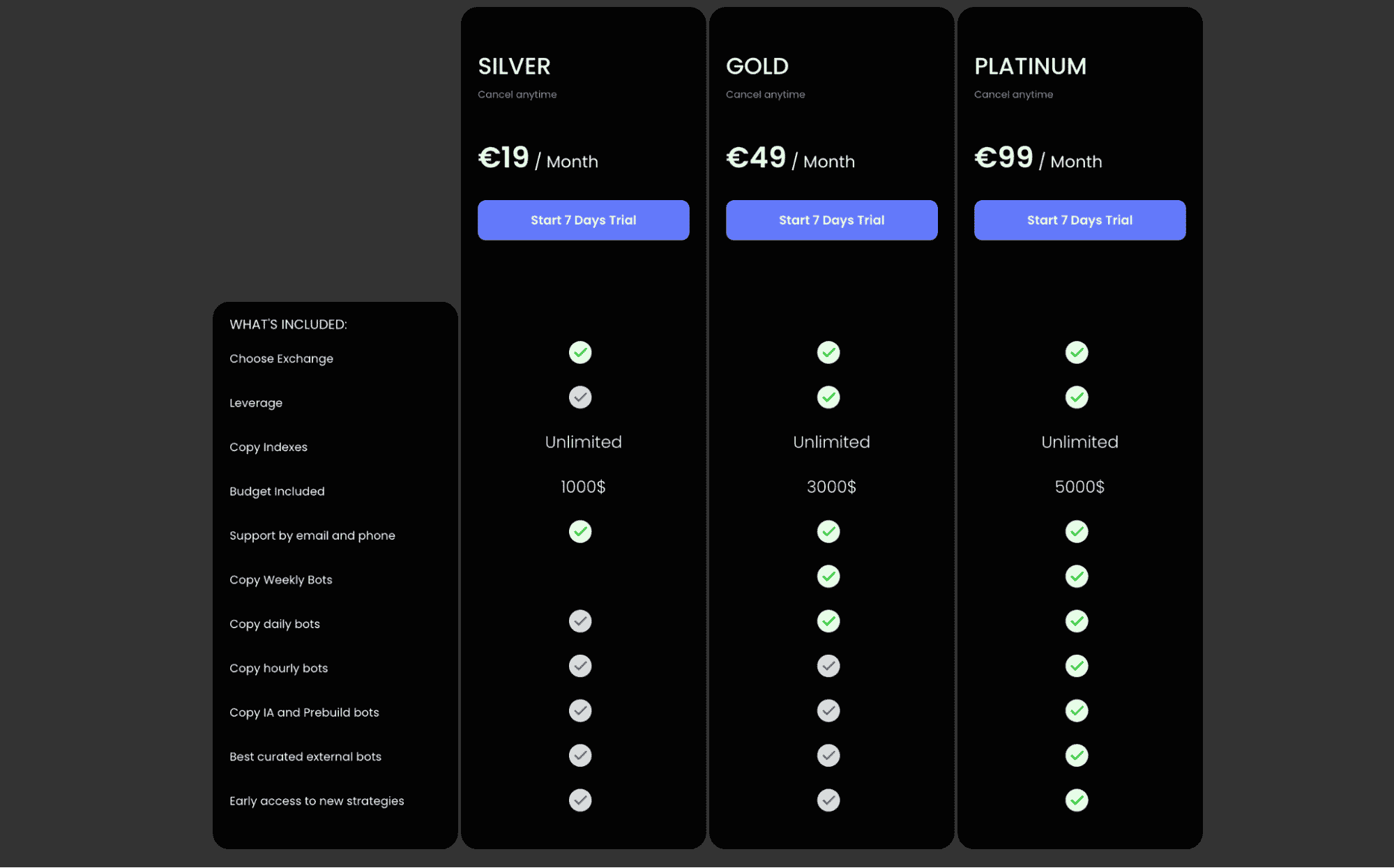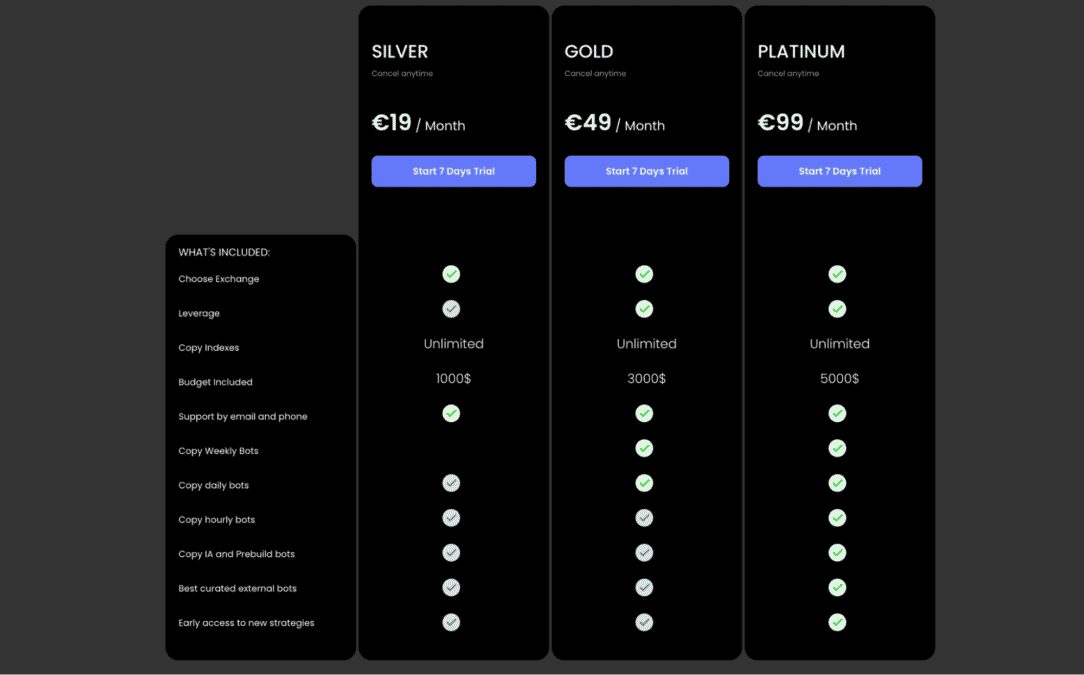 You can select one of three paid plans: Silver, Gold, or Platinum. These vary based on leverage availability, budget/starting capital, hourly/daily/weekly bots, etc.
You pay €19, €49, or €99 monthly, depending on the chosen subscription. Each package comes with a 7-day free trial where the trading happens on a simulated account. The connected exchanges handle deposits and withdrawals.
What settings are available?
The main settings you can modify with NapBots include leverage, trading limit, exchange switching, and the chosen strategies.
Which exchanges does NapBots support?
NapBots currently supports Binance, FTX, OKX, Kraken, Huobi, and Bitfinex.
NapBots: supported assets
This is determined by the available markets offered by the connected exchanges.
NapBots: security and regulation
Although CoinShares is licensed, it doesn't mean the trading platform itself is regulated. For security purposes, the platform cannot access your funds as these are kept on the connected exchange.
What do customers say?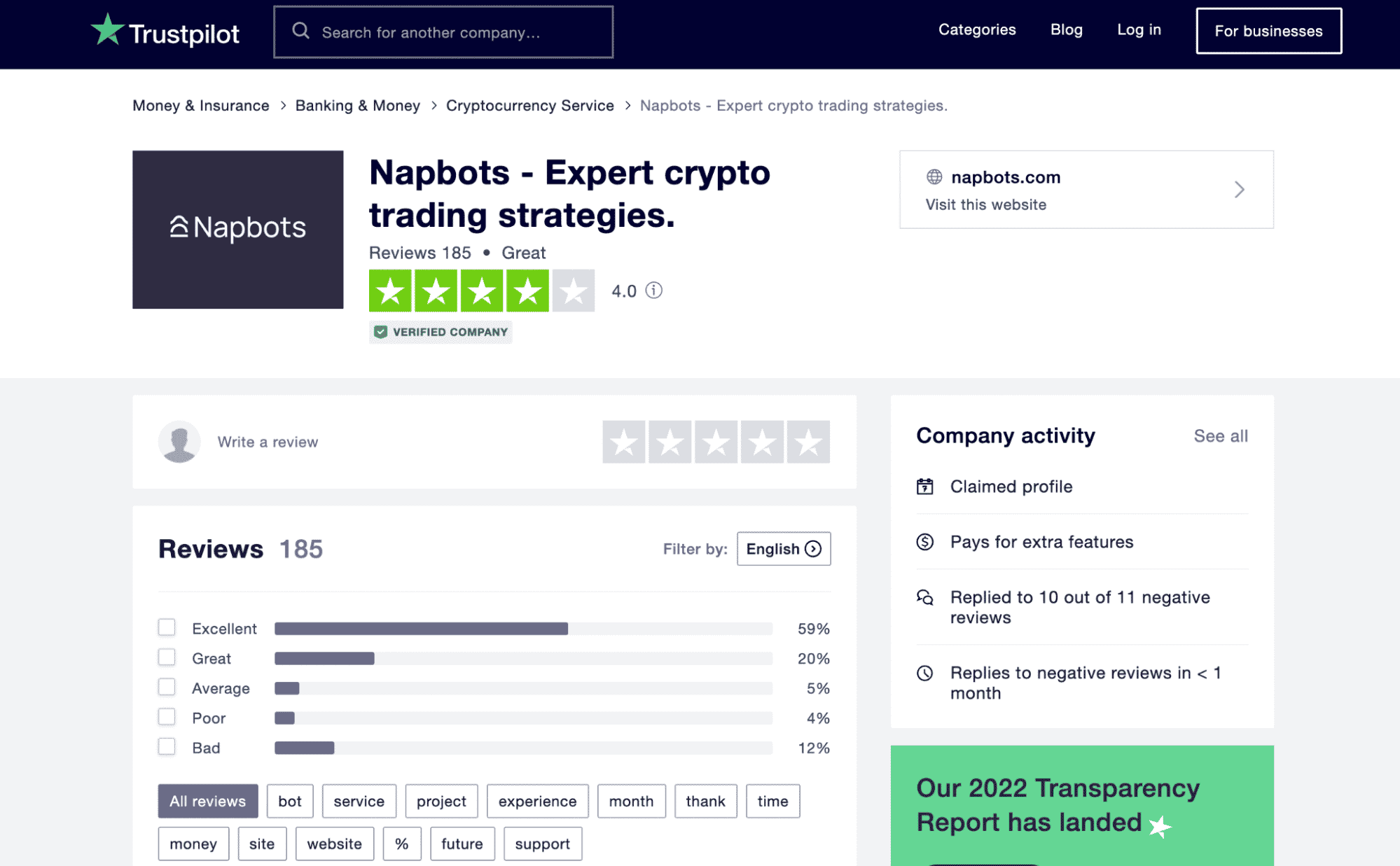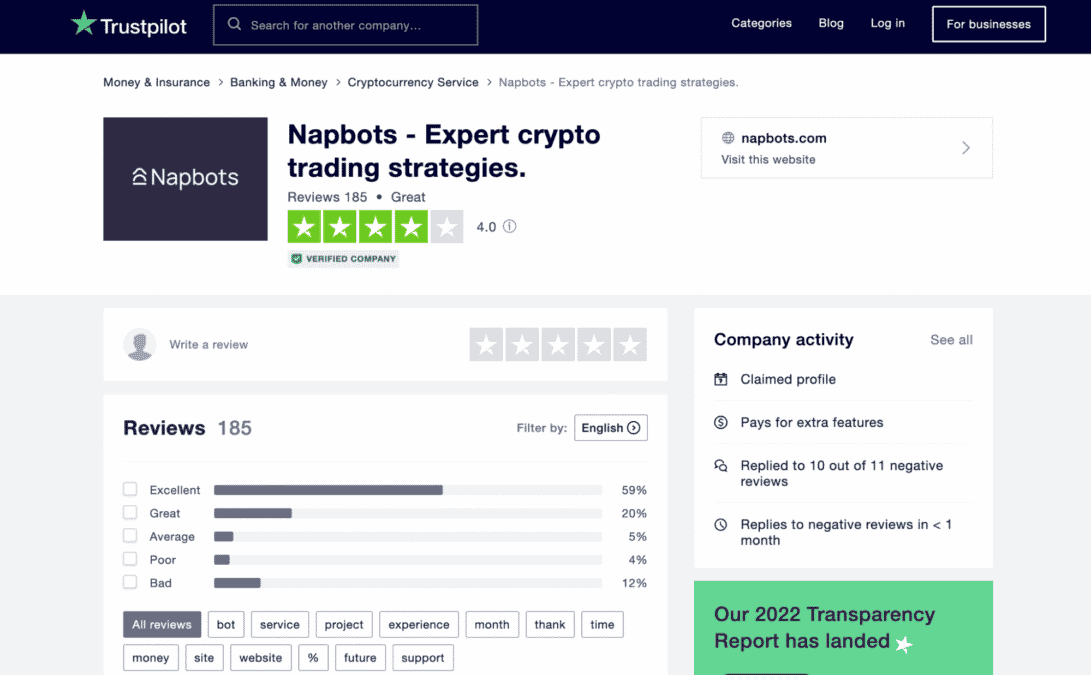 The product has an overall 4-star rating on TrustPilot from 185 reviews. The poor and negative comments mainly concerned the trading performance, where some users reported months of losses.
Public support
Similarly, the public response to this service has been chiefly optimistic from many external reviewers. Yet, the feedback hasn't mentioned anything about the long-term trading performance.
NapBots: closing thoughts
In summation, let's look at the main pros/cons along with our final verdict.