HodlBot supports crypto trading on autopilot. The platform reports a trading volume of $50M+ and has facilitated 400k+ transactions since its invention to date. It has also helped more than 10k users to create thousands of portfolios. We are here to determine what the bot offers.
HodlBot quick summary
Here are the key points of the platform:
The bots you create trade on exchanges using API keys
You are allowed to develop your crypto index or cryptocurrency portfolio
The platform works with HODL indices
Strategies available for trading include passive investing, active trading, and portfolio rebalancing
HodlBot: what is it?
The vendor says HodlBot is a tailor-made trading bot that helps users to index the market, develop their own preferred crypto portfolios and rebalance them automatically.
Who is behind HodlBot?
This trading tool was founded by Anthony Xie. He claims to be a big data nerd who likes to discuss issues that touch on data, crypto, and finance. Mr. Anthony has an active page on Twitter, which has 1825 followers as of now. He is currently based in Ontario, Canada.
How does HodlBot function?
HodlBot trades coins from your exchange automatically using the strategy you have set. It also rebalances your portfolio by initiating a sequence of trades to ensure you reach your target allocation. One month is the default period, but you are permitted to shorten or prolong this time.
Technical indicators available
Technical indicators are not mentioned anywhere in the presentation. So, we might as well assume that the bot doesn't apply them.
What should you know about HodlBot performance?
HoldBot doesn't make any promises as to the amount of income it will generate for users. Neither does the vendor feature any trading statistics to show us how it performs in the real market. Therefore, we recommend you take advantage of the backtest feature to figure out what settings increase your chances of making profits.
Key features of HodlBot
We have listed below the bot's main features:
It allows you to develop portfolios using advanced market metrics
Supports backtesting
Provides 24/7 customer support
The minimum recommended deposit amount is $200
It trades on four main exchanges
How easy is HodlBot to use for beginners?
HodlBot is user-friendly. It comes with ready-made strategies, so your job is to configure them to your liking and deploy them to the market to start trading. Several tutorials are also available to guide you through the entire setup process.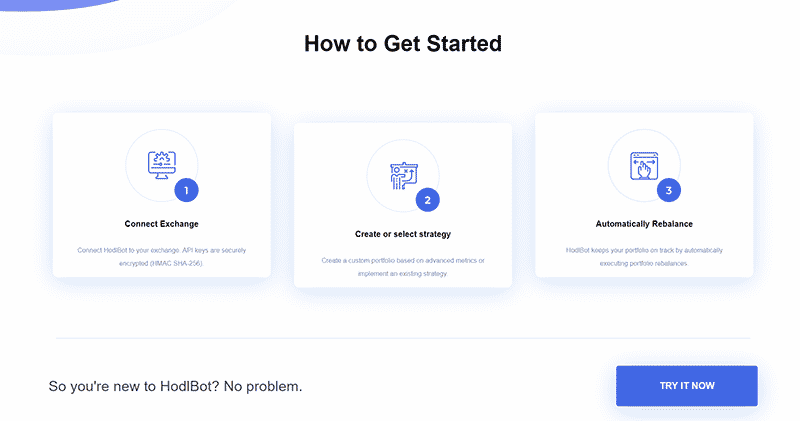 How to get started on HodlBot
There are several steps you need to follow to begin using the bot. We have listed them below:
Register an account with HodlBot on the official website
Link the bot to your chosen exchange
Develop your own strategy using the parameters provided or work with the existing strategy
Activate the bot, and it will keep your portfolio on track by automatically rebalancing it
Pricing, fees, deposit, withdrawal
You can use this tool for free for the first week. After that, you will be required to make some monthly payments based on the size of your portfolio. If your account value is below $500, you will be charged $3/month. For an account valued between $500 and $1000, the cost is $6/month. Lastly, accounts valued over $1000 will attract a charge of $14/month.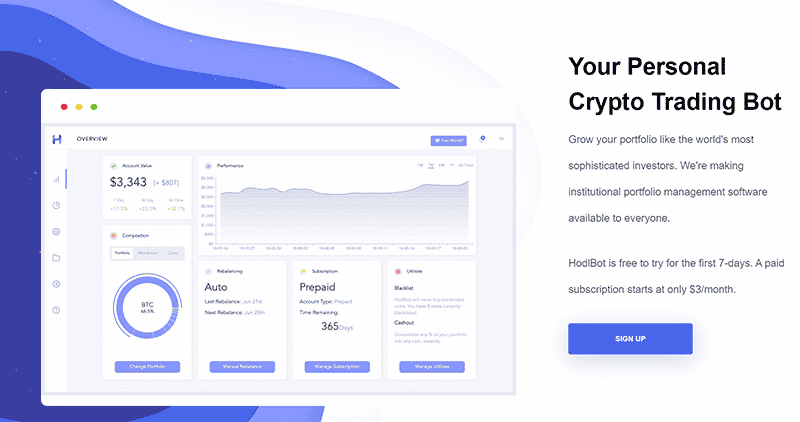 HodlBot does not take deposits or make withdrawals since it is a software tool and not a fund or an exchange platform.
What settings are available?
HoldBot features a variety of settings like the ones we have presented below:
Cash out
HODL 10, HODL 20, and HODL 30
Coin blacklist
Manual rebalancing
Rebalancing period customization
Which exchanges does HodlBot support?
The vendor says that the bot works with the safest and most liquid crypto exchanges, and that's why it only supports Binance, Kraken, Bittrex, and KuCoin for now.
HodlBot: supported assets
HodlBot works with many assets. They include BNB, BTC, Ethereum, USDT, USDC, XRP, BCH, DAI, DOGE, LTC, NANO, ADA, and many more.
HodlBot: security and regulation
The platform encrypts your API keys on the backend cryptographically to keep them safe. Your API keys are trade-only, which restricts the bot from withdrawing your money. To attain super security, the vendor advises you to disable trade permissions for your API keys in between rebalancing periods.
What do customers say?
We found one review for this tool on TrustPilot. The auhor was mad with HodlBot and gave it a one-star rating as a result. According to him, the bot failed to rebalance his account, and despite his plea for help, the vendor didn't respond. Though this testimonial is insightful, we still need more to see what other traders feel about the product.

Public support
There is an extensive documentation area (wiki) that focuses on helping users understand how the bot functions. It is also possible for users to submit their queries through email or Telegram.