M15 Signals prides itself in its wide customer base, which is alleged to consist of over 100,000 traders. Essentially, the vendor provides them with signals to trade currencies and gold. We are made to believe that the signals have a 90% accuracy rate and hence are very profitable. Let's take a closer look at the firm's offering and ascertain if you should trust it.
M15 Signals company profile
M15 Signals is a private limited company that is based in Singapore. As the name suggests, the service provider mainly offers trading signals for Forex traders. It started providing this service at the end of 2018. Unfortunately, this vendor doesn't have a good reputation in the market. Many have accused it of being a scam.
The highlights of M15 Signals
The services available are featured by the following:
Two to eight signals daily for premium subscribers
Telegram live alerts
Three take profits per signal
Signals for currencies and gold
Signals time: Asia, London & USA
Risk management advice
The strategy used by the devs is not disclosed. It could be the team is not using any specific approach and is just picking signals indiscriminately. This may cause traders relying on the service to suffer unnecessary losses.
Facts & figures
There are no backtest reports. This comes as a huge disappointment. Backtesting offers important statistical feedback regarding a strategy. Examples of these stats include yearly returns, volatility metrics, win/loss ratios, profit/loss, etc. Therefore, we can't tell if the devs are using a methodology that has been proven to work or not.
M15 Signals website has a page, which highlights the signals performance in the live market. Sad to say, these results cannot be considered to be authentic. We just have a table with random numbers and a claim that the signals have not led to any losses yet since 2018. If the devs were serious, then they should have opened an account on Myfxbook and used it to trade their signals to prove their 90% win rate story.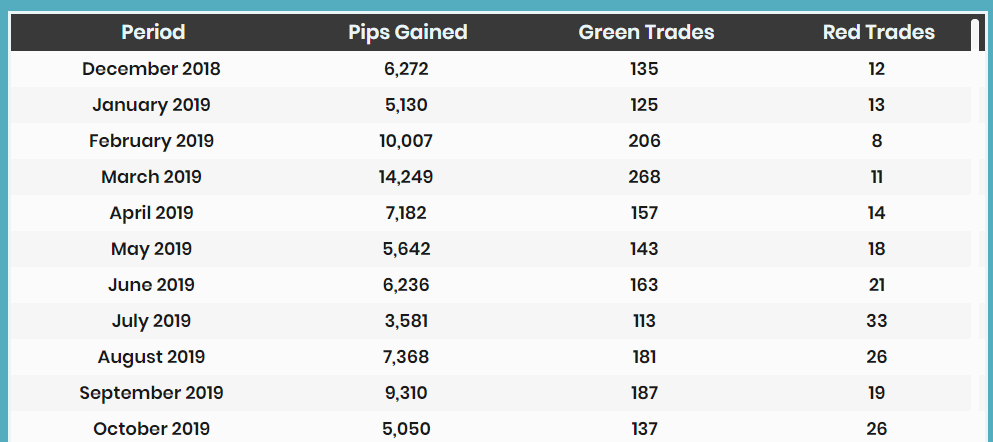 M15 Signals packages
M15 Signals is available in three different packages that offer similar features. The main difference is the period the services last. For $60, $120, or $190, you will be supplied with the signals for 1, 3, or 6 months respectively. There is also a free option for traders who would want to test the efficiency of the signals first.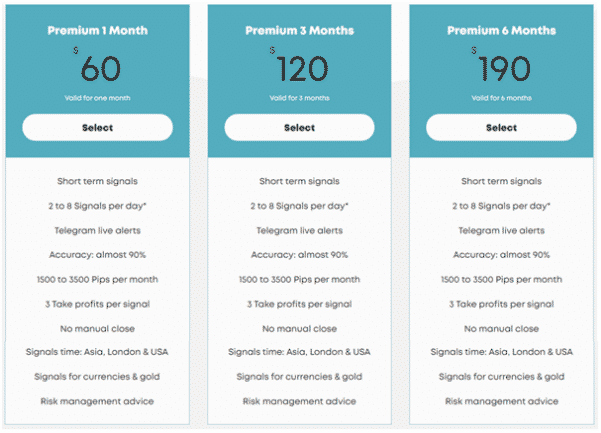 Assistance
The team has set aside a "contact us" page that features a form, which you can use to fill in your details and questions. Ironically, the company's email address is not indicated. There's a live chat window that also asks you for similar info as the contact form. We are afraid that these processes slow down client service. Since a live call center is unavailable, you may not get an instant response in an urgent situation.
Other notes
It seems that M15 Signals has convinced many traders to subscribe to their services if the number of customer reviews on FPA and Trustpilot is anything to go by. We are shocked. Anyway, the traders had to learn the hard way-by losing some real money. We have taken a sample of the feedback from Trustpilot to help you understand what the customers are saying about this service provider. The clients below are stating that the signals are bad and are generated randomly. Consequently, they can wipe out your account.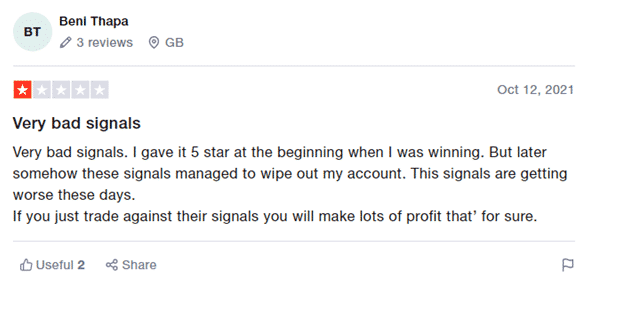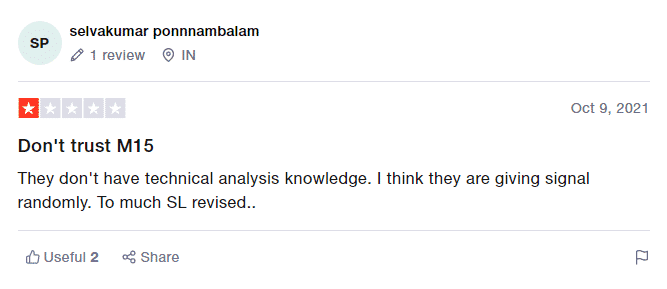 Is M15 Signals a profitable bet in 2021?
No, it is not. Here's why we believe the company cannot profit you:
The signals' track record is unverified
No specific strategy is applied
The signals are ineffective
The above issues make M15 Signals a risky venture because the signals offered could generate undesirable results in your account and eventually blow it up.