What is an index fund?
Should you invest in index funds?
Why should you choose Robinhood?
The index fund combines exchange-traded funds (ETF) and mutual funds that help investors diversify their trading portfolio by matching the predetermined index. You can easily open an account in the Robinhood platform and operate trading in the index fund at any time.
Index fund trading has gained popularity as it is an attractive way to diversify the trading portfolio on many assets simultaneously. In addition, the proliferation of stock trading apps like Robinhood enables ETFs trading while other platforms like Vanguard and Fidelity offer no-fee trading on index funds.
Now, you may ask yourself, "how should I invest in index find? Or is Robinhood reliable for index fund trading? Keep reading to learn core features of index fund trading with a guideline to open an account in the Robinhood platform.
Should you invest in index funds?
Investors consider making more money by diversifying the trading portfolio to generate returns from the stock market and index of choice. By investing in the index fund, you can participate in the index that you cannot beat yourself. So if you are ready to remain active in the market and want to earn more than a traditional trader, an index fund would be an attractive option.
Investing in index funds is often a form of passive investment, where people believe that the stock price will be affected by the broader market direction. Moreover, index funds are less volatile compared to the individual stock market as they experience a less volatile return from the market.
Anyways, expanding the trading portfolio in index funds will reduce the market risk, but it is impossible to eliminate the risk at all. Therefore, if you are not confident about your trading style in individual trading, you can find index trading as a solid alternative option.
Why should you choose Robinhood?
One of the best parts of investing in Robinhood is its simple interface and the flexibility in trading fees. You can easily download and install the Robinhood app on your iOS or Android-based device and perform trading after verifying your account with associated documents.
Some index funds may require a minimum deposit of $2,000 with additional administration fees, commission, and yearly maintenance fees. However, in most cases, you can invest under a lower deposit requirement.
Some index funds require a minimum deposit amount, such as $2,000. You might also pay trading commissions, administration fees, or annual fund maintenance fees.
However, the Robinhood app has no trading fees, commission, annual fees, or transfer charges. Therefore, it will allow you to make money without any cost. However, if you want to upgrade your membership to Robinhood Gold, you must pay a fee, but you will get complete research and market analysis.
How to open and fund your Robinhood account
First, you have to download the Robinhood app from the Apple AppStore or Google PlayStore. After that, you need to verify the account using your government-issued ID card, dividing license, or passport. Now, you can invest in your Robinhood account by connecting your bank account.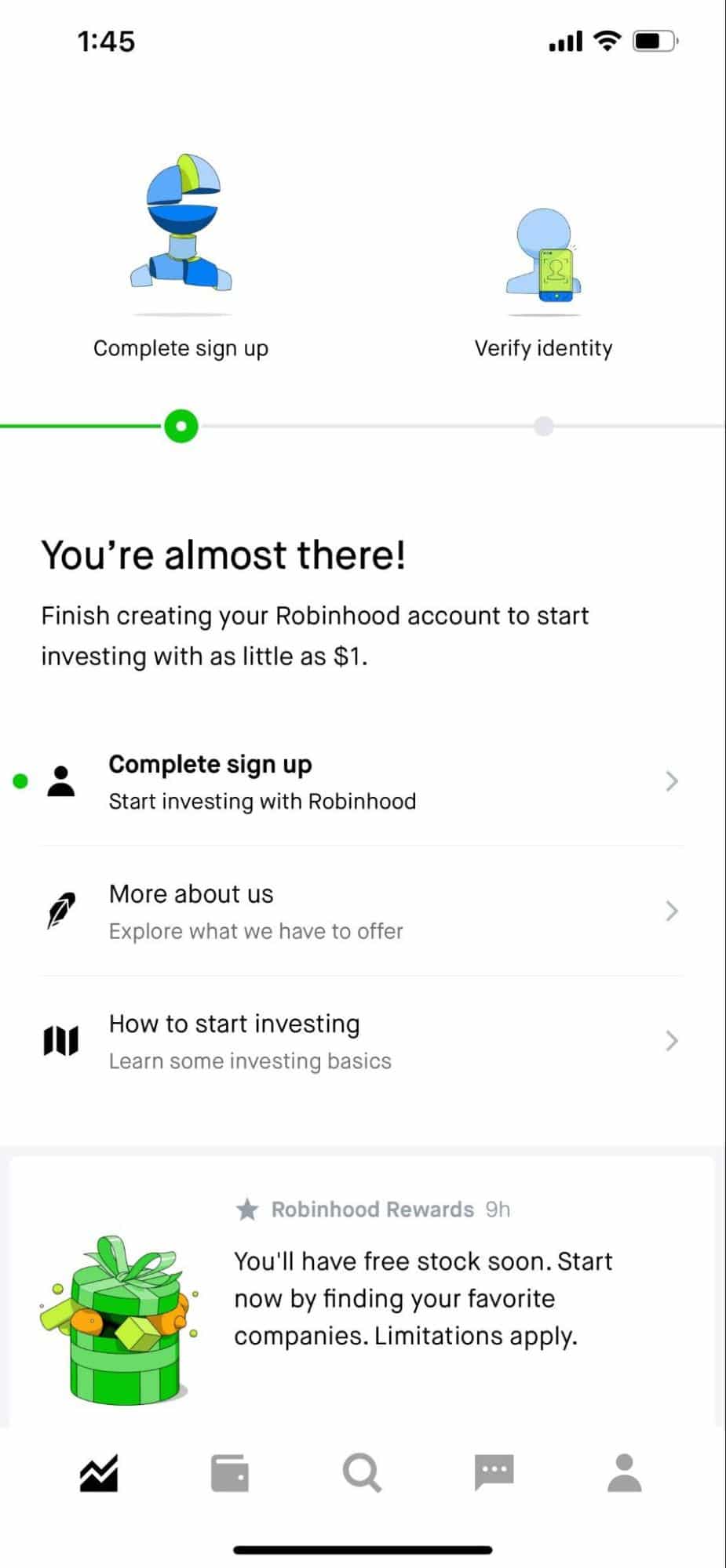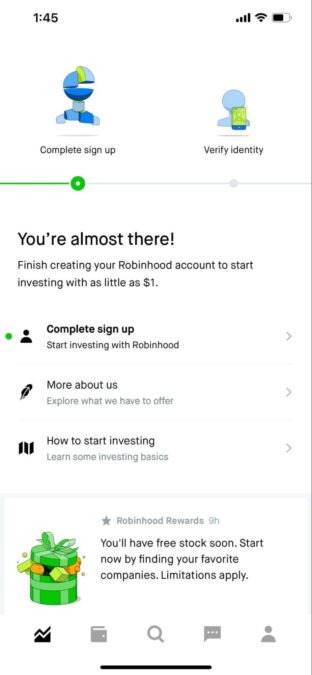 You can automate the system by using an online bank account with the following features:
Free signup opportunity
No additional charge is required to operate the bank
No limit on deposit and withdrawal
Flexibility in accessing the platform from both mobile and web-based devices
There is no monthly fee
You are ready to fund as you have opened an account in Robinhood with an active bank account. In this section, we will see how to fund your Robinhood account.
After attaching the bank account with the Robinhood platform, you should verify the ownership of your bank account. In that case, Robinhood will send a small amount to your bank account that you have to mention in the app to verify the ownership.
After funding your account, you are now able to buy an index fund with some easy steps.
Step 1. Identify the index fund
First, access your Robinhood app and move to the ticker symbol "MDY." After that, you will see the list of available index funds. To get details of an instrument, click on the underlying asset, and you will see the current market trend and statistical data like:
Daily open and close price
Trading volume- daily and average
52 week high and low volume
Price-earnings ratio
Market cap
Besides, it will suggest other trading assets that Robinhood traders are interested in buying.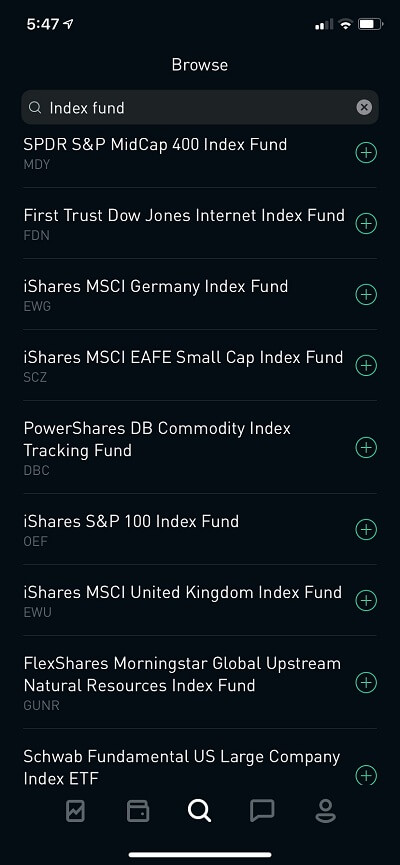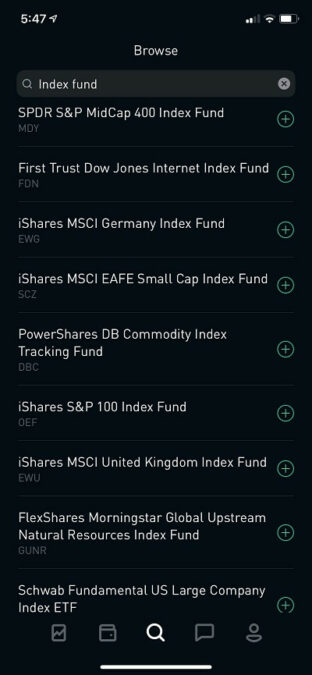 Step 2. Select the number of shares
After selecting the asset, you will see the buy option at the bottom left corner. However, the buying activity will not happen instantly. First, you have to select how many shares you are willing to buy. It will show the cost and the live market price during the selection.
Step 3: Buy using money in your account
After deciding the number of stocks, you have to click on "review," which will show the estimated cost of your action. Remember that it is an estimated cost, so once you buy, the actual cost might be different, depending on the market price at that time.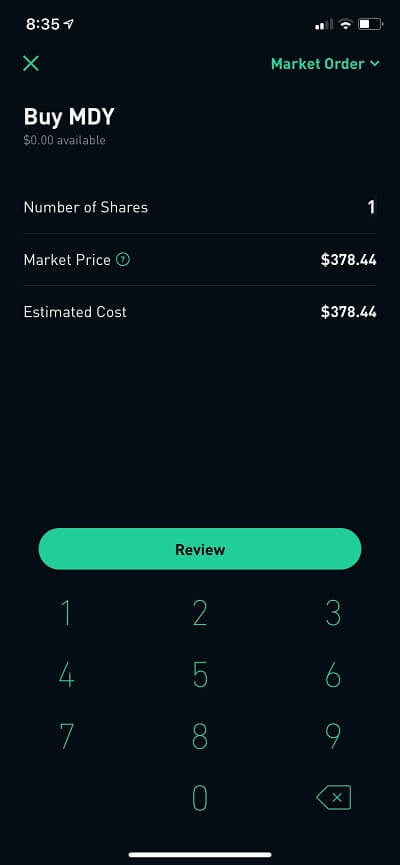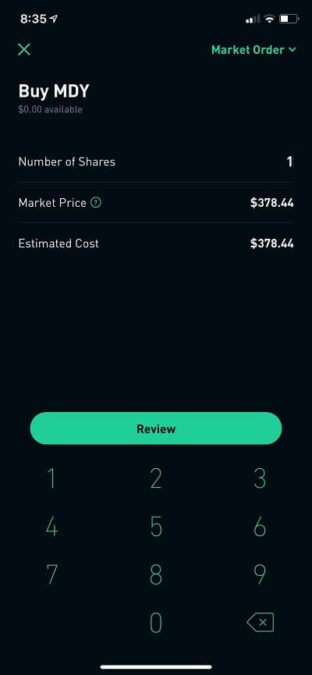 Final thoughts
If you have any intention to invest your money in the long term, you can go for buying an asset and holding it. Moreover, there is no cost regarding any withdrawal. In general, it takes two business days to complete the withdrawal. Furthermore, it may take additional 3-4 days to credit the amount in your bank and another 1-2 days to verify the transaction from the bank.
Overall, you have to wait 7-8 business days to receive your fund after the withdrawal. You can withdraw a maximum of $50,000 a day.
Talking about index funds, we have to consider them a safer investment opportunity. Therefore, passive investors think it is the most reliable way to diversify the trading portfolio.