Is it costly to buy a house?
What are the costs involved in buying a new house?
What are some benefits of owning a home as opposed to renting one?
Owning a house can be very costly, but we all know it is a necessary expense. Although you can own a house through a mortgage, there is an upfront cost you must bear head-on. According to lendi.com.au, the upfront cost could reach 11% of the property's market value.
Despite the upfront costs involved, living in your own home has more benefits than renting one. For example, you can enjoy tax benefits and have peace of mind knowing your money can go to your savings instead of your landlord's pocket.
If you want to move to a new house for some reason, knowing all the costs involved is crucial. That is what this article is all about. You will learn each cost involved in more detail when buying a house.
Costs involved in buying a house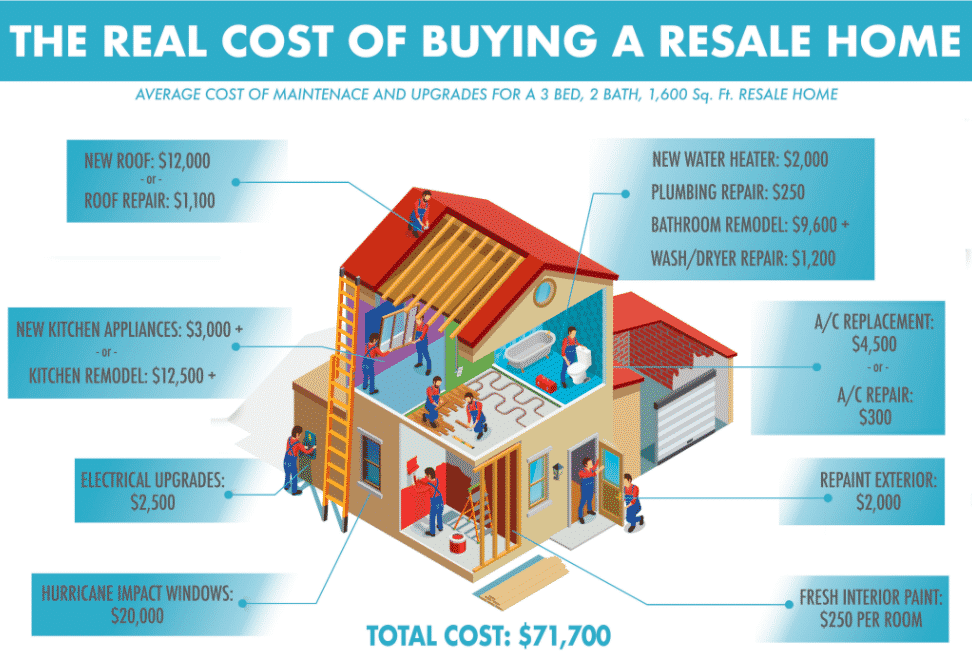 Buying a home involves a cost that is not the same for every homebuyer. This is because several factors come into play when determining the total expense. This section will talk about five of the most common upfront costs involved and the representative expenses.
№ 1. Down payment
Much of the upfront costs in buying a house are down payments. This expense is typically expressed as a percentage of the property's price, but there is no standard percentage in the industry. You should target 20% of the property's value as a down payment to be safe. Putting down a down payment is essential if you stay away from resorting to private mortgage insurance. This way, you can lower the amount you must borrow and thus reduce your mortgage.
For instance, the average price of homes in the third quarter of 2021 was around $400,000. In this case, you must save $80,000 to afford a 20% down payment. If you qualify, you can pay a smaller down payment if you use government-backed mortgages. For example, you can enjoy as low as a 3.5% down payment if you take an FHA loan. You can even get a zero down payment if you qualify for a VA loan.
№ 2. Closing cost
Next to the down payment, the closing cost is another major expense to consider when buying a house. This cost covers expenses for a home inspection, title insurance, establishing an escrow account, appraisal, property insurance and taxes, and mortgage processing.
Be aware that closing costs can average from two to five percent of the home's price. Going for the upper limit in this range is always a good idea. Thus, for example, if you are looking to get a house with a median price of $400,000, then you will need to prepare $20,000 for the closing cost.
You always have the option to include the closing cost in your mortgage loan. The advantage of paying it upfront is that you can reduce the principal amount of your mortgage and hence the mortgage payment. You can get information about your lender's expenses included in the closing cost.
№ 3. Moving costs
When moving into a new house, either you can do it yourself or hire a moving company. Whatever you end up doing, the move normally involves some cost. Handling the movement by yourself is the cheaper option, but it requires many things to be in place. This includes a vehicle, spare boxes, lots of energy to pack up and transfer things, and enough time to get the job done.
Two factors affect the cost of the movement:
One factor is the number of things to be transferred.
The second factor is the distance of the new location.
The cost of a full-service move covering loading, transport, and unloading, for example, to San Francisco from New York City can run from $3,800 to $7,200.
№ 4. Repair and home furnishing costs
Before you move in, you will likely need to do something in your new home to make it ready for occupation. This may include repainting, replacing the floor tiles, or installing new door locks. There is no way to tell ahead of time what repair or remodeling is needed until you have chosen a home. The amount of money you will need to save for this item is determined by the amount of repair or remodeling required.
It will take years and a lot of money to furnish and decorate a home. However, you might need to decorate your house just before you move in or purchase a furniture set. Another thing to consider is appliances. For instance, you might need to buy a dryer, washer, or refrigerator.
Most new homes commonly involve some amount of work, as already pointed out in this section. Again, you have the option to do the repair and remodeling by yourself if you want to save some money. Contrary to what people commonly know, though, a do-it-yourself approach to remodeling can be more costly than hiring someone else to do the job for you.
№ 5. Reserves
If you are a first-time homebuyer, you might not be familiar with "reserve". As the term implies, the reserve is the amount of money left in your bank account after taking out the down payment and closing cost. Take note that reserve does not belong to the upfront costs of buying a house.
Lenders do not want borrowers to empty their savings accounts after purchasing a new house. They want homebuyers to have enough buffer to cover a few months of mortgage payments. This is to avoid defaults if emergencies come to you and hows the value of an emergency fund in many aspects of your financial life.
Final thoughts
Owning a house is very expensive because there are many costs involved. That is why you cannot underestimate the value of preparation. Some of the things you can do to prepare are saving money, improving your credit score, and shopping around for the best mortgage rates.
Providing a figure representing the total cost of buying a house is not done here. However, we hope you have gotten a feel of the costs involved. Be aware that your total cost can significantly differ from the values presented in this article. Your situation might be different, so you need to research to consider all variables.