What are NFT stocks?
Are NFT stocks worth investing in?
What is the future of these NFT stocks?
The advent of the non-fungible token market (NFT) is becoming more and more apparent. As a result, NFTs received almost $23 billion in funding in 2021.
NFTs are unique tokens that represent ownership of a digital asset. Members of the Bored Ape Yacht Club, for example, often buy NFTs to be a part of a group. Moreover, the price of various NFTs offers a wide range of investment alternatives to investors. Because of this, companies with growth strategies centered on NFT stand to earn significantly from the booming sector.
Listed below are five NFT-related stocks that might be good buys in 2022.
Best NFT stocks to watch right now
Below we have listed some top stocks that you should watch in 2022.
How much would you earn if you invested in such projects one year ago?
NFTs have gained quite a lot of popularity in the past year so have the NFT stocks. If you invested in these stocks one year ago, we are sure you had made around 40-50% profit.
Cinedigm (CIDM)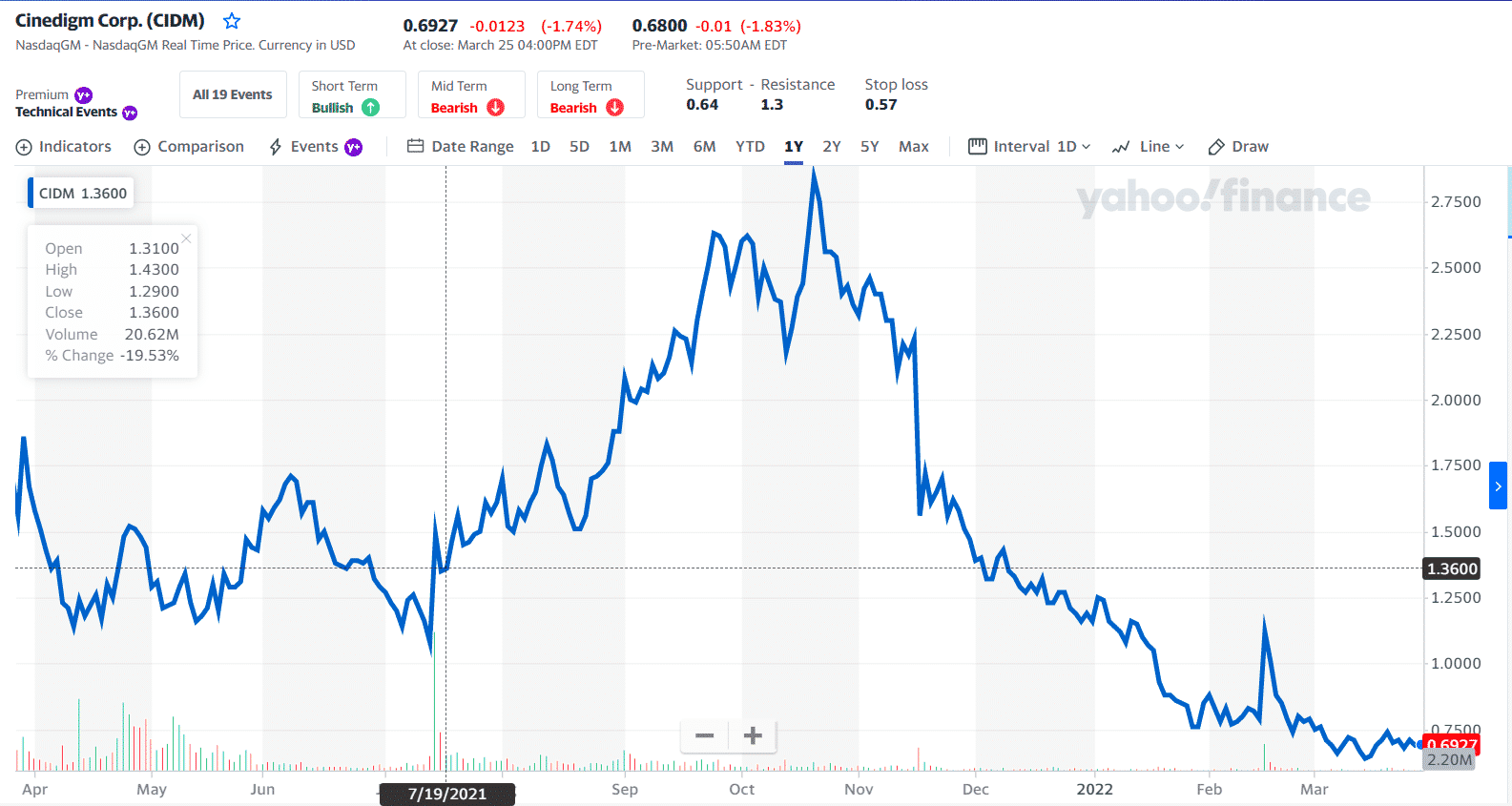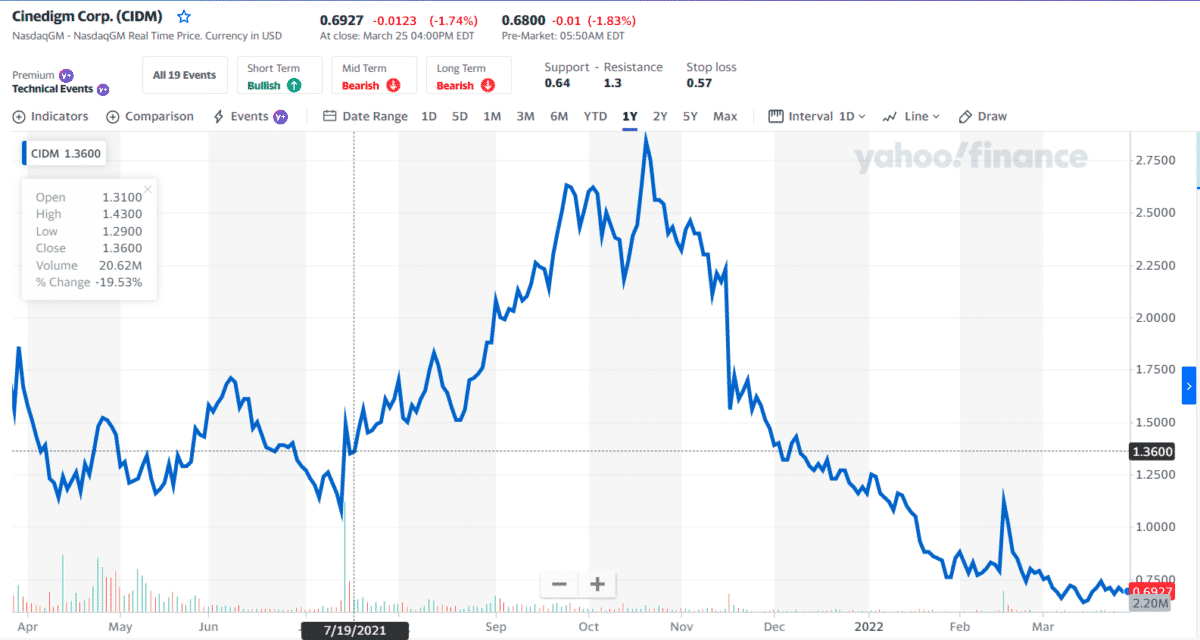 New York-based marketing firm specializing in film, television, and other types of entertainment marketing. It contains some of the best movies and TV shows on the market, which helps it stand out from the rest of the competition. Cinedigm has also purchased additional material libraries and distribution agreements to expand its product offerings.
Fandor Selects made its debut in April 2021, according to the company. Limited editions of classic films are made available through Fandor. Additionally, Wizard Brands has launched its own NFTs. That Wizard brand owns a small stake in Cinedigm's streaming service CONtv, which Cinedigm runs, strengthens this theory.
According to industry insiders, this might lead to a future partnership between the two companies. It may, however, be one of the best NFT stocks to buy because of rumors of a possible link.
Why does it have the potential to grow?
The CIDM stock has plummeted in the past few months. However, there is a sigh of optimism heading forward. CIDM launched the Matchpoint Debut platform in February 2022. This platform will allow CIDM to automate content submission and distribution. So, even though the stock is currently at wait-and-watch, we can see growth potential.
Dolphin Entertainment Inc (DLPN)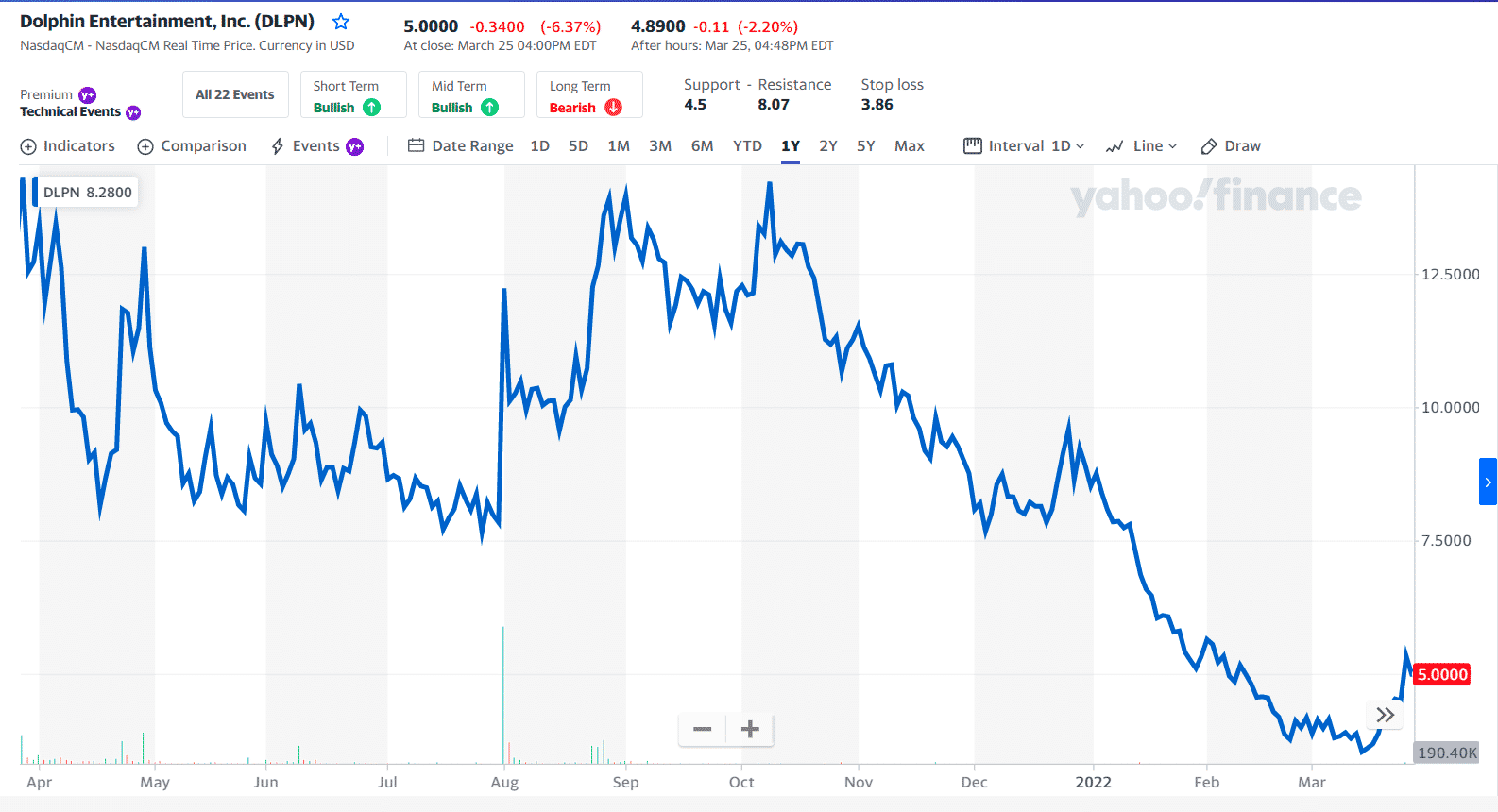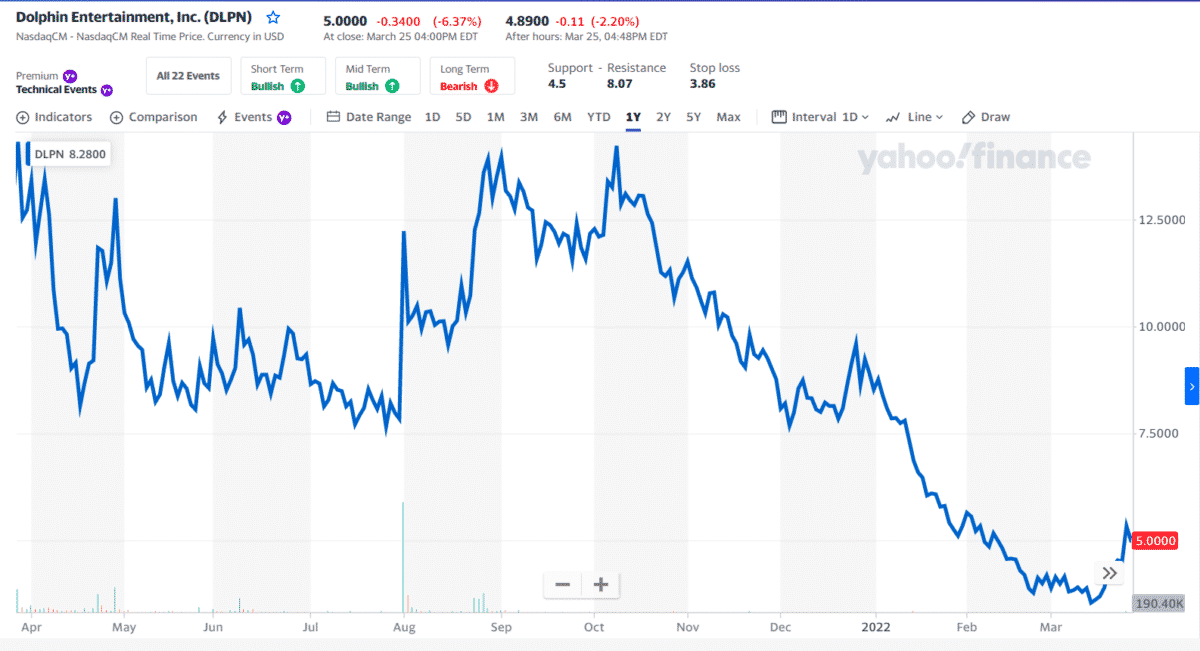 Dolphin Entertainment is a marketing and content production firm focused on the entertainment industry. The Door, 42West, and Shore Fire Media are just a few of the many divisions under the umbrella of this business. In addition, some of the most well-known companies in the world use their marketing and public relations services.
Furthermore, the firm provides digital services like social media, influencers marketing, creative branding, production, and traditional media in its home state of Florida. Consequently, it is well-positioned to join the NFT industry through a separate company specializing in NFT.
Managing and improving NFTs is a joint effort between this department and its clients. However, an uproar in the crypto community erupted when it was revealed that FTX.US, a major US crypto exchange, will be working with it.
In March, a collaboration with Hall of Fame Resort and Entertainment on NFTs was also created. With a market value of around $76 million and revenues of $24 million in the previous year, it has the credentials to support its NFT aspirations.
Why does it have the potential to grow?
Dolphin's has a massive collection of 10,000 NFT artworks, and its partnership with the Flower Girls has reached sales of around $15 million since launching in December 2021. Backed by celebs like Snoop Dogg, Resse Witherspoon, Gwyneth Paltrow, and others, we can see growth potential in DLPN's stock.
Funko Inc. (FNKO)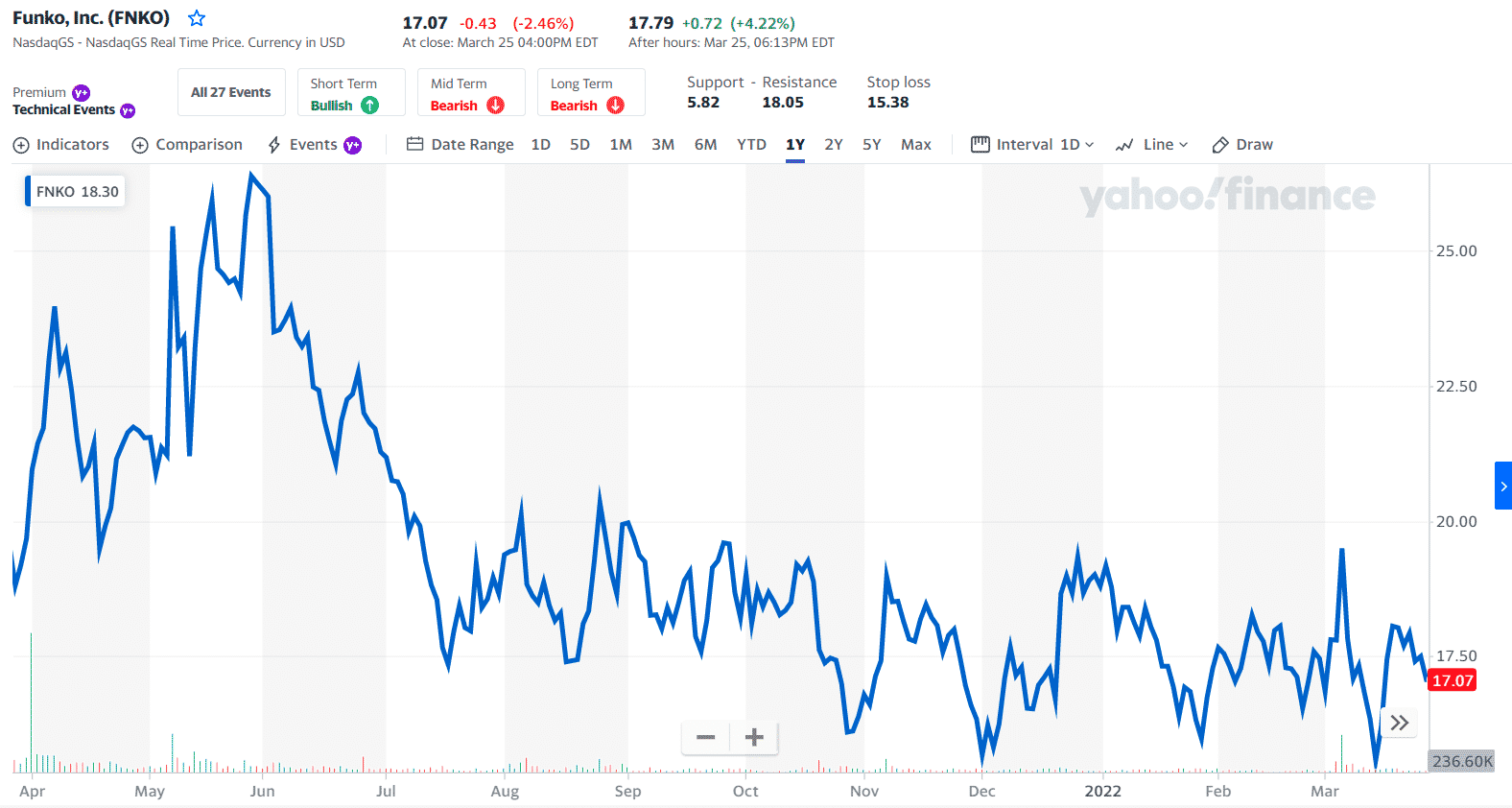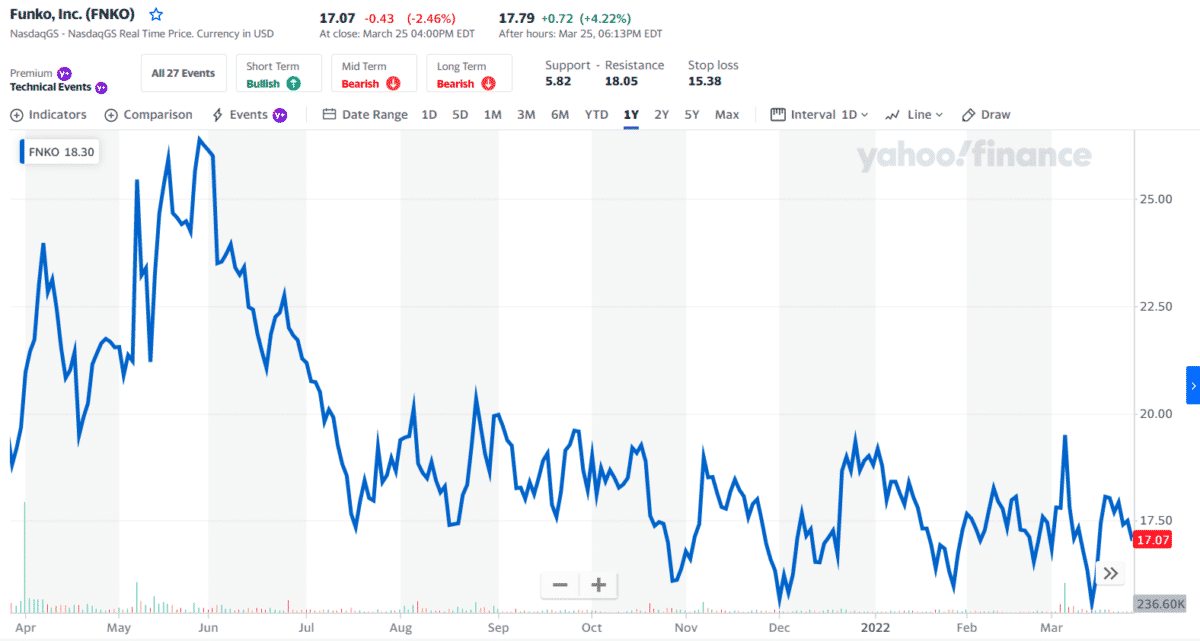 The company was created in 2017 and has worked hard to establish itself in the market. Licensed pop culture collectibles are a big business for Funko, including brands like Funk Pop Collection. The company's success depends on licensing and deals with content creators from other platforms, including TV shows, movies, video games, etc.
Aside from figurines and collectibles, Funko hopes to build a name for itself in the NFT market. In the non-fungible token market, Funko's CEO, Brian Mariotti, is willing to try new things.
He plans to tie the sale of these physical figurines to NFTs and focus their digital services on limited licensing. Funko Digital Pop, a collection of digital collectibles with the trademark Funko style and look, was ultimately published by the company in July of this year.
TokenHead, the free software for iOS and Android, lets you keep track of your Funko Digital Pops and other collectibles. You never know what you'll find inside a Funko Digital Pop! until you open one. In exchange for a genuine Funko Pop!
Why does it have the potential to grow?
According to projections, Funko has a growth potential of 20 to 25% in 2022. The pop-cultured NFTs are popular among gamers and toy collectors, and the company is drawing the attention of the fans with limited editions and live events. The fandom factor can play an important role in FNKO's price.
Jiayin Group (JFIN)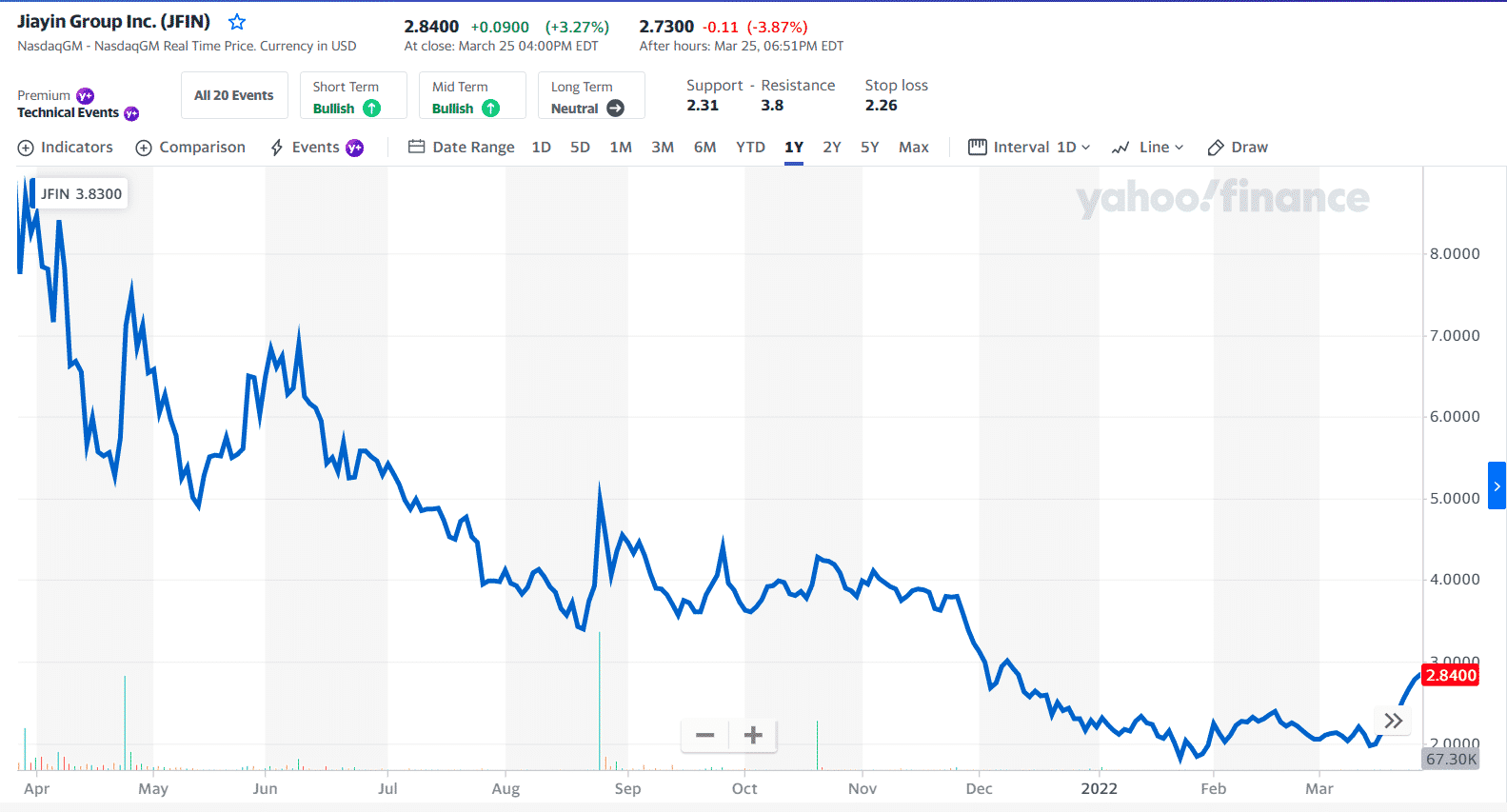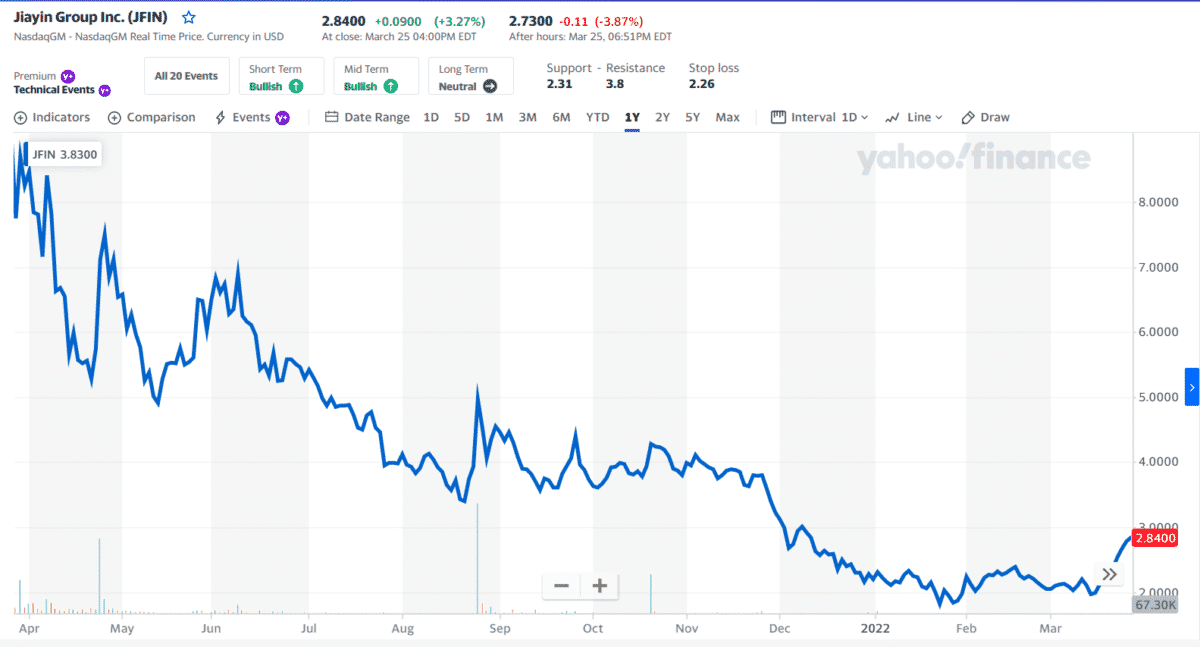 The Shanghai-based Jiayin Group, a Fintech platform specializing in NFTs, was founded in 2013. Jiayin Group's platform links investors and borrowers, ensuring a secure and transparent transaction for individuals who wish to lend money.
A maker of bitcoin mining microchips, Bweenet Network Technology Company, has stated that Jiaying Group intends to acquire a 95% stake in the company. The acquisition of Bweenet by Jiayin Group has sparked speculation that the company may use blockchain technology to generate non-fungible currency. The company hasn't made any public statements about entering the crypto space, but it will. Therefore we've included it on our list of promising NFT stocks.
Why does it have the potential to grow?
JFIN isn't what we call a headline stock. Still, the growth potential is significant because of the company's good financial health. Moreover, its overall financial health makes it suitable for value investing.
Cloudflare (NET)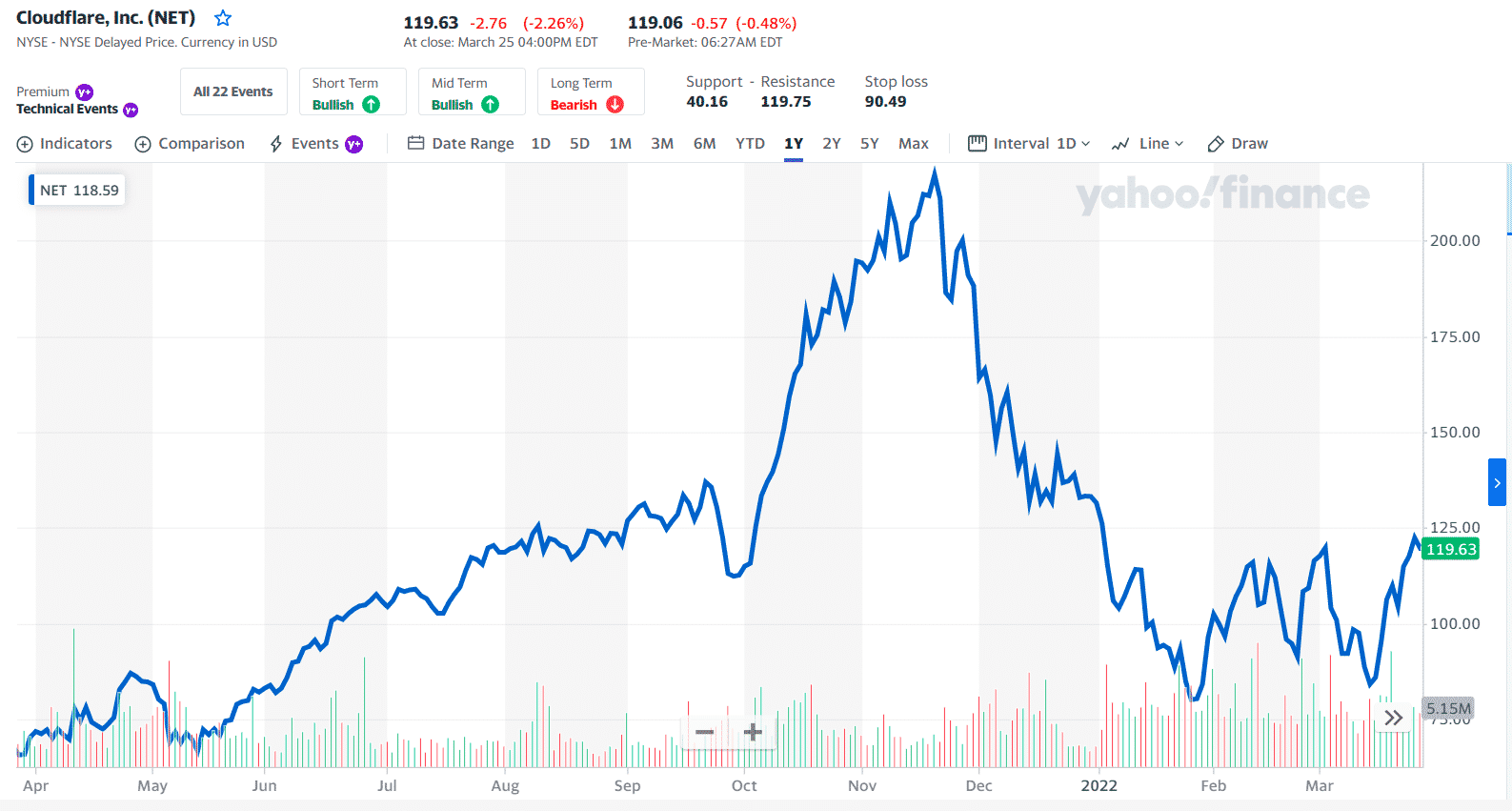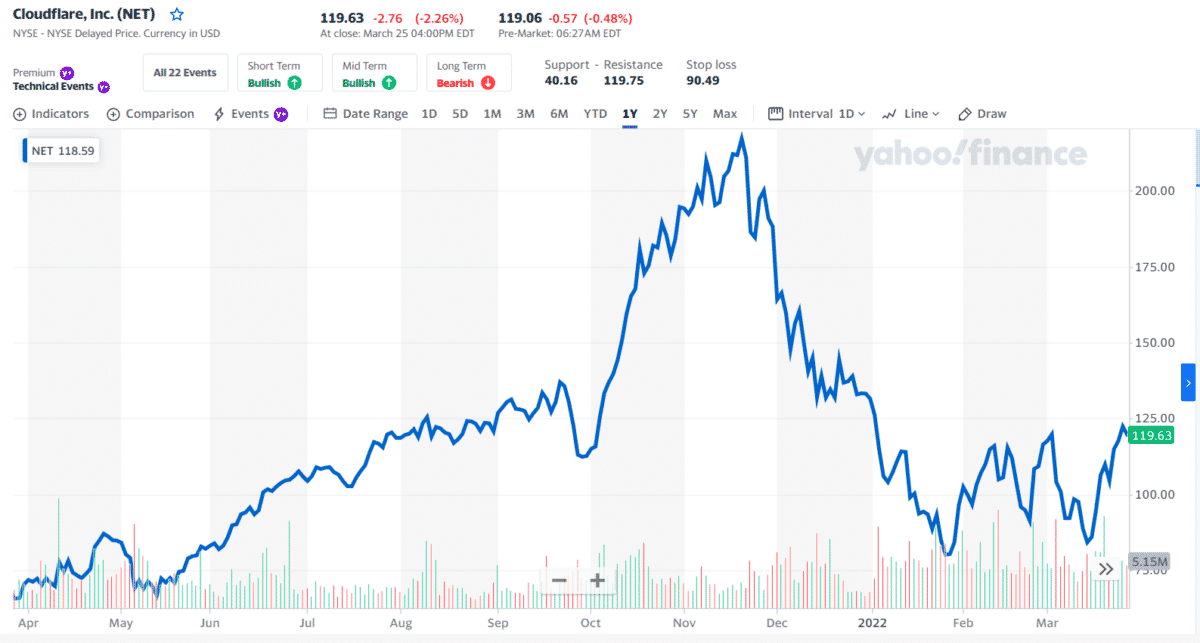 Cloudflare may not be the first name that jumps to mind when you think of the best NFT stocks. But, as for helping NFT artists get their work into the public domain, a streaming service called Cloudflare Stream does just that.
It is a less costly and time-consuming method for authors to secure copyright on their published works. For example, if a significant number of artists find these tools helpful in establishing copyright on any of their digital artworks, it has the potential to increase.
Because of its close interaction with NFT innovators, Cloudflare Stream's ownership-ensuring technology may be able to assist the company in becoming one of the most significant stocks in this emerging sector. In addition, as a cloud services provider, the company has a vital role in NFTs and infrastructure.
As a prominent player in the software as a service sector, Cloudflare has a leg up on the competition. Its primary service areas are following the needs and capabilities of conventional enterprises. For example, the company provides content delivery as a service. In addition, website design, analytics tools, and more are accessible for businesses.
Why does it have the potential to grow?
Because of its dedication to diversity, the Cloudfare streaming service is a smart investment. In addition, Cloudflare welcomes content creators that do not match their requirements, which is something that other streaming platforms lack. And yes, this includes NFTs.
Final thoughts
Given the current momentum of NFTs, it's safe to anticipate that they won't disappear very soon. Therefore, long-term investment in NFT stocks, according to Nasdaq, is a smart bet. It's simply a matter of picking the right stock. Like cryptocurrencies, NFTs are bound to see some degree of fluctuation in value. However, the upward trend is expected to be maintained by investors.