Happy Way is a trading system created with all traders in mind, both new and experienced. According to the vendor, it can trade on huge accounts as long as they have the Metatrader application. The EA was recently updated, and now includes a lot multiplier that enables it to increase positions in your trading account through the addition of extra positions to it.
Happy Way company profile
This robot was made by Happy Forex, an internet-based company that has been creating trading tools for this market since 2016. Its other products are Happy Neuron, Happy Breakout, Happy Power, Happy Indicators, Happy News, Happy Fast Money, Happy Algorithm Pro, etc. Unfortunately, the team involved in the development of the system is not introduced. Neither are their credentials showcased. So, their expertise levels cannot be gauged.
The highlights of Happy Way
The robot's features can be found below:
It trades on 5 stable currency pairs; the USDCAD, AUDUSD, AUDCAD, CADCHF, and AUDCHF symbols.
The minimum recommended deposit amounts for micro, mini, and standard accounts are $1000, $10, and $100, respectively.
It is 100% automated and carries out trades 24/7.
It's easy to set up and supports ECN brokers.
It includes auto-quotes detection 4 or 5 digits.
The EA supports the MT4 trading terminal.
Windows 7,8,10, Mac OS, and Linux are the operating systems compatible with it.
Happy Way works with the grid strategy with no martingale. It doesn't use any indicator.
Facts & figures
No backtest results have been presented. We have no idea how the above mentioned strategy works under simulation and the outcomes it generates in the long-term. Lucky for us, the live records are available for our consumption on Myfxbook.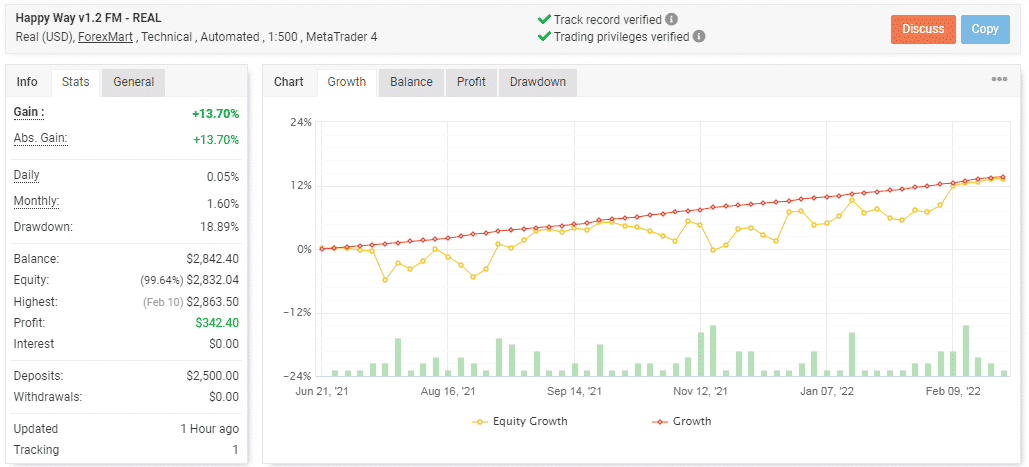 Happy Way makes daily and monthly profits of 0.05% and 1.6%, respectively. The drawdown generated (18.89%) so far isn't high. This suggests that the trading strategy is safe. So far, an income of $342.40 has been made from a $2500 capital. The resulting total gain is 13.70%.

There are 136 trades carried out till now, thanks to the EA's long periods of inactivity. According to the above data, Happy way has an average trade length of 20 days. The win rates for long positions (66%) are average. The EA stands a better chance of obtaining more profits with short positions (70%). There's a profit factor of 1.91.

The system trades with 5 different currency pairs. The USDCAD has brought in the highest amount of profits to date.

This account is safe from ruin.
Happy Way packages
Happy Way costs €299 for 2 licenses and €499 for 5 licenses. Each of these packs features 9 other additional EAs. By buying this robot, you will also get the following features:
2/5 licenses for 2/5 real accounts and an unrestricted number of demo accounts
Free updates and upgrades
Unlimited use
A complete user guide
Assistance
If you need any assistance with using the robot, you are advised to email the company with your queries. When it is necessary, the team can provide support to clients through VPS or Home PC (AnyDesk/TeamViewer).
Other notes
We found a single customer feedback for this system on FPA, but it was written over a decade ago. Therefore, we cannot rely on it. New reviews from traders are needed to see how the robot performs under the current market conditions.
Is Happy Way a reliable system?
The EA uses the grid strategy to generate profits for the user. So far, its trading activities have not threatened the viability of the live account it manages on Myfxbook.