Golden Million is an easy-to-use trading system that hides all the unnecessary parameters to facilitate easy installation. It also allows you to select the correct risk before you run it. Since the Forex market is unpredictable, the vendor cannot give you any guarantees on the expected profits. You will have to find this out by yourself if you decide to invest in the robot.
Golden Million company profile
The developer of this EA is Aleksei Bordak. New Million is his other creation. Aleksei purports to have a working experience of close to two decades in finance and programming. Not only does he create trading algorithms for the Forex market, but also for the financial and crypto currency markets. He does a lot of groundwork before releasing his products.
The highlights of Golden Million
The robot includes several features:
It works on the H1 timeframe.
You are asked to use a leverage of 1:100 and higher.
The main trading instrument is XAUUSD, gold.
The system works with hedge accounts.
We don't know what strategy this robot works with. This info has not been revealed to the public.
Facts & figures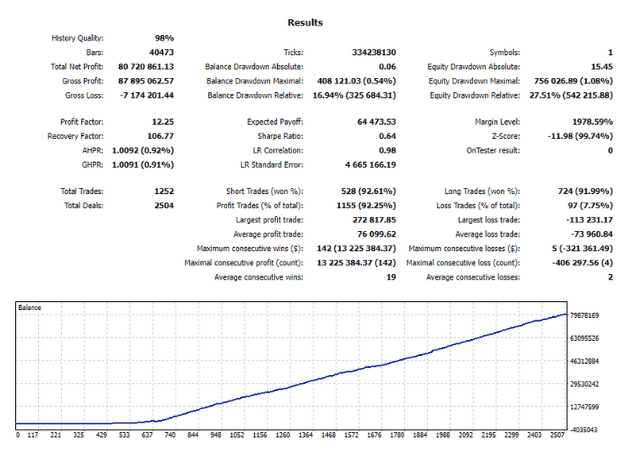 As per the statistics above, it is apparent that Golden Million was backtested, but it is still unclear which historical data period and timeframe were used. In any case, millions of profits ($80720861.13) were generated following the execution of 1252 trades. There were win rates of 92.61% for short trades and 91.99% for long ones. A maximum drawdown of 1.08% was reported, which means that the trading strategy was not risky.
Unfortunately, Aleksei does not post the live trading results of this system. We would like to confirm if it generates big profits as the developer wants us to believe.
Golden Million packages
The current asking price for a lifetime license of Golden Million is $900. Renting options are also on offer. If interested in this package, the vendor expects that you pay $400 and use the robot for 6 months. The yearly option goes for $600. A money-back guarantee is not featured.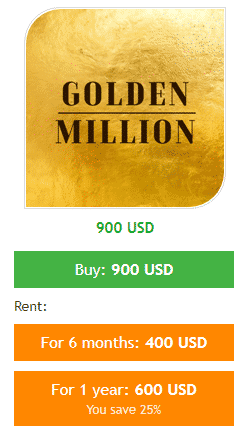 Assistance
The developer doesn't provide an email address or social media handles, which you can use to contact him. So, the only way you can make inquiries about the product is through the comments section found on the MQL5 website.
Other notes
Golden Million has both positive and negative customer reviews. Among satisfied clients, the claims are that the system works brilliantly and is one of the most successful EAs in the market. The dissatisfied group states that the robot generates small wins, and at times, it can make losses for months.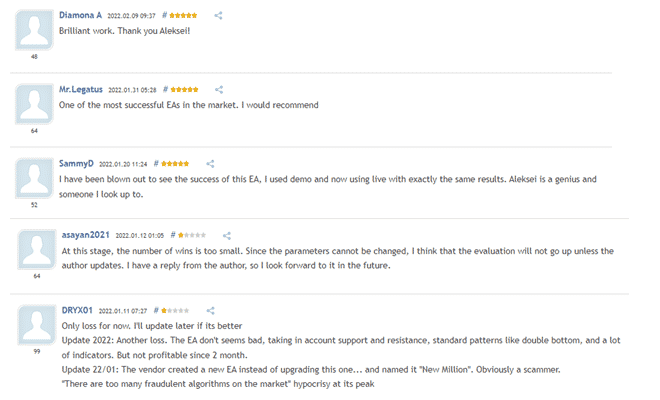 Is Golden Million a reliable system?
The backtest results illustrate that the robot can trade effectively and generate good trading outcomes for the user in the long run. However, since the vendor doesn't provide live trading data, the best move would be to test it first on Myfxbook before buying it.