Is Solana a good platform to run crypto projects?
How many projects are currently running in SOL?
What are some of the best projects hosted by this crypto?
Since Solana's mainnet launching, several exciting projects have been running on the platform. These projects select Solana as their blockchain are scaling possibility and has low gas fees. Below are the top five projects in the network. The majority of them are concentrated on the trendy fields in the industry, such as NFT, gaming, and DeFi.
Serum (SRM)
The Serum is a DEX known for its minimal fees and fast transactions. DEX, in general, seeks to address DeFi issues such as slow transaction processing, high fees, liquidity segmentation, and centralization. Serum strives to build a trustless and transparent exchange using its governance token SRM. This token helps pay exchange fees, provides discounts to traders, and afford token holders the right to vote.
Why does it have the potential to grow?
Experts predict Serum to be a more valuable coin in 2030. At least three catalysts will drive growth for the Serum ecosystem. These are a dedicated community, increasing market adoption, and new partnerships.
How much would you earn if you invested in the Serum project 1 year ago?
On 1 February 2021, SRMUSDT registered a closing price of $2.848. On the same date in 2022, the coin closed for $2.367. This is a drop in value of about 17 percent. Had you invested $1,000 last year, your new account would be $830 today.
Raydium (RAY)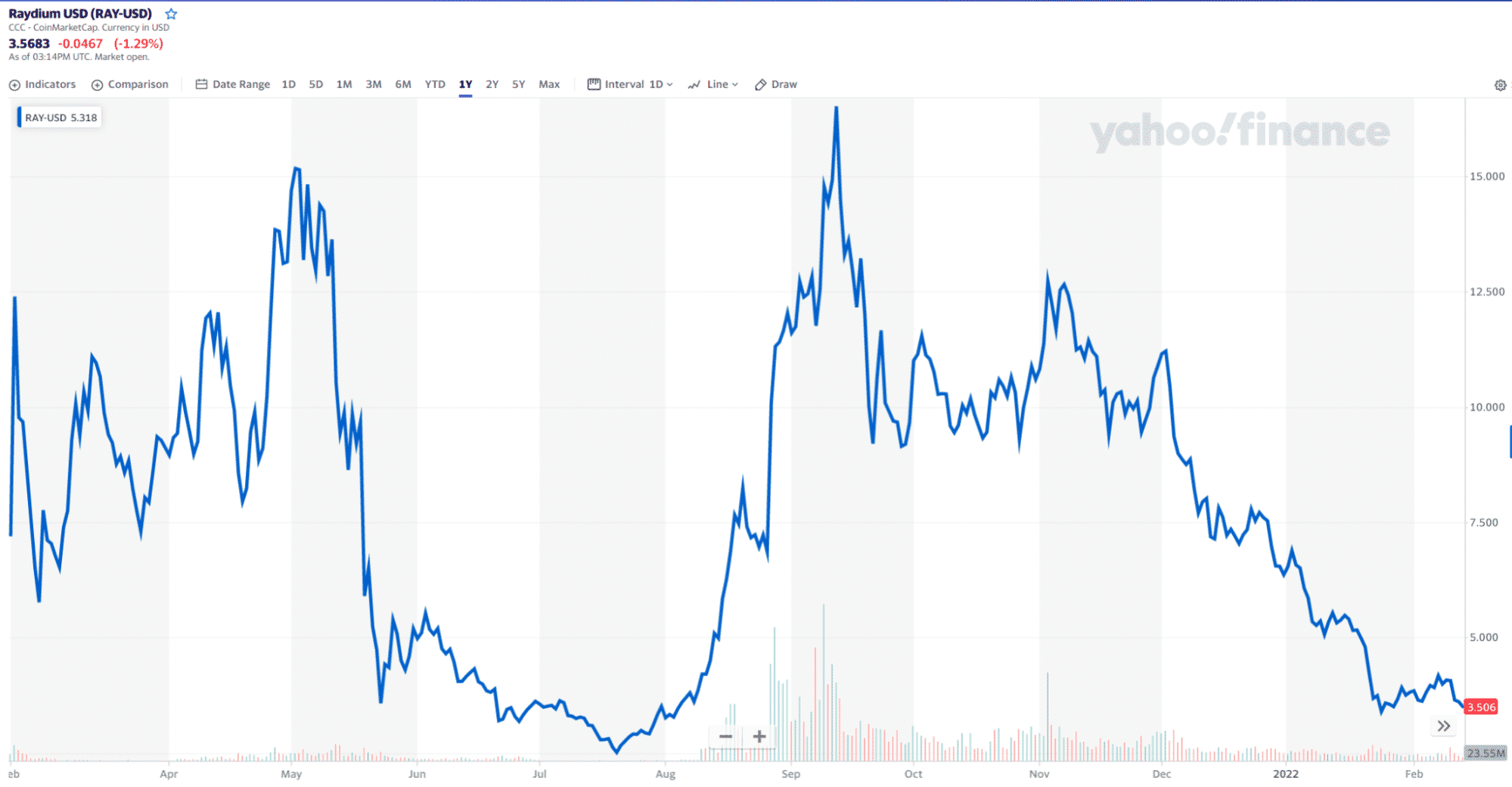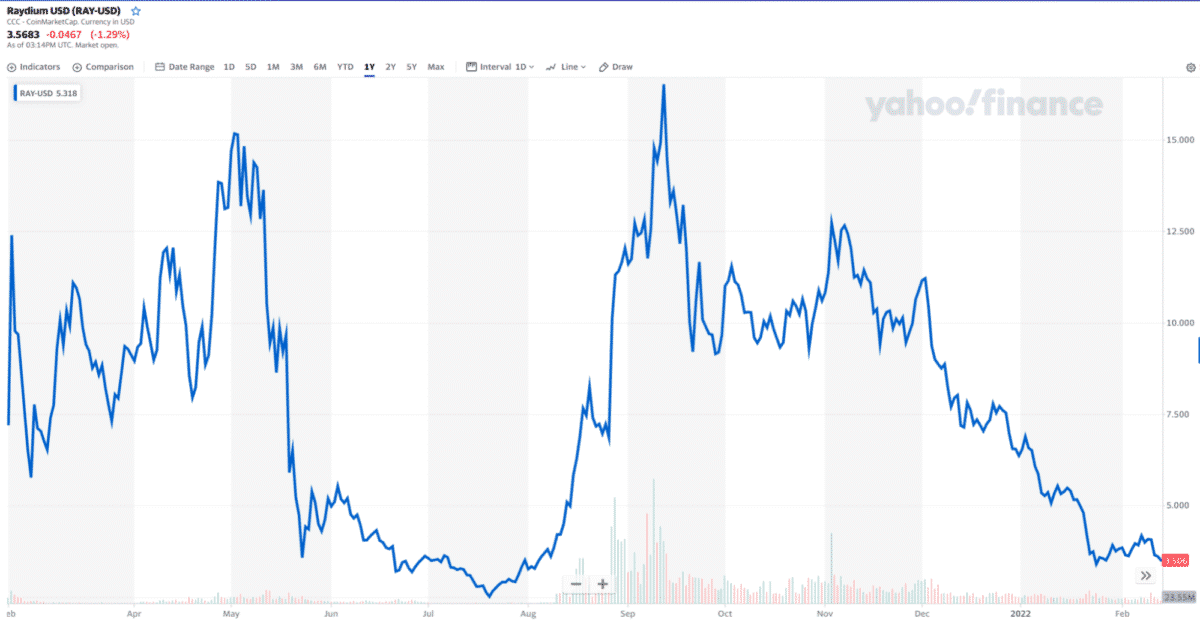 Raydium is not only an AMM but also a liquidity provider. As an AMM, this project sets itself apart from the others in the Solana network. It offers liquidity to an order book maintained centrally. As a result, pools can access liquidity and order flow on the Serum platform.
Why does it have the potential to grow?
Raydium is a unique project for multiple reasons. One reason is the provision of on-chain liquidity, a feature not supported by other projects. In addition, Raydium has access to the order flow in Serum. This means that Raydium can use liquidity from all decentralized applications running in the Serum platform.
How much would you earn if you invested in the Raydium project 1 year ago?
Raydium is a new crypto project and is barely six months old. The closing price of RAY/USDT during its introduction on 10 August 2021 was $4.201. At the time of writing, the price hovers around $4.067. Had you invested money in this project at its inception, your account could have lost about three percent in value.
Orca (ORCA)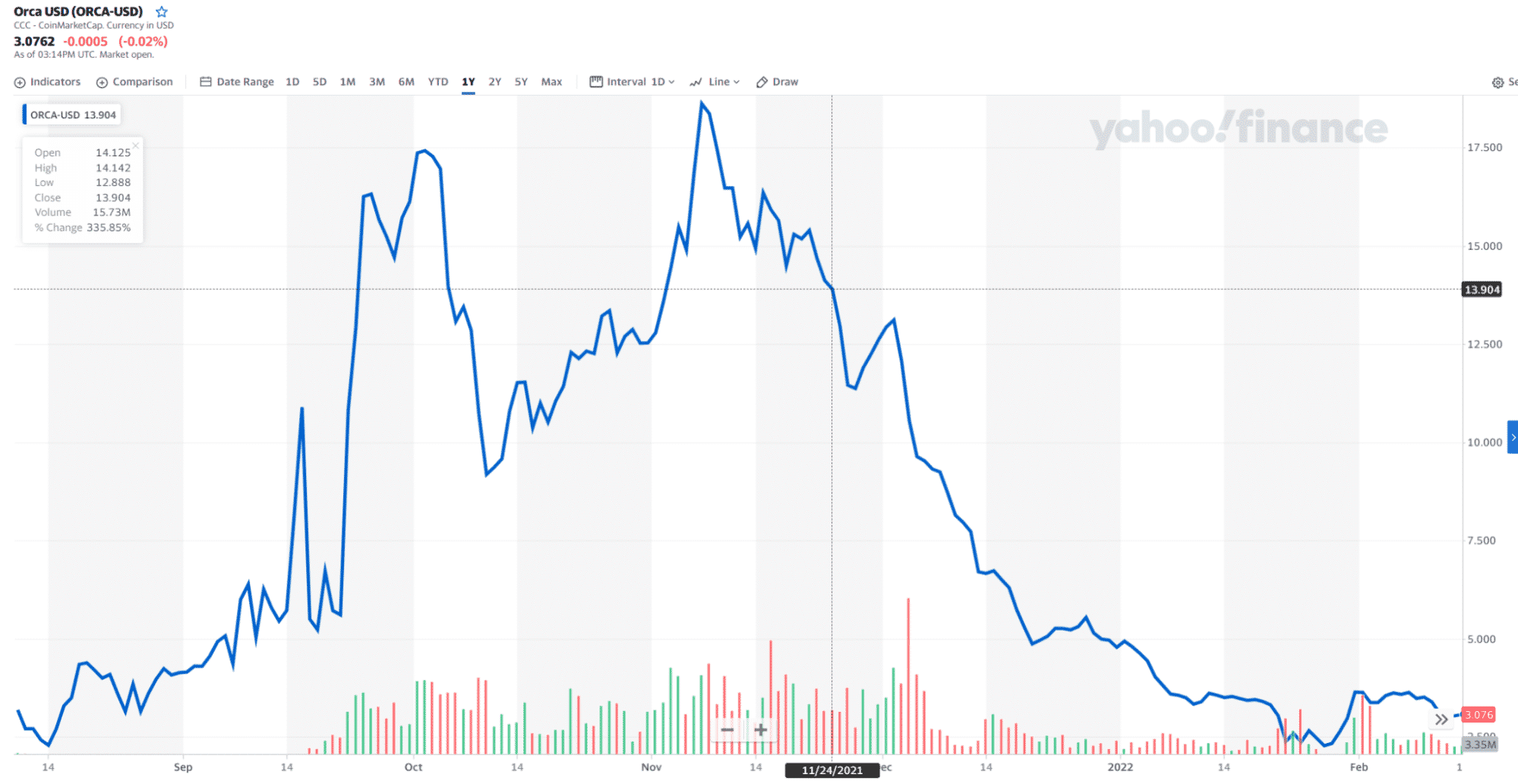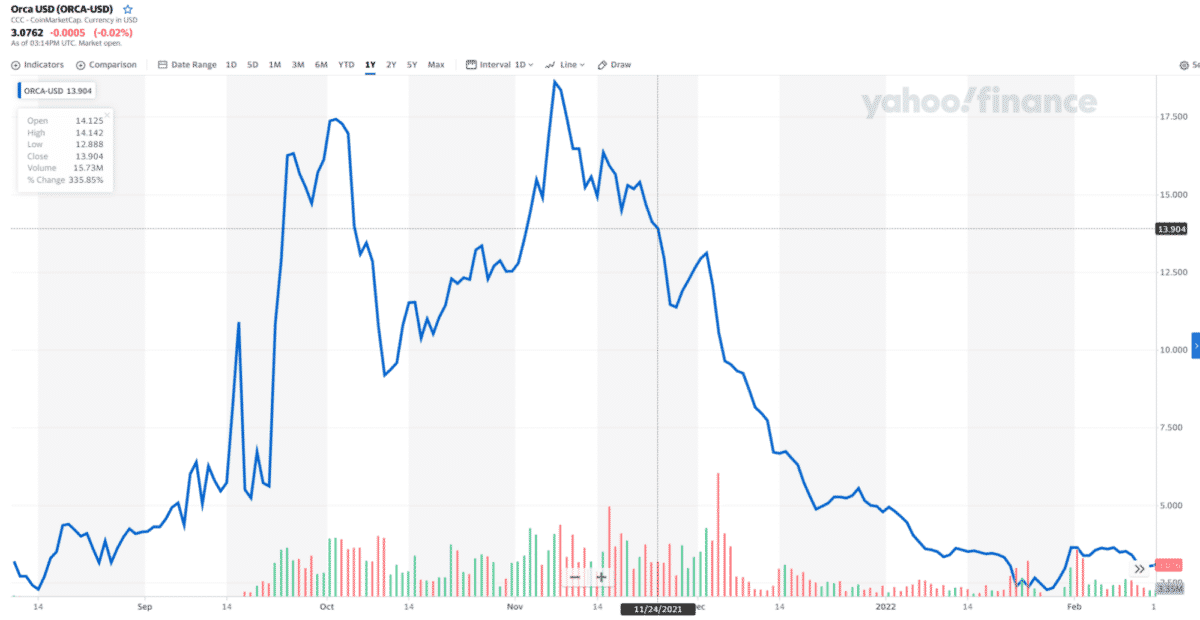 Orca is an AMM-DEX with on-chain liquidity. You can use this platform to convert one token to another. Meanwhile, crypto investors can support projects by creating liquidity pools. You can execute a trade in Orca in a fraction of a second, paying a transaction cost as low as $0.00002. To provide incentives to liquidity providers, Orca shares 0.3 percent of transaction costs to liquidity pools.
Why does it have the potential to grow?
Given its large market cap of $46 million at present, Orca is seen as a project with great potential. What moves this market lately is the recent $18 million funding it received from Three Arrows Capital, Placeholder, and Polychain.
How much would you earn if you invested in the ORCA project 1 year ago?
ORCA is so young as a crypto project, being launched on 2 November 2021 in the COINEX exchange. Therefore, the project is just three months old. However, it is one of the most volatile coins out there. Its introductory price was about $13.6. Now it costs about $3.39. This price difference represents a change of negative 75 percent.
Mango Markets (MNGO)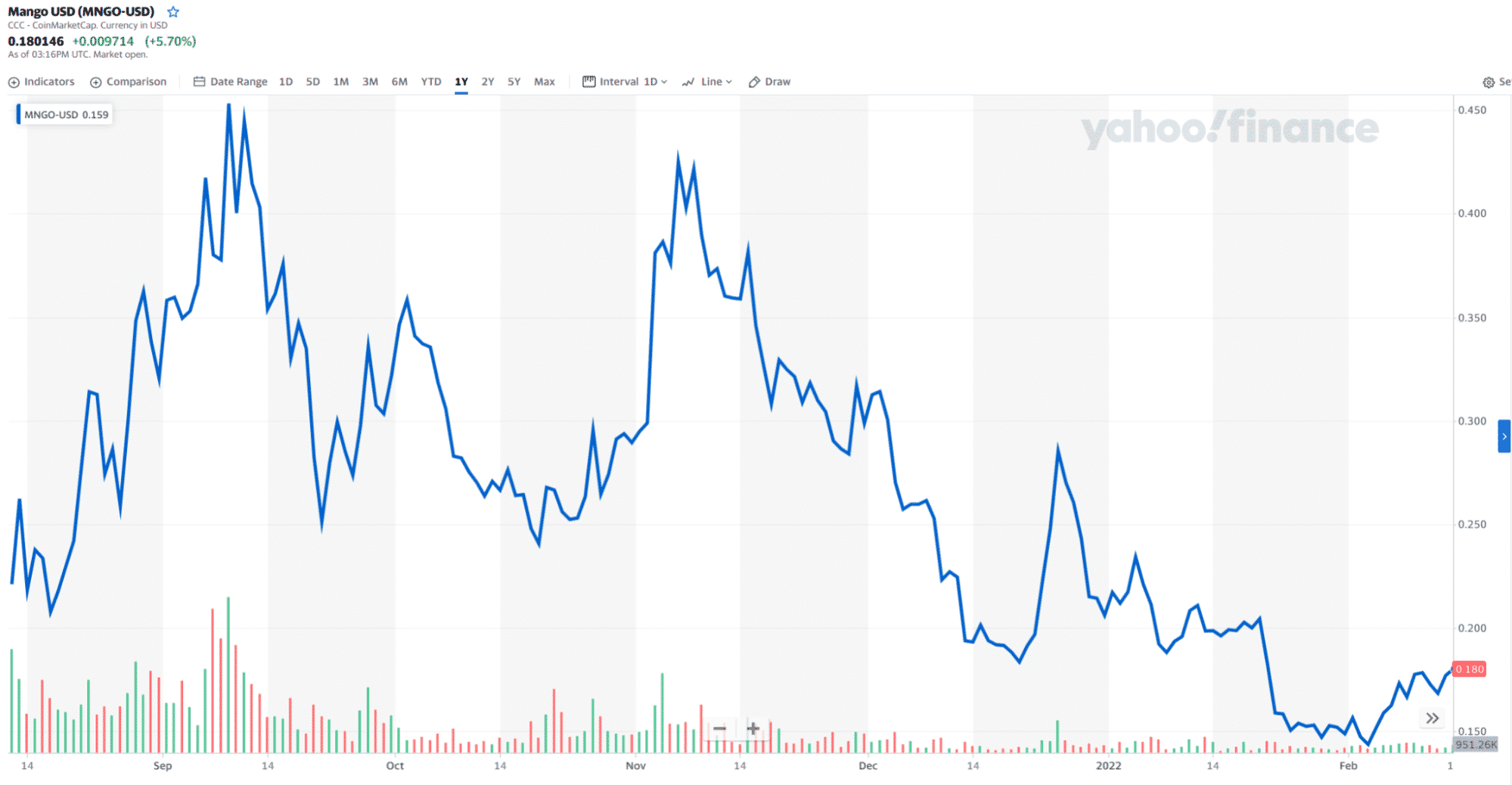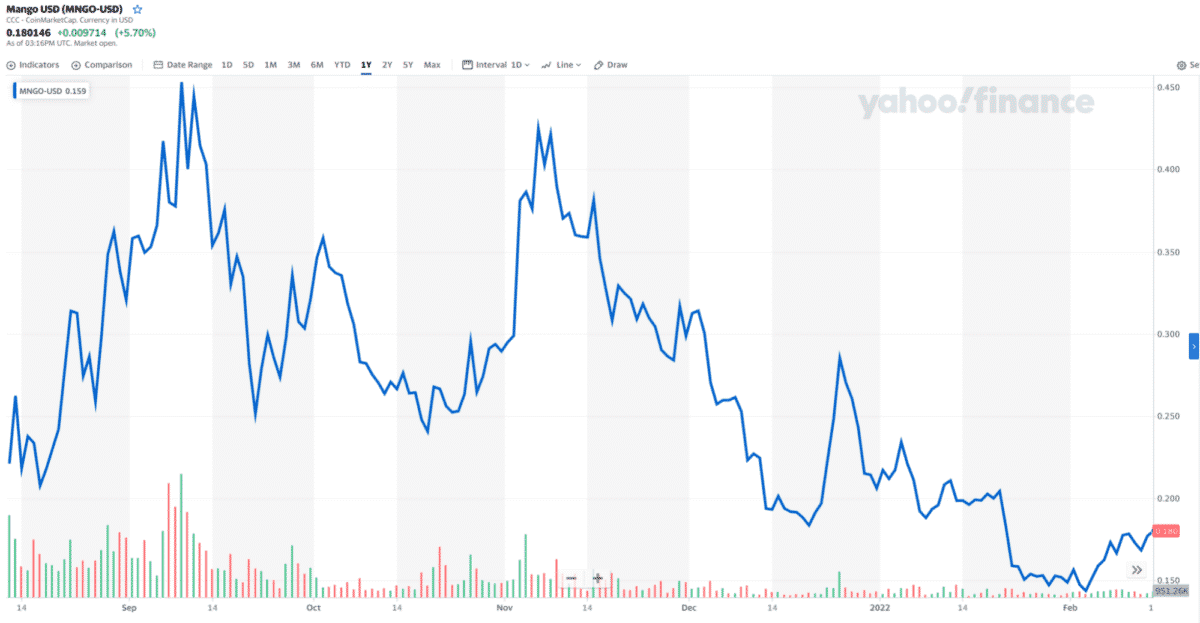 Built on Solana and powered by Serum, Mango supports DeFi derivatives. You can use this platform to lend, borrow, and trade crypto, and it earns the reputation of the Solana project with the cheapest fees. You can generate returns on your collaterals, deposits, and open trades when you trade on this platform.
Why does it have the potential to grow?
Investors think that Mango Markets has a bright future owing to its trustless approach to validating transactions. This approach encourages unusual, dramatic, and unpredictable developments that may outperform centralized finance.
How much would you earn if you invested in the Mango project 1 year ago?
Like Orca, Mango is a very young crypto project. It was launched two days after the introduction of Orca. Mango had an introductory price of $0.383 during its launching. At this point, it is sitting at $0.1806. This price drop is about 53 percent of the original price.
Audius (AUDIO)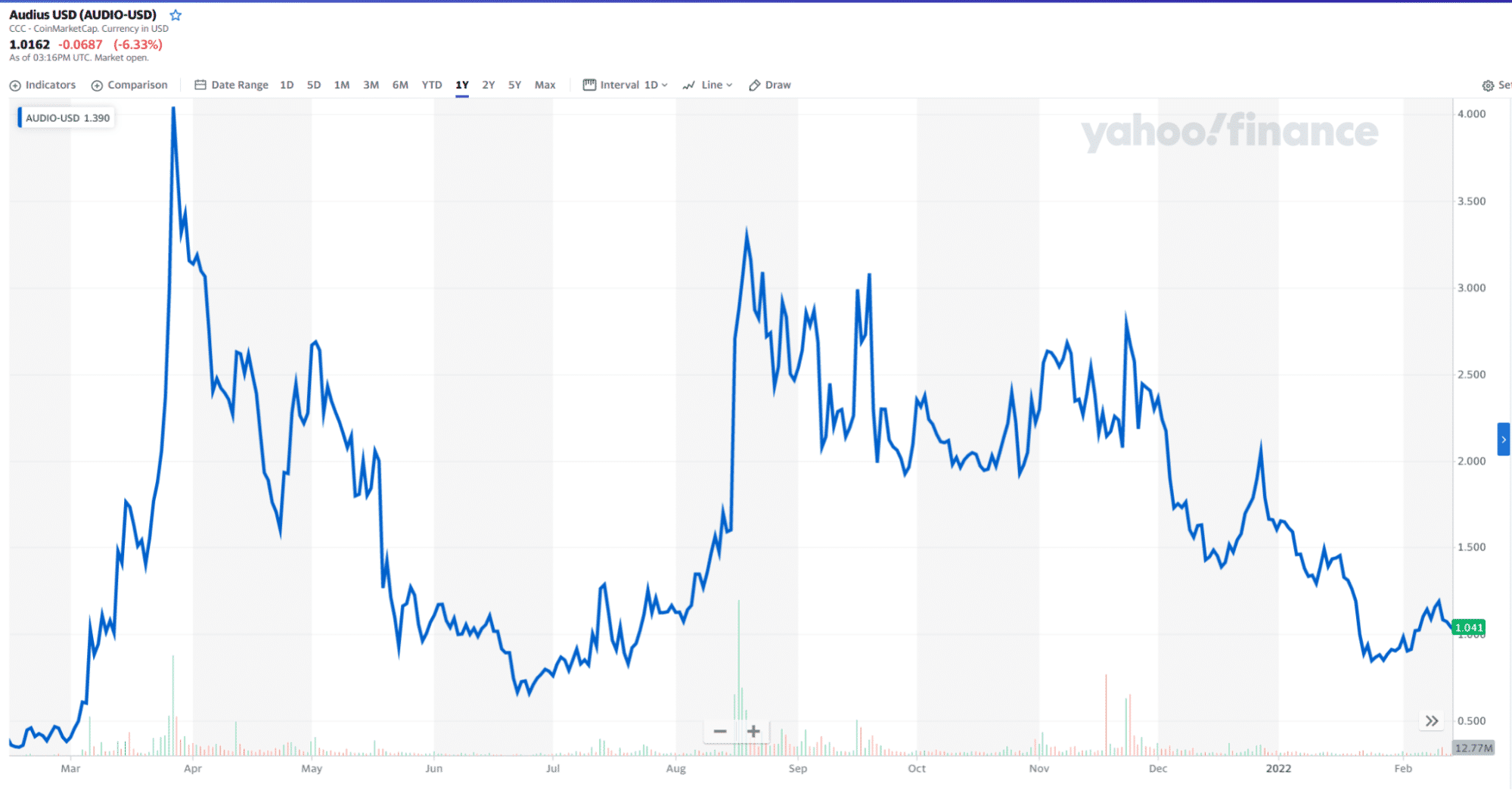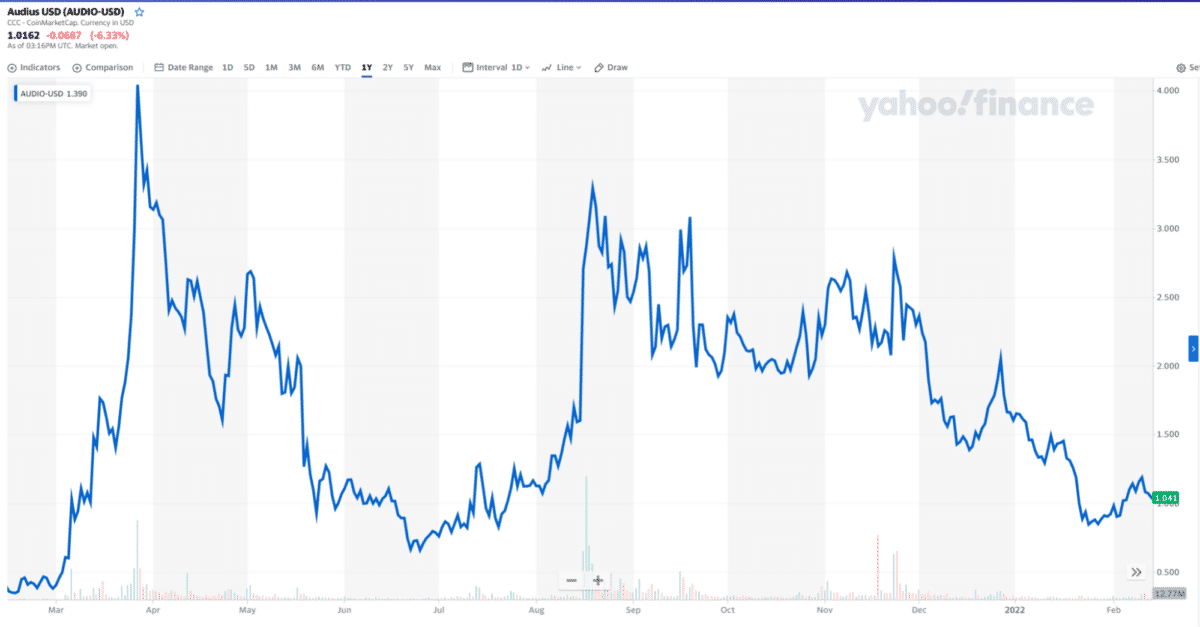 Audius is a music-streaming platform built on top of the blockchain. Launched in 2019 and powered by Ethereum, Audius gives content creators control over their creations. After some time, upon closer inspection, network developers found out that hosting the platform in Solana is the better option. This is to serve better the growing user base that is now counting to more than one million every month.
Why does it have the potential to grow?
In 2019 music streaming worldwide was a $26 billion market. It might become a $47 billion market by 2027. These numbers suggest an annual growth rate of 10 percent until 2027. Audius is looking to disrupt and get a piece of this large market. Efforts are made to implement this plan.
How much would you earn if you invested in the Audius project 1 year ago?
Audius started for $0.212 on 1 February 2021. Now it costs $0.982 per coin. Such change represents a growth of 363.2 percent. Had you invested $1,000 on 1 February 2021, you could have earned a profit of $3,632.
Final thoughts
Hosting over 350 projects, Solana is one of the leaders in the crypto landscape. It is also a significant competitor of Ethereum, the gold standard in smart contracts. Due to the success of projects built on Solana, the SOL coin experienced massive growth in the last quarter of 2021. To this day, the number of Dapp developers flocking toward Solana each day is continuously growing.