Gold Scalper Pro is an expert advisor that works with Gold. The devs insist: "GOLD Scalper PRO is One of The Most Successful Expert Advisors for trading on GOLD(XAUUSD)." Let's check it out.
Gold Scalper Pro company profile
FXAutomater is a pretty known company on the market. This doesn't mean that all their products are good by default.
The highlights of Gold Scalper Pro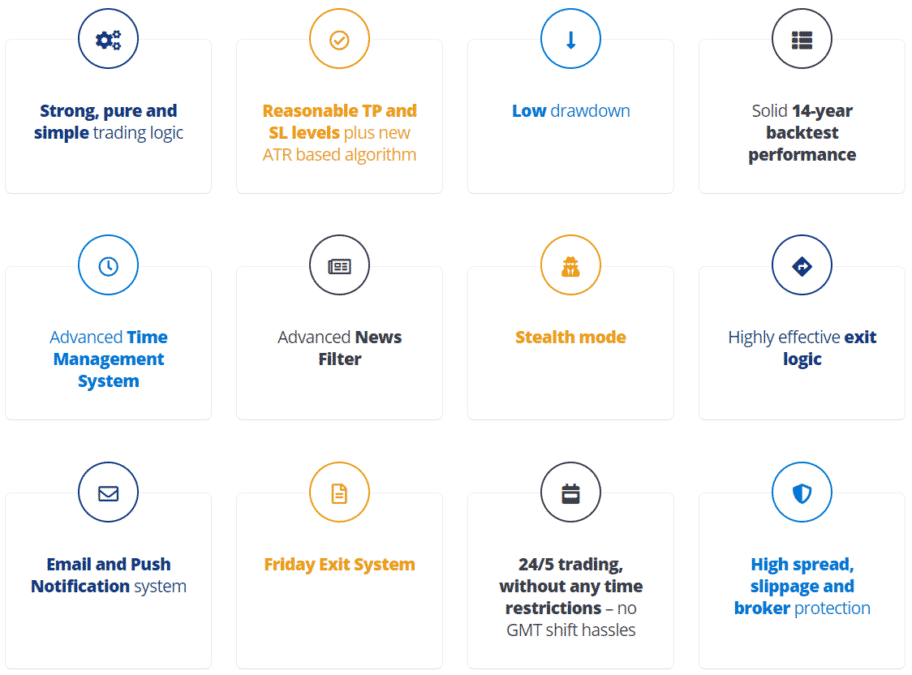 We have much information about the robot and how it functions. For this purpose, we have prepared a list of the core features.
The advisor works with deals on the market completely automatically.
It doesn't work with strategies that can set our account at higher risk: Cost Averaging, Arbitrage, Grid, or Martingale.
There's a "strong, pure, and simple trading logic."
The advisor follows trends scalping profits.
It covers our orders with SL and TP levels.
It knows how to decrease drawdowns.
The test was performed on a large period of data – 14 years.
There's a news filter applied.
We have broker protection implemented either.
The system has a well-designed exit-logic.
We can enjoy Email and Push Notifications.
The Friday Exit System allows us to close orders before Monday opening.
There's high spread and high slippage protection.
Trading is possible on MT4 and MT5 terminals.
We should start working with $1000 on the account.
The risks can vary from 2% to 10%.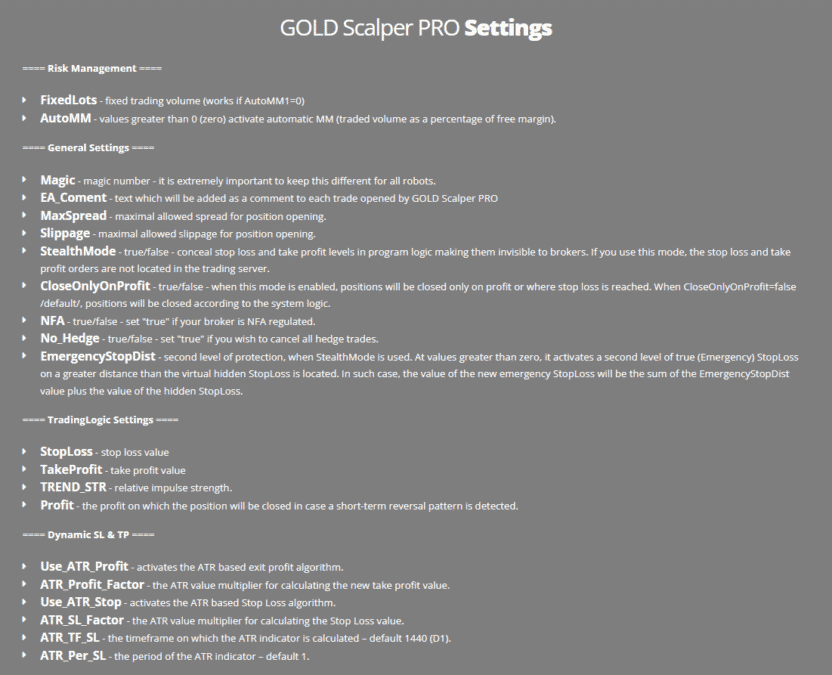 We can check all available settings.
The robot can be used on Mac or PC.
Trading results with Gold Scalper Pro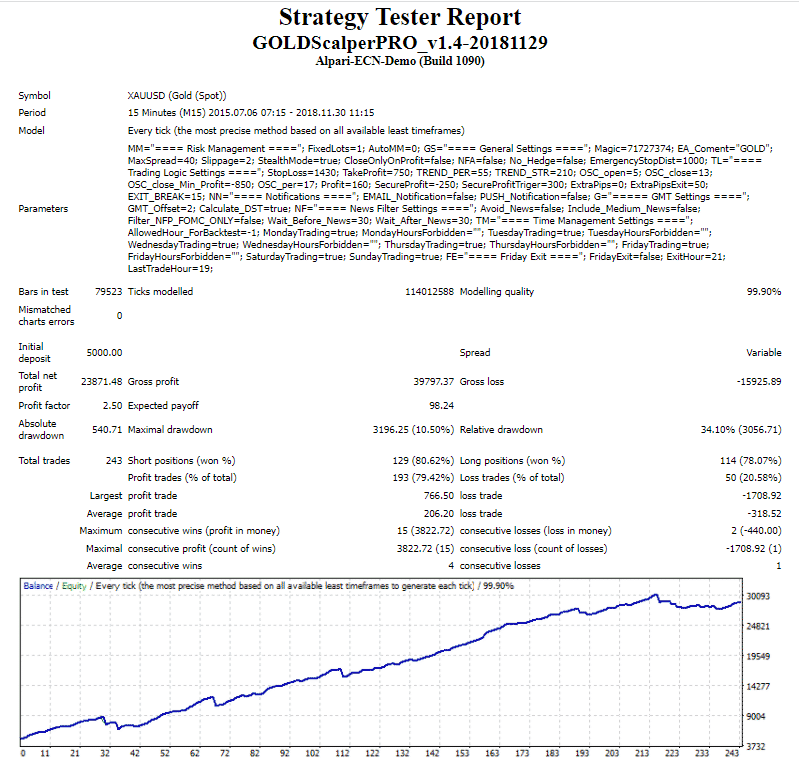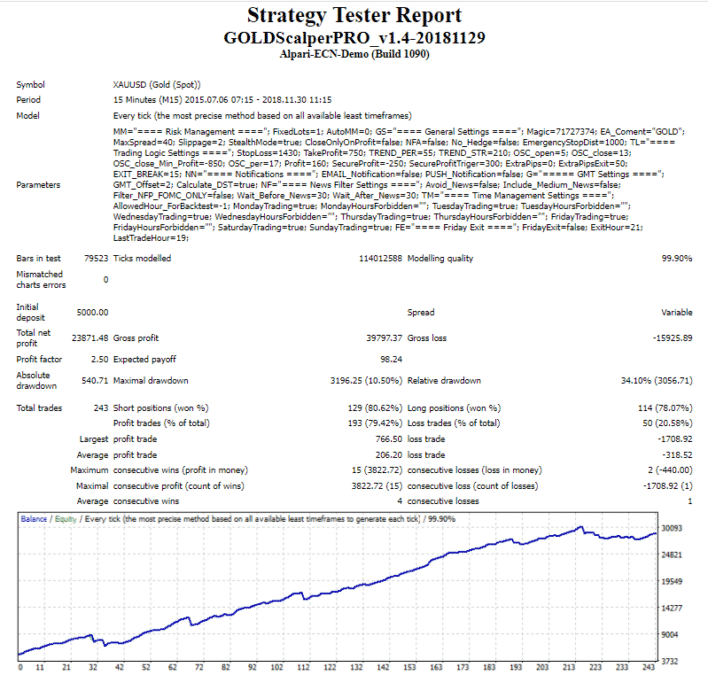 The developers provide tests of Gold. It's XAUUSD on M15. The data period was 3 years. The modeling quality was 99.90% with variable (real) spreads. An initial deposit was $5,000. The total net profit has amounted to $23,871. The profit factor was 2.50. The maximal drawdown was 10.50%. The system has performed 243 deals with the win rate of 80% for short and 78% for long trading positions.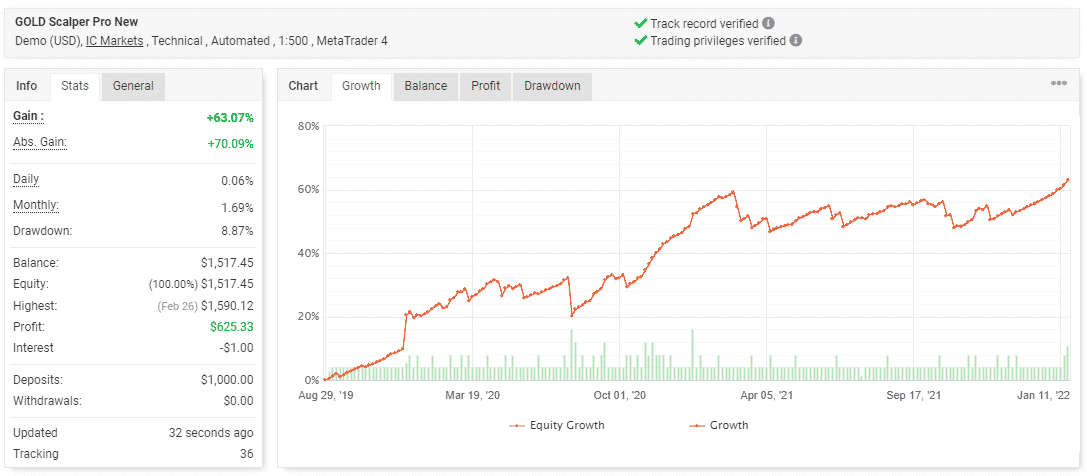 We have a robot running on IC Markets on a demo account. It works with orders automatically with 1:500 leverage on MT4. The account has a verified track record. It was created on August 29, 2019, and funded at $1,000. Since then, the absolute gain has become 63.07%. An average monthly gain is 1.69%. The maximum drawdown is 8.87%. Trading results are tracked by 36 investors and traders.

It has performed 255 deals with 19,219 pips. An average win is 219.80 pips when an average loss is -749.42 pips. An average trade length is 4 hours and 42 minutes. The profit factor is 1.73. It's the average number for a paid advisor.

The advisor prefers trading the short direction over the long one.

It opens orders at night and a bit at the beginning of the European trading session.

The advisor opens trades almost equally during a week.

The risks are moderated. The system has to lose only 7 orders to lose 10% of the balance.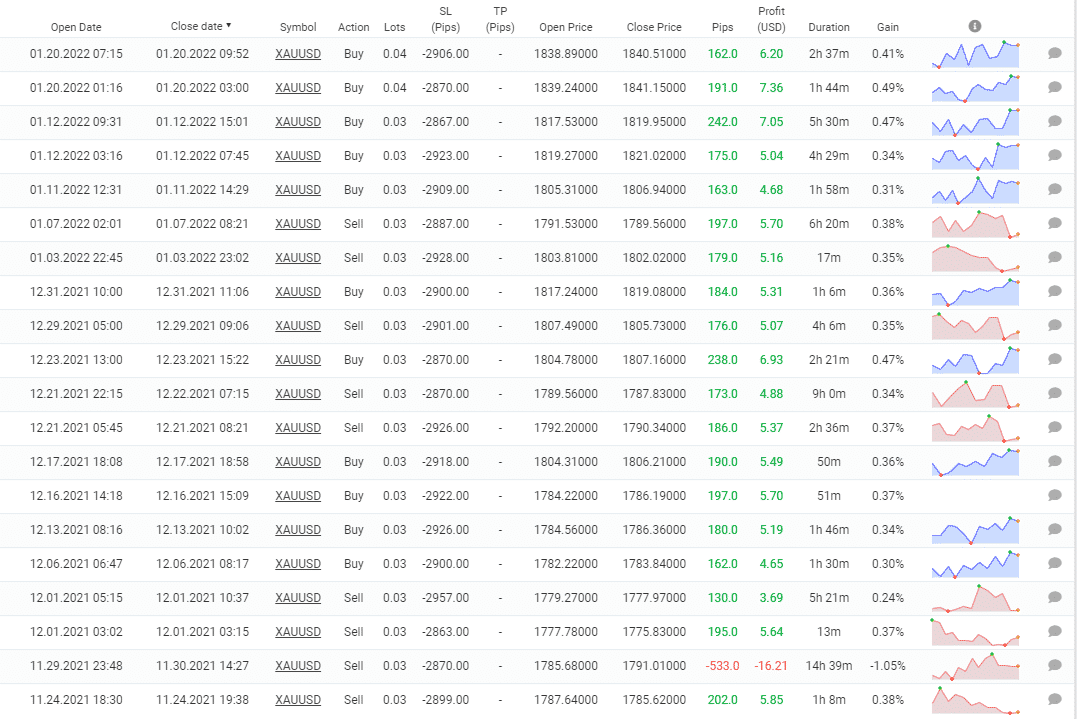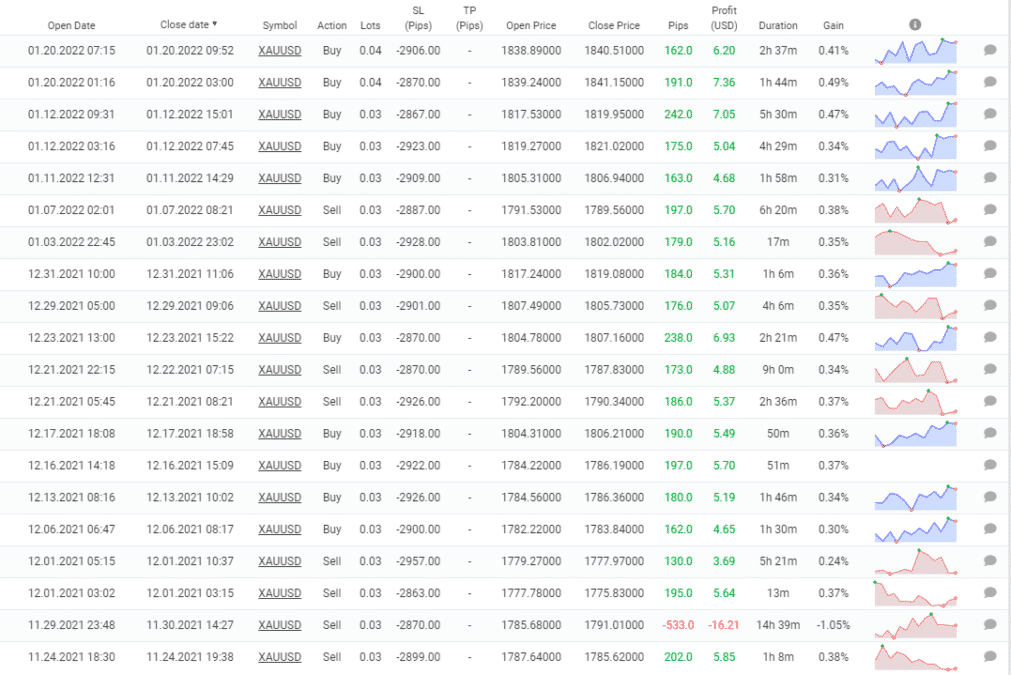 The robot doesn't use Martingale and hides TP levels from the broker.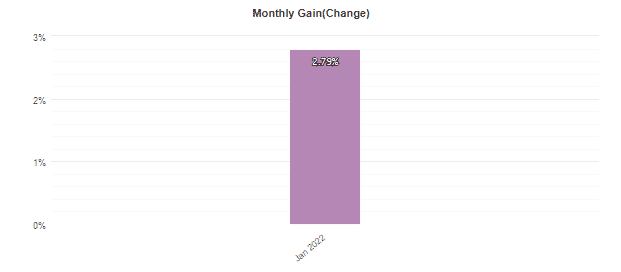 January 2022 looks like a profitable month so far.
Gold Scalper Pro packages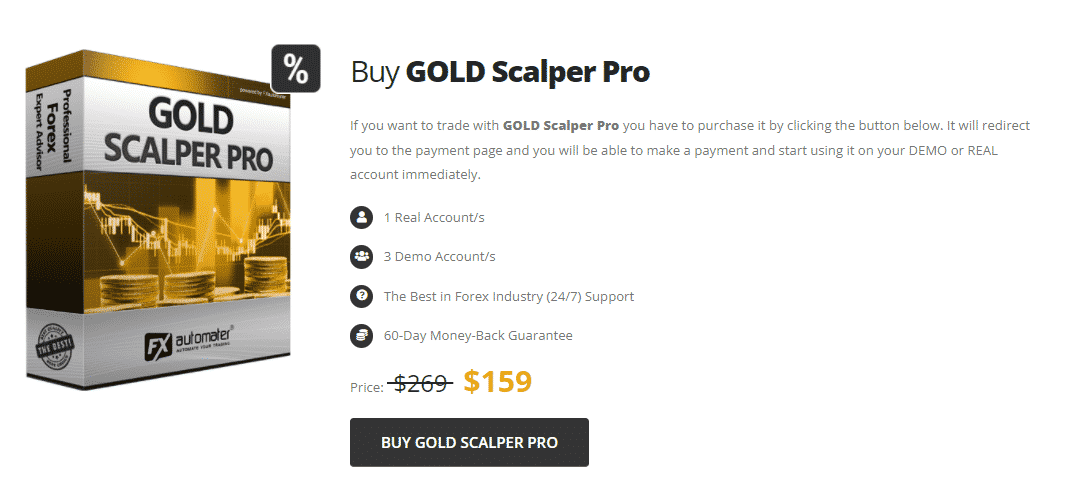 The devs have decided to increase pricing from $97 to $159. We don't know the real reason for this. The original price remains the same – $269. We have the following feature in the pack: a single real account and three demo accounts licenses, 24/7 support and a 60-day money-back guarantee.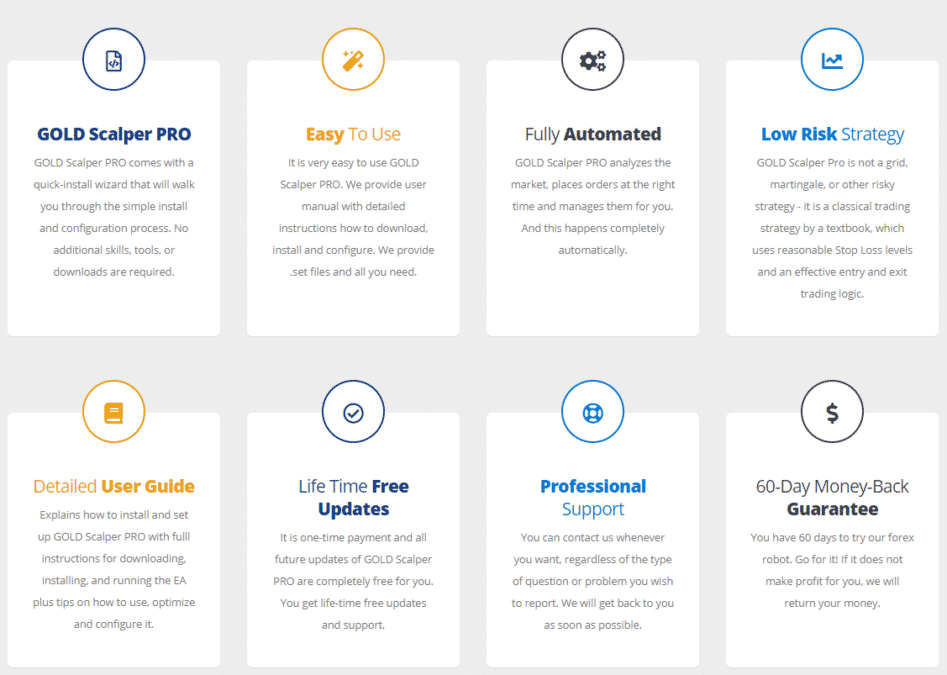 The devs provided us with the package information once again.
Assistance
FXAutomater gives solid and useful support. They usually answer within 3-6 hours.
Other notes
There is a FXAutomater's profile on Forex Peace Army deployed. Unfortunately, there's only one review written.

This review was written by a guest. It's unclear what EA he has bought.
Is Gold Scalper Pro a reliable system?
We don't know if the system will work well in 2022.