FXMath X-Trader is a trading advisor with a presentation that tries to answer all our questions in a short way. The devs claimed that it's "Perfectly Automated Algorithmic Trading System." So, we have decided to check it out.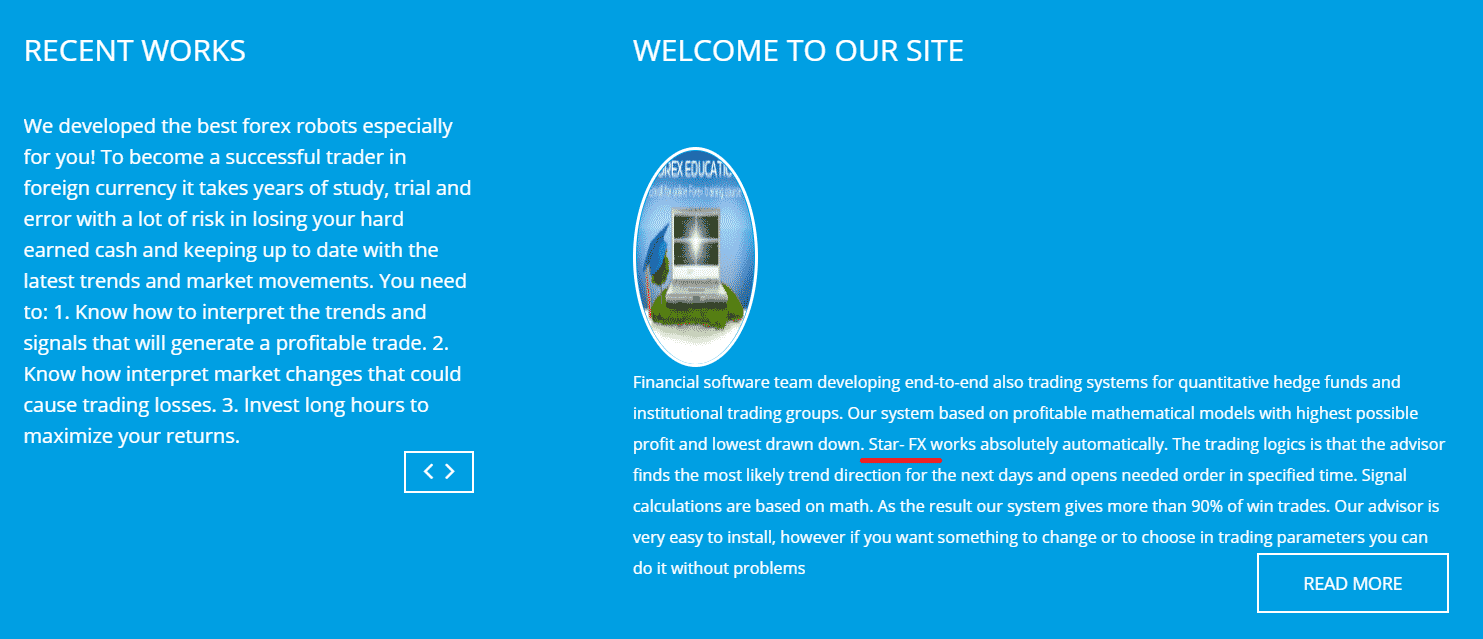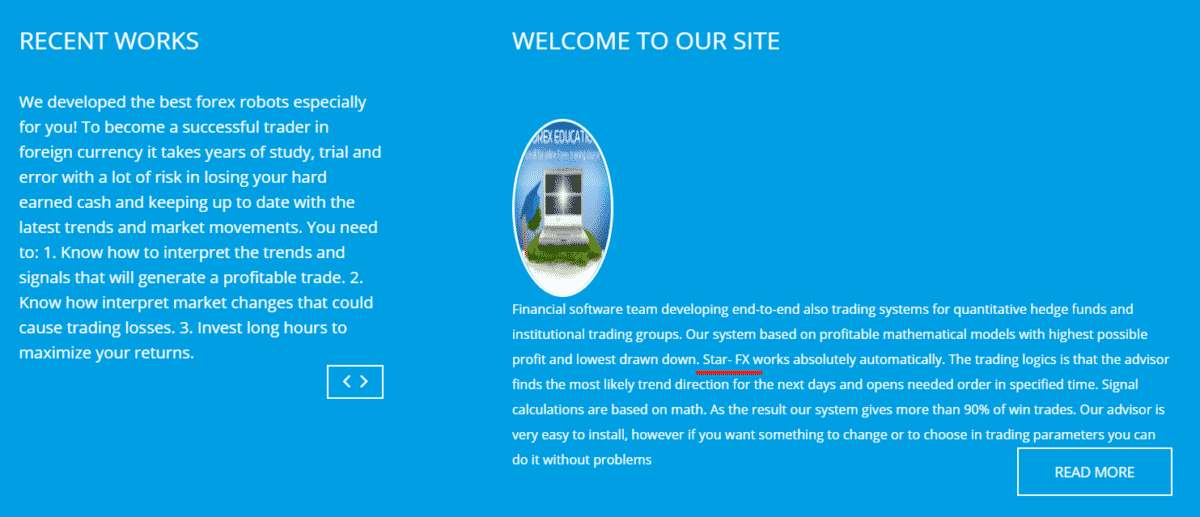 We may note a mention of Star-FX on the dev's website. We don't know what this system was up to. Can the current advisor be just a reworked robot that was running before? It's completely unclear.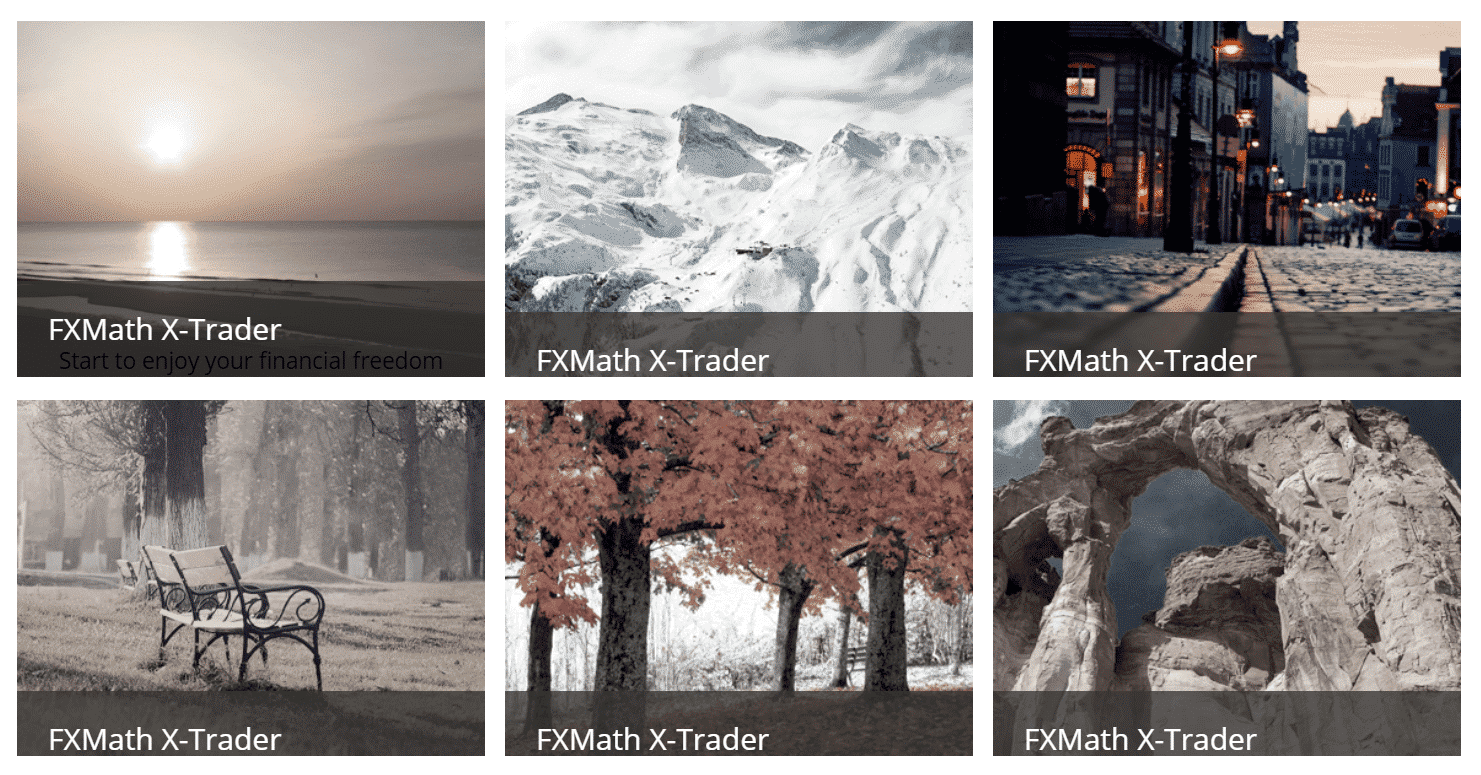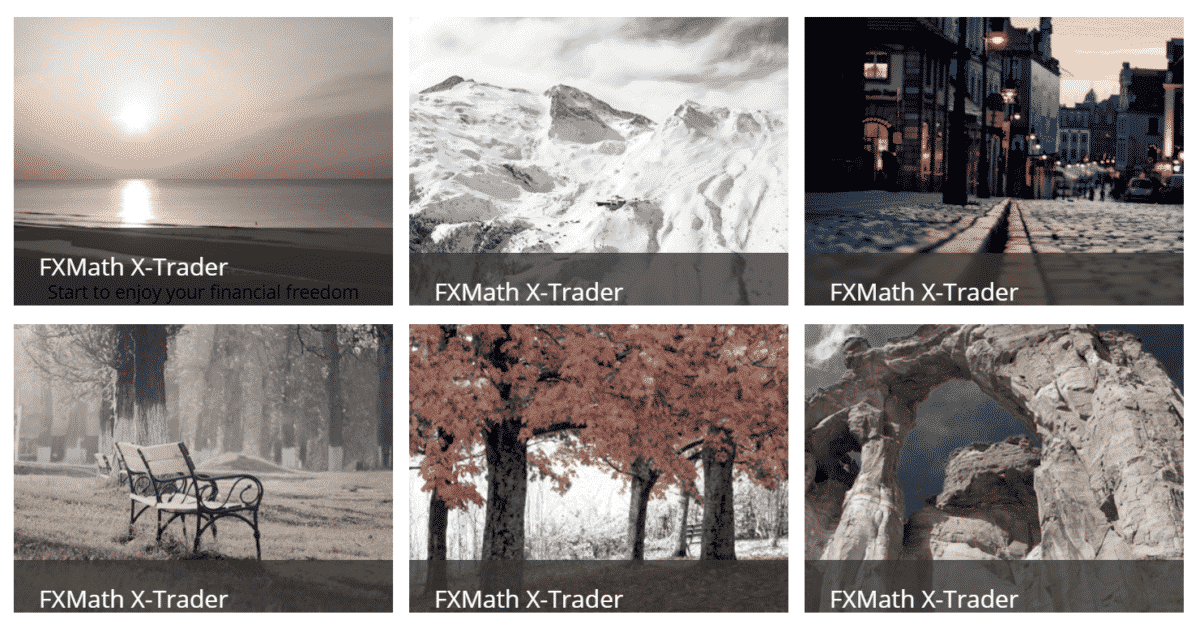 We have various pictures that are not connected to the system in any way. It's weird because we don't know why the devs need these stock photos.
FXMath X-Trader company profile
We have no company behind the robot. So, if anything happens with our account under the robot management we have no legal firm to talk with.
The highlights of FXMath X-Trader


We have prepared a list of settings and other details written about the system that should help us to decide if the robot fits our expectations.
The advisor can help us with automatically executing our orders on the terminal.
It can be used on the MT4 terminal.
The support is delivered 24/7.
The advisor keeps receiving updates.
We are allowed to work with any broker we want.
Getting started takes several minutes after downloading.
The leverage is 1:100.
It works with EURUSD.
We can try to use it with other cross pairs.
There's a self updated algorithm.
We can work with the following accounts: Standard, Micro, Mini, Islamic, and ECN.
The advisor requires low spreads to be profitable.
Trading results with FXMath X-Trader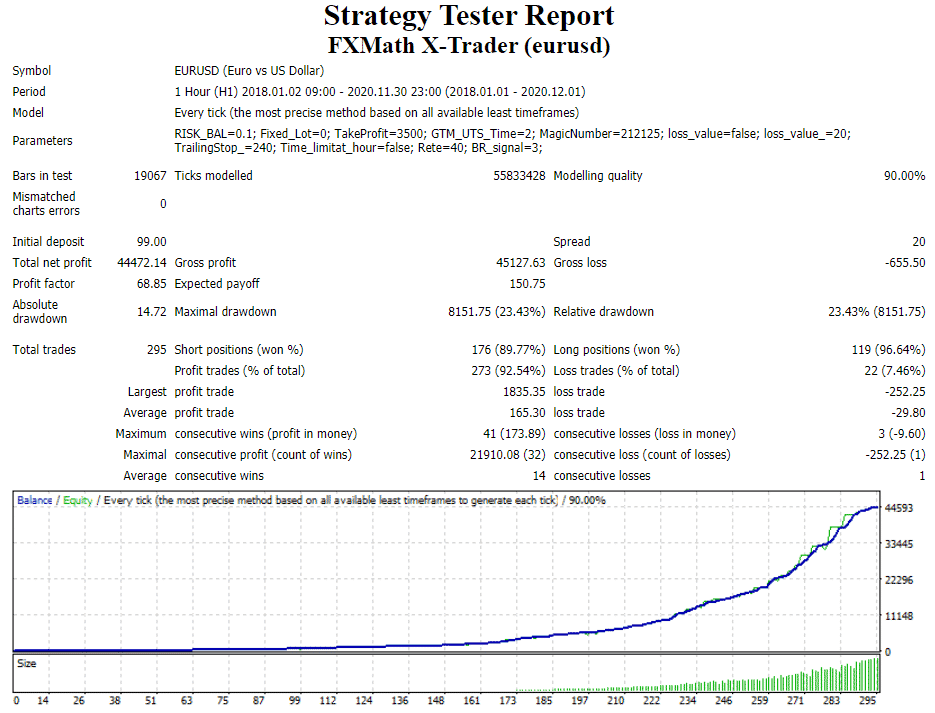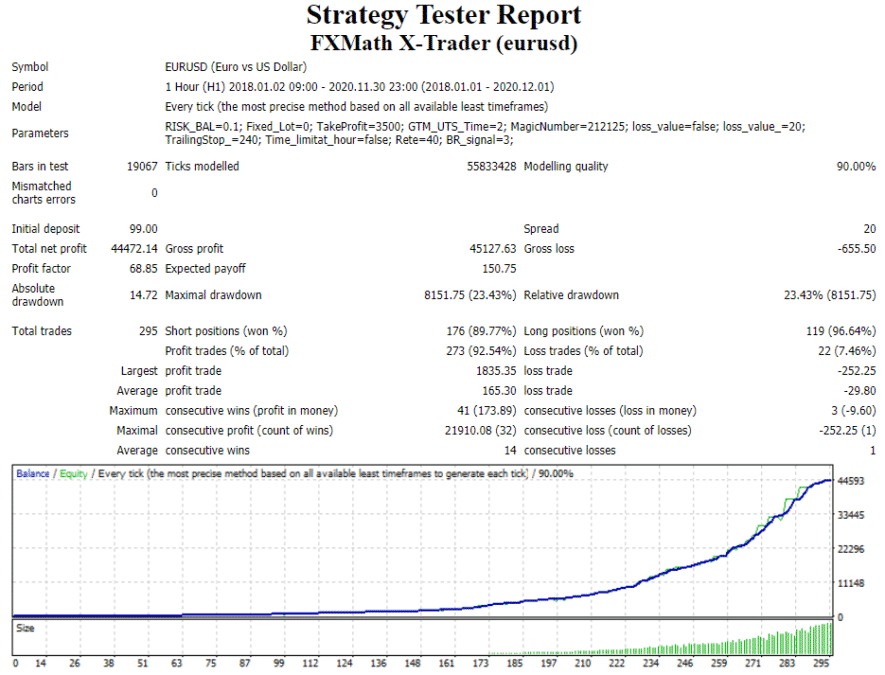 We have only a test of EURUSD on H1. The data was chosen from 2018 to 2020. The modeling quality was 90.00% with 20-pip spreads. It's an enough level of spreads for a test. An initial deposit was $99.00. There were $44,472 of the final profits obtained. The profit factor was 68.85. The maximum drawdown was 23.43%. FXMath X-Trader has executed 295 deals with an 89% win rate for short and 96% for long trading positions.

The advisor works on a real account that was deployed on October 11, 2021. The balance is ₽5338. It's less than $200. The closed profit is ₽3382.

The total return is 172.9%. An average monthly profit is 47.8%. The win rate is 87%. The profit factor is 71.90. An average trade frequency is 0.3 deals a day. The account exists on the market for 74 days.

The risk of ruining the whole account is 27.1%. An average trade is ₽147.07. An average win is ₽171.51 when an average loss is -₽15.90. An average trade length is 23.5 hours.

The advisor works with both directions almost equally.

The robot runs a single magic number.

We may note that the system prefers trading four days a week.

It opens orders with unpredictable trading frequency.
FXMath X-Trader packages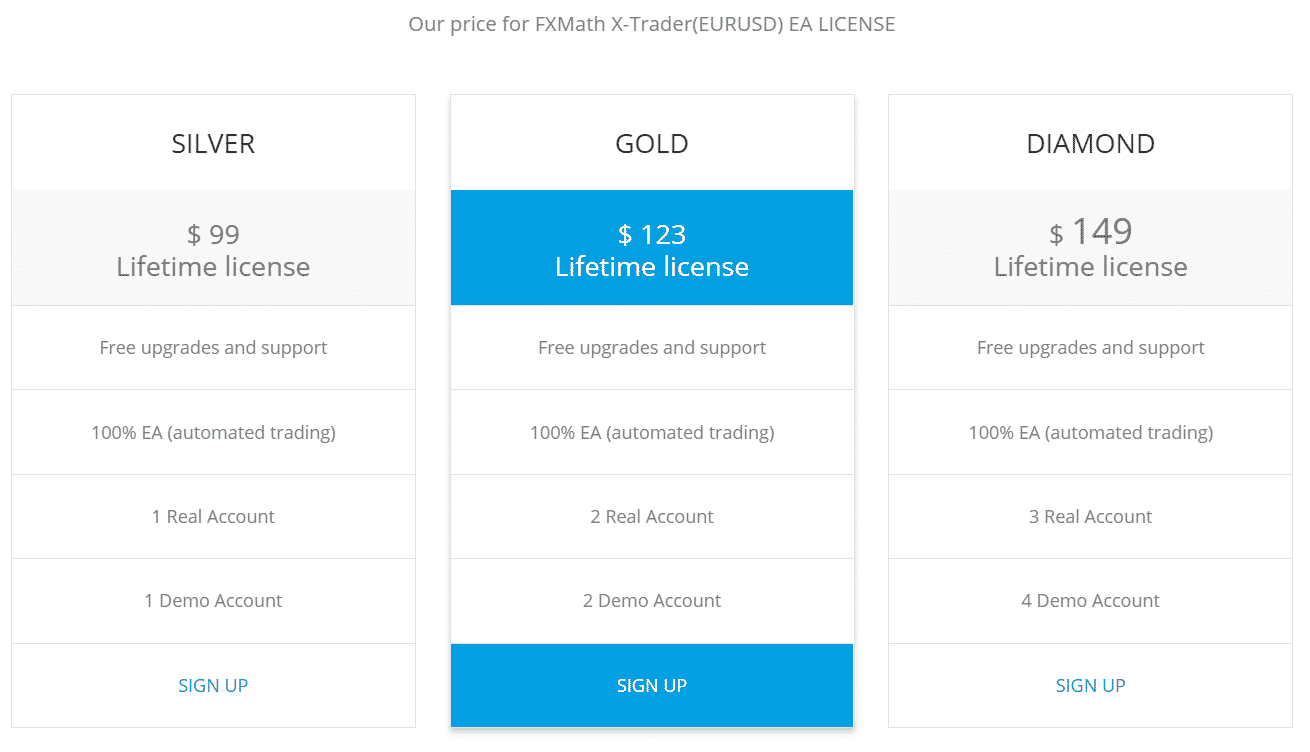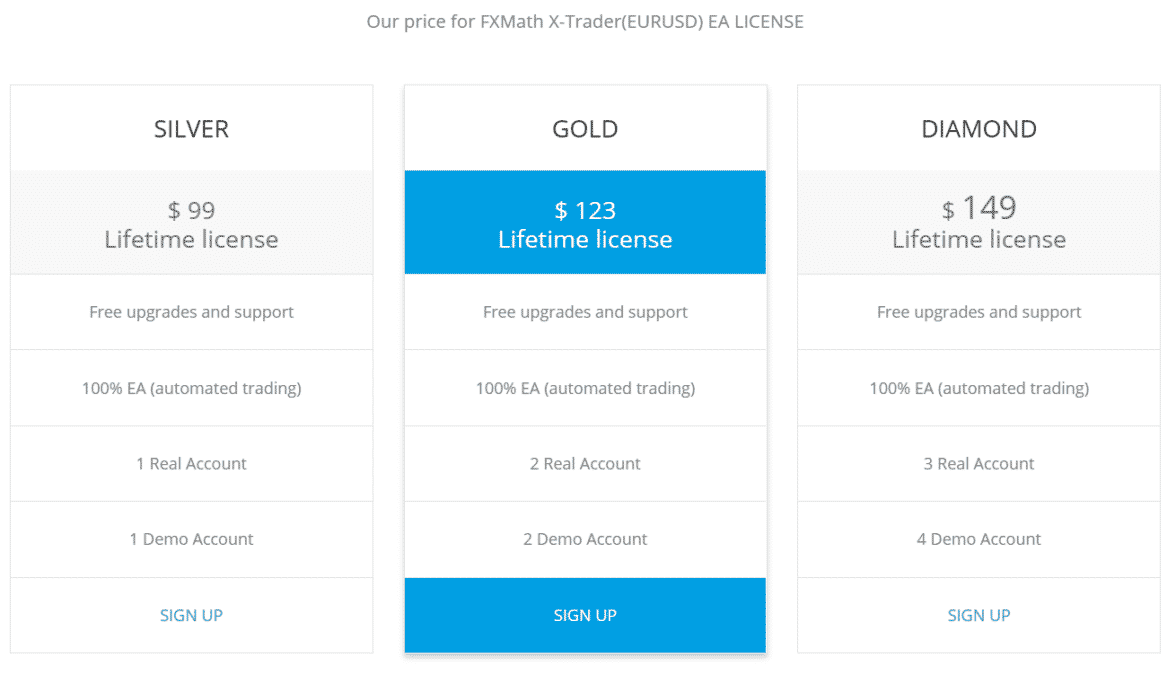 The packages weren't changed for a long time. We have Silver, Gold, and Diamond packs. No discounts are provided. The Silver pack costs $99 for a real and demo account license. The Gold package can be available for $123 for two real and two demo account licenses. The ultimate package, Diamond, costs $149 for three real and four demo accounts. We have no money-back guarantee policy provided.
Assistance
The support can be good but we have no testimonials or mentions about its quality.
Other notes
The advisor trades from 1 to 11 deals monthly. It will take so much time to make enough profits.
Is FXMath X-Trader a reliable system?


The presentation is featured only by positive faceless testimonials that don't look trustworthy. It's hard to trust them blindly.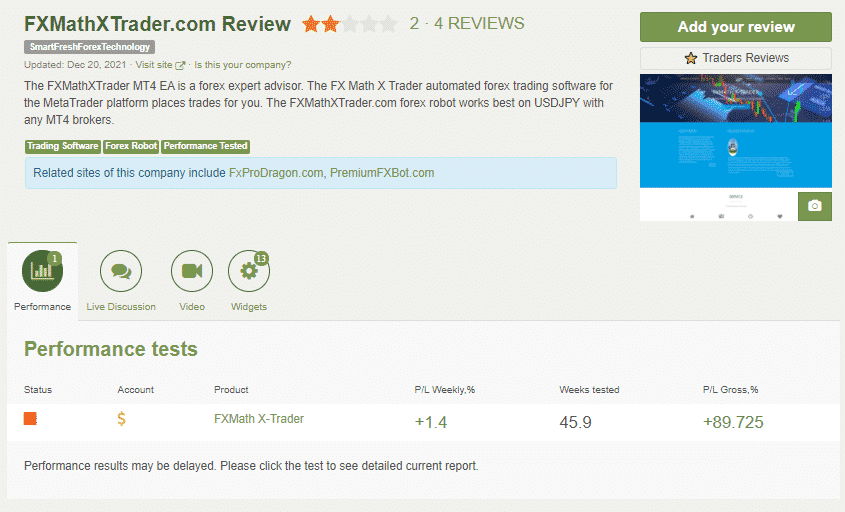 The company has a profile on Forex Peace Army with four reviews written. The final rate is 2.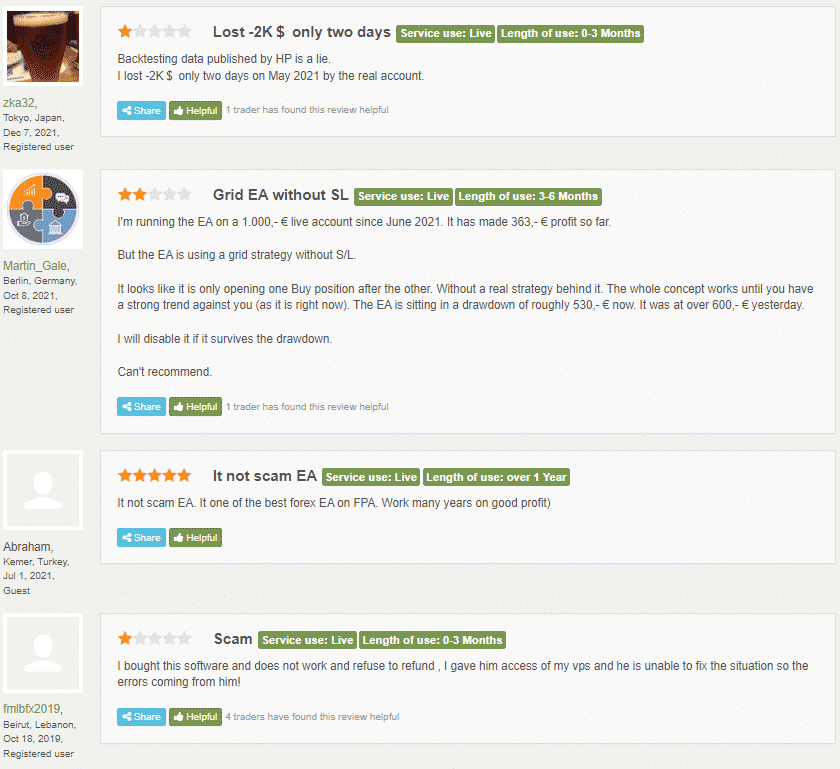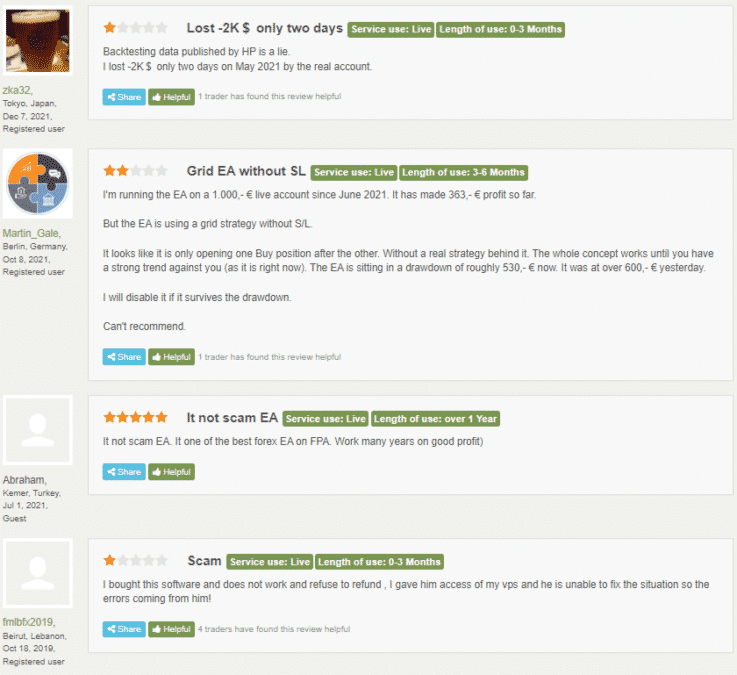 Traders weren't happy with the system because of significant losses on their accounts.