FX Premiere is a signal provider that sources its trading ideas from 50+ different sources. It then sends these signals to its members for as little as $37. The professionals state that they assess the market carefully while observing the global economy closely so as to generate the perfect signals for their customers. So far, they have reportedly assisted 100,000+ traders.
FX Premiere company profile
FX Premiere, the company behind this service, was established in 2010. It claims to be an intermediate online affiliate in the Forex signals space and not a financial analyst. The company is also happy to let you know that it works with experienced professional trading analysts as far as its system demands. The team specifically comprises over 20 professional traders with Wall Street experience who are on a mission to make your learning curve easier.
The highlights of FX Premiere
These are some highlights of the service:
It can be used to trade multiple instruments, such as EUR/USD, USD/JPY, EUR/GBP, GBP/USD, AUD/USD, USD/CHF, NZD/USD, USD/CAD, crude oil, gold, and more.
The service provides 5-18 Forex signals daily depending on the subscription plan used.
The signals for Forex run 5 days a week, from Monday to Friday.
It shares details of each trade it takes, including stop loss, entry price, and take profit.
Chart work and technical analysis are delivered directly to your phone daily.
It sends push notifications of lucrative opportunities directly to your phone.
The ssystem includes supporting graphs/analysis for the signals.
Its alleged success rate is 79%.
The trading team employs numerous strategies, which are said to work on a number of timeframes, starting from minutes to daily. For this reason, the holding times of these approaches may be deemed short-term intraday or longer-term position trading. Apparently, every strategy they use is hinged on a particular mixture of configurations that are based on price levels, patterns, technical indicators, or economic events.
Facts & figures
The vendor has not shared the backtest results for the service it provides. It could be that the strategies used to generate signals have not been tested on historical data. This may be disappointing for traders who normally love to have an overview on the long-term performance of a service before making any final investment decisions.
We also could not find the live trading results of the signals on a third-party website like Myfxbook. The team should run their signals on a live account to prove to its potential clients that the trading ideas actually work. The failure to do so may scare away some traders.
FX Premiere packages
FX Premiere provides 3 plans, namely Basic, Standard, and Premium. The first package has an asking price of $37/month, while the second one is $97/4 months. The Premium plan is priced at $199 annually. Common features provided by these plans are daily Telegram FX Signals, alerts from up to 50 sources, 1-3 targets per day, 24/7 customer support, etc. Of course, the costlier the plan, the higher the number of signals you receive. A free signal service is also available.
Assistance
Customer support is available round the clock. The support team can be contacted via email, Telegram, or through its social media platforms—Facebook, Twitter, LinkedIn, or Instagram. Other resources like FAQs and tutorials are available to help you self-serve your own answers.
Other notes
In general, users appear to be satisfied with the services FX Premiere provides. So far, they have accorded it a near perfect score of 4.8/5. And as you can see in the screenshot below, this rating comes from 3000+ traders. Some say that the signals provided are reliable and accurate. Even then, there are a few disgruntled traders, and one says that the service is a scam as it supplies the wrong signals daily.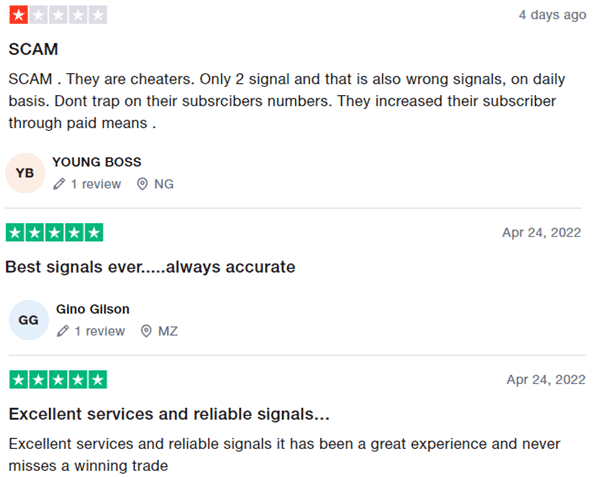 Is FX Premiere a reliable service?
Yes, it might be. Our conclusion is based mostly on the thousands of positive reviews the signal provider has received on Trustpilot. Obviously, FX Premiere would not have attracted the attention of massive traders if it wasn't reliable.