FX Deal Club is a trading service that provides us with a possibility to be profitable on Forex simply using their managed account service. Traders can get started with $500 on their balance. However, the devs recommend starting with at least $5,000 to get better trading results. Is it safe to use their service? This is what we are going to discuss in this review.
FX Deal Club company profile
The developers mentioned that they have been in business for over 21 years. They are registered as FX Deal Club Pvt Ltd, MS Tower, Business Bay, Dubai, United Arab Emirates. Anyway, it's impossible to prove this information without registration documents or photos.
The highlights of FX Deal Club
The presentation shares with us some information about how the system functions and what signals' quality we will have.
The signals from the master account can be copy-traded automatically and instantly.
The developers have over 21 years of trading experience.
The system seeks the best entry points to join the market.
To set everything right, we have to send the developers our login and password from an account.
An average monthly ROI is 30-50%.
We can rely on 24/7 support if we have some questions to ask.
The devs want us to pay for the signals via Bitcoin, PayPal and Skrill.
The minimal balance requirement is $500.
It's better to start working with $5000 on the balance or even higher.
We can work with our broker if the conditions are good to trade.
There's a 35% commission from profitable trades.
Trading results with FX Deal Club
The presentation isn't featured by a backtest report. We'd like to note that this is a con because we have no idea if the system was properly tested and what results it could achieve in the past.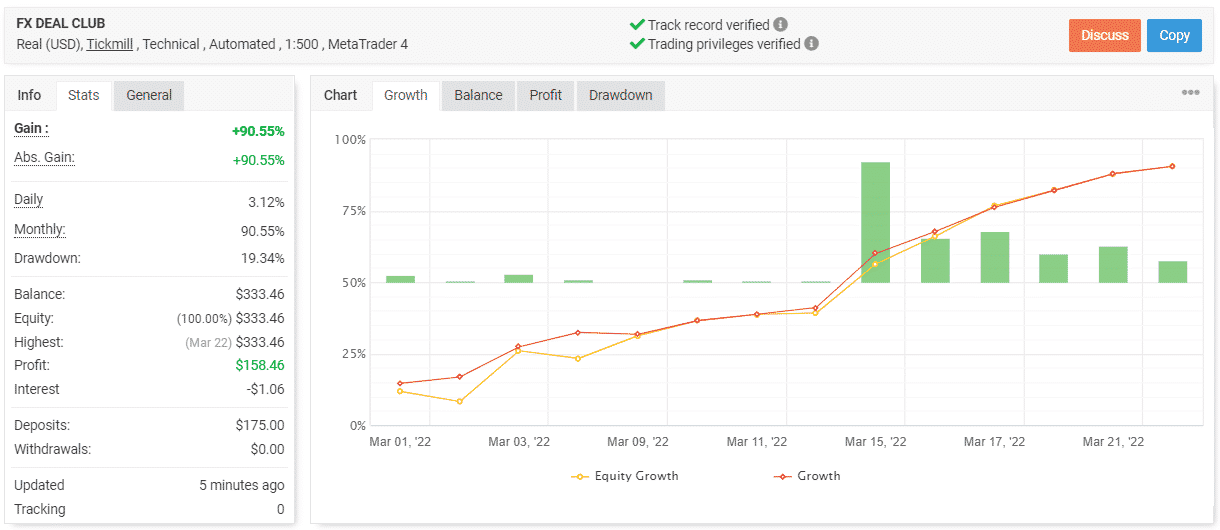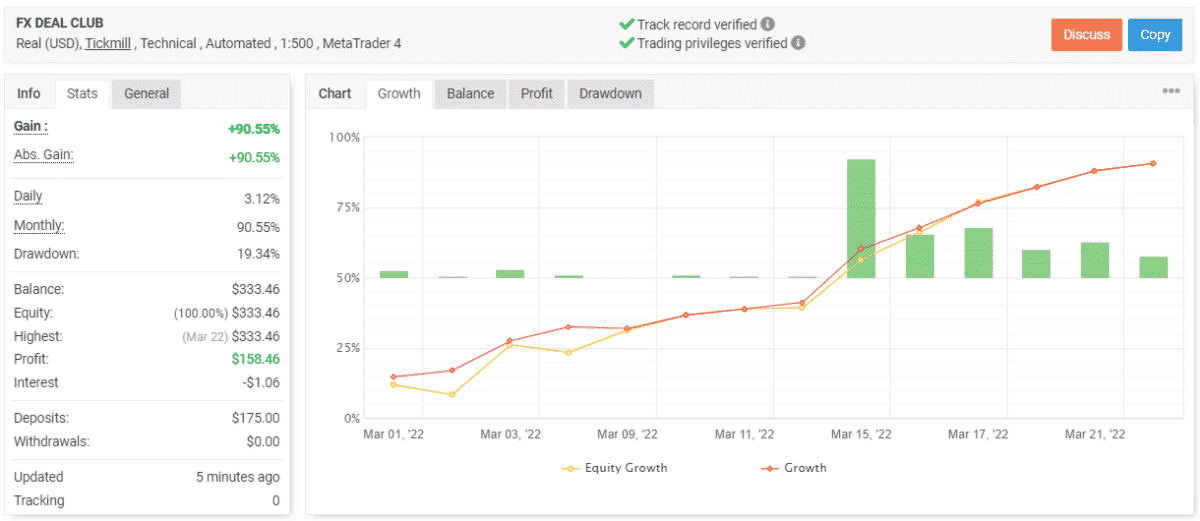 We have trading results of the system running on a real USD account on Tickmill. It works automatically with 1:500 leverage on MT4. The account has a verified track record. It was created on March 01, 2022 and deposited at $175. Since then, the total gain has become 90.55%. We have an acceptable level of drawdowns–19.34%.


The system has traded 65 deals with 7252.1 pips obtained. An average win is almost four times higher (150.13 pips) then an average loss (-42.65 pips). It's a solid spread between a win and a loss. The win rate for longs is 86% and 70% for shorts. An average trade length is 12 hours 40 minutes. The profit factor is solid too–4.91.


The system works with USDCAD and XAUUSD pairs where USDCAD is the most traded (36 deals) and the most profitable ($94.52) one.


The advisor works with moderate risks. There should be only 11 orders to lose 10% of the balance.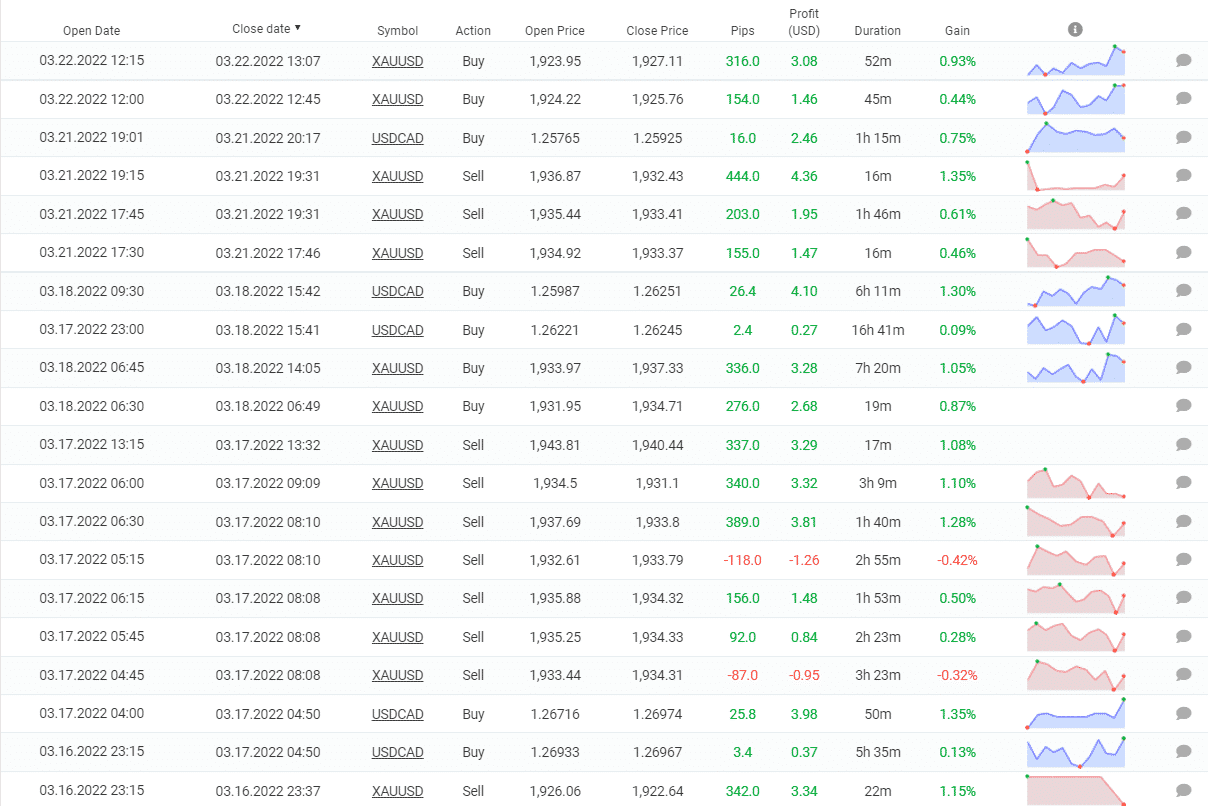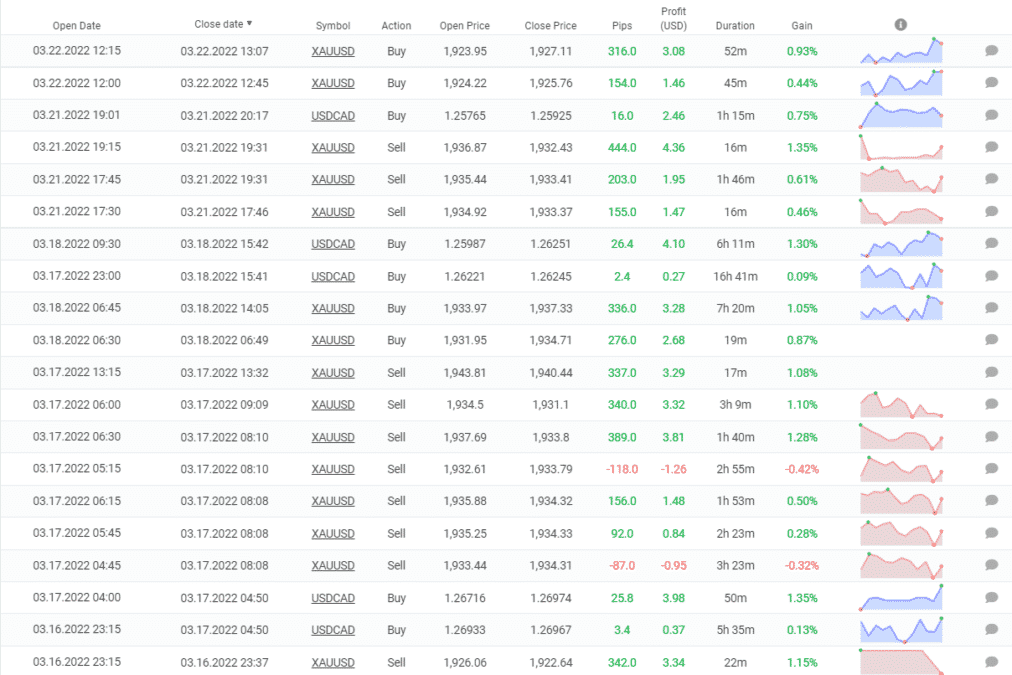 The system uses short Grids of 2-3 orders. We don't know if Martingale is applied.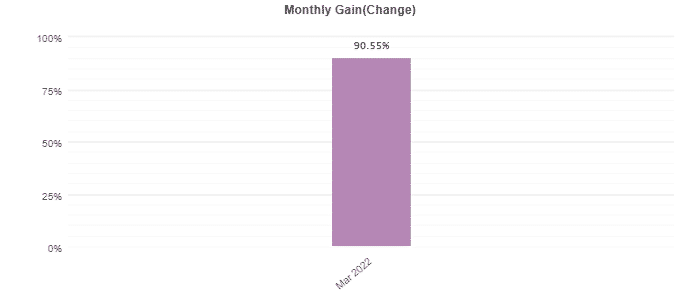 The system makes solid profits in 2022 so far.
FX Deal Club packages
The developers charge upfront fees of $250 via PayPall or Skrill. It uses paying systems that don't support refunds.
Assistance
We can rely on average support within 3-4 hours. It's acceptable because it usually takes one or two interactions to solve a problem.
Other notes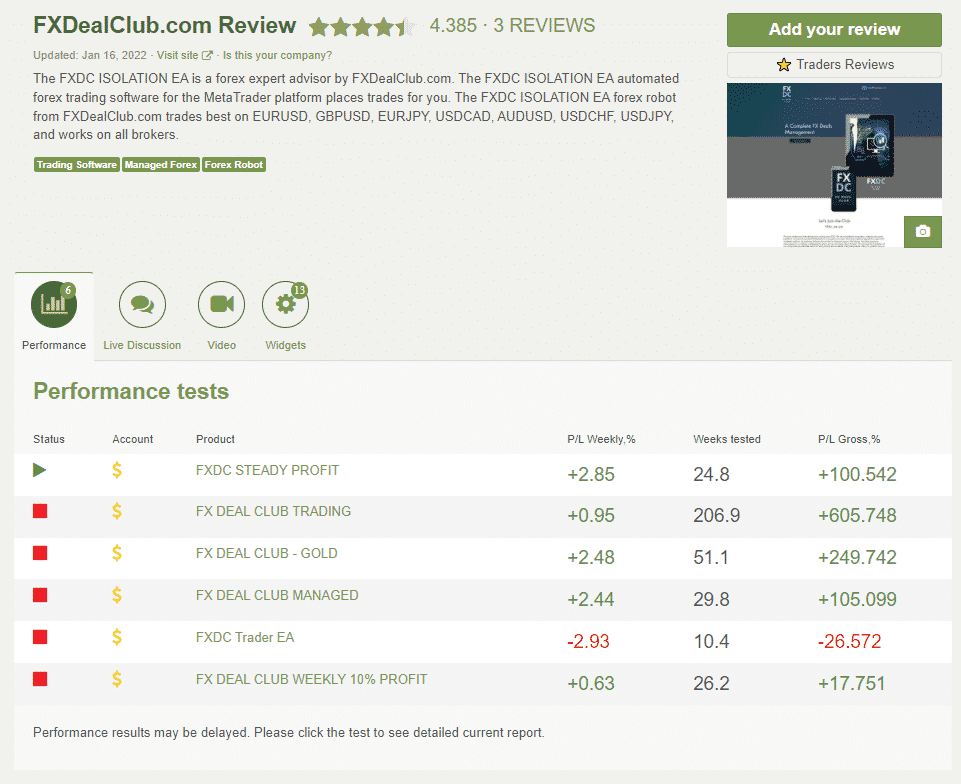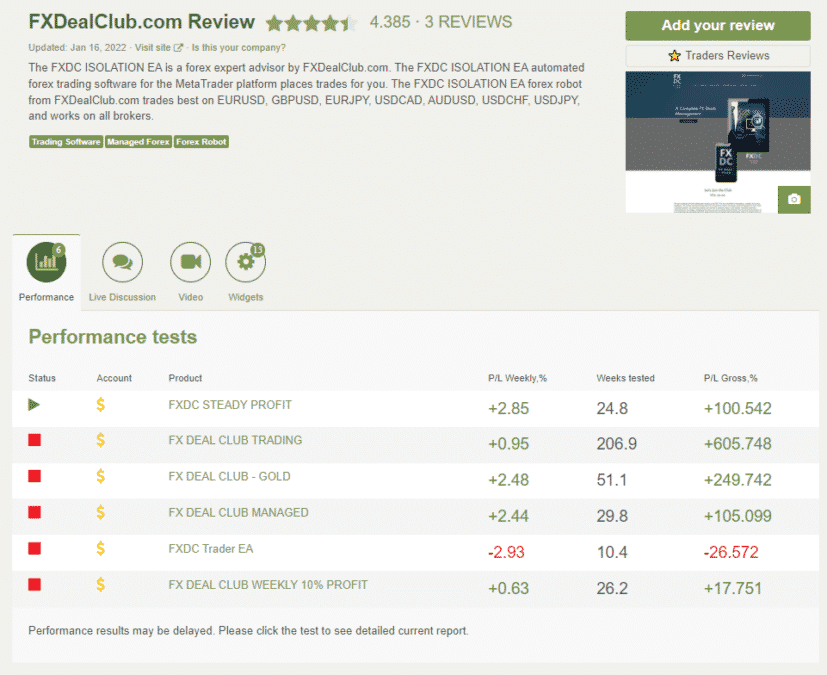 FX Deal Club runs a page on Forex Peace Army where we have 3 reviews with a 4.385 rate in total. There are six accounts connected where one of them was blown.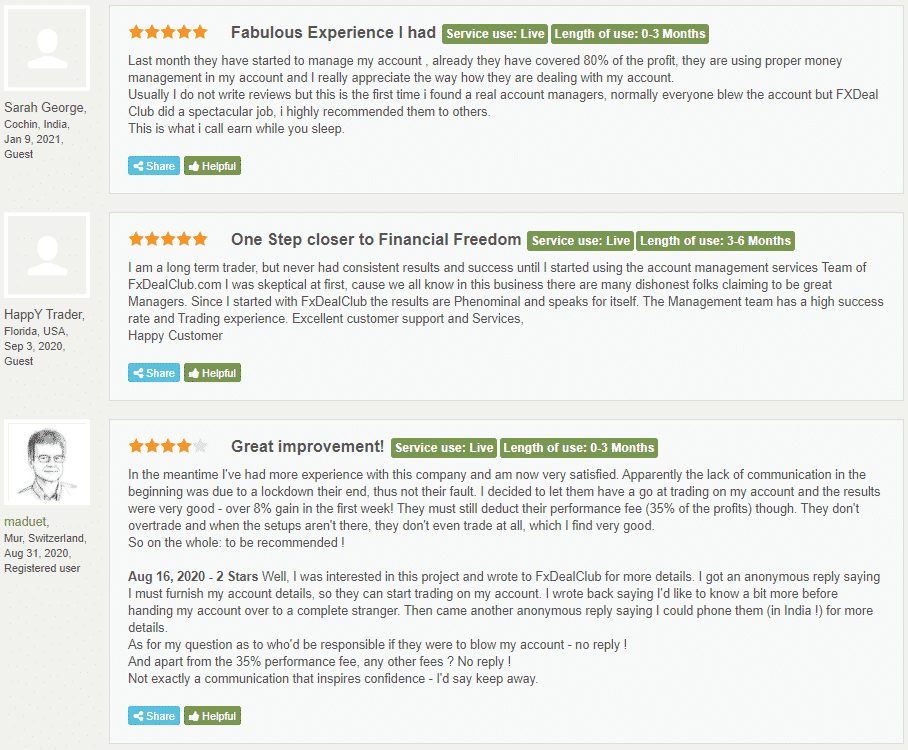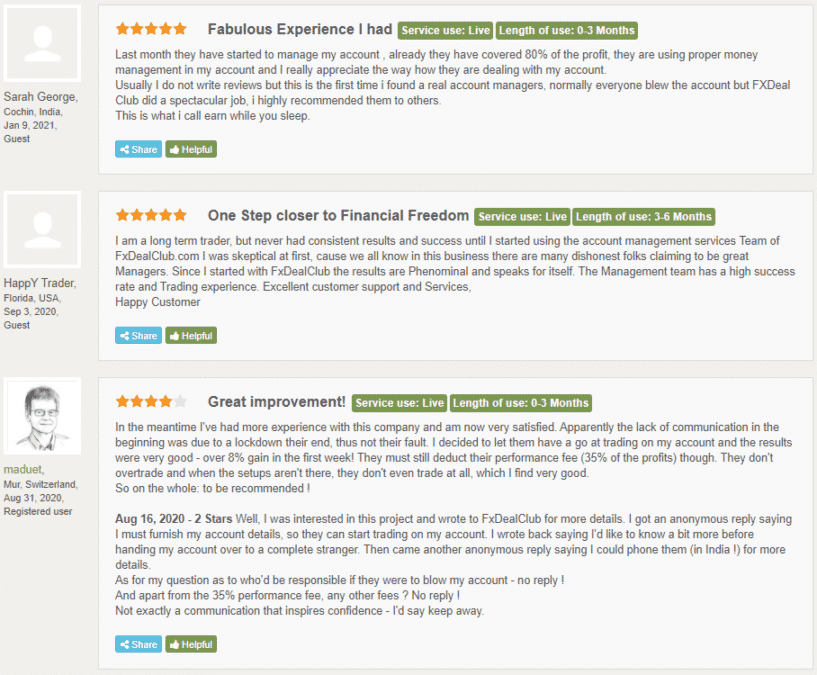 We have all reviews positive. People shared their experience and opinions about using this service.
Is FX Deal Club a reliable system?
We can't claim this for sure because the last account is less than one-month old. So, we have to wait for some upcoming trading results.