Forex Pulse Detector works with only two currency pairs: GBPUSD and EURGBP. The system is a frequent trader and protects users from high slippage and high spreads. An initial deposit of $1000 is needed to start trading. We are going to assess the different components of the robot, including its features, vendor's profile, trading outcomes, and customer reviews to gauge if it's worthwhile or not.
Forex Pulse Detector company profile
Automated Forex Tools is the company behind this robot. It works with a team of developers and Forex traders who are said to be highly experienced. According to the sales pitch, some have been in this market for 12 years now and are not willing to bow out of this profession. The company was founded in 2015, and to date, it has developed systems like Forex Impulse Trader, Forex Trend Hunter, Dynamic Pro Scalper, and others.
The highlights of Forex Pulse Detector
The robot offers the following features:
It is only compatible with the MT4 trading platform.
It has a built-in recovery system.
The EA works with all MT4 brokers.
It hides SL and TP levels from brokers.
All updates are free to customers.
The robot is fully customizable.
It safeguards you against unfair brokers and their deceptive techniques.
Forex Pulse Detector capitalizes on market impulse. The vendor has furnished the system with several indicator sets, which enables it to predict when the market will reverse so as to get additional pips. The robot is very active as it works on the M15 timeframe. This, according to the vendor, helps it to gain pips quicker.
Facts & figures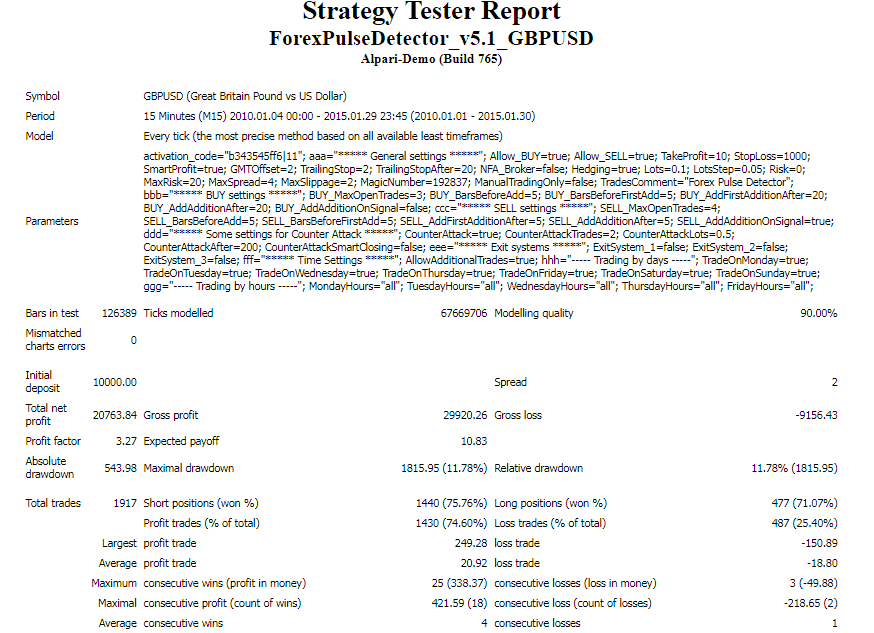 The EA used the M15 chart to conduct 1917 trades within the 2010 and 2015 trading period. As a consequence, a total net profit of $20763.84 was generated from a $10000 deposit. Trading risks applied were small as only a drawdown of 11.78% was made by the end of the test. The win rates for short (75.76%) and long positions (71.07%) weren't extraordinary, though.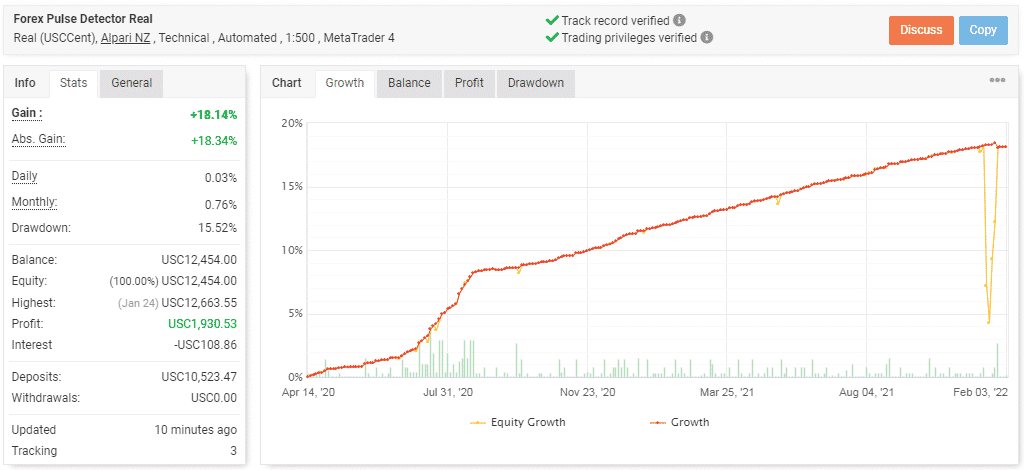 At a glance, we can tell that the strategy's profitability rate is low compared to the one we have seen in the backtest report. The EA only manages to make 0.03% profits daily and 0.76% profits monthly for the account. We have also noted that the drawdown rate (15.52%) in the live account is much higher than the backtest one.
So far, the risk/ reward ratio, which is 20:1, is very poor. Only a profit of USC1930.53 has been made from a large deposit of USC10523.47 within 21+ months of trading.

There are poor win rates for both long (68%) and short positions (65%), which indicates that the robot's strategy isn't that lucrative. Notably, these success rates are lower compared to those reported in the backtest report. From the 533 trades completed, the EA has recorded an average win of 14.05 pips and an average loss of -24.22 pips. Obviously, chances of closing a trade with a loss than with a win are high.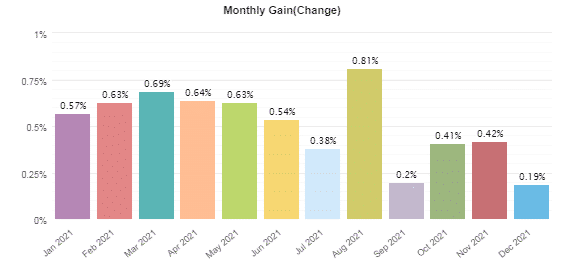 The system made minute profits throughout 2021.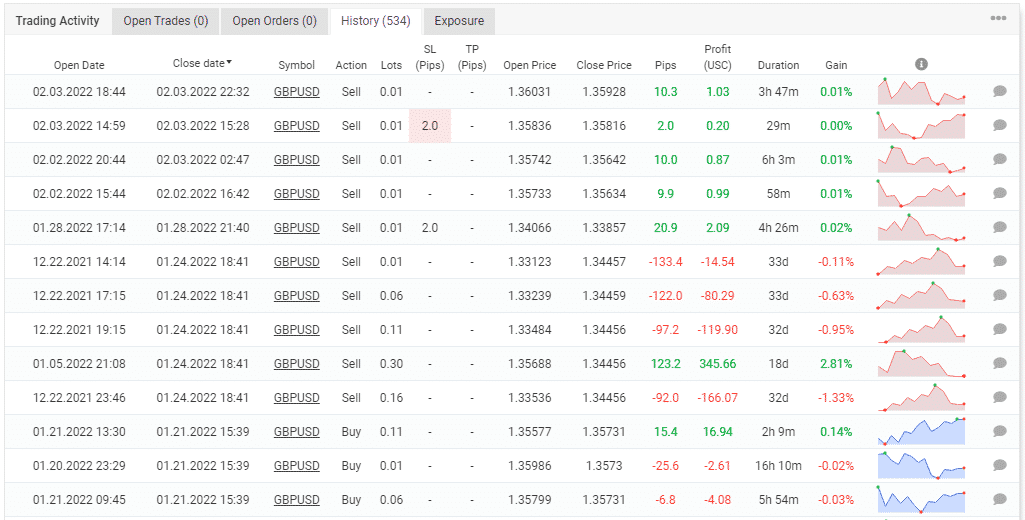 The system used a combination of the grid and martingale strategies to trade and could stay for up to a month without trading in some cases.
Forex Pulse Detector packages
You can get the lifetime license for this robot at $129. Through it, you will be able to trade on a single real account and 2 demo accounts. The vendor provides a free option, which you can use to try the efficiency of the EA on demo accounts for a month. A 60-day money-back guarantee is also present.
Assistance
To get in touch with support, you are advised to contact the team directly through email. But before you do so, ensure that you read the FAQ page that addresses common questions customers ask.
Other notes
Automated Forex Tools has a page on Forex Peace Army, which has two customer reviews. One of them mentions Forex Pulse Detector. The trader, who wrote the comment in 2015, admitted that he was happy with the robot's performance. However, with no current reviews, we can't really determine if traders are generally satisfied with the product or not.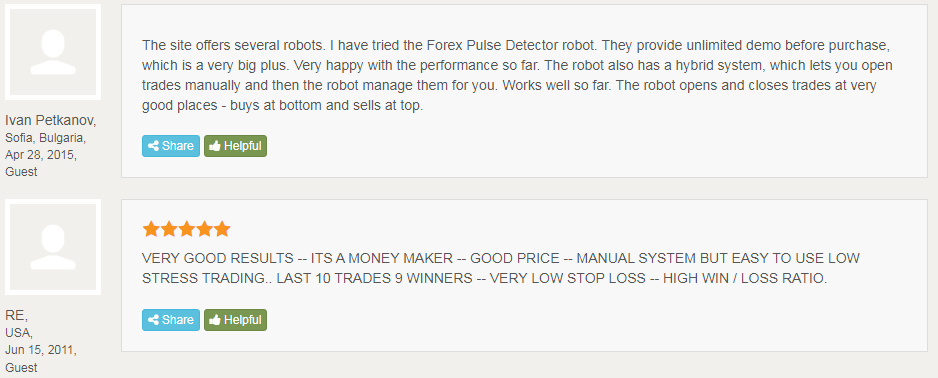 Is Forex Pulse Detector a reliable system?
We have learned that the system works with two dangerous strategies, which might increase its susceptibility to losses.