Forex Gold Investor is said to be a proven "sure bet" investment. According to the devs, the system is the preferred trading tool for serious precious metal investors. We don't think so. Join us in our review to find out more.
Forex Gold Investor company profile
Forex Gold Investor is a product of FXautomater. This is a company that is in the business of producing trading tools for the Forex community. It was established in 2009, and since then, it has developed numerous products: Smart Scalper Pro, Grid Master Pro, Gold Scalper Pro, and Grid Master Pro, and more.
The highlights of Forex Gold Investor
With your investment in Forex Gold Investor, you will receive:
A quick-start guide
Vault money-management system
Lifetime updates
Algorithmic trading
Quick-response help desk
Full MT4 compatibility
Drawdown protection system
Other features of the robot are listed below:
The minimum trading amount is $100-$500
The recommended capital is $1000-$5000
It is designed to work on the M15 timeframe
Forex Gold Investor is alleged to work with a tested entry and exit logic. This strategy entails initiating a trade based on time and the best trading scenarios like "buy on deep" and "buy on strong" impulse. The exit logic mixes several profit protecting and drawdown reducing algorithms. It then closes out all trades at the correct time, safeguarding profits and reducing any losses.
We are also told that the robot relies on intraday gold price cycles to deliver superior trading results. However, it is unclear the exact data the system focuses on to know when to and not when to place trades.
Facts & figures
The presentation of the EA features backtest results and live performance on Myfxbook.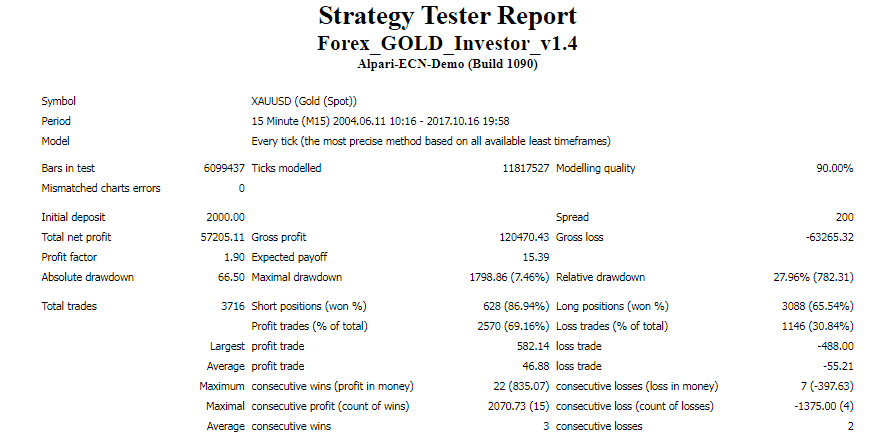 The devs tested the workings of this EA for a long period, specifically from June 2004 to October 2017. A deposit of $2000 was placed, and the robot utilized it to implement 3716 trades on the 15 minute timeframe. In the end, 69.16% of the trades were successful, leading to a total net profit of $57205.11.
The maximum drawdown was 7.46%. The average profit trade ($46.88) was much lower than the average loss trade (-$55.21). So, the EA had a higher likelihood of losing trades. Generally, the profitability rate of the system was low — 1.90.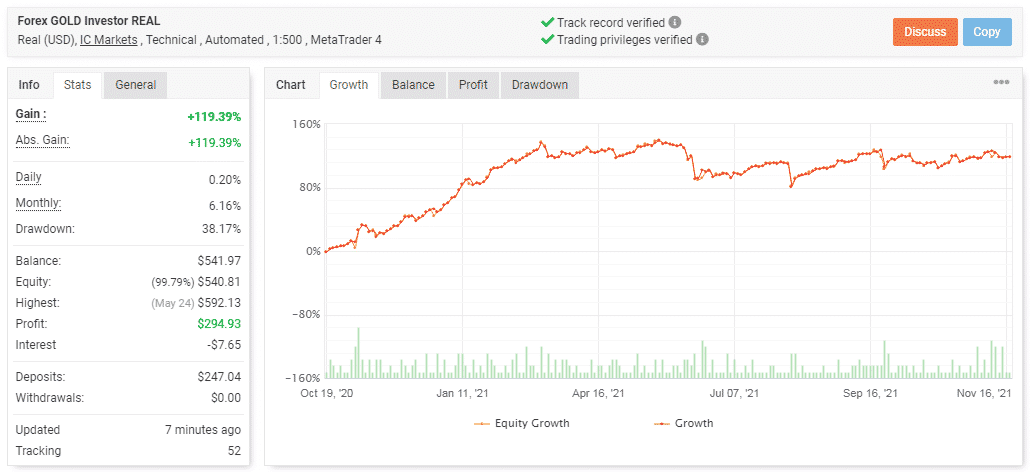 This real USD account was opened on October 19, 2020, and deposited at $247.04. It is quite unfortunate that the EA took more than a year to break even. As you can see, only a profit of $294.93 has been made all this while. The account's growth has been frustrated by many unsuccessful trades, which are reflected by a large drawdown of 38.17%.

Most of the results in the table above communicate the same message as the backtest report. For instance, the profit factor (1.36) also tells us that this robot has a low return rate. In addition, the low average win (419.52 pips) compared to the higher average loss of -675.26 pips indicates that the EA is susceptible to losses. From the 334 trades executed, only 64% of the long trades were successful. The short positions performed better — 89%.

The EA's trading activities are a threat to this account. Its high loss rate has significantly decreased the value of the account. So, it will be wiped out soon.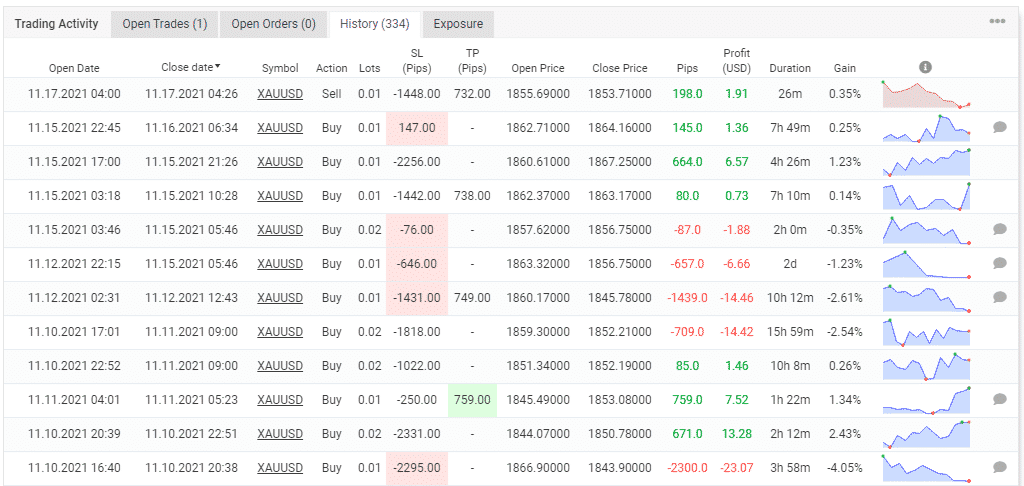 The robot made many huge losses for the better part of November.
Forex Gold Investor packages
Forex Gold Investor costs $197. At this price, you will get 1 real-money account, demo accounts, unique broker spy module, advanced news filter, and a 60-day unconditional money-back guarantee.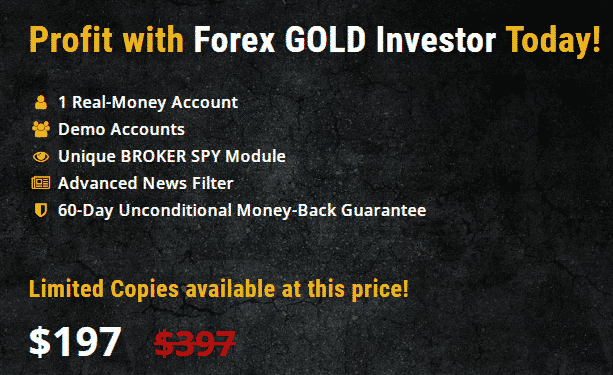 Assistance
In case you have any questions regarding this EA, you can freely contact the support team through email. Even then, you are advised to check out the FAQ page prior to emailing the team. You might find your answer on that page.
Other notes
Forex Gold Investor does not have any customer reviews.
Is Forex Gold Investor a profitable bet in 2021?
No, it is not. It has several drawbacks that concern us, and they include:
High drawdown
Low profitability rate
High risk of ruin
In short, your account won't survive for long if you use this EA.