Forex GDP is a signals provider service that offers recommendations along with explanations for long and short trades. As per the vendor's claims, these signals lead to steady growth for your trading account. They also claim that depending on the market conditions, the win rate for the signals is 80-95%.
To check the veracity of the vendor's claims, we are going to analyze the features, trading strategy, live trading statistics, pricing plans, customer support, etc.
Forex GDP company profile
This company was launched in the year 2015 by a group of young traders and developers. The team has worked with major banks, fund managers, Forex dealers, and brokers. However, the vendor has not revealed the identities of the team members. Also, we don't know where the company is located.
The highlights of Forex GDP
The signals delivered by the platform clearly mention the entry price, take profit and stop loss. They are generated by a team of analysts who have been trading in Forex for over two decades. Since they are accompanied by technical charts, you can understand the exact logic behind the recommendations.
For the paid plans, you get specialized signals for bigger profit opportunities. These are Big Trade, Commodity, Jackpot Entry, and Trend Reversal Signals. Big Trade signals denote major predictable market movements. Commodity signals are for commodities like gold, silver, crude oil, etc.
News Trading Signals let you make short-term gains on major movements caused by economic news events related to factors like unemployment rate, interest rate, and GDP growth. Jackpot Entry Signals are low-risk, high-reward signals with a risk-reward ratio of 1:5 or 1:10. When there is a confirmation of a reversal from the major level, the analysts identify a major trend reversal and generate Trend Reversal signals.
Users receive the signals via WhatsApp. The stop loss ranges from 10 to 100 pips while the take profit ranges from 30 to 600 pips. This service uses different strategies like carry trading, position trading, range trading, trend trading, day trading, swing trading, scalping, price action, retracement, transition, and grid. You can use any trading balance but you must follow proper money management.
Facts & figures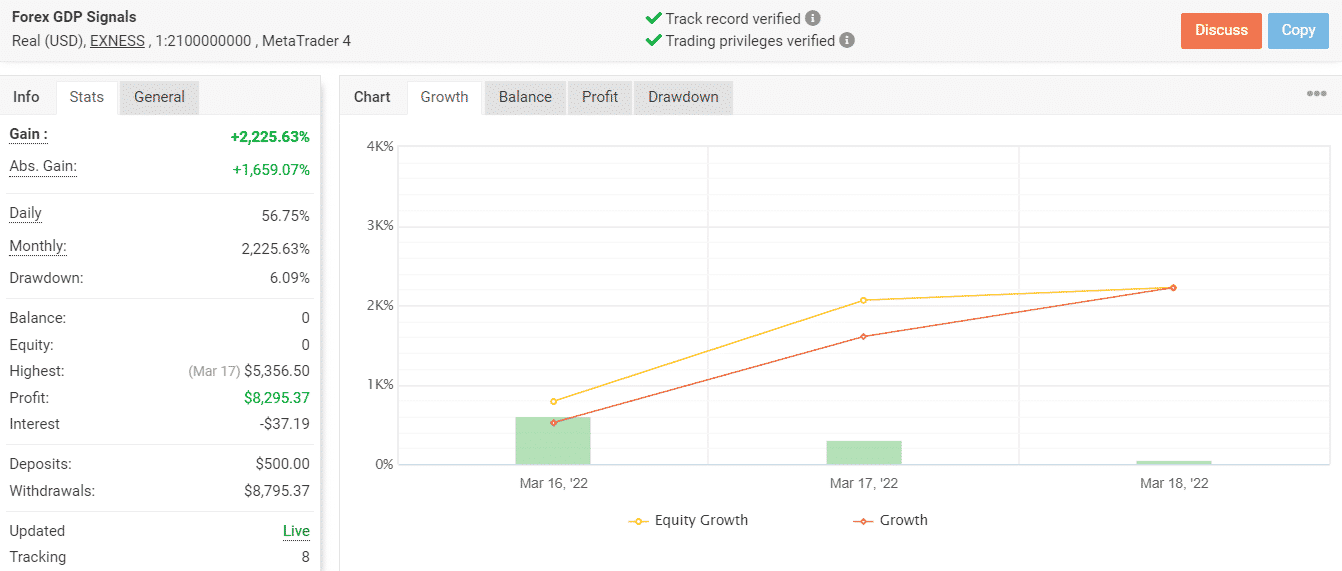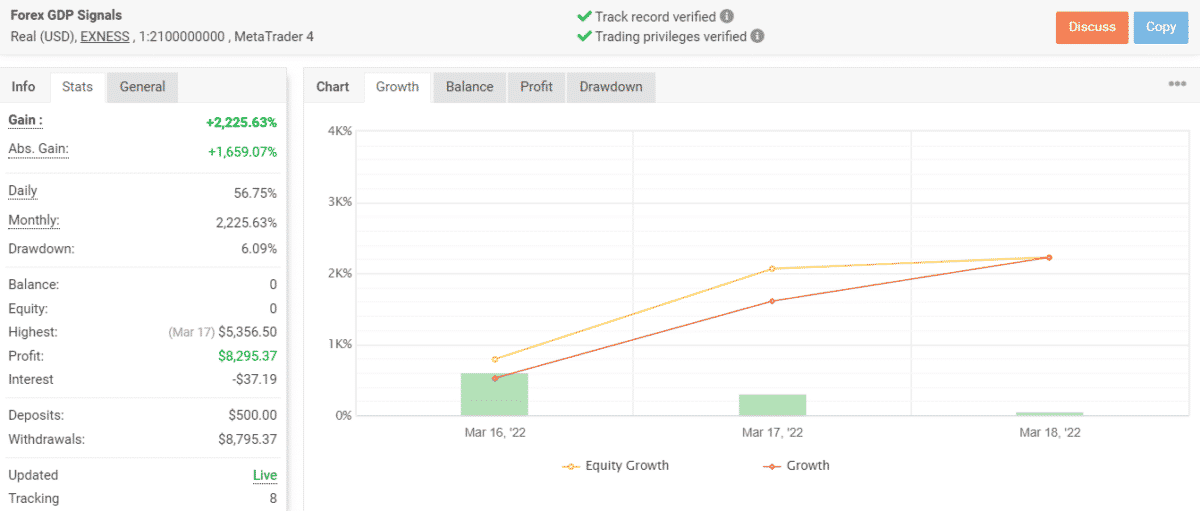 Here we have a live trading account on Myfxbook that was launched on March 16, 2022. The account has been active only for a few days, so it is difficult to accurately analyze the system's profitability from the results. After conducting 40 trades, the win rate for this account stands at 62%. This is significantly lower than what the vendor claims on the official website.
At this moment, the daily and monthly gains are incredibly high at 56.75% and 2,225.63%, respectively. The total profit generated is $8,295.37, while the drawdown is only 6.09%. Looking at the low drawdown, we can tell that the system is not following a risky strategy. The profit factor for the account is extremely high at 56.62, but again, this is based on just 40 trades.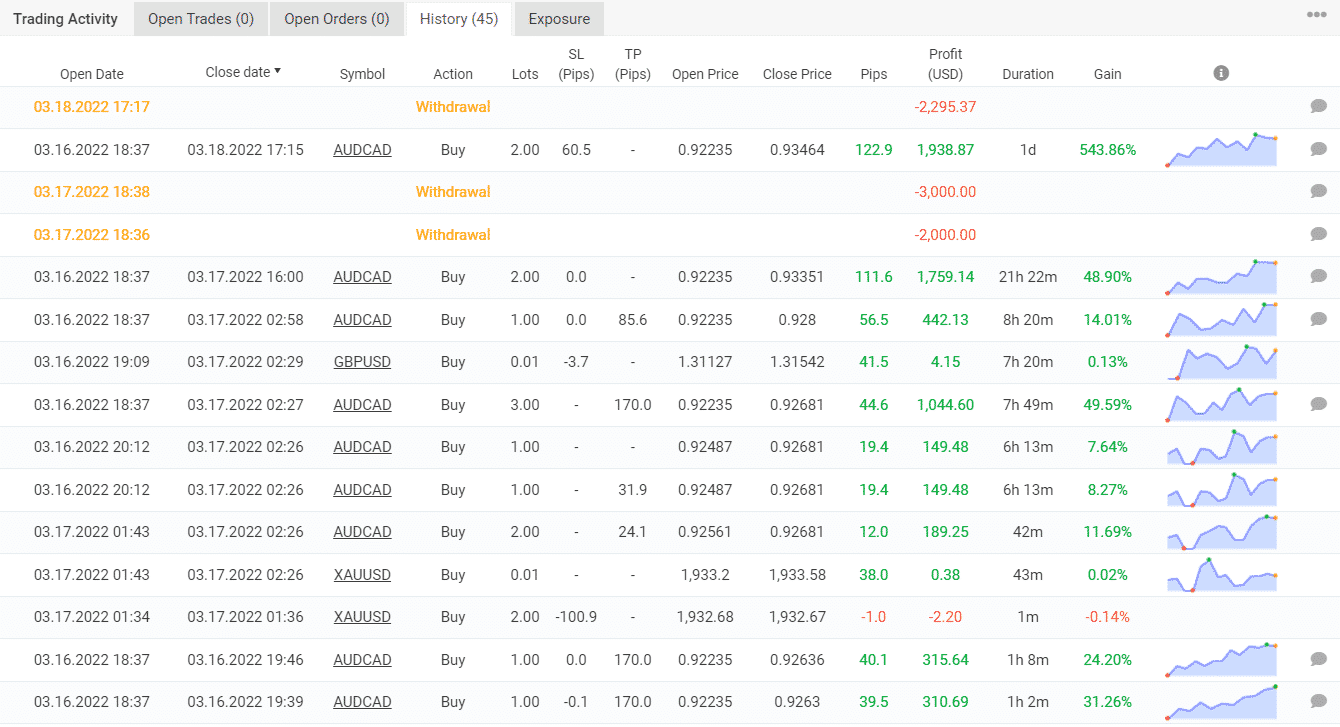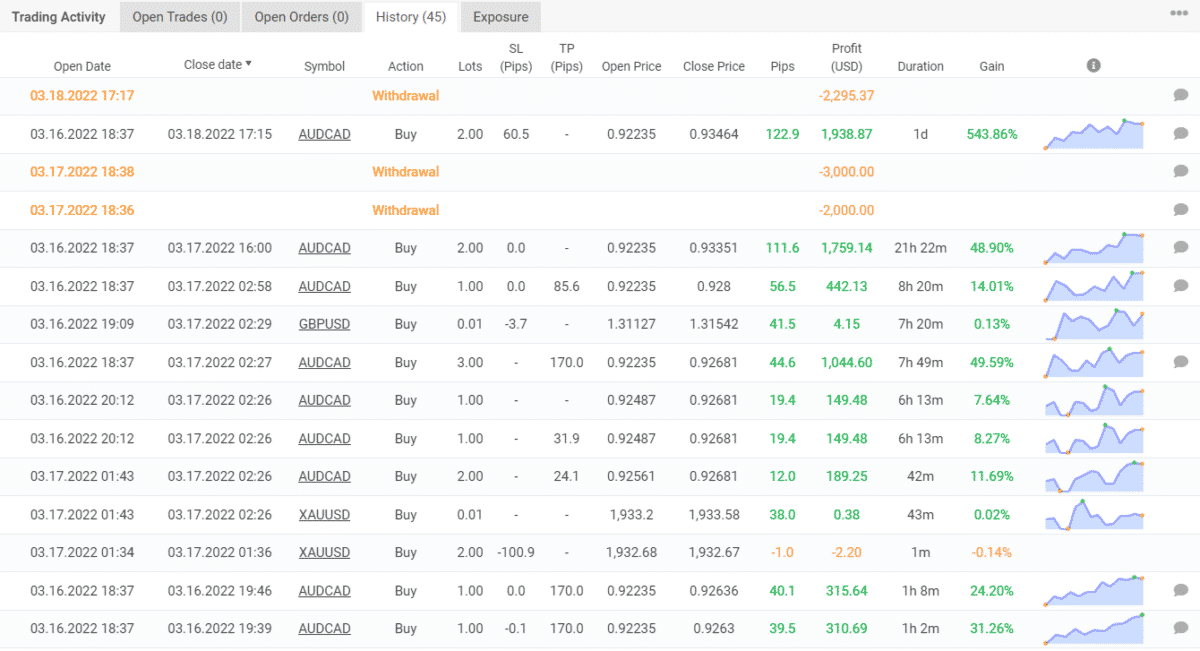 From the live trading history, we can see that the EA conducts trades with varying lot sizes. For the last 20 trades, it has used a lot size of 0.01-3.00. The average trade duration is 2 hours and 46 minutes, while the average win and loss are 98.44 pips/$337.78 and -107.25 pips/-$9.94, respectively.
Forex GDP packages
There is a free trial plan for this service, along with a couple of paid plans known as Premium and Supreme. The monthly charges for the two paid plans are $74 and $147, respectively. Both of these plans are quite expensive and there is no refund policy.
Assistance
You can get in touch with customer support via email and Skype.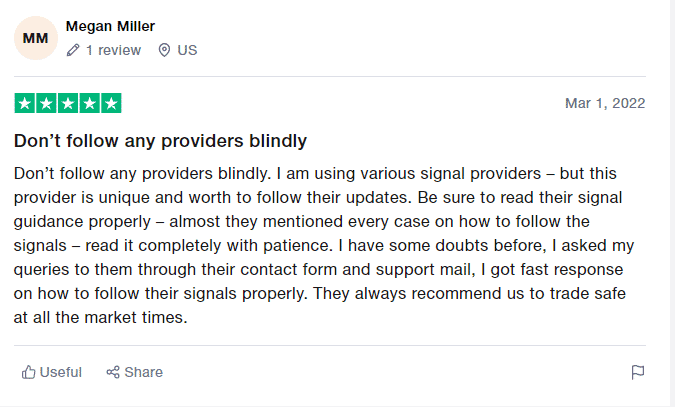 On Trustpilot, users have praised the prompt response of the support team.
Customer reviews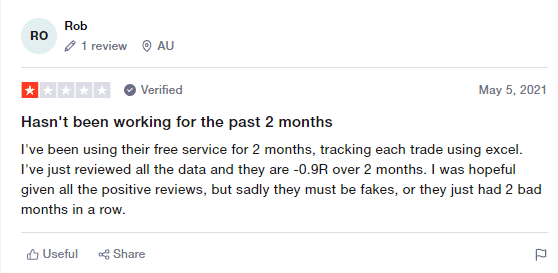 There are several reviews for this service on Trustpilot. Here, users have complained about having consecutive losing months.
Is Forex GDP a reliable system?
This signals provider has a very short trading history. The pricing plans are quite expensive and the vendor has no refund policy in place.