Bober Lannister is a Forex expert advisor that is compatible with both MT4 and MT5 trading platforms. The MT4 version of this EA was launched on October 1, 2019, while the MT5 version has been active since October 10, 2019. To check whether this EA is reliable or not, we are going to look into different aspects like features, trading strategy, company profile, packages, customer support, trading results, backtests, and user reviews.
Bober Lannister company profile
The developer behind this system is Arnold Bobrinskii, and he is based in Russia. According to his MQL5 profile, this person has been selling products on MQL5 for more than eight years. There is not much else we know about the developer. Other EAs from this developer include Bober Real and Bober Crypto.
The highlights of Bober Lannister
This is a 100% automated cross-platform trading robot that is capable of operating without any manual input whatsoever. It only conducts one trade at a time. Bober Lannister does not use a recovery algorithm similar to martingale. Neither does it use any other risky strategies that might drain your account.
The lot size of an order always follows the risk setting regardless of the result achieved by the previous order. The distance between the virtual take profit and stop loss remains the same. Real tick data is used for the optimization of live settings. The developer claims to have paid extra attention to the forward test in order to avoid overfitting.
The recommended pairs for this robot include EUR/AUD, CHF/JPY, EUR/NZD, GBP/USD, and EUR/CHF. Since it is not a broker-sensitive EA, you can choose any broker you trust. With low spread and commission, you can get better results. The recommended leverages are 1:30, 1:100, and 1:500.
There are three modes for this EA, namely Portfolio, GBP/USD beast, and Custom setup. With the first mode, you can run multiple pairs simultaneously. The second mode only lets you run GBP/USD, while the custom mode works according to the inputs in the settings tab. To get started with the robot, you need a minimum deposit of $100.
Facts & figures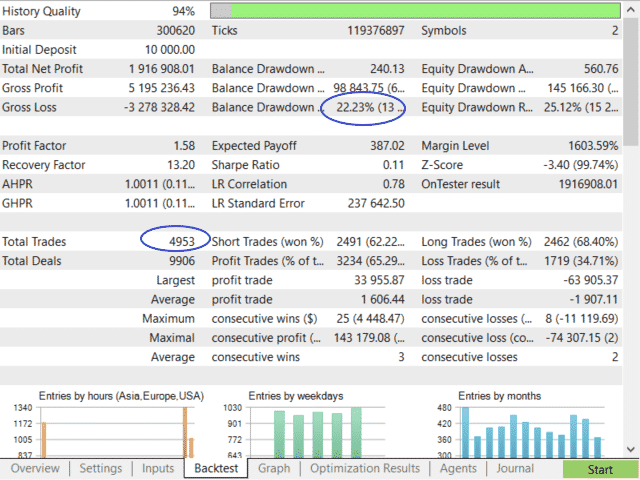 Here we have the backtesting results of the EA. The test was conducted from 2017 to 2020 in the portfolio mode. After completing 4953 trades, the EA managed to generate a total profit of $1916908.01 with an initial deposit of $10,000. The profitability was quite decent at 65.29%, while the drawdown was 22.23%, which can be considered a bit higher than normal.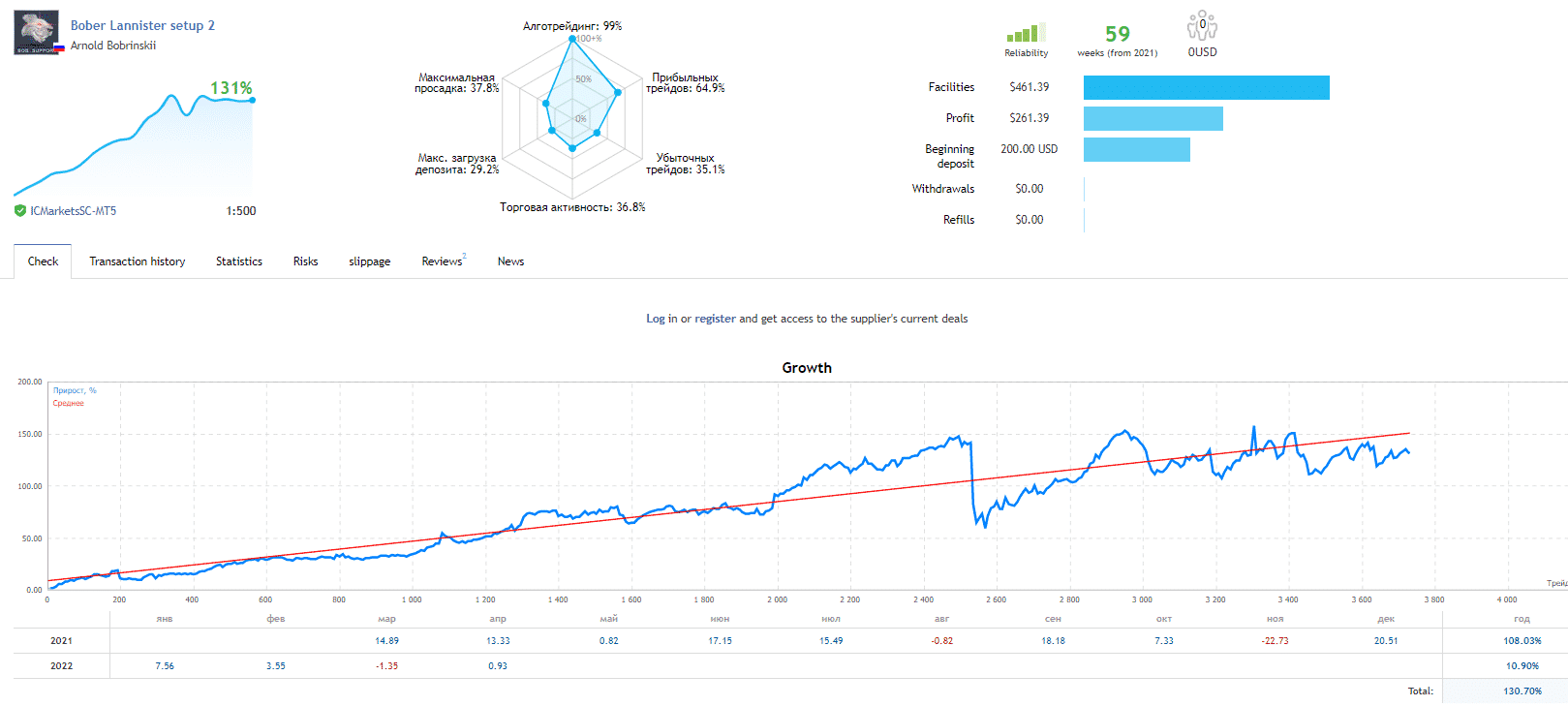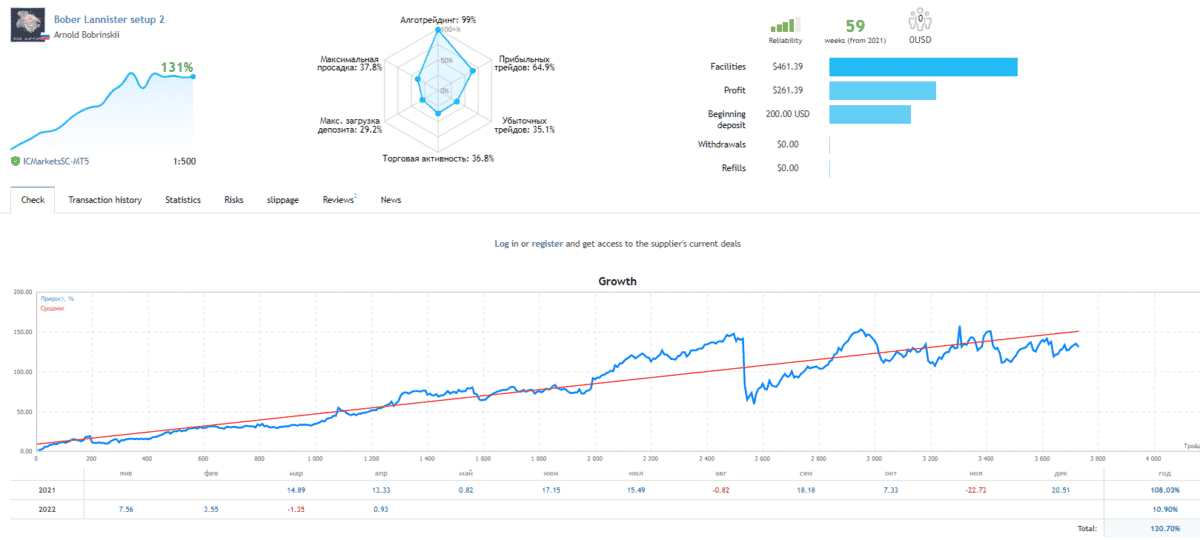 Unfortunately, there are no verified trading accounts for this EA on trusted third-party websites. This is a live monitoring account on MQL5 that has been active since March 2021. To date, the EA has conducted 3731 trades, winning 64.94% of them and generating a total profit of $261.39. Compared to the backtest, the profitability is slightly low at 64.94%, but it is still quite decent.
The profit factor for this account is 1.11, which is nothing exceptional. Also, we can see that the drawdown is quite high at 37.8%. Such a high drawdown indicates that the robot is using a risky trading strategy. On average, the EA conducts 69 trades per week.
Bober Lannister packages
The current price of this expert advisor is $499. This is not very cheap considering the developer does not have much of a reputation. Although a free demo version is available for download, there is no refund policy in place.
Assistance
There is no contact address for the support team. If you require assistance, you must message the developer via MQL5. Alternatively, you can join the official Telegram channel and describe your issue.
Customer reviews


Since there are no user reviews for this EA on third-party websites, we have no idea about the experience of real customers. The reviews on MQL5 cannot be considered authentic.
Is Bober Lannister a reliable system?
Without verified trading statistics, we cannot say with confidence that the EA can generate profits in the live market. It does not come at a cheap price and the vendor does not entertain refund requests.