What is the concept of BTC ATM fees?
What are mining fees associated with it?
Which are the top ATM providers in the US?
Increasing demand and technology improvements have resulted in the development of various virtual technologies beyond one's imagination, such as cryptos, in the online world.
Because of this, new technical developments like the BTC ATM have advanced to benefit the end-users. This has made crypto trading a breeze for traders. However, fees are associated with these new crypto services known as Bitcoin ATM fees.
More than 19,000 specialized crypto ATMs have been installed worldwide, allowing crypto traders to buy and sell cryptos quickly. They have substantially eased the process of buying and selling crypto assets. Today's focus is the Bitcoin ATM fees and everything linked with it. Keep on reading to know more about it.
What are Bitcoin ATM fees?
For transactions made through a BTC ATM, there are two costs:
Miner fee
The blockchain is the official public record of all BTC transactions. Every transaction must be recorded on the blockchain to be considered valid. Miners must verify a transaction to the blockchain before a transaction can be added to the blockchain.

Miners are people with solid computers who join the network. The decentralization of the network is due to the ongoing confirmation of transactions by the miners. Miners are reimbursed monetarily for these validations and the network's upkeep for their time and effort. A block reward is generated for each transaction added to the blockchain. Individuals who publish transactions on the network pay transaction fees, including the financial incentives given to the network's miners.
Due to this arrangement, fees paid directly to miners are levied on all Bitcoin transactions. The fee varies according to how quickly and how much you want to authenticate your transactions. The bulk of Bitcoin ATM operators passes on these variable costs to their customers in the form of higher fees. It's all taken care of for you by Coinsource, so you don't have to think about it.
Operator fee
Like traditional, Bitcoin ATMs allow you to withdraw and deposit funds instantly. But, instead of using a credit or debit card, you're putting money directly into your phone's Bitcoin wallet. Identity verification ensures that the transaction is safe.
In most cases, Bitcoin ATM operators charge a fixed fee to cover the costs of running and maintaining the ATMs. This covers charges like verification of ID, the ATM, and the cost of renting the facility. Most operators charge a fixed percentage, with the remaining funds coming from the higher current price of Bitcoin sold. This is the most common method of charging. The quoted fees for Bitcoin ATMs range from 6.99% to 20%. Coinsource has a flat fee of 11% and provides a real-time BTC price with no additional costs. We also cover your mining costs.
What are mining fees associated with blockchains?
The blockchain charges a fee to network miners who process transactions as a reward for their effort. Token purchases will have a configurable cost. The miner fee is shown on the ledger whenever a transaction is made. However, all Bitcoin transactions must have a minimum fee of $1.99. The quantity of traffic on the blockchain determines the variable fee. The faster a transaction is processed, the more expensive it is. Customers can't change ATM charges; they'll be updated as needed.
For what reason do Bitcoin ATM fees vary?
A variety of factors go into determining the fees that Bitcoin ATMs charge. The network, transaction volume, and others vary per service provider. Therefore, it is up to each Bitcoin ATM operator to decide on their charge structure. All local and national laws must, nevertheless, be followed.
Nevertheless, what about companies who make outrageous claims regarding their prices? The listed price isn't all you need to know in many cases. For example, if a company advertises a low fee but then increases the price of Bitcoin or adds miner fees or other charges, the total fee for each transaction will be greater.
Suppliers offered Bitcoin at a cost over 6% more than the actual Bitcoin price but offered a lower buy rate than Coinsource's daily low fee. Therefore, your $100.00 purchase with the other provider would result in fewer Satoshis than your $100.00 purchase with Coinsource because of the pricing differential.
How to choose the ATM provider?
Consider questioning the following things to make your selection effective.
Allow customers to trade without presenting identity if that is something you allow?
What mechanisms do you have to verify the legitimacy of your clients' identities?
Is there a way to prohibit transactions and customer accounts connected to illegal activities like human trafficking and child abuse from processing?
What steps are you taking for fraud protection, and how many of your employees are fraud experts?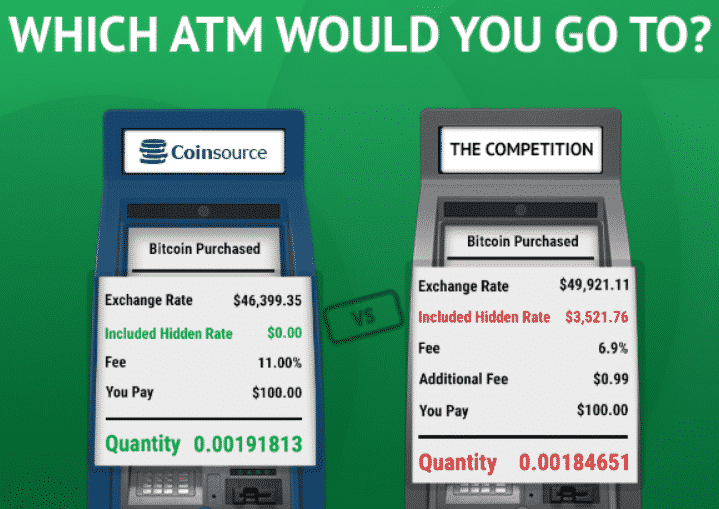 Top 5 best ATM providers in US
| | | | |
| --- | --- | --- | --- |
| ATM providers | | ATM description | % Charged |
| Bitcoin Depot | | It is the fastest-growing multi-crypto ATM network in the United States, allowing customers to buy and sell Bitcoin instantaneously at hundreds of locations. | 20% |
| Bitnovo | | It has developed a line of Bitcoin ATMs that can also sell vouchers that can be redeemed online at the Bitnovo website. To take advantage of a wide variety of perks, customers do not need to register. | 2.10% |
| Lamassu | | In 2013, the Bitcoin Machine was invented, constructed, and deployed as the first Bitcoin ATM globally. When the cryptomat business took off five years later, they unveiled a completely redesigned version of their multi-crypto machine. | 2% |
| Genesis | | It is the leading producer of self-service kiosks for the digital asset market. With the help of our technology, anybody can understand cryptos. You don't need to be a math expert to understand this. | No charges |
| Netcoin | | You may use any device (PC, iPad, iPhone) as a virtual crypto ATM, thanks to the Netcoins program. Use your current wifi-enabled gadgets with the Netcoins virtual crypto ATM. | No charges |
Final thoughts
Entering the crypto world when used to traditional banking and currency might be intimidating. It's all about finding a company you can rely on to guide you through your financial decisions and provide you with the ease and comfort you need, much like traditional banking.
When it comes to using Bitcoin ATMs, the most important thing to know is where fees go, how they're calculated, and choosing the ATM with the lowest or most consistent prices. Know which BTC ATM gives the best price and most upfront costs before using it.