XXL Real Profit is an expert advisor that claims to be ready for the 2021 market conditions. The vendor also claims that the system is up-to-date and ready to use. To check whether the vendor's claims are true or not, we are going to analyze the various aspects of the EA such as vendor transparency, features, live trading results, price, customer support, etc.
XXL Real Profit company profile
There is not enough information on the parent company behind this expert advisor. We don't know where it is located or when it was founded. The vendor has not revealed the identities of the traders and developers. As such, it is unclear whether they have the required technical knowledge to manufacture a robust trading system. Also, we don't know whether this team has built expert advisors in the past.
The highlights of XXL Real Profit
This robot uses inner indicators to analyze the market. These include price action, support and resistance, trend line, and many others. It does not require manual inputs from the trader and is capable of opening and closing trades automatically. You can use it to trade in pairs like AUD/USD, EUR/USD, and GBP/USD.
XXL Real Profit has a money management system. This means the EA can automatically calculate the size of the trading lot based on your account balance. It is easy to get started with this robot. All you need to do is to purchase the system, install it, and start conducting trades.
This EA is compatible with different types of accounts like mini, micro, standard, and ECN. It monitors the market 24/7 and avoids using risky strategies like grid and martingale. That being said, the vendor has not clearly explained the actual trading strategy behind this robot. We don't know how the robot analyzes the market or how it sports lucrative trading opportunities. This makes it difficult for us to accurately gauge the profitability.
Facts & figures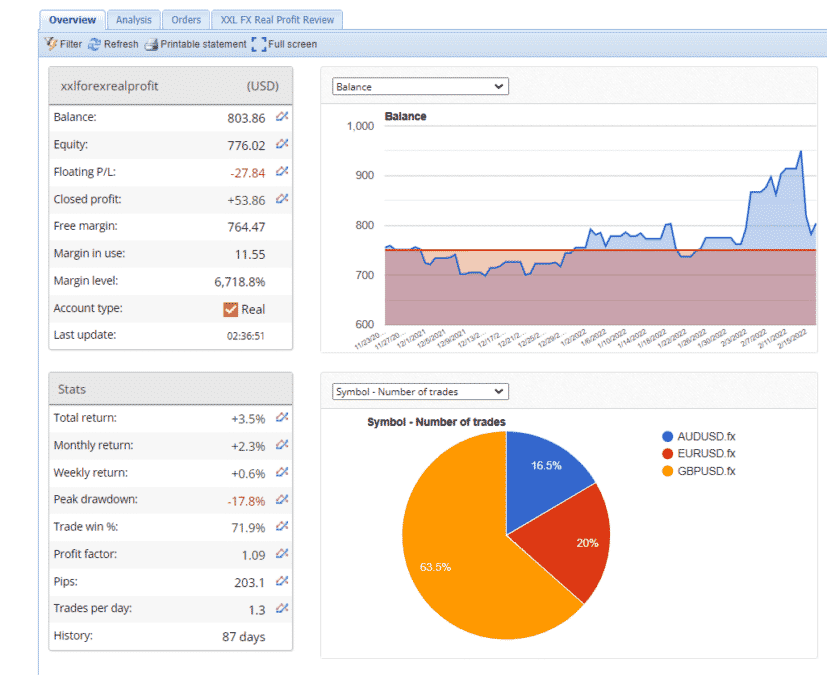 This live trading account on FXBlue has been active since November 2021. Compared to most other Forex trading systems on the market, it has a very short trading history. To date, it has had 87 trading days during which the robot has conducted 115 trades in total. After winning 82 out of 115 trades, its win rate currently stands at 71.9%.
The daily, weekly, and monthly gains for this account are 0.11%, 0.55%, and 2.34%, respectively. It has a decent profit factor of 1.09 and a total return of 3.5%. On average, it conducts 1.3 trades per day and the total profit generated through the account is only $53.86. The risk of ruin is quite significant at 14.2%, and this tells us that the EA follows a risky strategy.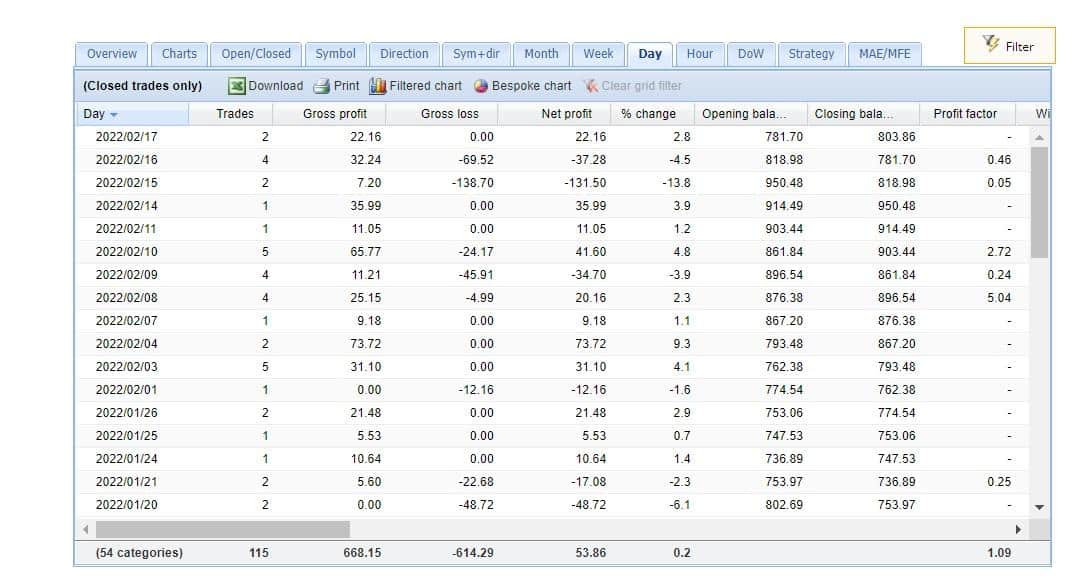 Here you can see the recent trades placed through this account. It is evident that the EA is prone to suffering heavy losses occasionally. The average win and loss are +8.15 and -19.20, respectively.
Unfortunately, the vendor has not shared the historical test results for this expert advisor. Thus, we cannot compare it with the live results to get a clearer idea about the system's profitability.
XXL Real Profit packages
This Forex robot is available for free and there are no hidden charges.
Assistance
On the official website, the vendor has shared an official email address. If you require assistance, you can drop an email at that address.
Customer reviews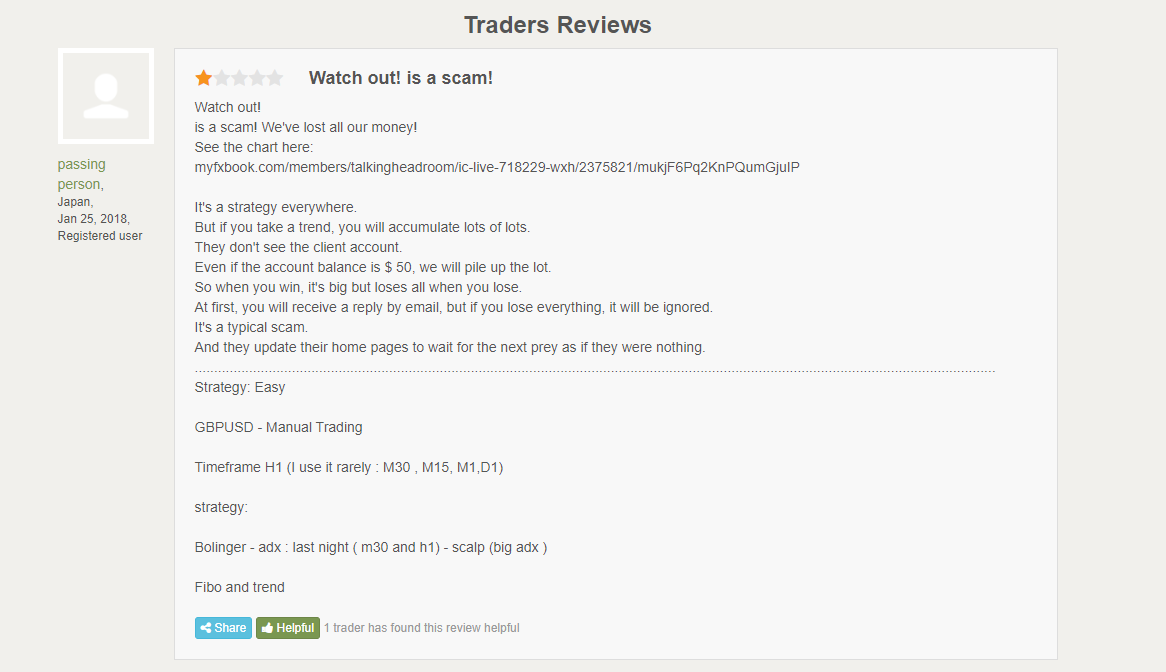 On the Forex Peace Army website, there is only one review for this EA. In the review, the user claims that the robot is a scam. They have also mentioned that the support team did not respond to their emails after they lost all their money.
Is XXL Real Profit a reliable system?
XXL Real Profit is a free robot supported by verified trading statistics. However, it has a very short trading history. We don't have enough information on the vendor and there are no backtesting results.