What is the ETF for steel?
Which three ETFs had excellent returns over the last year?
Should I invest in the steel industry?
China's Baowu Group is the world's largest steel producer, with a 115 million metric tons per annum production volume, Arcelor Mittal, which produces 78.46 million metric tons. Steel is used widely in the construction industry, covering roads, railways, infrastructure, and buildings. This makes steel a sought-after commodity globally.
The steel demand has increased over the few decades as the infrastructure of significant countries expanded. For example, China uses about 45% of its steel production annually, and the leading demand is from the construction industry.
Therefore, the developments in the construction industry are primarily driving the price of steel. It is no surprise that investors are looking to invest in steel during uncertain times. Read further to discover the top ETFs for steel investing.
Steel ETF: how does it work?
These funds invest in the companies that mine and process steel and other metals. Investors who purchase stocks of ETFs do not own any of the underlying companies' shares but stocks of the actual ETF. The funds value will increase if the underlying stocks perform well since their weighting is mostly steel.
What to check before choosing ETFs with steel?
Investing in steel is like any other commodity; its prices depend primarily on supply and demand. Therefore, investors need to know a few things before putting their money in steel.
Supply and demand balance
Steel and commodities business growth are usually slower. Economic conditions have a significant impact on the construction industry. Therefore, if the economy's growth declines, the construction sector takes the same route. This impacts the steel demand, and subsequently, its price takes a dip.
Steel is a cyclical commodity
Due to the dependence of steel on economic health, it has become a cyclical commodity. This means the price moves up and down as the construction sector changes. Therefore, picking the right fund is crucial. Investors should opt for funds that have a diversified asset class, not only in steel but other metals as well.
Best ETFs with steel to buy in 2022
1. VanEck Steel ETF (SLX)
Price: $54.99
Expense ratio: 0.56%
VanEck is the fund's issuer, and its inception was 10 October 2006. The fund trades on the New York Stock Exchange Arca under the ticker symbol SLX. The fund has a daily trade volume of approximately 44,200 and an average spread of 0.08%.
This ETF gives investors exposure to publicly traded companies primarily involved in steel production, including the operation of manufacturing mills, fabrication, and the extraction and reduction of iron ore.
The fund tracks the NYSE Arca Steel Index. Furthermore, it benchmarks Thomson Reuters Global Steel.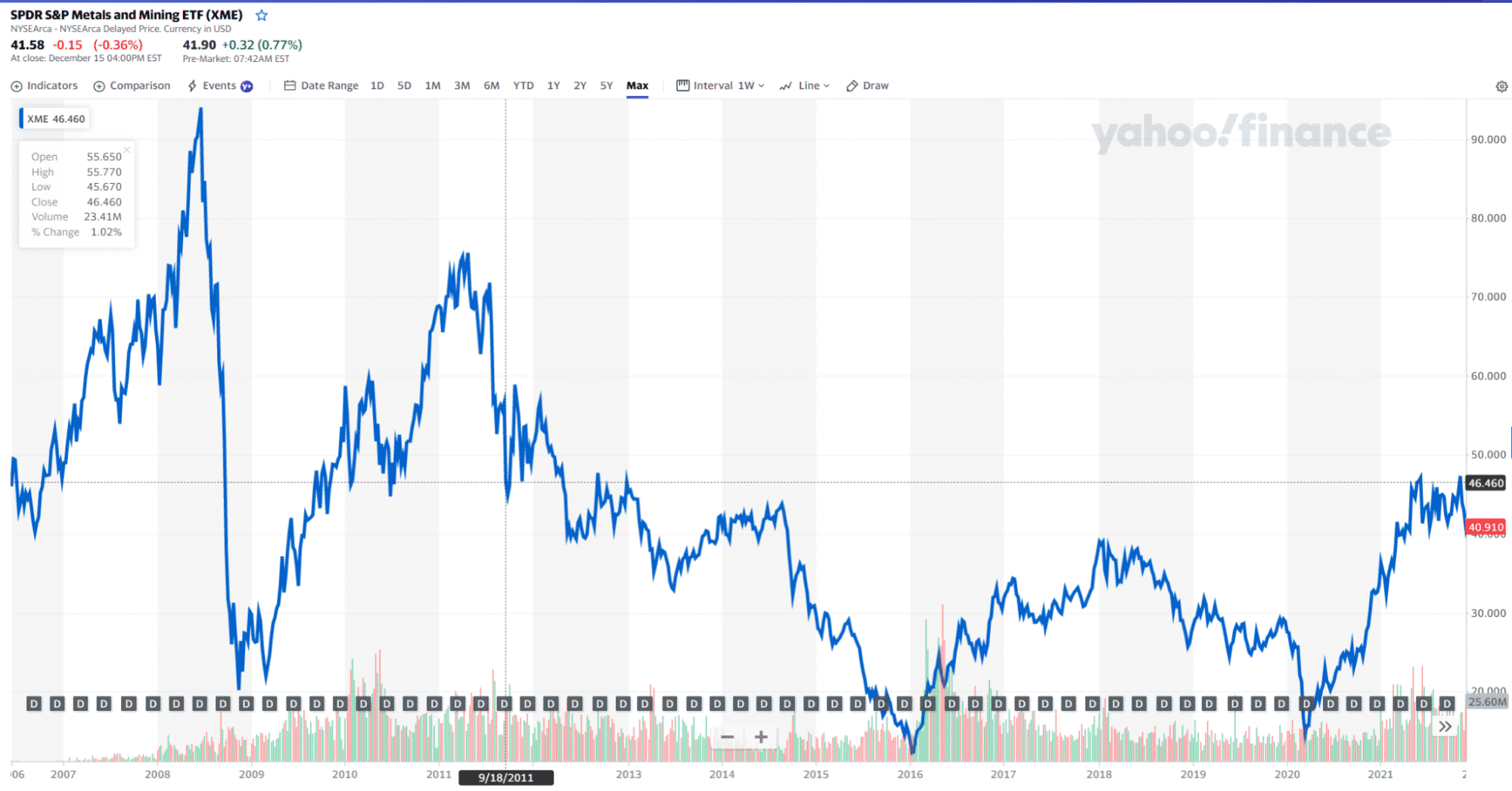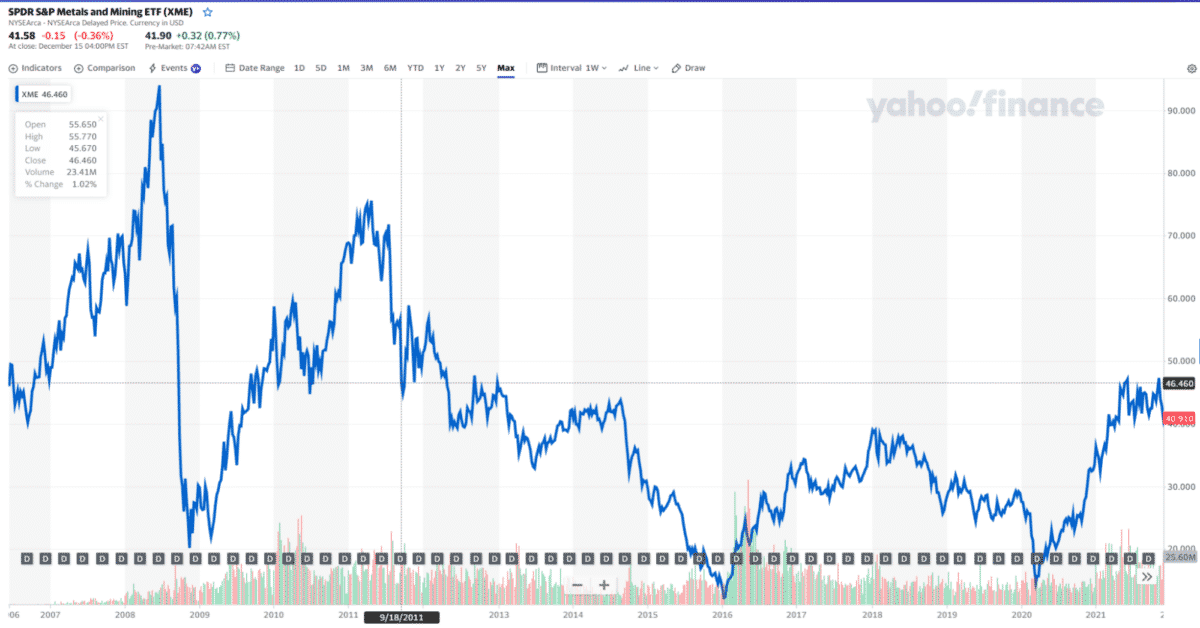 The fund consists of 26 holdings, of which 72.9% invest in the steel sector.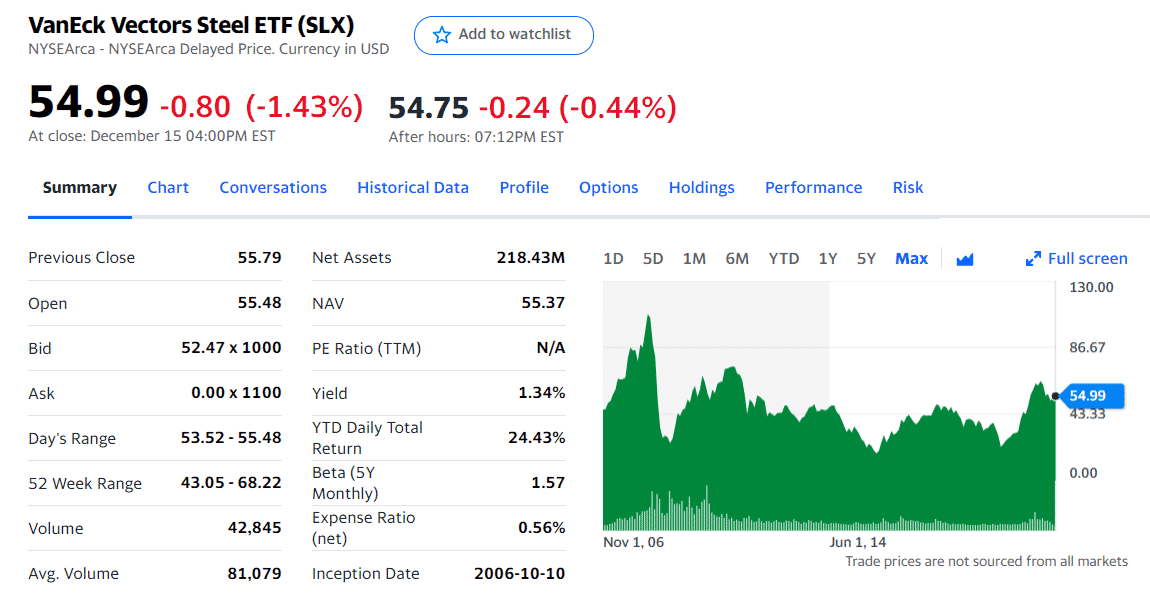 The VanEck Vectors Steel ETF has a weighted average market cap of $29.85 billion and $124.14 million assets under management. The year-to-date performance of the SLX fund is 23.71%.
2. SPDR S&P Metals & Mining ETF (XME)
Price: $41.58
Expense ratio: 0.35%
The SPDR S&P Metals & Mining ETF came into existence on 19 June 2006, and State Street is the fund's issuer.
This ETF offers a way to access US companies engaged in extracting metals and other natural resources. As such, XME can be useful as a tool for tilting portfolio exposure towards the mining sector or betting on a short-term surge from mining stocks.
The XME fund might be a good hedge against inflation since the underlying companies perform well when the prices of natural sources increase.
The mining segment that the XME fund invests in specializes in steel, silver, aluminum, coal and consumable fuels, copper, diversified metals and mining, gold, precious metals, and minerals.
XME has a weighted average market cap of $9.95 billion and $1.64 billion assets under management.
Furthermore, the fund has 31 holdings, of which 37.94% are in the steel sector. The fund had a year-to-date performance of 25.48% and dividends of $0.07 per share.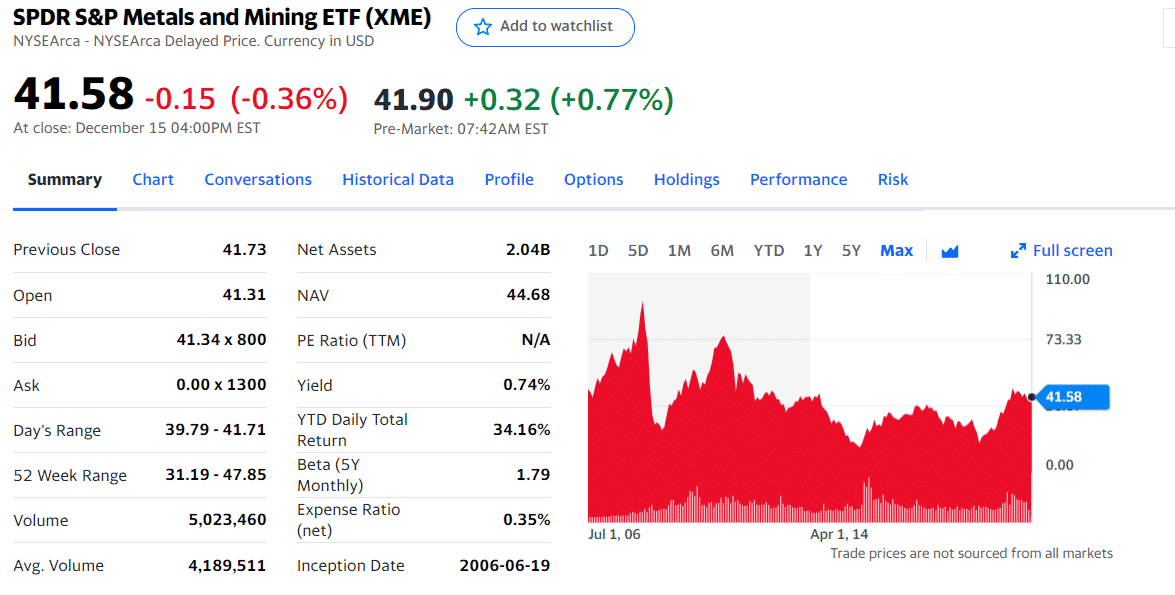 3. iShares MSCI Global Metals & Mining Producers ETF (PICK)
Price: $40.69
Expense ratio: 0.39%
BlackRock issued the PICK fund, which was initiated on 31 January 2012. This ETF offers a way to access the global mining industry through an international basket of companies engaged in extracting and producing metals, including aluminum, steel, and precious metals.
The weighted market cap of the fund is $35.30 billion and $989.14 million assets under management.
The fund has 219 holdings and invests 33.01% in the steel sector. PICK had a year-to-date performance of 16.86%. Its recent dividend was $0.70 per share.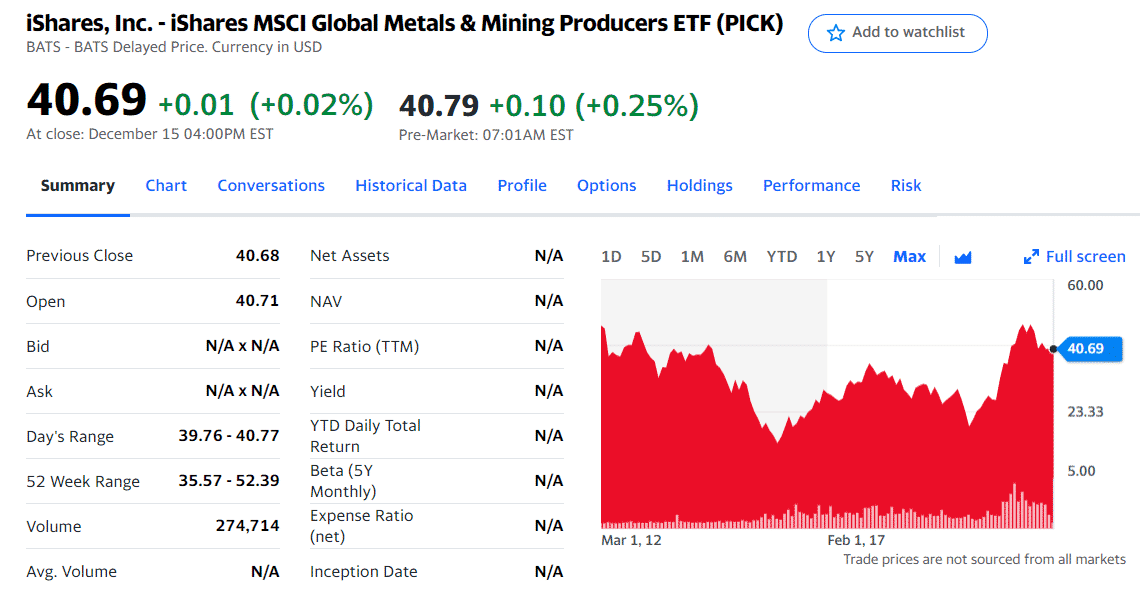 Pros and cons
Investing in steel ETF might be the right choice, but don't you think you should consider some of its pros and cons? We have listed a few of the important ones below.
Pros
Cons
• Steel demand is high
The steel demand is high due to the expanding construction industry. This is good for the price of steel. 
• Price is volatile
Commodity prices are usually very volatile, and the value can fluctuate very often, making investments risky.
• Hedge against inflation
Steel is a good hedge against inflation, and investors often use commodities as a haven. 
• Limited ETFs
The market for steel ETFs is limited, with only three currently diversifying in steel assets. 
• Low expense ratio
Steel ETFs have low expense ratios, making the fund affordable.
• Steel stocks are cyclical
Cyclical stocks depend on a nation's economic growth; therefore, their value relies on the increase or decrease of the construction industry.
Final thoughts
Steel ETFs have proven profitable over the last year, a good sign for investors. However, one should note that risk is involved since the stocks are cyclical and can influence the ETF value.