Are meme coins worth investing now?
Which coins have the best fundamentals for long-term investors?
Which crypto combines a low price and a high market cap?
Meme coins have become part of the conversation regarding cryptocurrencies due to the attention they get from social media hype. What makes them interesting in the eyes of investors is the large potential return when the cheap coins experience exponential growth.
Let us look at five of the best meme projects you can watch closely in 2022. The arrangement is based on the ranking shown in Coinmarketcap.com.
Dogecoin (DOGE)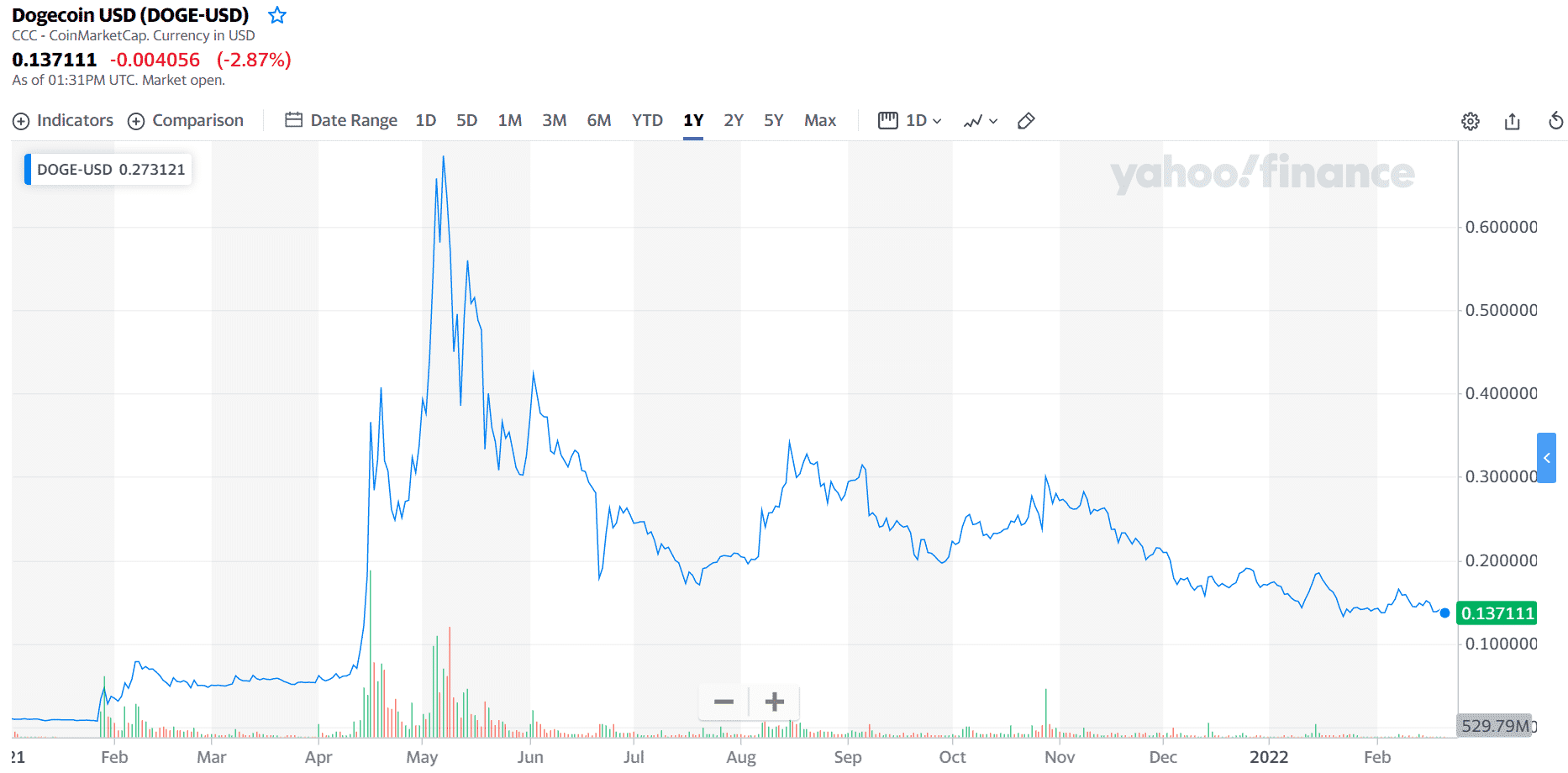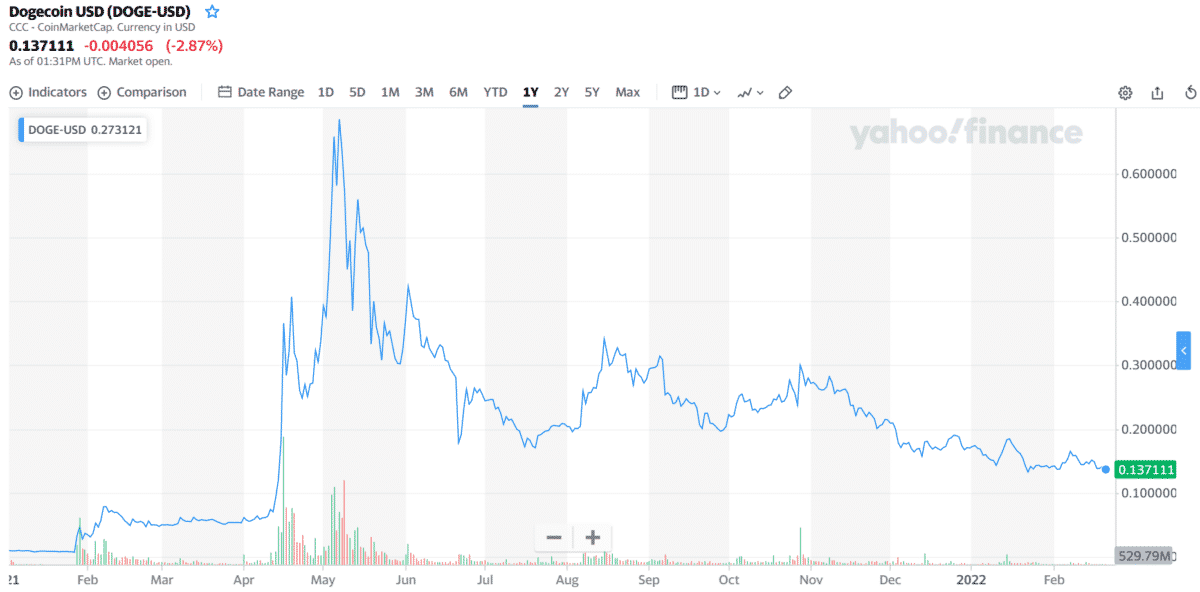 It is an altcoin that is widely known as a meme coin. It has been around since December 2013, and it has the picture of a cute Shiba Inu hound in its logo. Although it started as a joke, Dogecoin has its own blockchain with real-world applications. Some great features of Dogecoin include its unlimited supply and affordable price.
Why does it have the potential to grow?
Dogecoin has a huge potential as a crypto asset. Receiving frequent attention from famous public figures, this coin has become popular among crypto users. Additionally, Dogecoin is easy to use and has real-world utilities. You can easily move this coin in different exchanges and wallets, so safekeeping your coins is an easy thing to do.
How much would you earn if you invested in Dogecoin 1 year ago?
The closing price of DOGE/USD on 20 February 2021 was $0.054384. One year later, its price was about $0.137111. This means that the coin has gained about 152 percent in value in one year. If you invested $1,000 last year, you could have earned $1,520 today.
Shiba Inu (SHIB)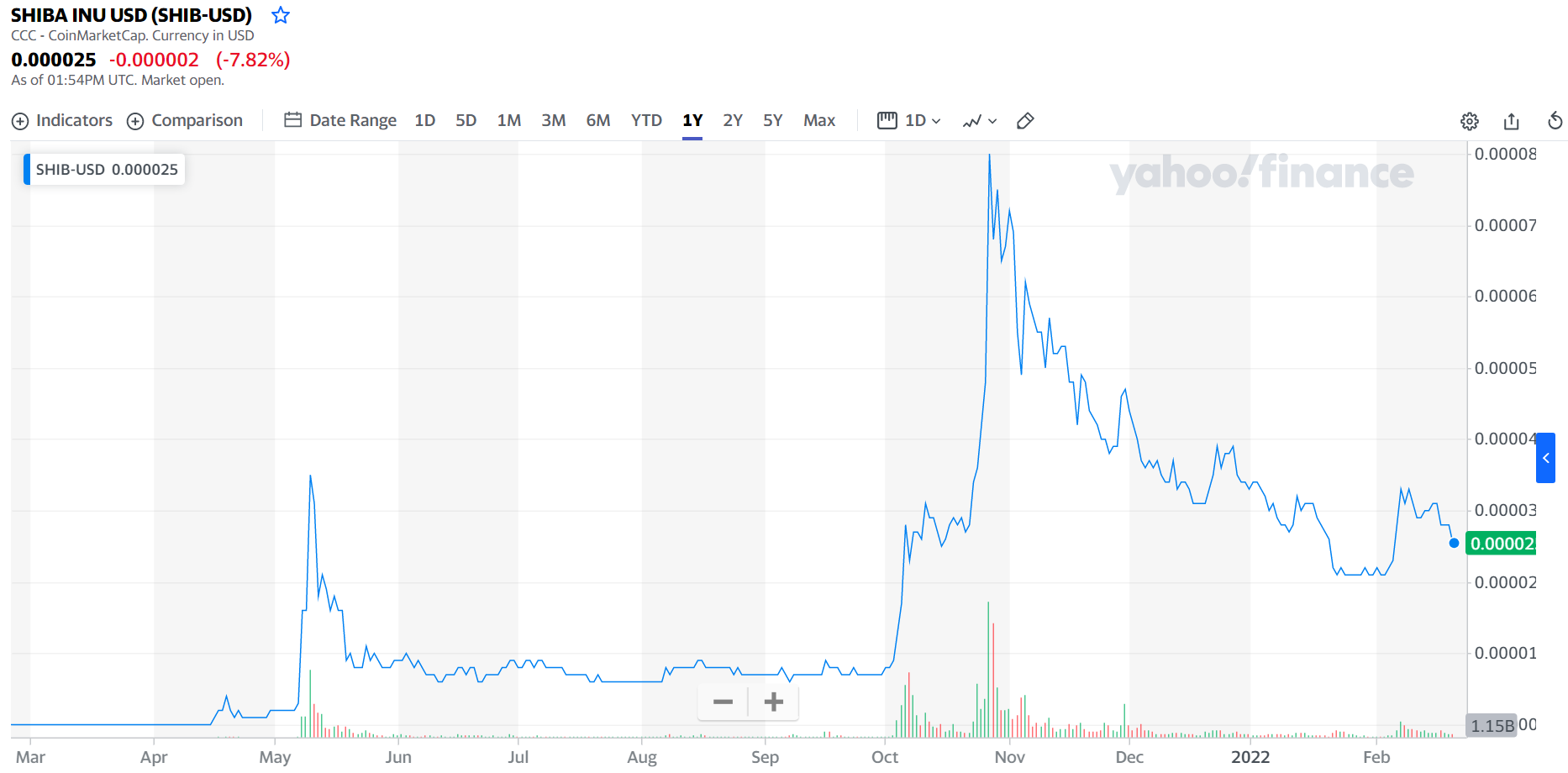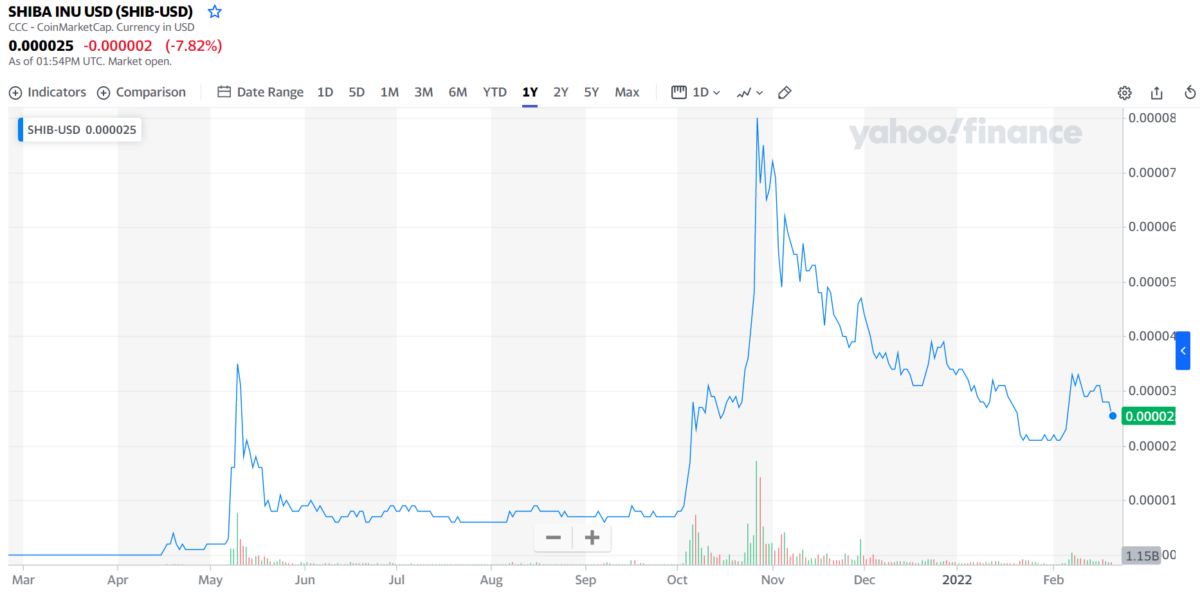 Shiba Inu is a token that runs on Ethereum. Like Dogecoin, the SHIB token carries the logo of a Shiba Inu dog. Since its introduction, SHIB was conceived as the Dogecoin killer. The token experienced astronomical growth in 2021 primarily due to the hype started by Tesla CEO Elon Musk. This token was developed by someone named Ryoshi in August 2020.
Why does it have the potential to grow?
As Shiba Inu becomes popular and grows in market cap, the number of crypto exchanges listing it increases. To maintain the upward trajectory of Shiba Inu, network developers decided to inject real use cases into the token. It aims to include NFT in the ecosystem and is moving into a DeFi protocol through ShibaSwap.
How much would you earn if you invested in Shiba Inu 1 year ago?
SHIB/USD was listed in Binance on 10 May 2021 and had an open price of $0.00001412. On 20 February 2022, its price went up to $0.00002544. This price change represents growth in value of 80%. Had you bought $1,000 worth of SHIB, you could have gained a profit of $800.
MonaCoin (MONA)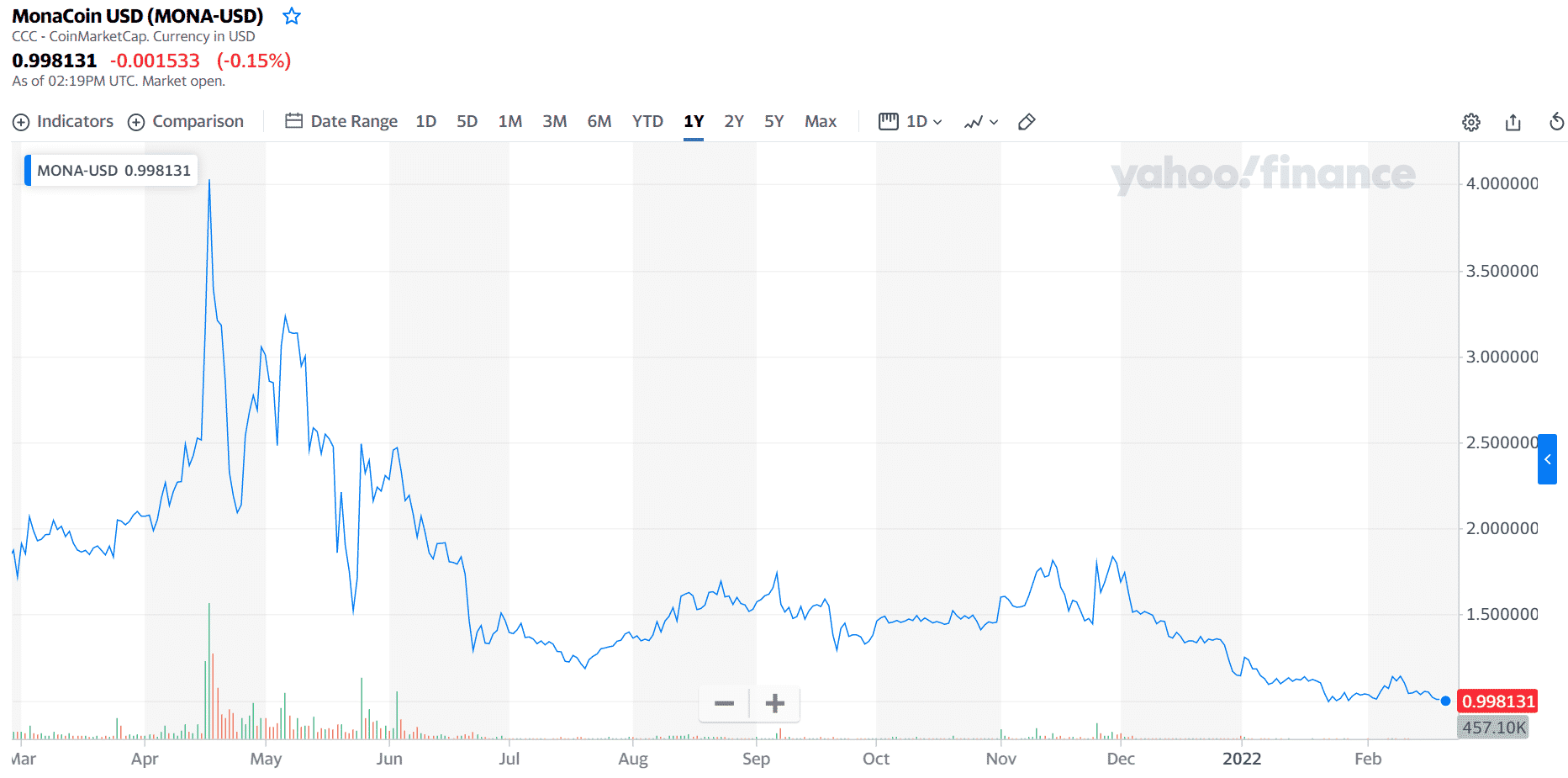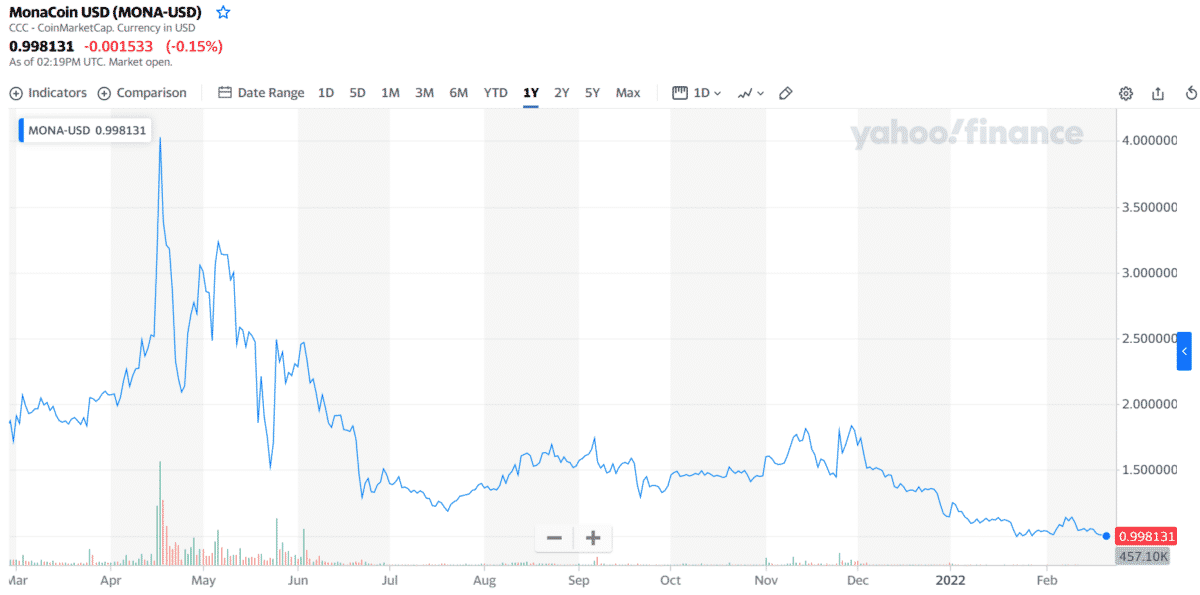 MONA is intended for peer-to-peer trading. It was widely recognized as the first crypto made by the Japanese, and Japan made it an alternative to Litecoin or Bitcoin. The blockchain code of Monacoin was derived from Litecoin. What makes it different from Litecoin is that it bypasses the scrypt algorithm.
Why does it have the potential to grow?
The primary use of Monacoin is as a payment option in online shops and small physical stores. To promote its use and adoption, network developers make it possible for users to utilize the coin in giving tips.
How much would you earn if you invested in MonaCoin 1 year ago?
MONA was launched on Bittrex on 21 May 2021 with an open price of $29.9 and a close price of $2.85. Barely nine months later, on 20 February 2022, its price dipped to $0.998131. The price dip is about 65% of the initial closing price. Had you invested $1,000 right after the market close, you could have lost $650 today.
Floki Inu (FLOKI)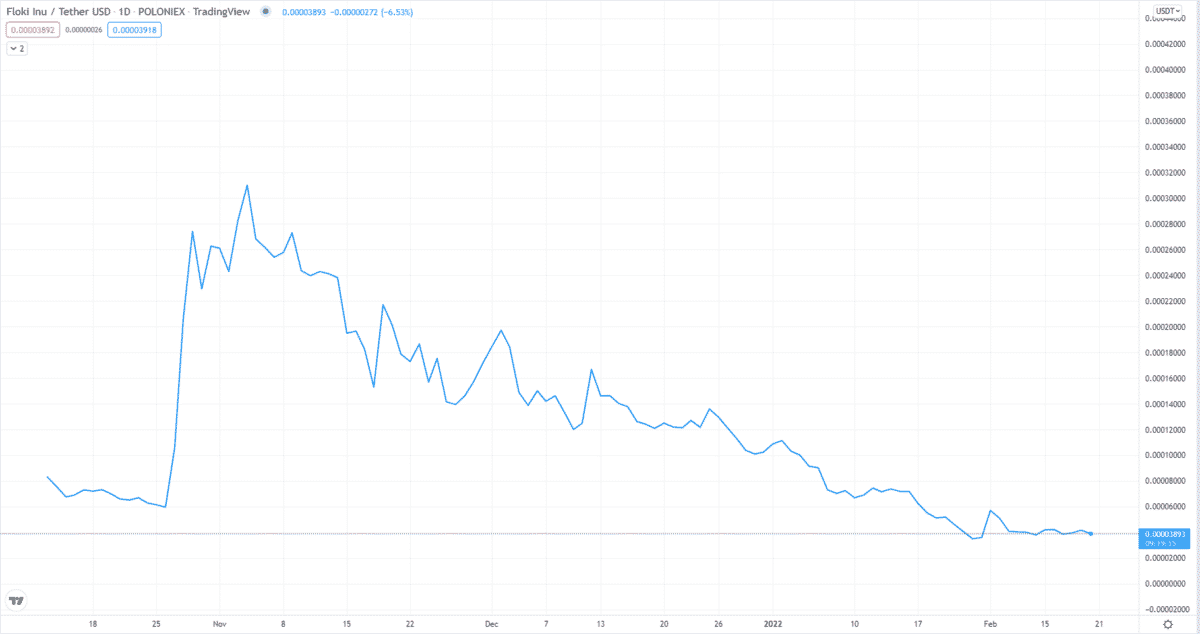 Named after the Shiba Inu dog of Tesla CEO Elon Musk, Floki Inu is a token supported by Ethereum. While crypto market onlookers call it a meme coin, the whitepaper claims it is a movement. From the beginning, the coin has delivered a steady performance. As of 20 February 2022, its market cap is about $359 billion.
Why does it have the potential to grow?
Floki Inu is touted as a people's crypto with a strong emphasis on memes. There are three pillars supporting the coin: meme, charitability, and utility. The coin provides a platform that allows users to learn more about crypto and blockchain. This is done through NFT gaming.
How much would you earn if you invested in Floki Inu 1 year ago?
Floki Inu is a new crypto. It is just four months old today (20 February 2022). It got listed on the Poloniex exchange only on 13 October 2021. While its introductory price was $0.00008901, its current price is $0.00003893. This price change represents a loss of 56 percent. Had you invested $1,000 in its debut, you could have lost $560.
CateCoin (CATE)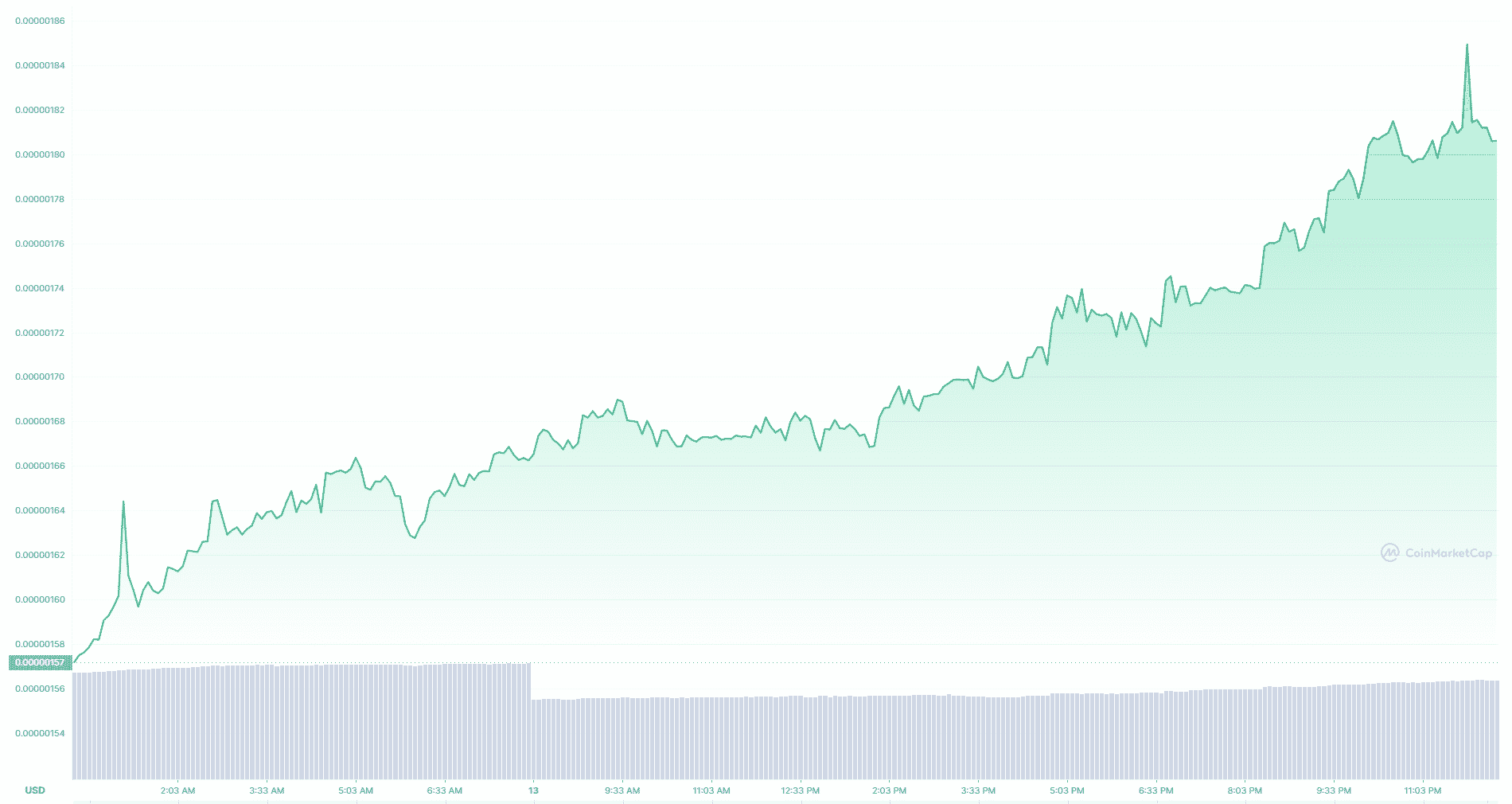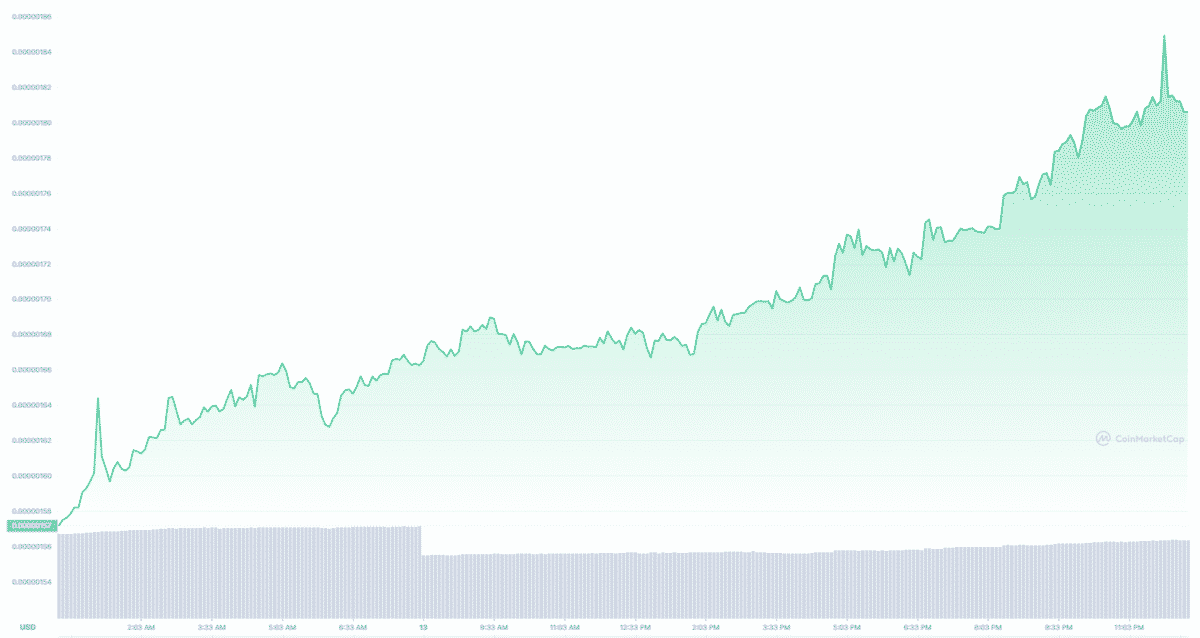 Catecoin is peer-to-peer crypto running on the Ravencoin platform. It allows you to transfer cats online. As such, it is called a digital currency for cats. Catecoin is designed as a DeFi meme network where users create and distribute memes with peers.
Why does it have the potential to grow?
Catecoin has experienced a lot of growth in the last few months as Shiba Inu and Dogecoin investors shifted their attention to this coin. Recently, cats have become a common theme on social media sites, particularly Twitter. For this reason, Catecoin and other coins with the cat theme are rising to fame.
How much would you earn if you invested in CateCoin one year ago?
CATE got listed on Coinbase on 11 May 2021 at $0.00000070. On 20 February 2022, one CATE/USD was priced at $0.000001499. This price difference represents a positive change of 114%. Had you invested $1,000 during the exchange listing, you could have made a profit of $1,140.
Final thoughts
With the whole crypto market in shambles right now, investing in meme projects can be unnerving. While the investing mantra of buying low and selling high still holds, it might not be the best thing to do now as we see red price changes day after day. Blindly purchasing something when it is cheap is not good practice. Wait for markets to find a bottom that holds and turns the sentiment around for good before taking action.