Happy Galaxy is a trading solution that is a part of the Happy Forex portfolio. The developers are pretty known on the market as professionals. The core claim is that "Fully Automated Expert Advisor."
Happy Galaxy company profile
The developers of this expert advisor is a well-known Happy Forex company. They have developed various robots, including Happy Galaxy, Happy Neuron, Happy Power, Happy Breakout and more. Although the company is recognized among FX traders, we do not know the names, trading experience or headquarters location of the company members.
The highlights of Happy Galaxy
We have some details about the system explained. For your comfort, we have systemized them in the following list.
The robot can work automatically for us on a terminal.
We can trade the following pairs: EURUSD, GBPUSD, USDCHF, EURGBP and EURCHF.
The advisor uses a Grid of orders with a trend strategy.
There's a recovery feature applied.
We have a news filter to protect our account.
It works under FIFO regulation rules.
It auto-detects 4 or 5 digit quotes.
We can get it deployed within several minutes.
The system can be set on Windows 7, 8, 10, Mac OS and Linux.
Trading is allowed on MT4 and MT5 terminals.
We can trade on H1.
We should have over $1000 on the balance to get started.
The optimal balance can be from $2000.
The system has to be set on a demo account to get started.
We can rely on free updates and upgrades.
"The license is for the first month and then you will automatically receive a free lifetime license on your email. You will pay for the license once only."
Trading results with Happy Galaxy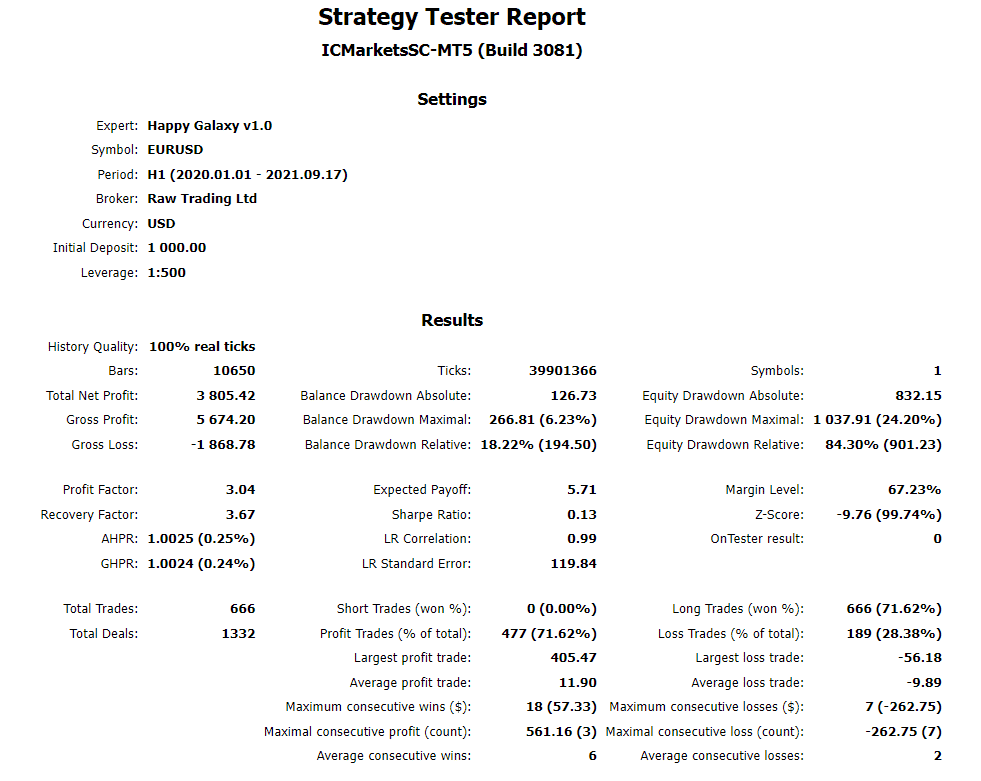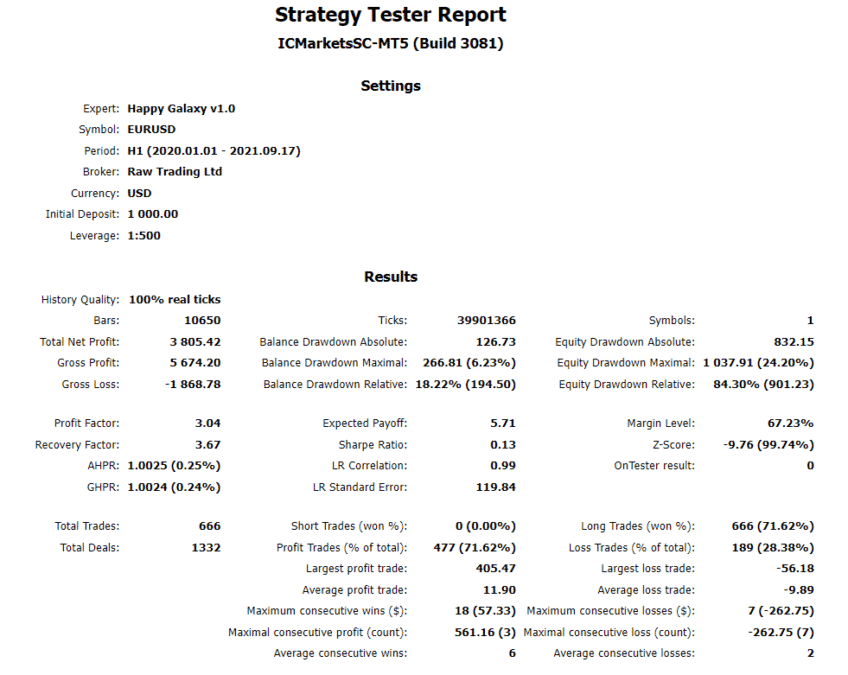 The presentation includes backtests. This one was EURUSD on the H1 time frame with 1:500 leverage. The test quality was 100%. An initial deposit was $1000. It has become $3,805 of the total net profit. The profit factor was 3.04. The advisor executed 666 deals with 71.62% of the accuracy for long trading positions. The short direction wasn't tested.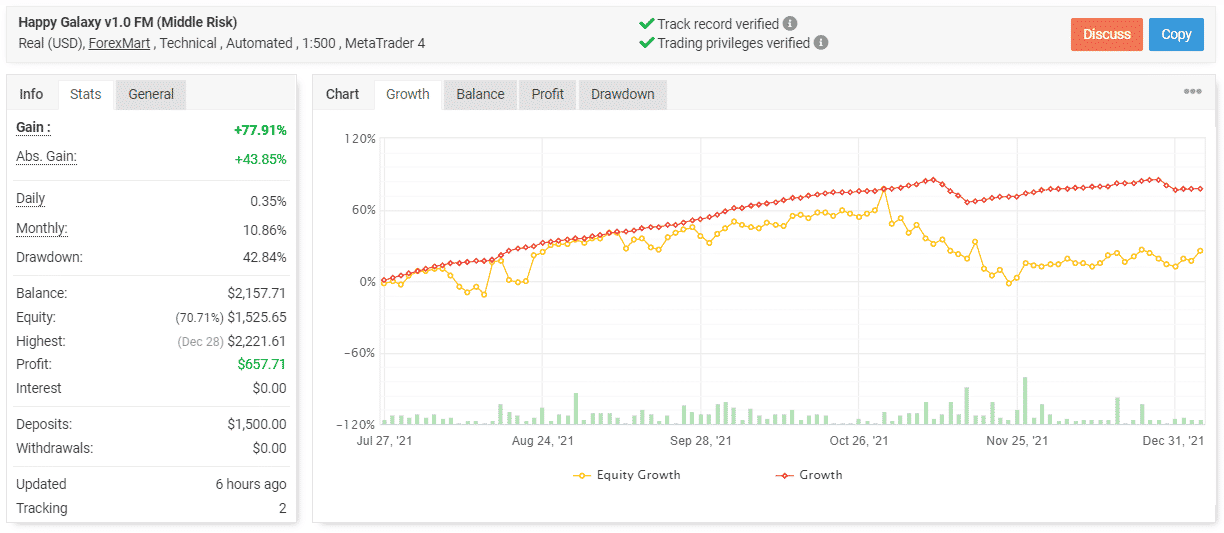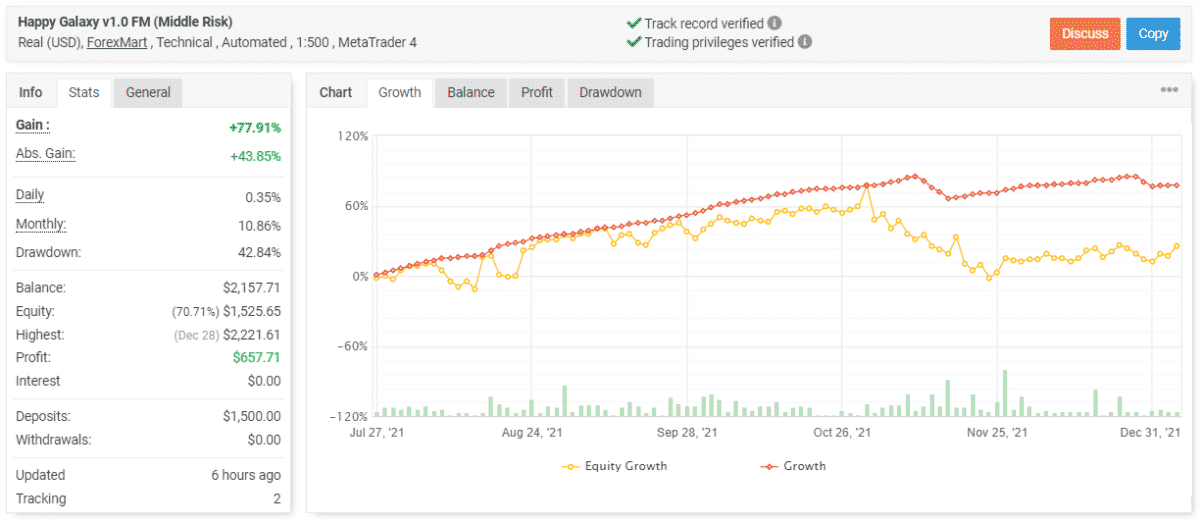 We have a real USD account trading under the ForexMart brokerage. It performs tarde fully automatically with 1:500 leverage on MT4. The account was created on July 27, 2021 and deposited at $1,500. Since then, the total gain has become 77.91%. An average monthly gain is 10.86%. The maximum drawdown is high ‒ 42.84%.


The system has executed 603 orders with 5552.3 pips gained. An average win in pips is 24.49 when an average loss is -54.94. An average accuracy is 78% for long and 82% for short orders. An average trade length is four days. The profit factor is 1.99. It's a good one.


We may note that two pairs aren't profitable at all.


The system prefers trading within European trading hours.


Tuesday with 141 deals is the most traded day.


The system works with medium risks to the balance. It has to lose 26 deals to lose 10% of the balance.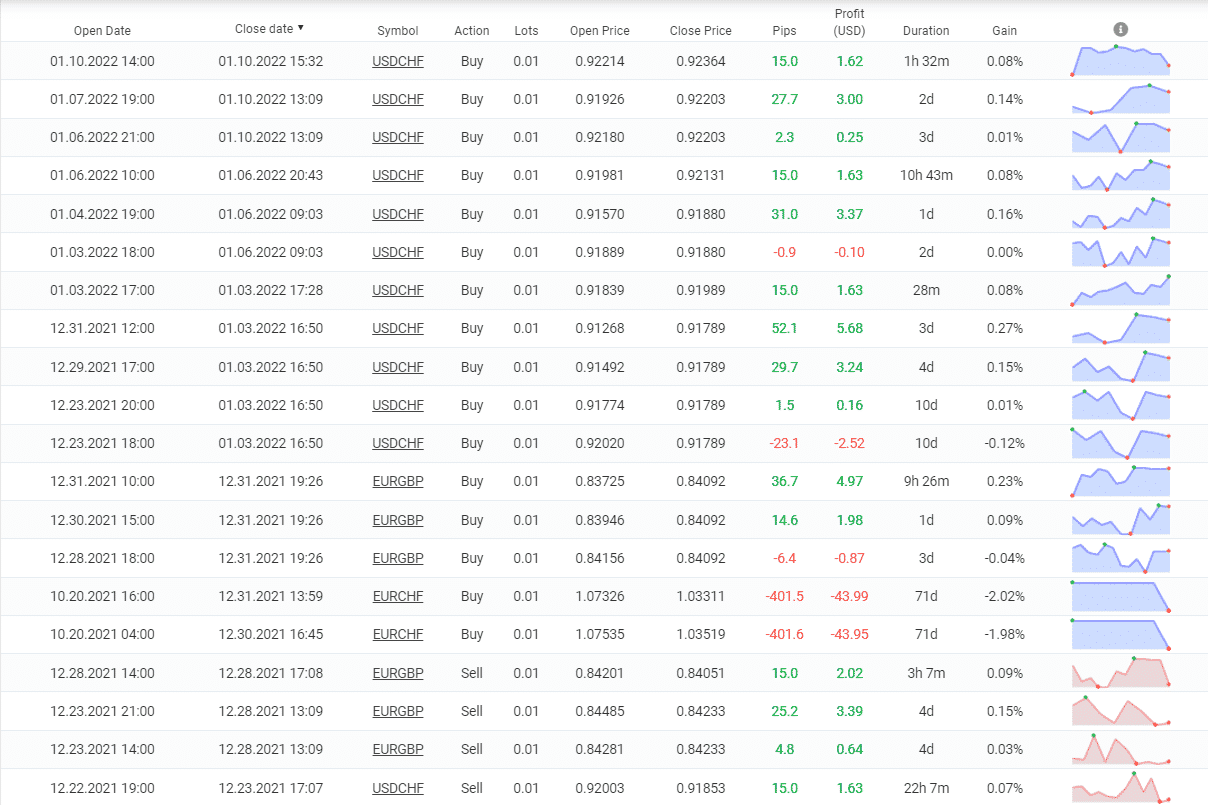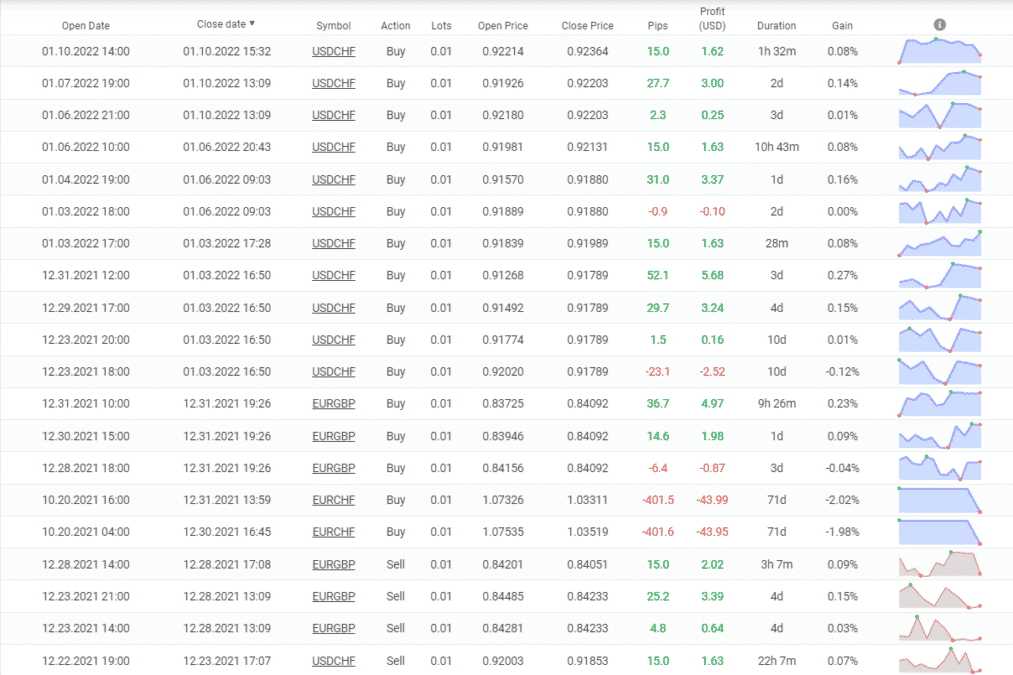 The advisor works with deep 401.5 pips Stop Losses. They are so deep compared with gaining profits in pips.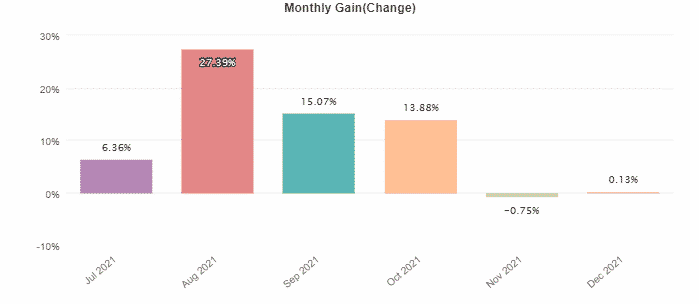 The last two months of 2021 didn't look stable and predictable.
Happy Galaxy packages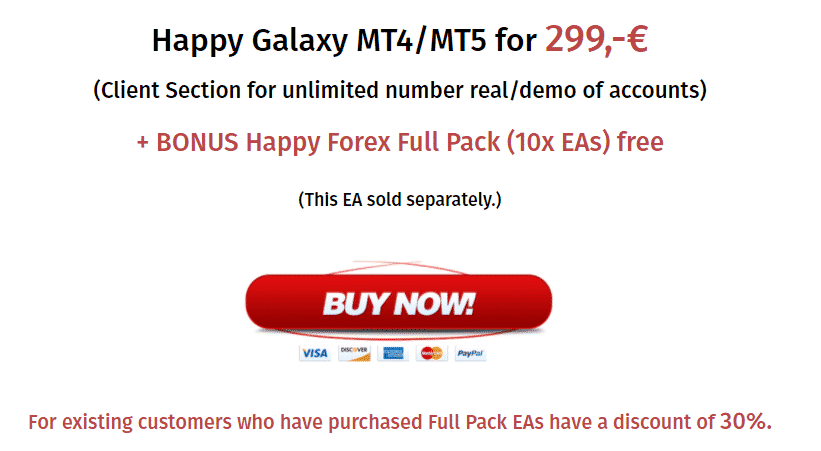 The system that fits MT4 and MT5 costs €299. The package includes 10 EAs where many of them aren't profitable, an unlimited number of real or demo accounts. The offer is supported by a 30-day refund policy.
Assistance
The devs provide common support that's delivered within several hours. We can rely on it all the way.
Other notes
It's noticeable that the system has decreased profitability many times. We don't know if the robot will be updated.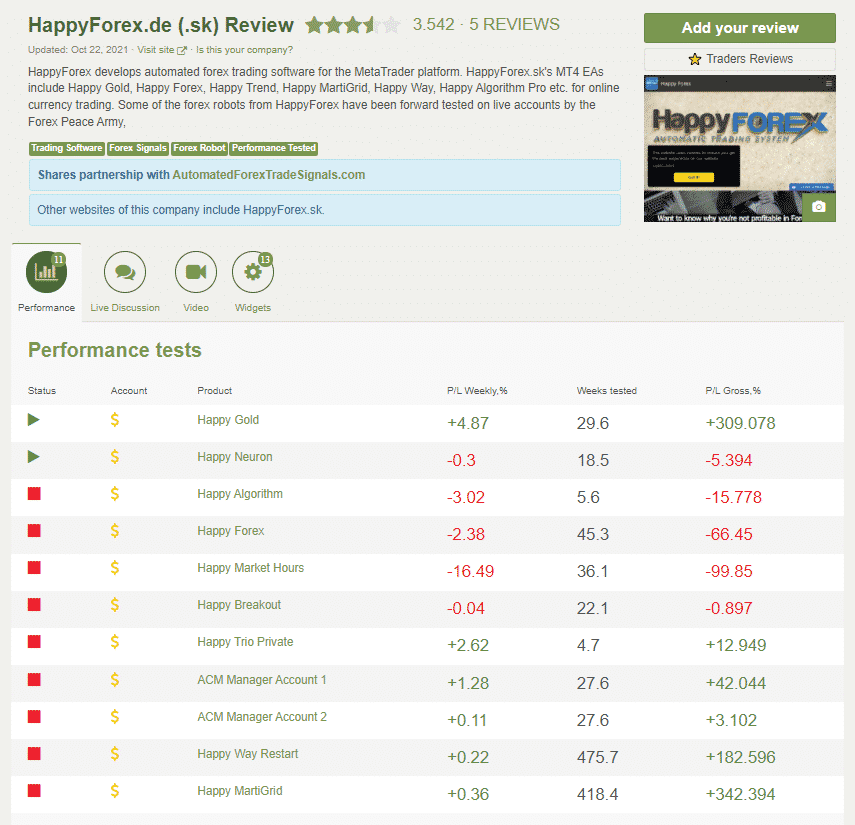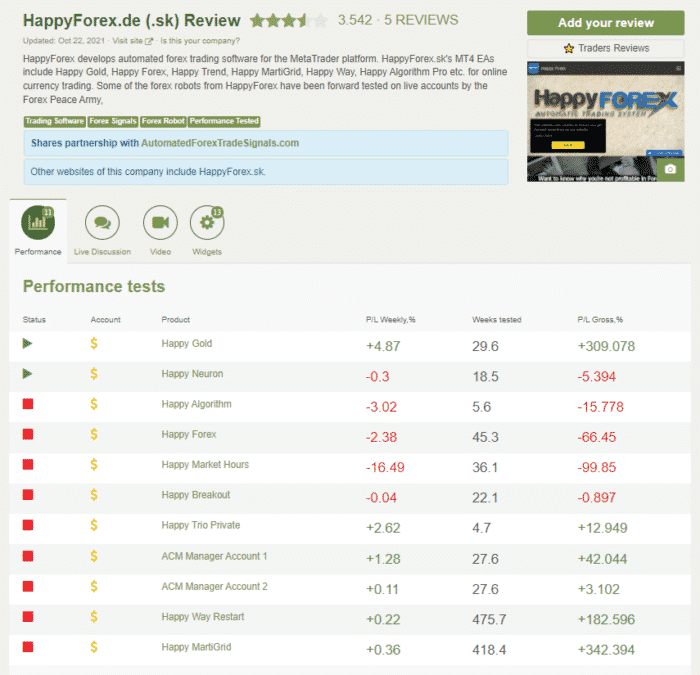 As usual, we have many accounts connected on Forex Peace Army where many didn't succeed. The rate is 3.54 based on five reviews.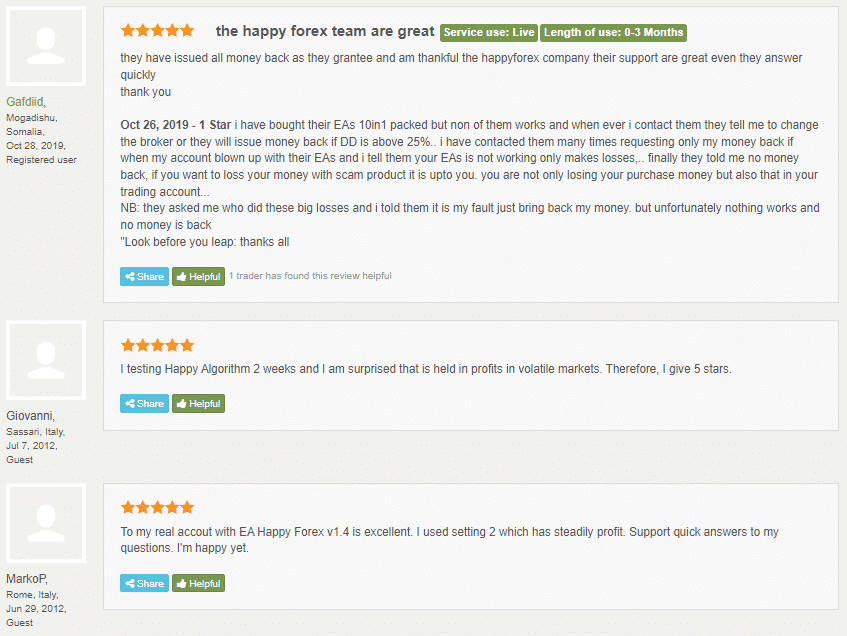 The available testimonials don't represent the current state of affairs with this system.
Is Happy Galaxy a reliable system?
We don't think so. Traders have to wait for a quarter to get sure that it's safe.