FXStabilizer is powered by Forex Store EA. The devs claim that the system 'brings stable monthly profit without failures or losses.' We are promised that the robot 'does everything to close trades in profit.' In this FxStabilizer review, we will check the veracity of the vendor's claims and see whether the advisor is a viable and stable option or not.
FXStabilizer company profile
There's no company profile because we have no company behind this robot. The devs didn't proceed with legal registration.
The highlights of FXStabilizer
We decided to group every piece of useful information about settings, strategies and other details in the following list.
The system can help us with trading automatically on our account.
The advisor trades without extended periods of drawdowns.
We can work under various market conditions.
There's money-management that calculates lot sizes, stop loss and take profit levels for us.
The year of the development was 2015.
We have to trade with risks that we can handle.
There are two modes: durable and turbo.
"The Ultimate version supports trading six pairs: EUR/JPY, USD/JPY, EUR/GBP, and CHF/JPY; EUR/USD and AUD/USD."
"FX Stabilizer Pro supports eight symbols. Two (EUR/USD and AUD/USD) in both regimes and EURJPY, USDJPY, USDCAD, CHFJPY, EURGBP, and GBPCHF in the default one."
Trading results with FXStabilizer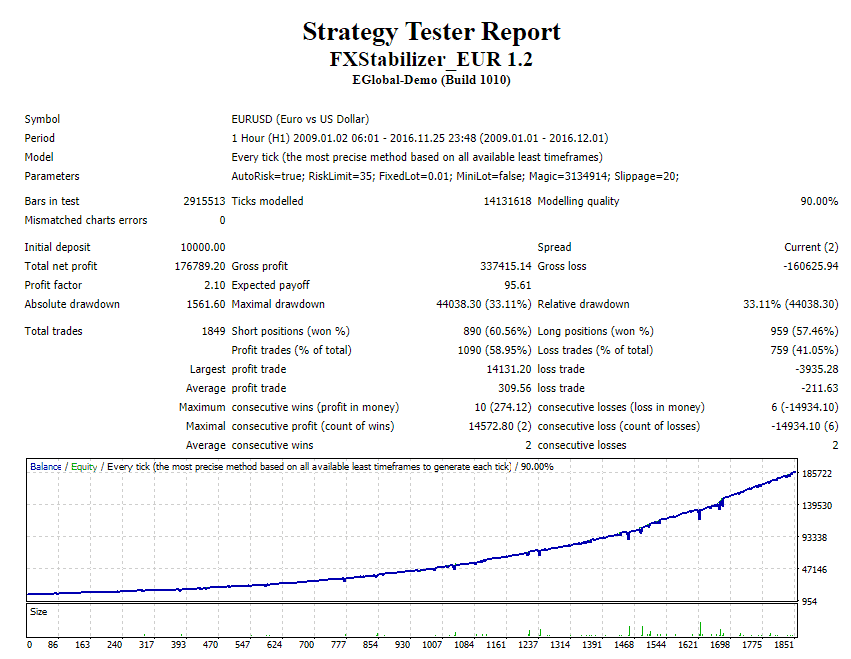 There are some reports revealed. This one is EURUSD on H1. The tick data united seven years from 2009 to 2016. The modeling quality was 90.00% with 2-pip spreads. The initial deposit was $10,000. The total net profit has become $176,788. The maximum drawdown was 33.11%. The accuracy was 60% for short and 57% for long trading directions.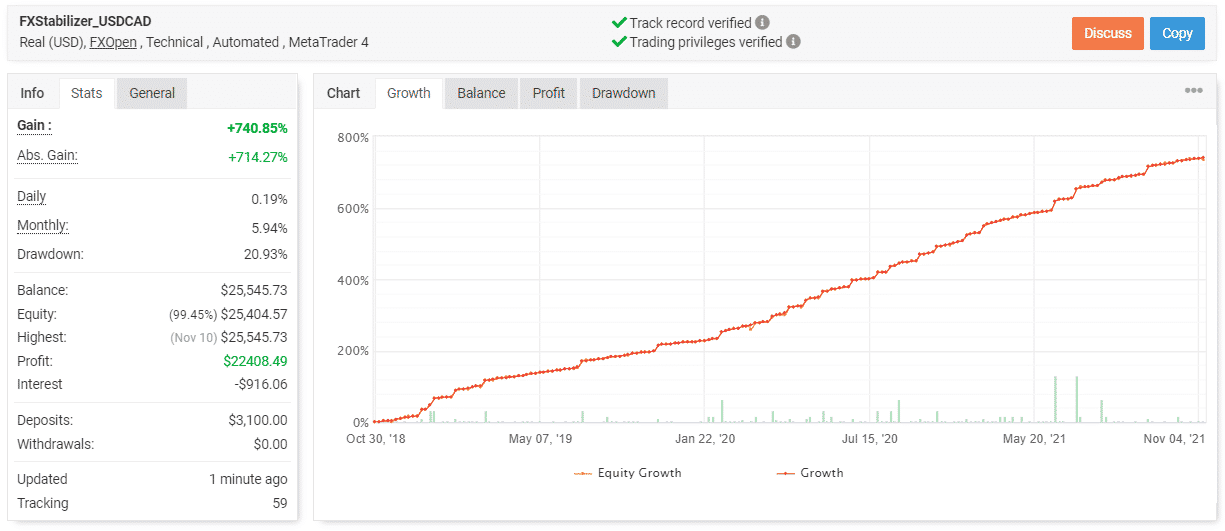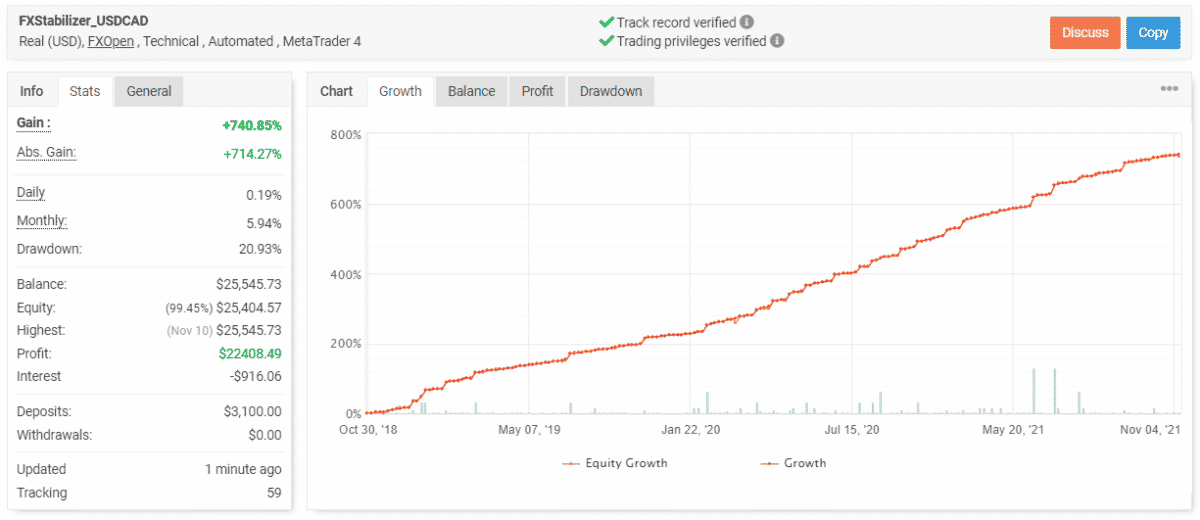 As usual, the devs provide us with verified trading results. The system has been running a real USD account on FXOpen automatically on MT4. It's a quite known broker. The leverage wasn't mentioned but it should be 1:500. The account has a verified track record. It was created on October 30, 2018, and deposited at $3,100. Since that, the account gain has been 740.85%. An average monthly profit is 5.94%, when the maximum drawdown was 20.93%.


The advisor executed 483 orders with 2152.6 pips. An average win is 48.30 pips when an average loss is -74.10 pips. The accuracy is 67% for longs and 60% for shorts. An average trade length is 4 days. It means the system sits in drawdowns for too long. The profit factor is 2.30.


The robot executes orders in both directions equally. The shorts direction was lost in pips, -282.2.


There's a medium risk of losing the account. There should be 25 orders to lose 10% of the account.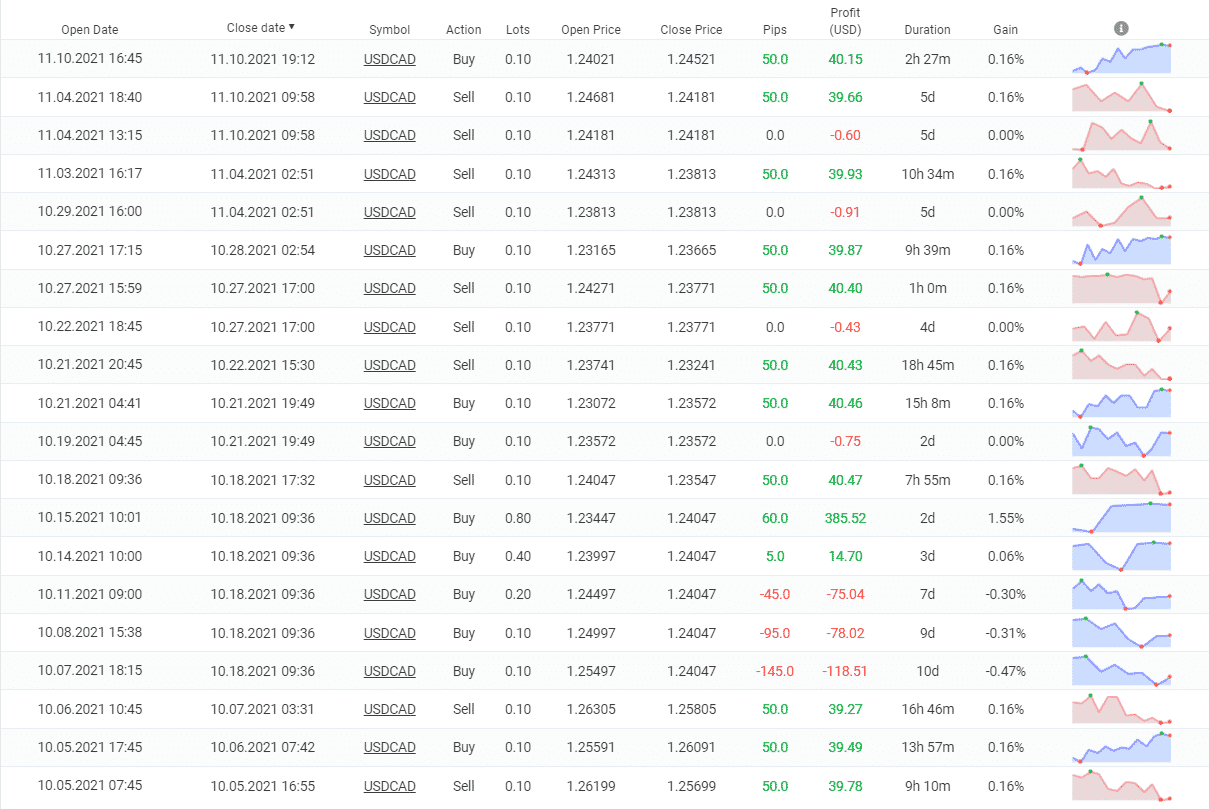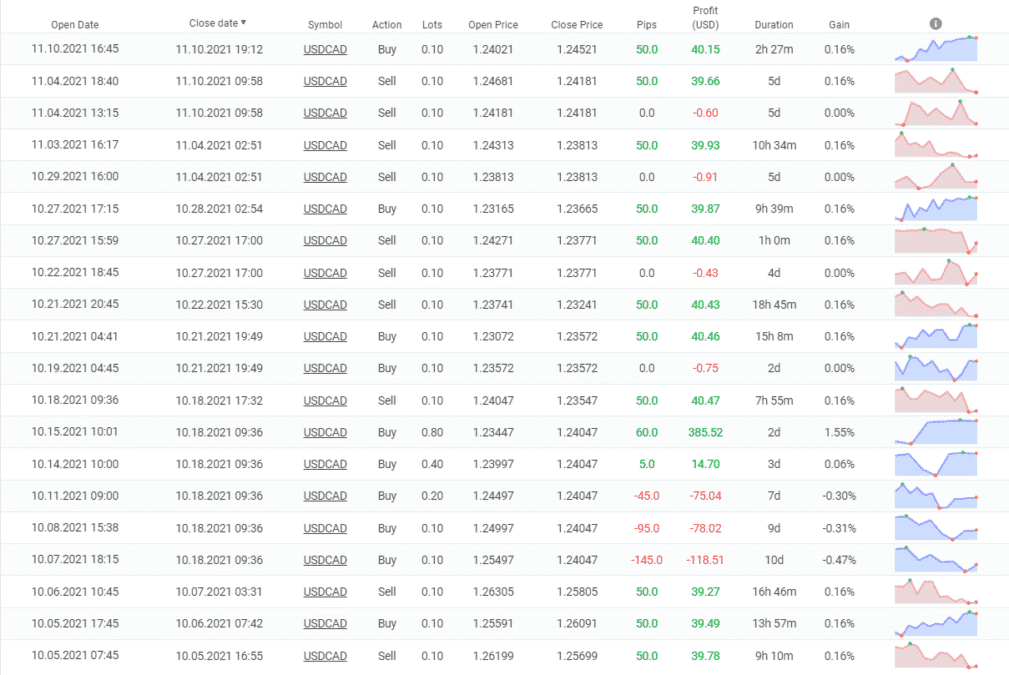 The system works with Grids of several orders and conservative x4-x5 Martingale.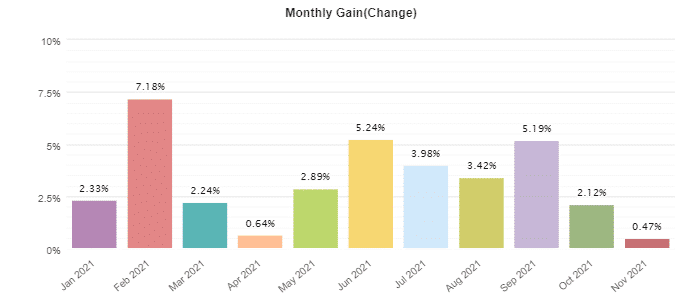 The advisor has closed all months in a profit this year.
FXStabilizer packages


There are two packs that vary by the number of currencies that are allowed to trade. The ultimate pack costs $539. We can work with four cross pairs. The Pro package costs $739. We can rely on a 30 days of the money-back guarantee period.
Assistance
We don't know the quality of the provided support. Most likely, a powered by Forex Store solution has to have good support.
Other notes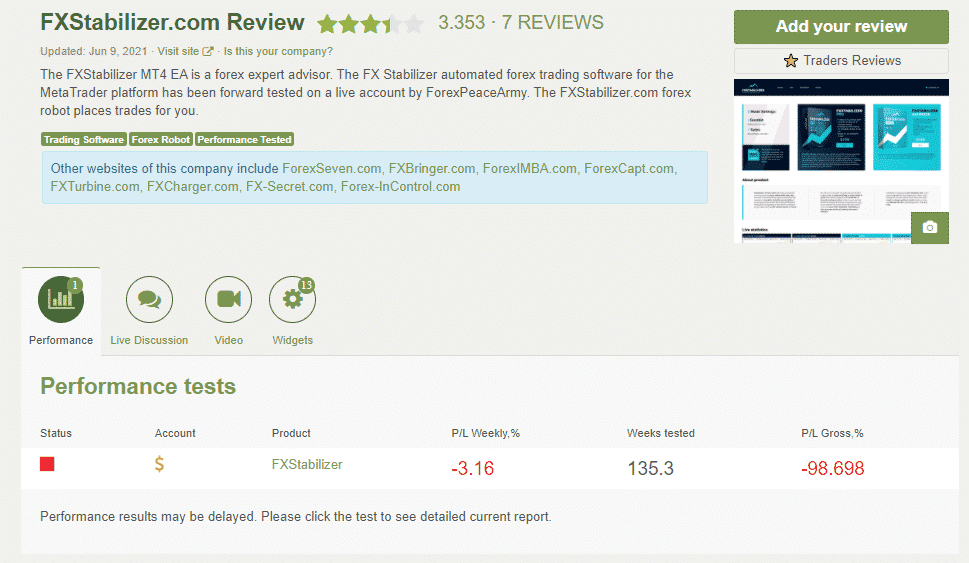 There's a profile of FXStabilizer on Forex Peace Army. We have seven testimonials that form a 3.35 rate. There's a zeroed account connected to the profile.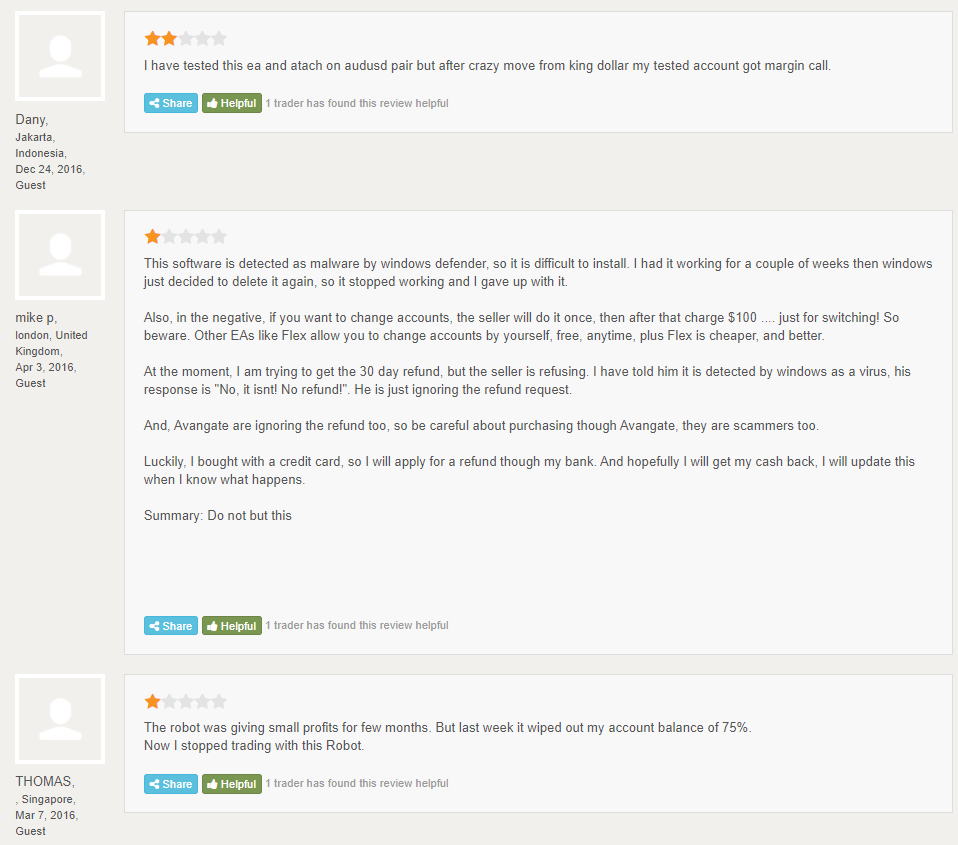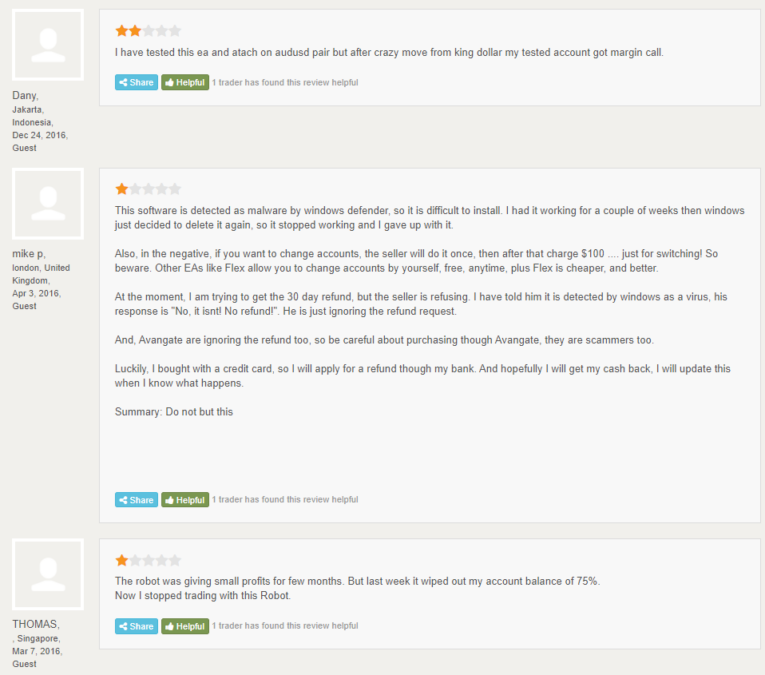 People warn us from using this system for serious trading.
Is FXStabilizer a profitable bet in 2021?
It's hard to tell because the robot provides little profits and has many negative testimonials.