Like many other EAs, Forex Gump is believed to be an efficient trading system because it is not impacted by emotions or negative situations. So, it keeps on working 24/5 by assessing the market to identify productive trading opportunities. The goal of this Forex Gump review is to ascertain if it is wise to trust this robot to trade for you.
Forex Gump company profile
There is no mention of the company or the devs behind this EA on the official site website. So, it is difficult to determine the history and location of the company or its reputation in the market. We also don't know if we are dealing with qualified and experienced individuals or just a group of amateurs.
The highlights of Forex Gump
The EA offers a number of features, which we have outlined below:
Supports 9 main currency pairs; GBPUSD, USDCAD, USDCHF, EURGBP, EURJPY, EURUSD, AUDUSD, EURCHF, and USDJPY.
It works on the M1 timeframe.
You can trade with a $4000 account or a minimum of $40 on a micro cent account.
The recommended leverage is 1:100 and above.
There are one or two sentences about the strategy the EA uses in trading. As such, the claim is that the robot applies a trendy candle and news filter and attaches take-profits on trades. This information isn't useful as it doesn't provide insight on how the robot really works to identify profitable entry points. Even then, you should be aware that the grid approach is also present. You will understand why we are saying this as you read the next section.
Facts & figures
Backtest results for this EA are not available. This is a huge con. Serious devs usually test the workings of their strategies before selling them to traders. Since this is not the case here, you need to tread carefully if you have any intentions of buying this product.
Fortunately, we have a live trading account on FXBlue.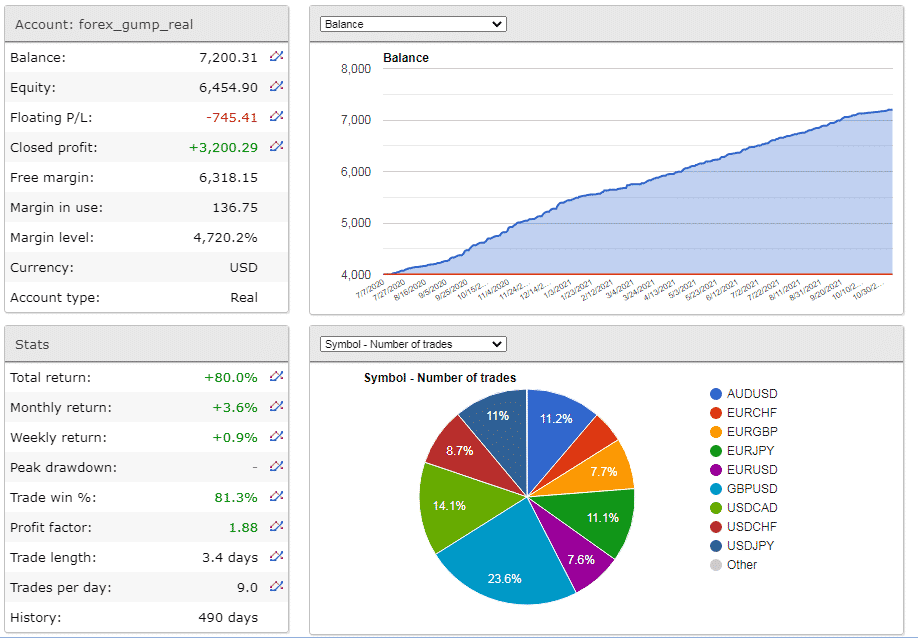 The EA has made a profit of $3,200.29 since it started its trading activities more than a year ago. We don't need to tell you that the profit made during this period is too low. The loss made is -$745.41. Within 490 trading days, the system has been making 3.6% monthly profits, and to date, the cumulative return is 80%. There is a profit factor of 1.88 and a free margin of $6,318.15. The EA preferred to trade with the GBPUSD pair — 23.6%.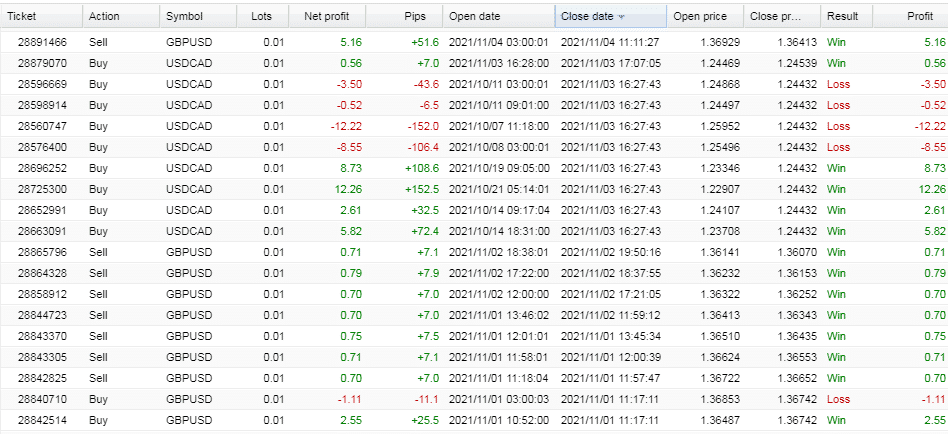 The system uses a grid of orders as it attempts to make profits. We can't say that this strategy has been a success. This is because it has resulted in small, inconsequential wins.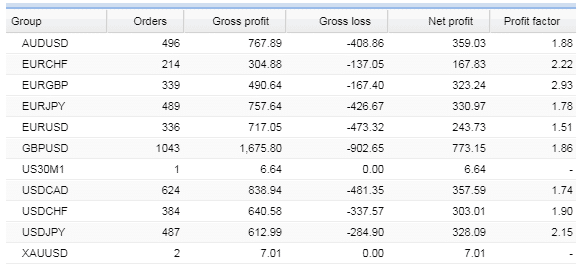 The GBPUSD pair contributed the most profits — $773.15.
Forex Gump packages
To get Forex Gump, you need to either pay €199 or €399. The cheaper package comes with 1 live account and 1 demo account. The other option features 3 live accounts and unlimited demo accounts. A 30-day money-back guarantee is available for both packs.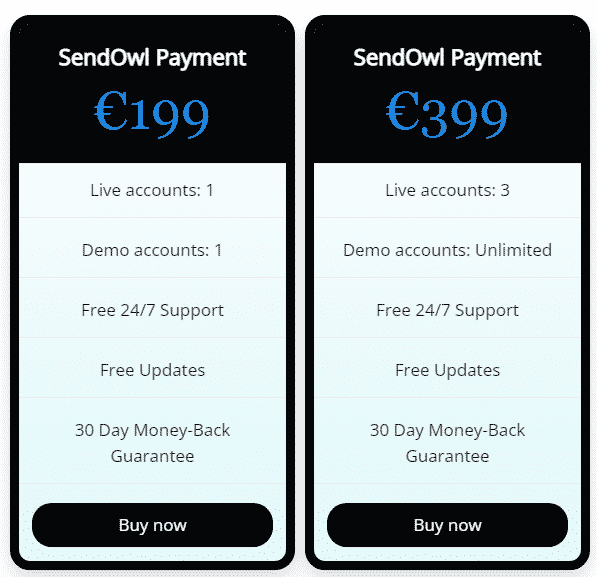 Assistance
The presentation includes a "contact us" form, which traders can use to reach the support team with their questions. Unfortunately, the company's email address is not indicated. Since there are no other contact options, we can conclude that customer support is pretty much nonexistent.
Other notes
Forex Gump has one customer review on FPA, which is positive. This trader has given the robot a 4 star citing that it is profitable but has a very high win/loss ratio. However, it should be noted that this sample size is too small for us to provide a definitive conclusion about how clients really feel about this product.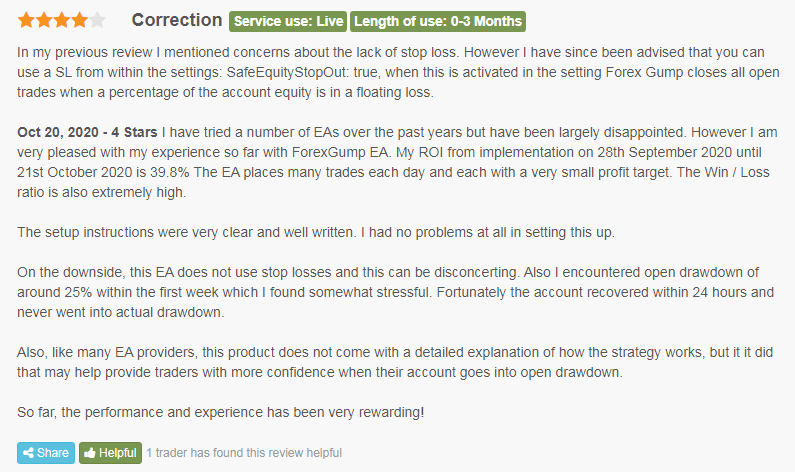 Is Forex Gump a profitable bet in 2021?
We don't think so. The EA has several drawbacks:
It doesn't have a backtest report.
The grid approach is part of the system.
The profit rate is low.
We can say without a shadow of a doubt that the EA is a risky investment option because it will act as an impediment to your money-making efforts. You can be making small profits with it on the one hand, but on the other, there is always the possibility of losing it all when the market takes an unexpected turn.