Forex Fury is promoted as an efficient trading system. The devs promise to do whatever it takes to assist you to grow your account. We have assessed the various characteristics of the robot, with a special focus on its trading data to ascertain if it is safe and profitable.
Forex Fury company profile
The team behind Forex Fury is composed of analysts, developers, and other supporting staff, who have been providing services in the Forex market for 6 years now. The group is headed by Patrick Ryan, Joe Damien, and Haroon Mir. Nonetheless, we are not provided with their detailed profiles.

The highlights of Forex Fury
The features of the robot are described as follows:
The system works with any MT4/MT5 trading brokerage.
It can trade all currency pairs, indices, and cryptocurrencies.
The EA applies numerous filters to prevent bad market conditions.
Forex Fury is compatible with FIFO, NFA, MT4, and MT5 Build 600+.
It is easy to install and use.
Its SET files are tested and proven.
The system comes with ECN support.
The expert advisor applies money management to every trade.
Forex Fury's trading methodology is grounded on the fundamental properties of time restriction. So, the EA mainly opens trades between 4 and 5pm EST, when the market is less volatile. This means that the bot is in and out of the market within 1-2hours daily. However, we have noted (in the trading history) that trades are open for longer periods, and some even last up to 2 days. The grid approach is also used, although the vendor doesn't mention this in the presentation.
Facts & figures
The devs have posted a picture that supposedly shows the system's historical performance. It says that the EA was tested for 15 years, generating a gain of 466725.08%, a drawdown of 6.98, and 103692.5 pips. We doubt if these results are truthful. The vendor should be more serious and share a verified full backtest report.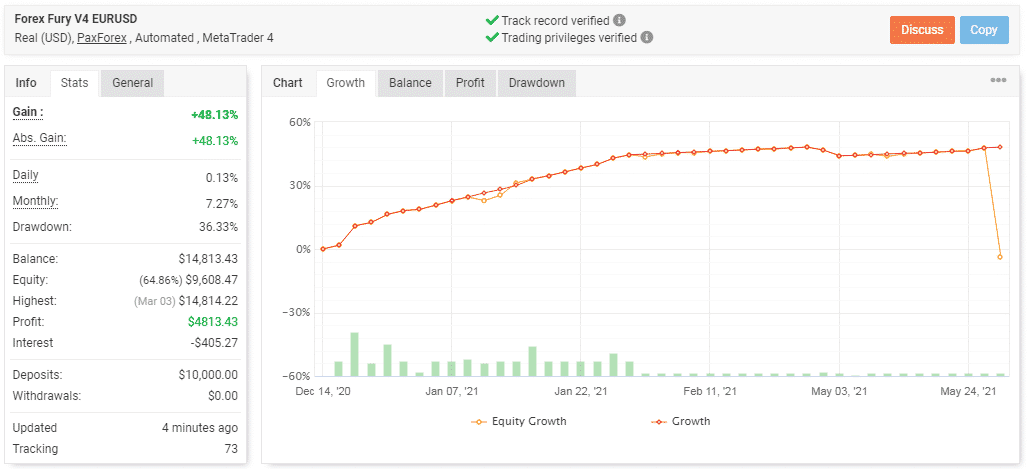 We can see that this is a real USD account that was launched on December 14, 2020. A deposit of $10,000 was placed, and within 10 months, the robot has only generated a profit of $4813.43. This is equivalent to a gain of 48.13%. It is evident that the EA makes more losses than wins. This is illustrated by the drawdown of 36.33%, which is almost 5 times higher than the monthly profit of 7.27%.
The system has carried out 319 trades with 95.90 lots. The performance of the trades is quite satisfactory because long and short positions report win rates of 95% each. However, we are concerned about the average loss (-15.05 pips), which is almost 3 times higher than the average win of 5.80 pips. Clearly, the EA is making ineffective trading decisions that are costing this account money.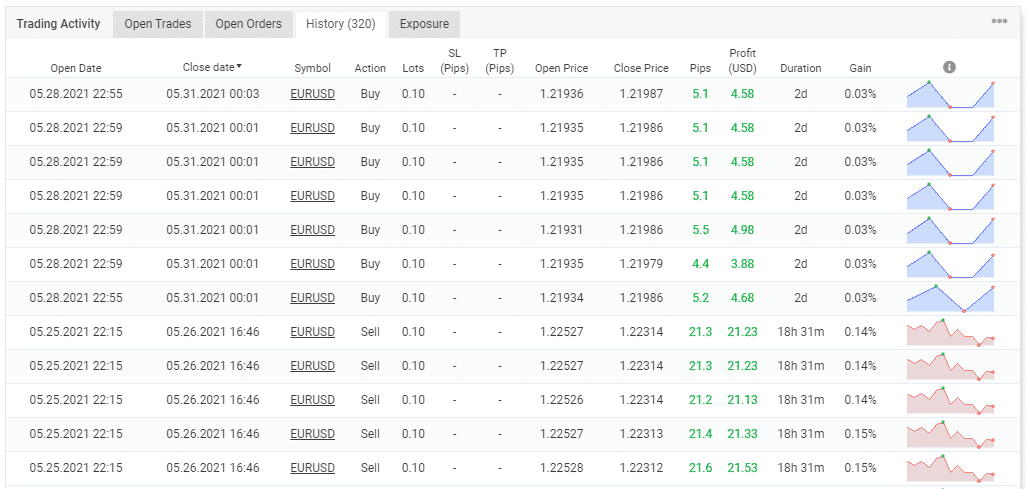 The system worked on long time frames and used large lot sizes of 0.10. The grid element is also evident.
Forex Fury packages
Forex Fury has 2 distinctive packages. The Gold plan costs $229.99 and gives you access to 1 live account license and unlimited demo accounts. The other package (Diamond) is the priciest —$439.99, and it comes with 2 live account licenses and unlimited demo accounts. The two plans also include free updates, lifetime membership, and high performance settings. A strict return policy is present.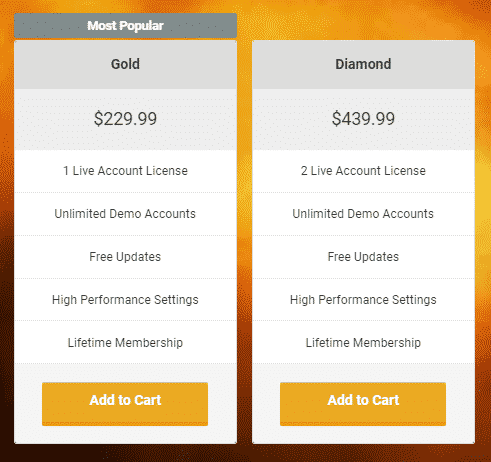 Assistance
If you want more information on Forex Fury, you can email the team at [email protected]. You can expect a response between 8AM EST-7PM EST.
Customer reviews
There are several customer testimonials for this robot on Trustpilot. While some traders commend the system, there are others who have made complaints that we cannot ignore. These disgruntled individuals confess that the algorithm in place is pretty much useless, doesn't trade frequently, and loses money.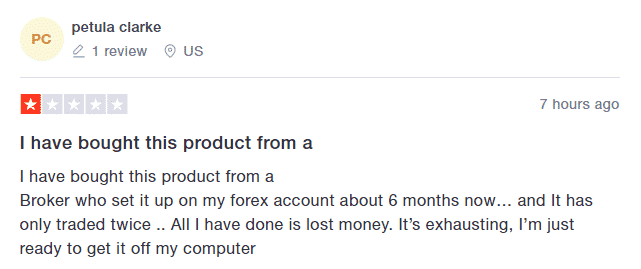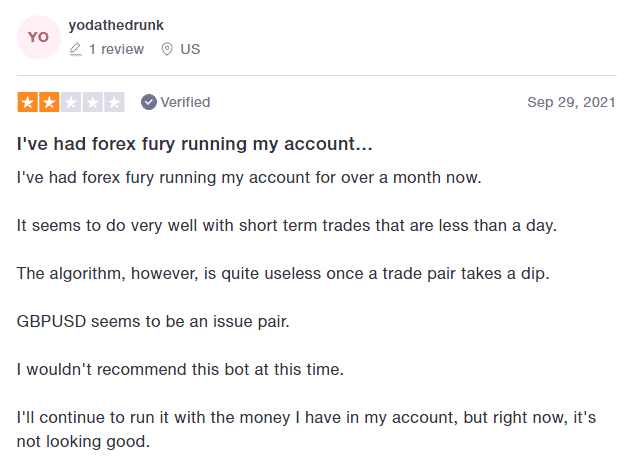 Is Forex Fury a profitable bet in 2021?
We don't think so. This is because we have learned that the robot:
Loses money often
Produces small profits.
So, investing in the EA is risky as you will not get value for money. Instead, you will suffer numerous losses that will even nullify the small profits made, making time spent in Forex trading useless.