Forex Cyborg claims to be the best Forex robot for professional traders. It is compatible with multiple currency pairs and you can run it on the MT4 trading platform. This EA has affordable pricing plans and the verified trading results.
To check whether this EA is truly reliable, we are going to look into various factors like company profile, features, live results, backtesting data, pricing packages, customer support, and reviews.
Forex Cyborg company profile
The Myfxbook profile of Forex Cyborg tells us that the company is located in Germany. It has experience of over five years and has been registered on Myfxbook since June 30, 2017.
The highlights of Forex Cyborg
This EA trades 18 currency pairs simultaneously on M15 charts. It is possible to adjust the risk or lot size for each trade to a suitable amount. Since it is a fully-automated system, you don't need to make manual inputs. You can run it with any broker that supports MT4.
Forex Cyborg uses technical analysis to maintain high profitability. This also ensures it can dynamically adapt to various market scenarios. You can set the money management rules as per your requirements. The EA does not follow risky strategies like arbitrage, hedging, and martingale. Thus, there is little risk of losing your investments with this robot. You can manage your risk efficiently using the currency correlation risk manager. There are two in-built presents for this EA, namely Conservative and Normal.
Depending on the selected pair, the EA trades between 17:00 and 23:30 GMT. You don't need leverage or a minimum account balance to get started with the robot.
Facts & figures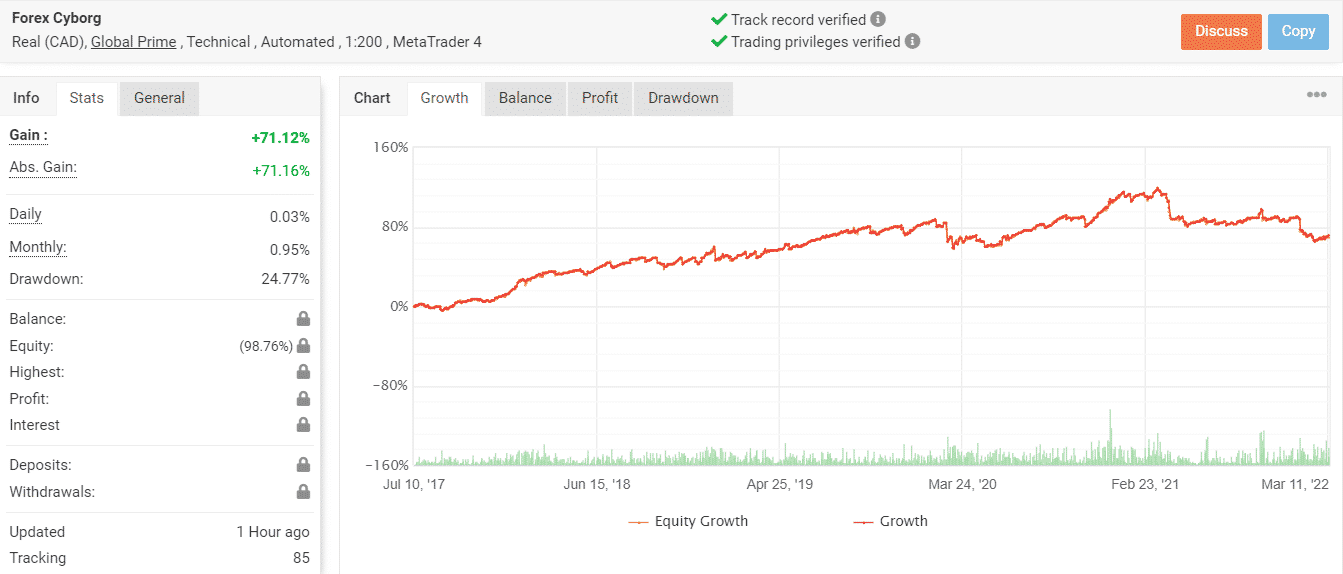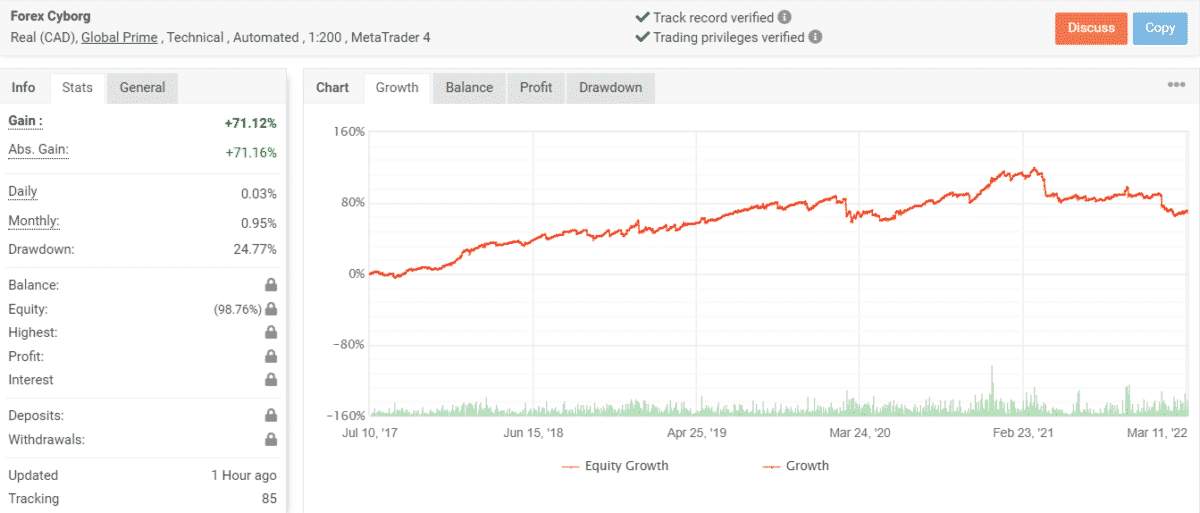 This live trading account on Myfxbook was launched on July 10, 2017. To date, the EA has conducted 3491 trades through this account, winning 73% of them. The win rate is quite high and the profit factor of 1.13 can be considered satisfactory. At this moment¸ the daily and monthly gains are quite stable at 0.03% and 0.95%, respectively. The account has experienced a growth of 71.12%.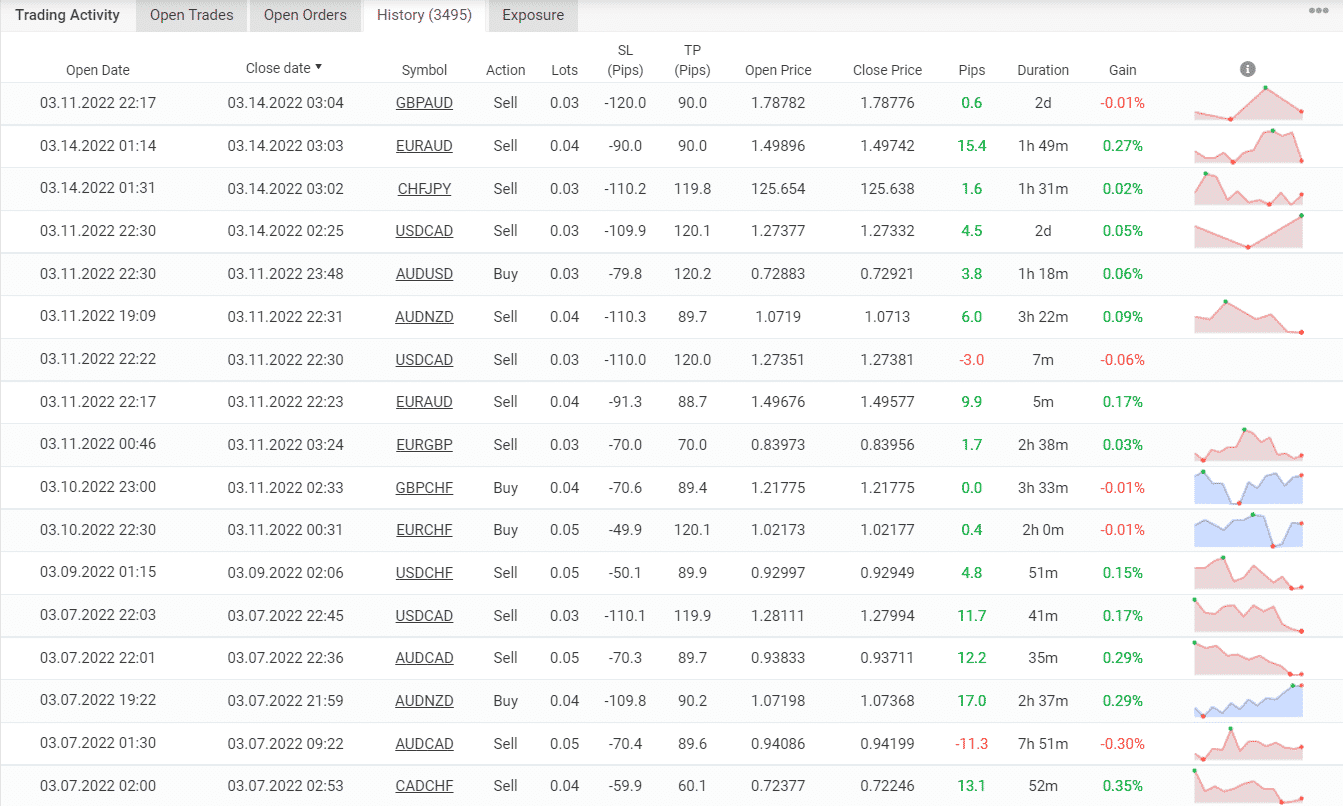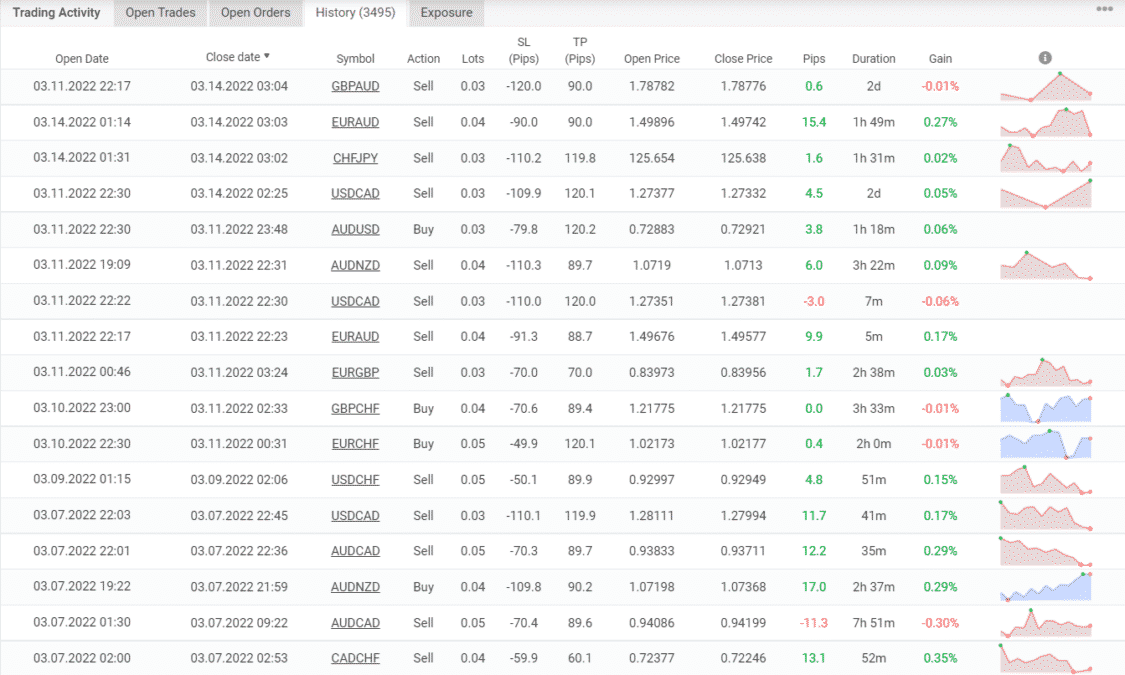 Here you can see the recent trades conducted through this account. Evidently, the EA wins profits at a steady rate. For the recent trades, the lot size has remained between 0.03 and 0.05. The average trade length is 10 hours and 4 minutes, while the best and worst trades in terms of pips are 91.5 and -193.5.
This backtest was conducted from 2010 to 2020 for the EUR/NZD pair and on the M15 timeframe. The EA used an every tick model to conduct 525 trades using an initial deposit of $1000. It had profitability of 77.71%, which was slightly higher compared to the backtest. The maximal drawdown of 18.66% was within the acceptable limit, while the profit factor was quite impressive at 2.90.
Forex Cyborg packages
There are two pricing plans for this EA, namely Gold and Premium. For the first plan, you get a single license for 499.99 Euros. The second plan provides you with three licenses in exchange for 599.99 Euros. Both plans come with an unlimited number of demo licenses and dedicated lifetime support. Compared to other EAs, the plans are not too expensive. The vendor also offers a 30-day money-back guarantee.
Assistance
There is 24/7 support for all users. You can leave a message through the website since there is no contact information.
Customer reviews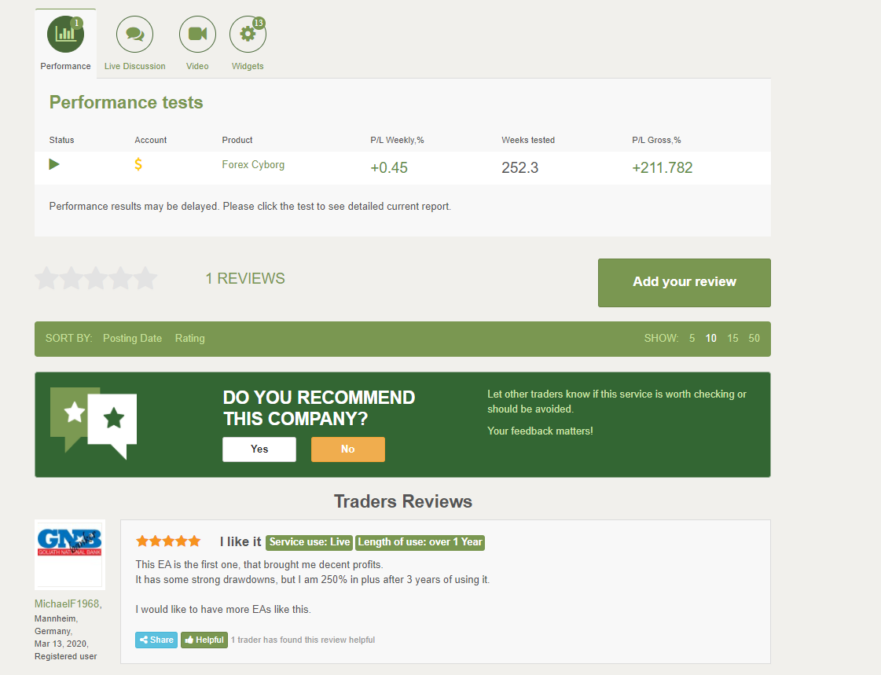 There is only a single review for this EA on Forex Peace Army, where the user has praised the decent profits. Here, you can also find a trading account that has a gross profit/loss of 211.782%, which indicates a steady growth.
Is Forex Cyborg a reliable system?
This EA has proved itself capable of generating profits in the live market for several years. It has a high win rate and is compatible with several pairs.