Why invest in Amazon?
How much does it cost to buy a share of this company?
How to invest in these stocks?
Investing in one of the top five most valuable companies is possible with less than $1,000. Unfortunately, Amazon stocks are currently one of the most expensive stocks on the planet, quoting at almost $3,300 as we write this article.
As a new investor, Amazon stocks may seem unreachable with less than $1,000. However, things have changed, and now brokers provide ways to participate in the market. You can even invest as little as $100 in Amazon. So keep reading because we are about to teach you how to invest with little money.
Why invest in Amazon?
The company ranks in the top five most valuable on the planet, with a market cap of over $1.6 trillion. More known for its online shop services, it engages a variety of different businesses. As a result, Amazon stocks have risen to become one of the most valuable stocks, and not just in good economic times. For example, in contrast to the other companies, Amazon (AMZN) experienced an income increase during the pandemic.
Since the beginning of the pandemic, Amazon's stock price has almost doubled its value. When the WHO declared Covid-19 a pandemic on March 11, Amazon's stocks closed at $1,676,61. Today the price of one share is almost $3,300. This impressive uptrend helped make Amazon's founder and former CEO, Jeff Bezos, the richest man in the world.
Although the most significant rise for Amazon has indeed passed, it proved to be an excellent investment to protect your capital and with some space to go even higher in the next few years.
Amazon stocks price prediction 2025/2030
Amazon stocks are quoting at $3,299.86, falling to reach $3,300 by just 14 cents. Since the company went public in 1997, it has increased its stock price level constantly, and in the last five years, the rise in the company's stock price has been above 500%. As a result, experts expect the stocks to decelerate in the following weeks and months but to keep rising in the long term.
The expectations for the company are good, and it is expected to reach higher levels in the next few years. Although experts have different opinions about how much the price will go up, they all agree that Amazon will keep rising.
Most optimists predict that the share will reach $10,000 in 2030, while most financial consultants say it will quote around $4,000 in 2025 and maybe $5,000 in 2030.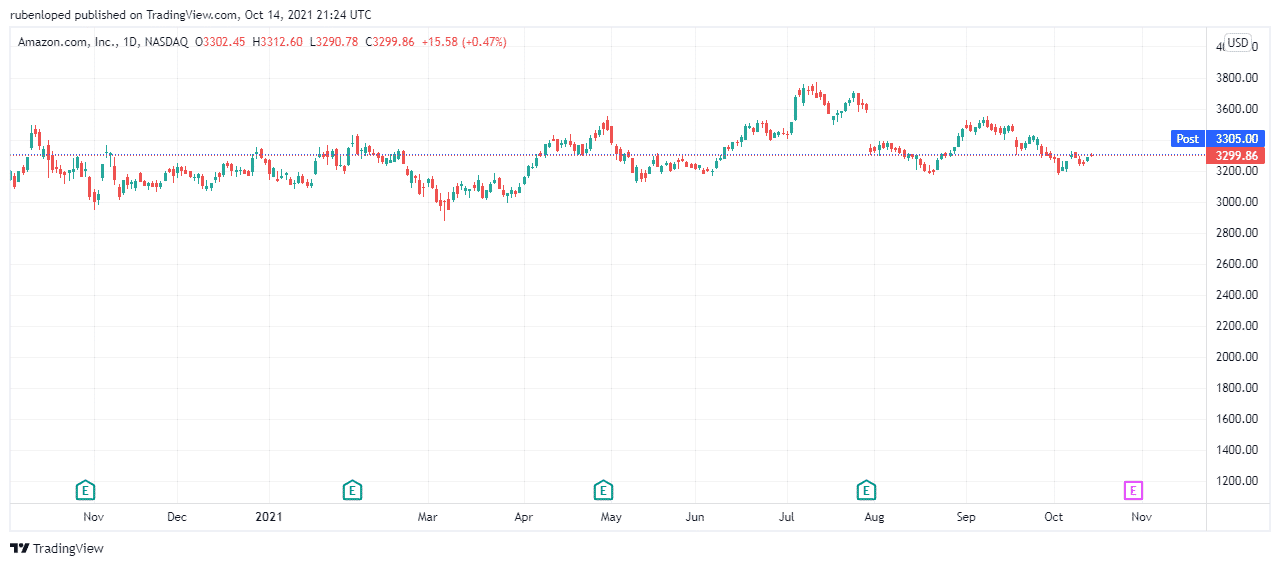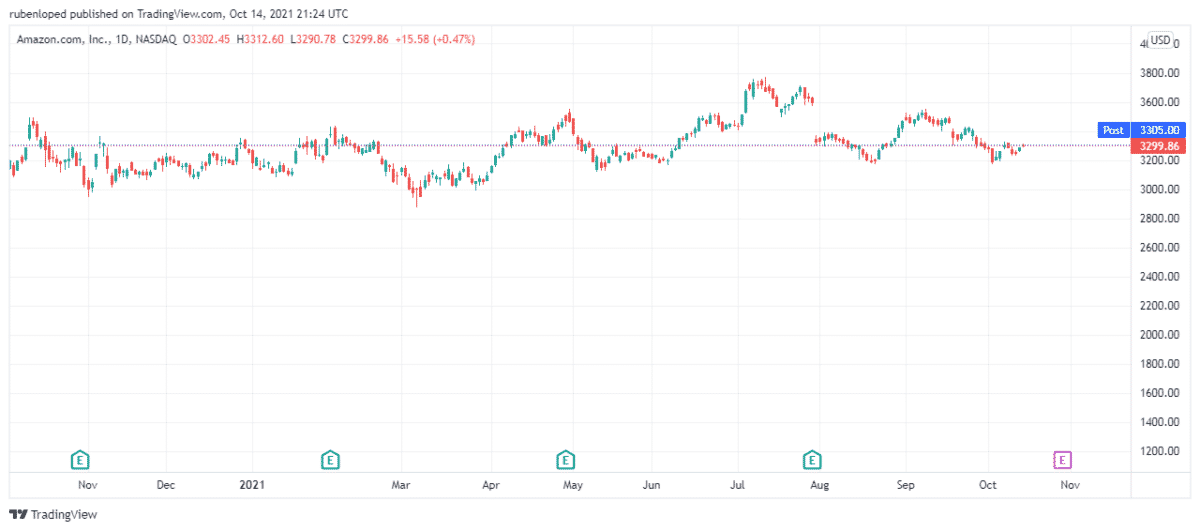 How to invest in Amazon stock?
Not many investors have $3,000 to buy stocks, and even if they do, we don't recommend putting all your money in just one stock since it signifies a considerable risk. So, how can we invest in Amazon stocks with $1,000 or less?
There are two possible ways to do this. The first one is by investing in ETFs, and the other is by buying a fractional share. Let's take a quick look at each.
ETFs
ETFs are instruments that, with less money than required to buy individual shares, allow you to participate in the purchase of many stocks from many companies included in the particular ETF. The most famous ETF index is the SPDR S&P 500 ETF Trust. The SPY allows you to invest in the 500 most prominent companies in the US. Its current price is $442.50. However, this is an indirect way to buy Amazon shares, and it's not ideal for those who want to invest in the company since you'll also be investing in many other companies.


Fractional shares
This is the ideal way of buying Amazon shares for those who don't have $3,300 to invest in the stock. Fractional shares allow you to purchase just a part of the share. Not every stockbroker offers this option, so you better research first and choose the broker that suits you better.
For instance, you want to buy just $1,000 on Amazon stocks because the price of one stock is $3,299,81. Going with fractional shares, you will buy 0,30 Amazon shares. From here, everything is the same for you and the investor who bought complete shares. If the price goes up, you make money in the same proportion of the increment. The same goes when the stock price goes down.
If you buy $1,000 in Amazon shares at $3299,81 per stock, if the price rises to $5,000 by 2025, the increment in the stock price would be 66%. In that case, you would still own the same 0,30 Amazon stocks, but now they cost $1,667.
Now that you know you can buy Amazon's shares without paying the entire stock price, let's see five-step to make sure you'll do it right.
Step 1. Know what you want
If you only have $1,000, it's not advisable to spend it on one company. Also, if you are looking to get dividends, Amazon is not the right place for you. However, if you are sure about buying that share, follow the next step.
Step 2. Find the right broker for you
Not every broker offers the option to buy fractional shares. Spend some time researching which companies have this option, but also about fees and commissions. Today many brokers offer operations commission-free.
Step 3. Open brokerage account
Once you decide to go with one broker, go ahead and open your account. This is a simple process that often doesn't take longer than 10 or 20 minutes. After you register, link it with your bank account so you can purchase your stock.
Step 4. Search for the ticket
Once everything is set up, the way of finding Amazon's stock is by looking it up with its ticket, which is AMZN.
Step 5. Buy the fractional share
Finally, click on the buy order option, enter the number of fractional shares you want to buy, and you are done. You now own a part of Amazon.
Final thoughts
Buying Amazon's stocks is a recommended investment. The company is constantly growing, and it is forecasted that it will keep it that way. However, it is an expensive stock that fits better with more prominent players.
So if you don't own the capital to buy at least one share of Amazon, maybe you shouldn't. Or at least don't put all your money on Amazon's fractional shares. Instead, you could use a part of the money to buy a fraction of the stock and the other part to diversify your portfolio by buying cheaper shares or even additional fractional shares.