HaasOnline claims to be the most sophisticated crypto bot with complete automation. You can quickly develop, backtest, and use the bots of this platform on multiple exchanges in a few minutes. The system features a trade server, a cloud service, and HaasScript for quick and efficient trading. The vendor claims that you can minimize risk with this service due to its effective features like backtesting and simulated approach.
HaasOnline quick summary
The service claims to use state-of-the-art technologies, products, and standards that serve all crypto users effectively. With the use of the proprietary server, HTS, you can make a bot in a few minutes. After you have chosen the required settings including indicator and safety feature, you can activate the bot and it will start trading for you.
HaasOnline: what is it?
By offering an extensive range of features, this service stands apart from its competitors. The key features are:
Use simulated paper trading
Reduce errors and perfect your approach using the leverage automation
Use Haas Script to develop your robot
The system requires minimal configuration. You can set it up and use it in a few minutes
Who is behind HaasOnline?
The company was founded in 2014 by Quintus de Haas and Stephan de Hass. Other members of the team include Josh Becker, Rustim Rhoda, and more. The vendor does not provide company details like the location, phone address, etc.
How does HaasOnline function?
With the crypto bots of the company, you will get complete privacy and quick deployment of orders. There are no fees for the transactions. Some significant factors you need to keep in mind are:
Use of the proprietary backtesting engines to refine the trading bots with the help of historicaldata and establish suitable parameters for buying and selling.
There are minimal settings you need to take care of.
All live updates are sent to you directly via Telegram or Discord. The vendor states that the customer service works 24/7.
For users interested in creating a bot of their own, the HaasScript allows users to create crypto bots from scratch. The framework helps in developing completely customized bots or indicators that you can use for any approach or signal.
Technical indicators available
The system provides a long list of indicators. Some of them are:
Candlestick Pattern indicator
Belt Hold Candlestick Pattern indicator
Belt Hold Bearish Candlestick Pattern indicator
Belt Hold Bullish Candlestick Pattern indicator
Break Away Candlestick Pattern indicator
Breakaway Bearish Candlestick Pattern indicator
Breakaway Bullish Candlestick Pattern indicator
Closing Marubozu Candlestick Pattern indicator
Counter Attack Candlestick Pattern indicator
Counter Attack Bullish Candlestick Patternindicator
Harami candlestick pattern indicator
In Neck candlestick pattern indicator
Long Line candlestick pattern indicator
and more
What should you know about HaasOnline performance?
Unfortunately, there are no verified trading results provided.
Key features of HaasOnline
Some of the key features that the vendor focuses on for this crypto bot are:
As per the vendor, the system has features like bot extensions, custom order categories, management of the portfolio, market scanners, etc. The advanced options help in better performance.
For users who prefer an extra layer of privacy, the vendor offers a proprietary server. Your API keys and trade data are saved on secure hardware. The protection prevents the hardware from third-party tracking.
The pricing plans apply to all the supported exchanges. As per the vendor, the service does not have any limitations on your trading volume and does not demand a share of the profits you make.
Effective risk management ensures your orders are protected and also boost your profits by capitalizing on the market volatility
You can cut down on the hours you spend on trading. Instead, the automated format helps you to save plenty of time.
How easy is HaasOnline to use for beginners?
Beginners will find the software easy and efficient to use. The user-friendly features ensure newbies can make a bot and start trading quickly.
How to get started on HaasOnline?
The detailed guides and tutorials, communication via Telegram and Discord, and the ability to test your logic in real-time are favorable features. Further, with the bot, you can replicate any strategy in just a few clicks.
Pricing, fees, deposit, withdrawal
Pricing includes a beginner (0.009 BTC) package, a simple package (0.106 BTC), and an advanced package for (0.026BTC) are the three available plans. Features included in the packages are active trading bots, accessibility to insurances, safeties, indicators, and more. A $100 VIP credit is given for all three packages.
The vendor claims that one of the ways it protects user funds is by not allowing deposits or withdrawals. This is because your funds are not handled by the bot and only by the exchange you trade with. Two-factor authentication is recommended by the vendor for safety.
What settings are available?
The devs provide detailed general settings as well as trade settings on their Doc file loacted on their website.
Which exchanges does HaasOnline support?
These are some of the exchanges supported by this platform:
Binance
Binance US
Bitstamp
Bittrex
Bitpanda
CEX-IO
Coinbase Pro
FTX,
Gemini,
HtBTC
HaasOnline: supported assets
The system supports over 200 asset classes.
HaasOnline: security and regulation
The system provides 2-FA identification. There is no info about the regulatory body.
What do customers say?
The comapny has a high 4/5 rate on Trustpilot. Traders are satisfied with this trading tool.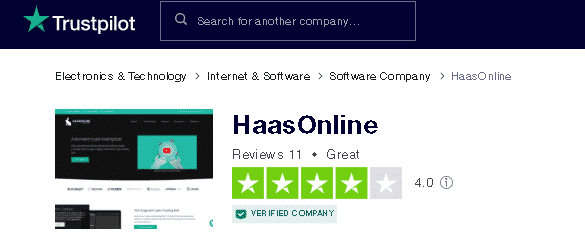 Public support
Public support could be better, as it may make up to several working days to respond to customer queries.