Is Fundrise a legitimate investment vehicle?
Does it give out dividends to investors?
Are there any hidden fees when investing in Fundrise?
Fundrise is an online-based real estate firm that pools money from regular investors to purchase shares of residential and commercial properties. It has three main products: real-estate investment trusts (REITs), eFunds, and Interval Fund.
To start investing in Fundrise, you need an account and as little as $10 of capital. While this is not much, you can keep adding funds when you have available cash. With Fundrise, you have the opportunity to invest in real estate even with limited capital.
When you invest through Fundrise, your investment is automatically diversified as the company provides a mix of products and properties in each plan or portfolio. As an investor, you can select from one of these plans: supplemental income, starter, long-term growth, and balanced investing.
If you wonder if Fundrise is a good investment, you can get the answer in this post. You will also learn about its security, rating, features, advantages, and more.
What is the Fundrise saving app?
You can consider Fundrise as a private REIT with all fees removed. If REIT sounds new to you, you can think of it as a basket or index containing various stocks. Fundrise holds a basket of investments in real estate properties. When such properties generate income, you will get a portion of that income.
Take note that Fundrise is not a publicly-traded REIT. As such, you cannot sell your shares back to Fundrise at your disposal. Still, you have four chances to liquidate your shares within a year, but you need to signify your intention and give the company a 30-day notice. Despite this limitation, investors consider Fundrise as one of the best private REITs. The image below shows the performance of Fundrise against public REITs and stocks.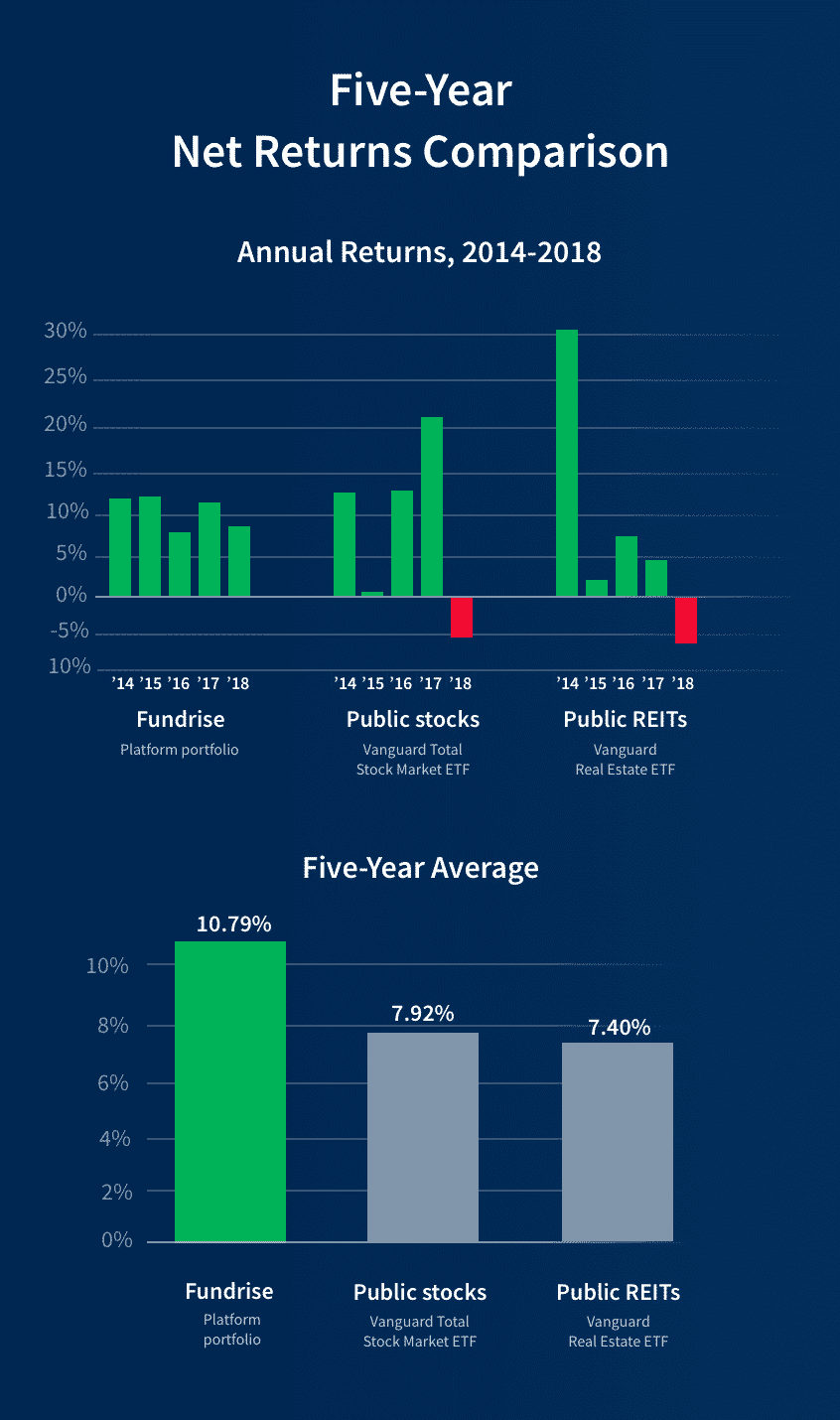 Fundrise security
Take note that Fundrise will ask for your date of birth and social security number upon signup. This custom is standard among online-based platforms. The company stated that this requirement is set by law itself. If you are wary about sharing such personal information, you cannot invest in this platform.
If you do continue with your registration, know that Fundrise employs AES 256-bit encryption to protect your personal information. It keeps your data secure in multiple data centers. Fundrise is regulated by the SEC, so you know you are working with a legit firm.
Fundrise pricing
Similar to a mutual fund, investing in Fundrise involves some costs. The total cost is one percent divided into two parts, as you can see below.
Annual advisory fee
Fundrise will charge you a small annual advisory fee of 0.15 percent. This is equivalent to an annual fee of $1.50 per $1,000 invested.
Annual management fee
Fundrise also charges an annual management fee of 0.85 percent. This is equivalent to an annual fee of $8.50 per $1,000 invested.
Fundrise features
Fundrise offers excellent features that investors like you can enjoy. These include the following:
Low investment threshold
Fundrise allows you to get involved with real estate investing with as little as $10.
Quick and easy signup
You can sign up for an account within ten minutes, provided you have previously read the terms. When signing up, you will need to provide your contact number, home address, and social security number. You can fund your account in one of two ways: bank account and wire transfer. The platform looks like the image shown below.
Interval fund
Fundrise offers the Interval Fund product along with REITs and eFunds. The good thing about Interval Fund is more accessible access to your investment funds. With this product, you can liquidate some shares quarterly without incurring penalties.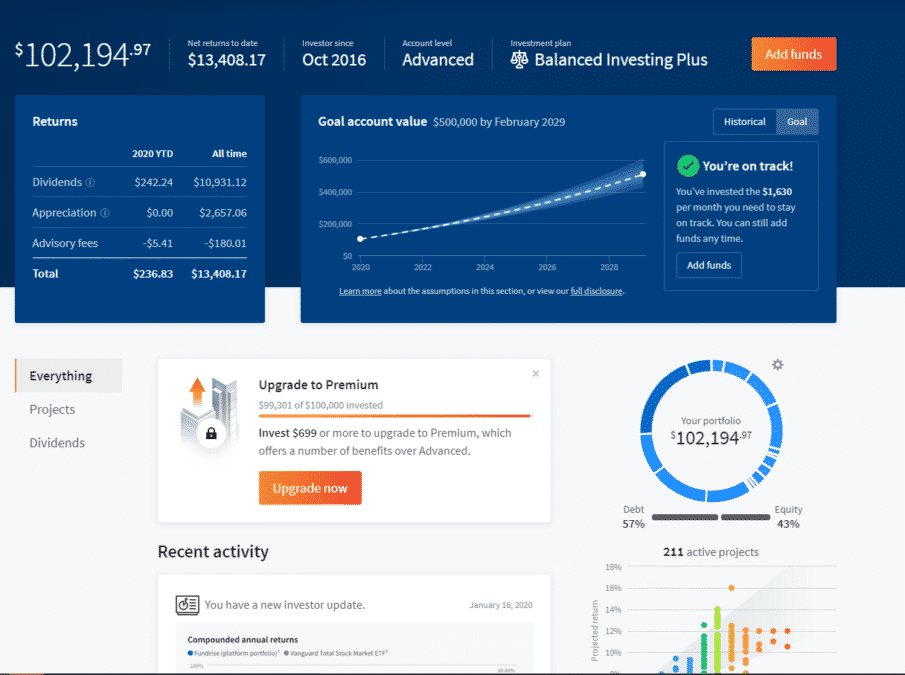 Fundrise ratings
Fundrise got a perfect rating from NerdWallet (five stars). This rating is based on 15 factors: account minimum, account fees, customer support, investment choices, and mobile app features.
Meanwhile, Google Play provides a net rating of 4.4 stars out of five based on 1,426 responses. On the other hand, App Store users give the app an overall rating of 4.8 stars out of five based on 12,700 user feedback.
Fundrise advantages
There are at least three things that many investors like about Fundrise. We cover them below.
Transparency
With Fundrise, you can easily understand where your money is invested in. You can get photos of the property and locate them on the map. Data about the financial status of each parcel are available for you to look into. If you have any questions, you can email or phone the customer support team.
Investment lock
Unlike other real estate investment options, Fundrise locks your investment for a good amount of time. As a result, investments grow dramatically (see an updated annual return of clients in the image below).
There are occasions when Fundrise does not allow investors to take out their funds. One recent example is during the outbreak of the pandemic. Because of this, the company survived the odds and investors were amply rewarded. If you look for a more liquid investment, Fundrise may not be suitable for you.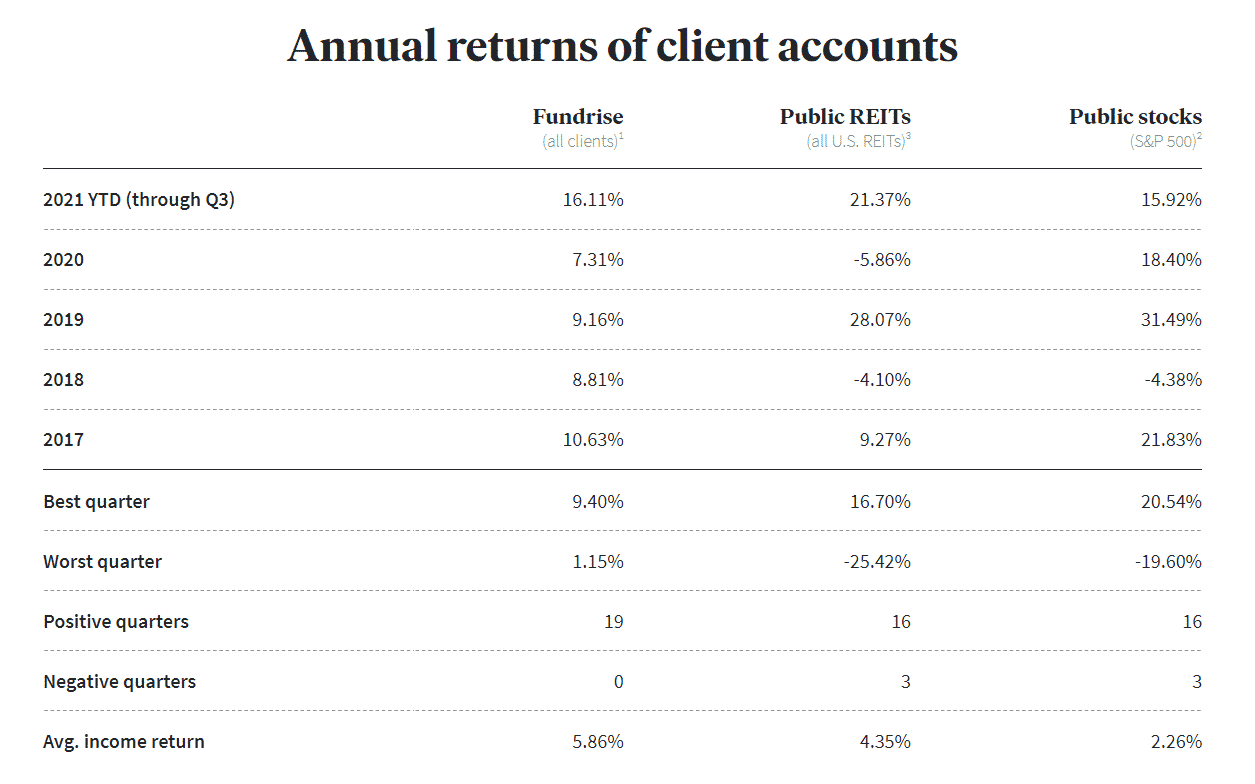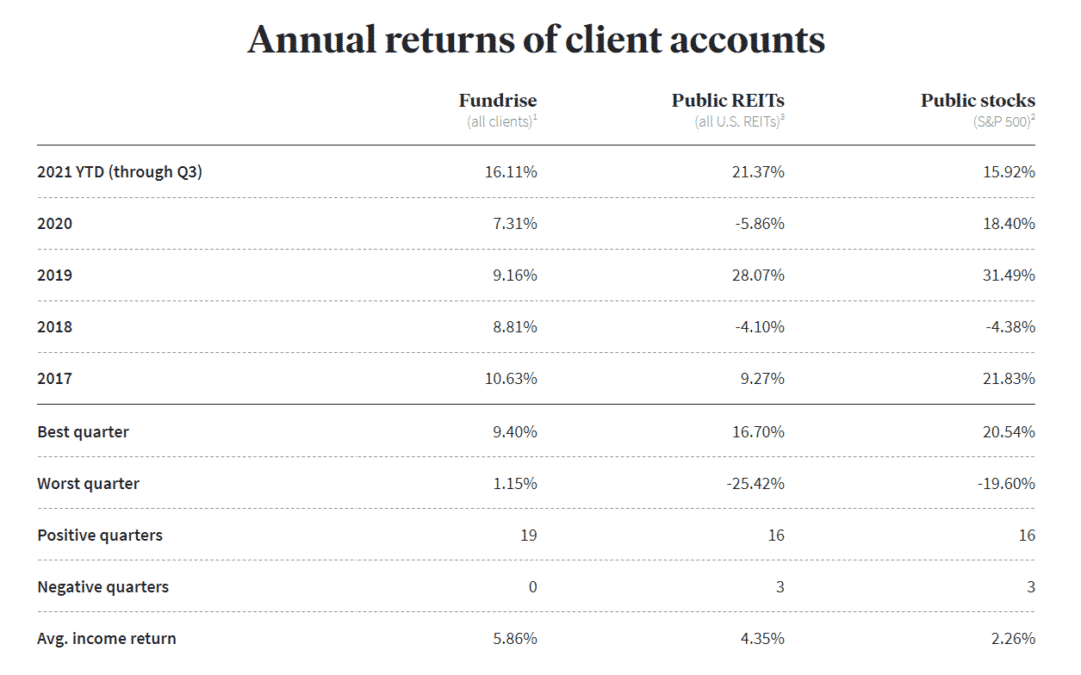 Competitive edge
Fundrise puts money only in projects with a large market cap. That is how it maintains its competitive edge. Fundrise considers only those developments having at least $5 million and at most $100 million in market cap.
Fundrise alternatives
Here are some options working in the same field as Fundrise.
GroundFloor
This company is suitable for investors who want to invest in real estate for the short term. In addition, this investment does not involve management fees.
Arrived
With just $100 capital, you can start investing in real estate through this platform. When you invest, you will earn money from rental income.
Streitwise
Like Fundrise, Streitwise is a private REIT. Even if your net worth does not satisfy the minimum requirement set by the SEC and your income is minimal, you can still invest in real estate through the Streitwise platform.
Does the Fundrise app work?
If you want to diversify your investment across different asset classes, Fundrise is one great platform for that. Since you engage in real estate, this type of market is mainly independent of the stock market.
Fundrise is suitable for long-term investors. If you can keep your money invested for at least five years, you have good chances of seeing massive returns. Take note that you are not free to liquidate your positions as you please.
You have at most four chances each year to get out of positions. The advantage of this is that you can grow your investment quite fast. If you want to reinvest your dividends, you can set this to run on autopilot. This way, your investment can enjoy the power of compound interest.